After a couple week hiatus, I am back with this fun spin on a classic summer dessert! In the meantime, I have been savoring the summer since it's so fleeting here in Chicago. Including lots of shopping at the farmers market, bike rides around the city, and my favorite – Shakespeare in the Park last weekend! Will and I also took a few days to escape the city and travelled to Pictured Rocks in the upper peninsula of Michigan. We do tons of things we can't normally do much of in the city like hiking, mountain biking, and kayaking. Also, the water of Lake Superior is much cooler than Lake Michigan so the water is super clear and the scenery is gorgeous. If you live in the midwest, you should definitely check it out! 
So, I want to eat this vegan ginger peach crisp on repeat until the last of the peaches sell out at the farmer's market. I got the idea to add crystallized ginger to a crisp from this recipe on Epicurious. After trying it for this recipe, I am obsessed! I love all things ginger and usually add it into my smoothies, but was excited to try it out in a classic dessert like this. Originally, I thought the ginger pieces might melt into the fruit as it baked, but they stay relatively whole. They add a bit of flavor to the whole dish, but also provide some super gingery bites.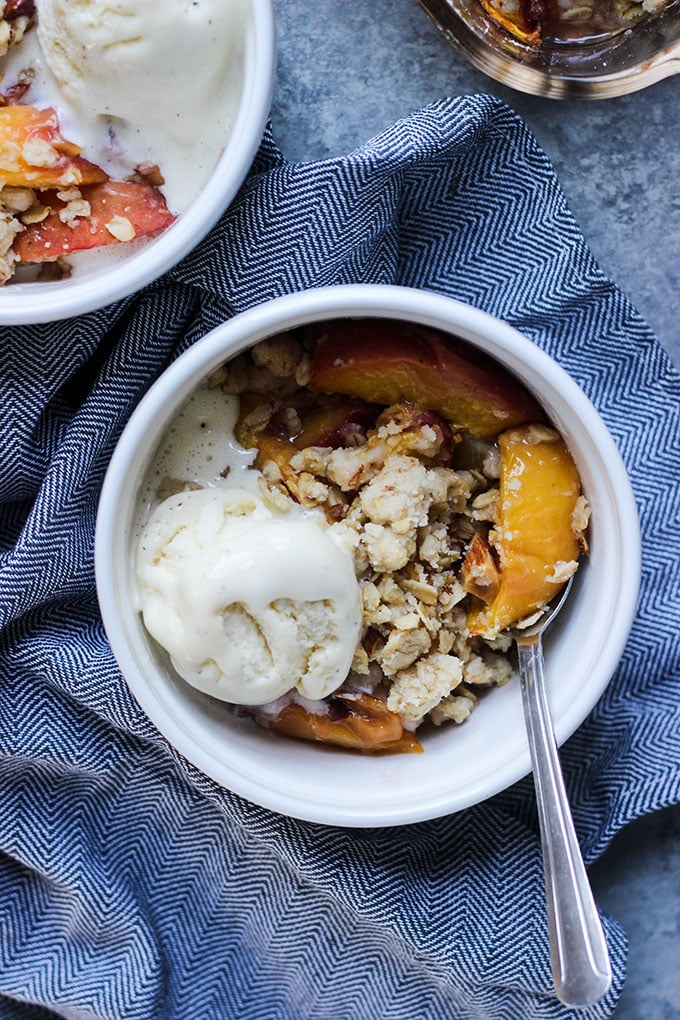 This recipe is also vegan since the crisp topping is made with coconut oil rather than butter! I topped mine with Halo Top ice cream (which isn't vegan) but so delicious! Hope you love this crisp as much as I do! 

Vegan Ginger Peach Crisp
Crystallized ginger adds a fun twist to a classic summer dessert in this ginger peach crisp that also happens to be vegan!
Recipe type:
Dessert, Vegan
Ingredients
For the Crumb Topping:
½ cup all purpose flour
½ cup rolled oats (not instant)
⅓ cup chopped almonds
¼ cup organic granulated sugar
¼ cup coconut oil, melted
1 teaspoon vanilla extract
Dash of salt
For the Peach Filling:
~2 lbs fresh peaches (6 peaches)
⅓ cup chopped crystallized ginger
1 tablespoon cornstarch
1 tablespoon organic granulated sugar
1 teaspoon vanilla extract
Dash of salt
Instructions
Preheat the oven to 375 degrees Fahrenheit.
In a large mixing bowl, add all of the crisp toppings and stir with a wooden spoon until it clumps together in large pea sized pieces.
Slice peaches into ¾" wedges and arrange in layer in an 8"x8" baking dish. Sprinkle with ginger, cornstarch, sugar, vanilla, and salt. Toss with a wooden spoon to coat.
Sprinkle crumb topping over top of the peaches in an even layer.
Bake for 25-30 minutes or until crumb topping is lightly browned and peach filling is bubbling.
Transfer to wire rack to cool for 30 minutes before serving.