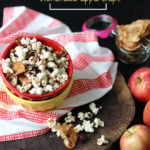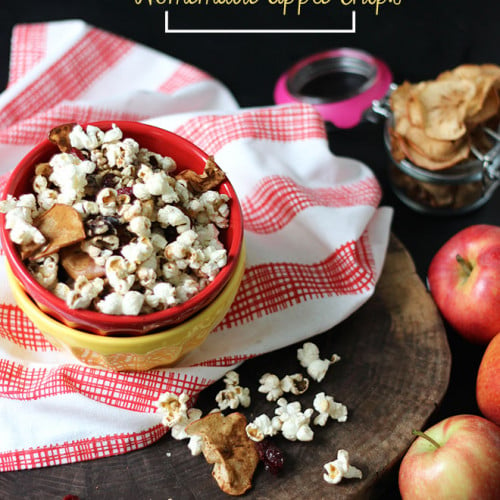 Print Recipe
Fall Trail Mix with Homemade Apple Chips
Cozy up to this fall flavor inspired trail mix that is gluten free and vegan and has no added sugars. Homemade apple chips are a fun addition to this trail mix!
For the apple chips:
2

apples

thinly sliced

3

cups

water

2

tablespoons

lemon juice

Dash of cinnamon

Dash of nutmeg
To make the apple chips:
Preheat the oven to 200 degrees Fahrenheit.

To make the apple chips, thinly slice apples horizontally through the core with a kitchen knife or mandolin. Let soak in a large bowl with the water and lemon juice for 10 minutes. (To help prevent browning.)

Line 2 cookie sheets with parchment paper and set aside.

Pat apple slices dry with a paper towel and arrange in a single layer on the cookie sheet. Sprinkle with cinnamon and nutmeg. Bake for 45 minutes to 1 hour. Flip the apple slices, sprinkle with cinnamon and nutmeg again and bake for another hour. When finished, chips should start to curl around the edges and turn light brown. Let cool on pan.
To make the trail mix:
In an enamel stock pot, add the canola oil and 2 kernels of corn. Heat over medium-high heat unit the kernels pop.

Quickly add the 1/3 cup of kernels and cover. Let pop, shaking occasionally for about 5 minutes, or until you don't hear any more kernels pop for more than 15 seconds.

Sprinkle popcorn with cinnamon and salt. Stir in the apple chips, cranberries, seeds, and walnuts.
Serving:
2
cups
|
Calories:
326
kcal
|
Carbohydrates:
29
g
|
Protein:
6
g
|
Fat:
23
g
|
Saturated Fat:
2
g
|
Polyunsaturated Fat:
21
g
|
Sodium:
170
mg
|
Fiber:
7
g
|
Sugar:
11
g