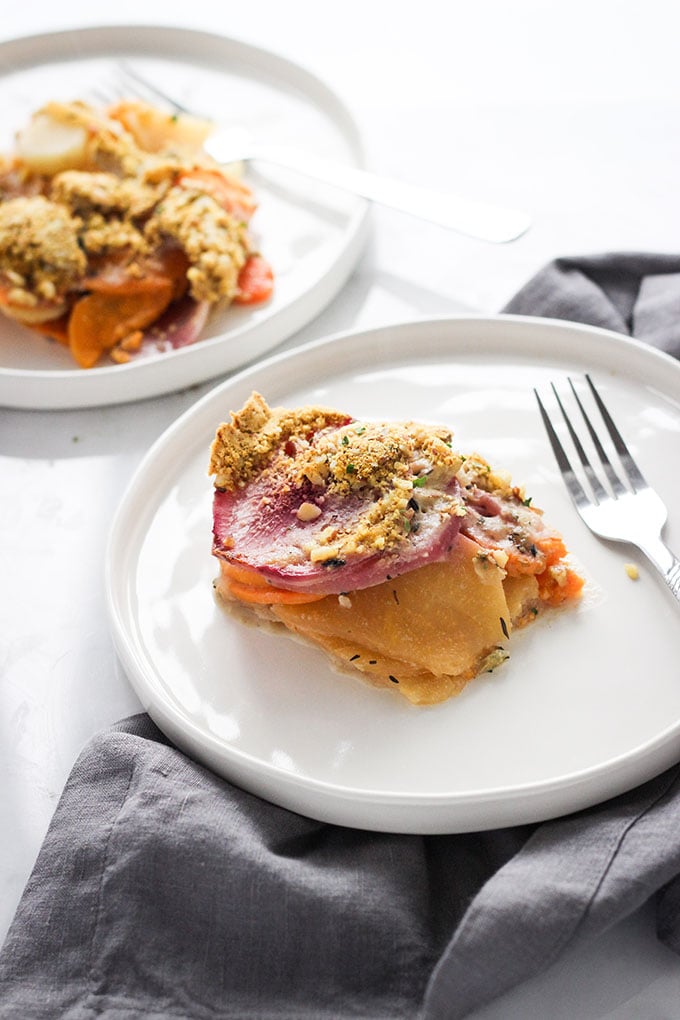 In grad school, my friend Charis and I fell in love with this one root vegetable casserole we found in a WIC calendar of all things! While making that recipe, I actually tried parsnips and rutabaga for the first time. I never knew they were so good – especially parsnips! 
Obviously, that calendar is long gone and I haven't been able to find the recipe online but I've been wanting to recreate it for the blog for ages. This vegan root vegetable gratin is pretty darn close! Plus, it is the perfect recipe for chilly winter nights and uses seasonal ingredients. When shopping at Whole Foods for this casserole, I found some turnips with pink flesh which made for a more brightly colored dish. All the heart eyes over the colors in this dish!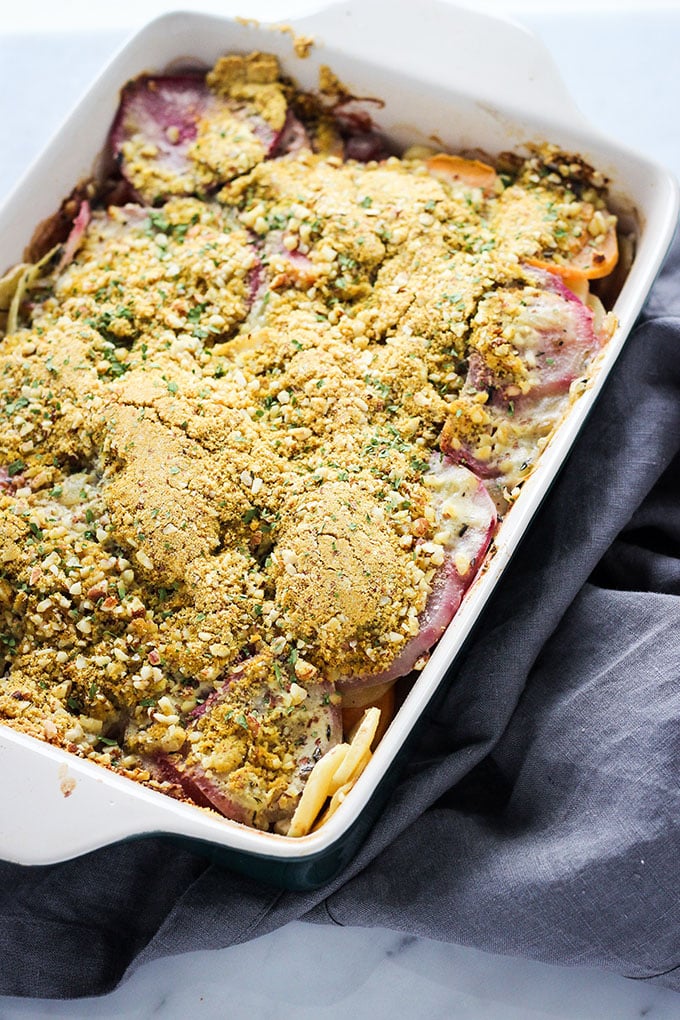 This recipe is adapted from this vegan, gluten free butternut squash gratin from Food52. I love butternut, but I wanted to switch things up a bit. Plus, I had a bunch of carrots in my fridge that I needed to start using up! When adding the sauce to your root vegetables, it may not look like there will be enough for such a large casserole. However, the root vegetables release some moisture as this bakes so the finished casserole has plenty of sauce when it's done. I packed the leftovers for lunch at work and they reheated deliciously.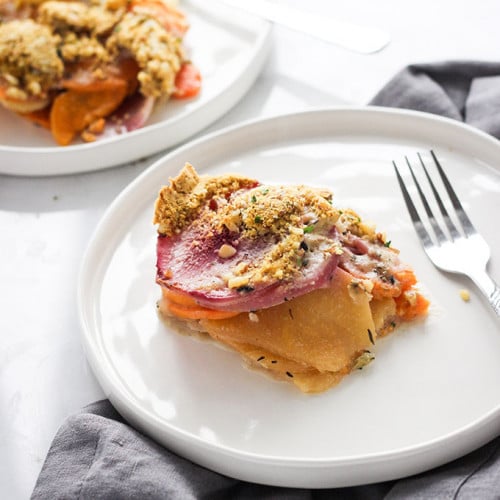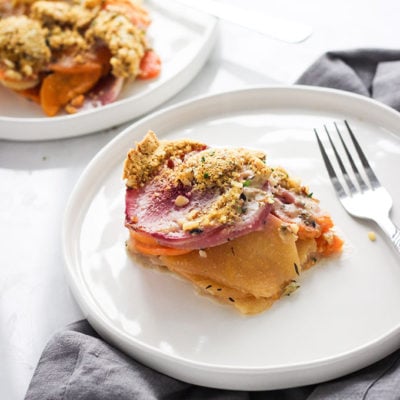 Vegan Root Vegetable Gratin
Not all filling casseroles have to be laden with cheese and cream. This vegan root vegetable gratin is still just as tasty without all the dairy.
Ingredients
For the Gratin Filling
2 sweet potatoes peeled
1 rutabaga peeled
3 turnips peeled
4 parsnips peeled
4 carrots peeled
2 tablespoons olive oil
1/4 cup chopped onion
1 teaspoon dried oregano
1 teaspoon dried thyme
2 cloves garlic minced
2 tablespoon corn starch
2 cups plain unsweetened almond milk
1/4 cup nutritional yeast
Dash of salt and ground black pepper
For the Topping
1/2 cup nutritional yeast
1/2 cup almonds
Dash of salt and black pepper
1/2 teaspoon dried parsley
Instructions
Preheat the oven to 400 degrees Fahrenheit.

Slice all of your root vegetables (potatoes through carrots) as thinly as possible in a mandolin or using a knife. Set aside.

2 sweet potatoes, 1 rutabaga, 3 turnips, 4 parsnips, 4 carrots

Heat the olive oil in a small saucepan. Add the onion and cook for 3 minutes or until translucent and lightly browned. Stir in the oregano, thyme, and garlic, Cook for 1 more minute.

2 tablespoons olive oil, 1/4 cup chopped onion, 1 teaspoon dried oregano, 1 teaspoon dried thyme, 2 cloves garlic

Add the corn starch and stir until onion mixture is well coated. Pour in the almond milk and stir with a whisk. Bring to a simmer and stir constantly until mixture starts to thicken – about the consistency of alfredo sauce.

2 tablespoon corn starch, 2 cups plain

Whisk in the nutritional yeast and turn off the heat.

1/4 cup nutritional yeast, Dash of salt and ground black pepper

Arrange the sliced vegetables in a 9″x11″ baking pan. Pour sauce evenly over the vegetables. 

Cover with aluminum foil and bake for 45 minutes. 

Make the gratin topping by putting the almonds in the food processor and blending until they are the consistency of bread crumbs. Add the nutritional yeast, salt, and pepper and pulse a couple more times until mixed.

Dash of salt and ground black pepper, 1/2 cup nutritional yeast, 1/2 cup almonds, 1/2 teaspoon dried parsley

Remove gratin from the oven and take off the foil. Sprinkle topping evenly over the vegetables in the baking dish.

Cover the baking dish with aluminum foil and bake for another 15 minutes or until vegetables are tender when pierced with a knife or fork. 
Nutrition
Serving: 1serving | Calories: 374kcal | Carbohydrates: 66g | Protein: 10g | Fat: 9g | Saturated Fat: 1g | Polyunsaturated Fat: 2g | Monounsaturated Fat: 6g | Trans Fat: 1g | Sodium: 98mg | Potassium: 1009mg | Fiber: 12g | Sugar: 12g | Vitamin A: 13121IU | Vitamin C: 39mg | Calcium: 127mg | Iron: 4mg
Reader Interactions