Step up your salad game by making this warm farro salad with roasted root vegetables! Simple ingredients like roasted vegetables, lemon and rosemary complement each other perfectly. Make it vegan by simply omitting the goat cheese. Meal prep friendly!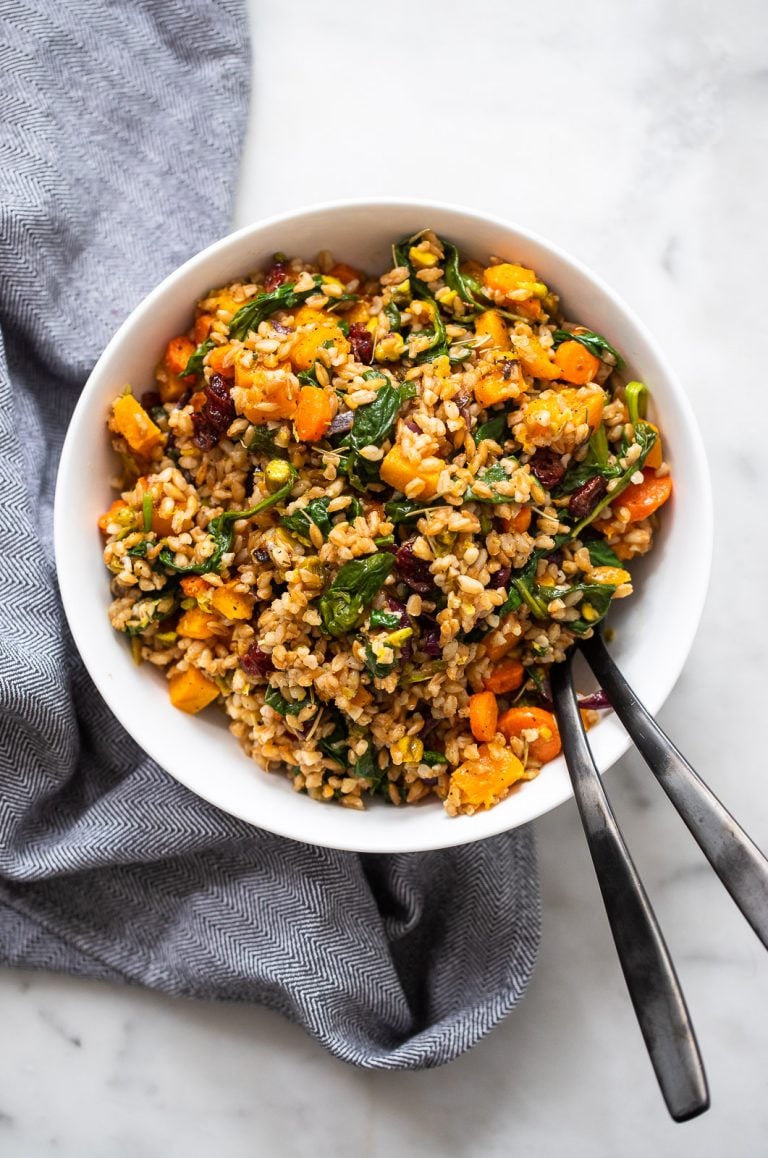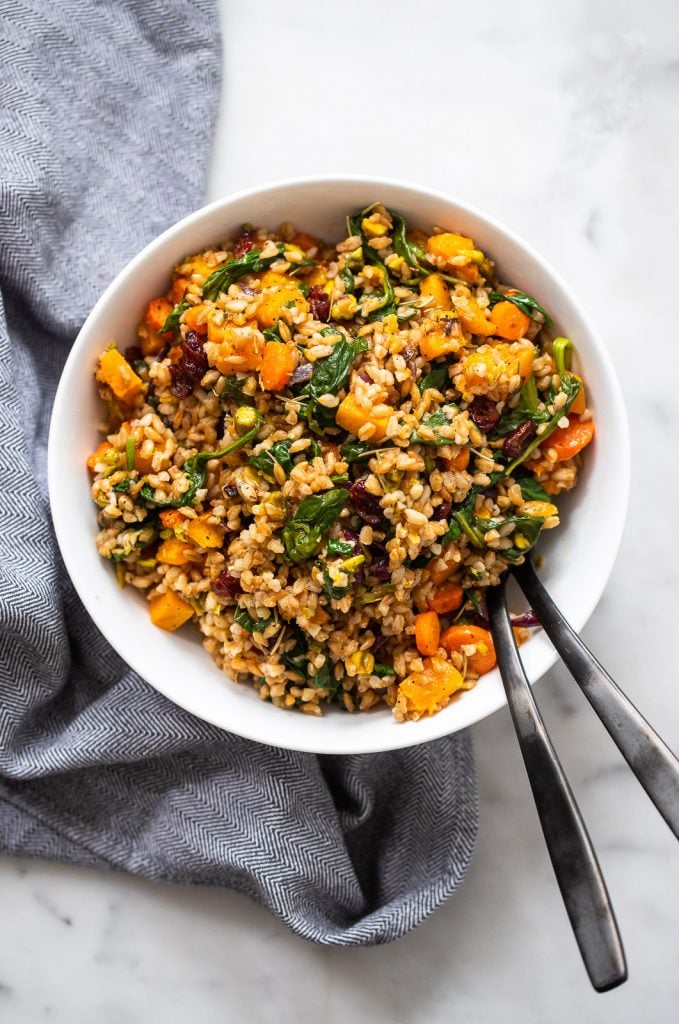 Sometimes I just don't feel like eating a cold, lettuce based salad when it is still cold and blustery outside. You know? Luckily, grain based salads like this warm farro salad with roasted root vegetables can come to the rescue!
How to Make this Warm Farro Salad
This salad starts by roasting up some of my favorite root veggies: butternut squash and rainbow carrots but can easily be adapted to whatever roasted vegetables you may have on hand. Some other veggies that would be great for this salad include: Brussels sprouts, broccoli, cauliflower, and sweet potato.
To cook the farro, you'll add 2 cups of water/broth to a saucepan with 1 cup of rinsed farro. Simmer for 15 minutes until tender and drain any excess water. Easy-peasy! Cook up a batch of farro on the weekend and add it to salads all week.
To incorporate some greens, I also sautéed some bagged spinach with lots of garlic since you can't have a salad without a little bit of green. 😉
I love adding some pistachios to this salad for a little bit of crunch. Feel free to use whatever nut you prefer like almonds or walnuts.
What is Farro?
Farro is ancient grain in the wheat family. I picked it up from the bulk bins at Whole Foods the first time about a year ago. I am always looking to experiment with new ingredients in the kitchen! When cooked, farro has a chewy texture and a slightly nutty flavor. It reminds me a lot of barley, but has a bit more bite to it after cooking.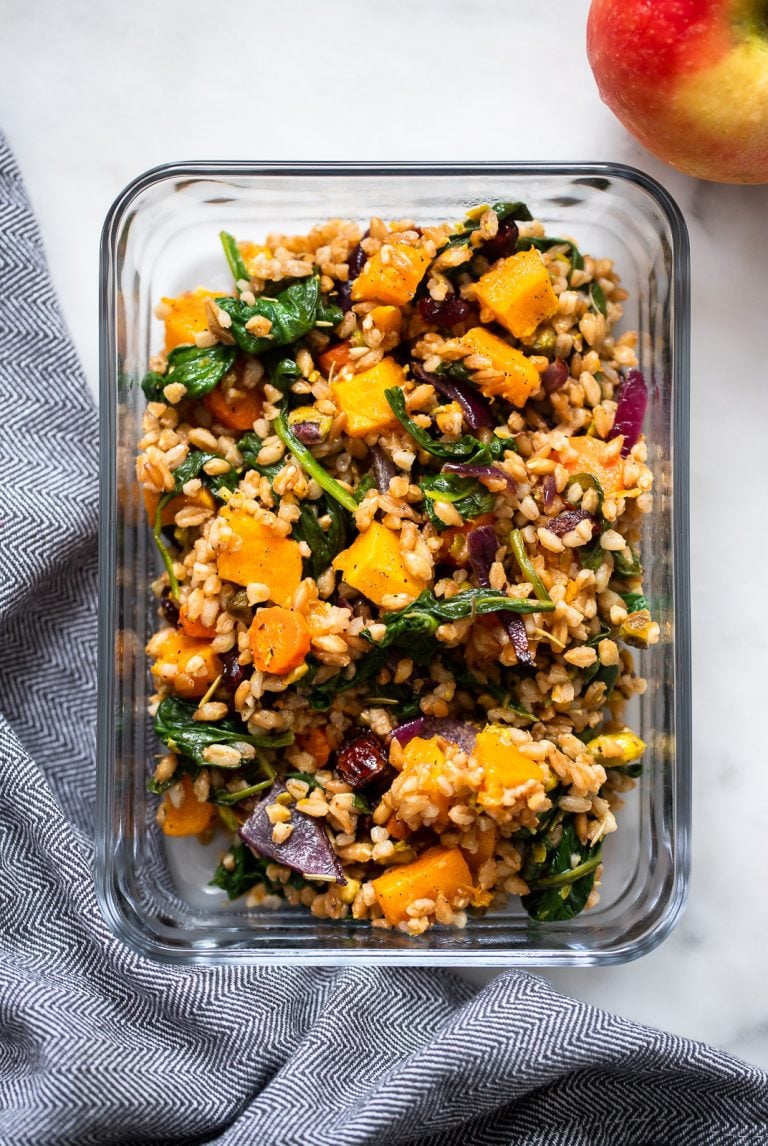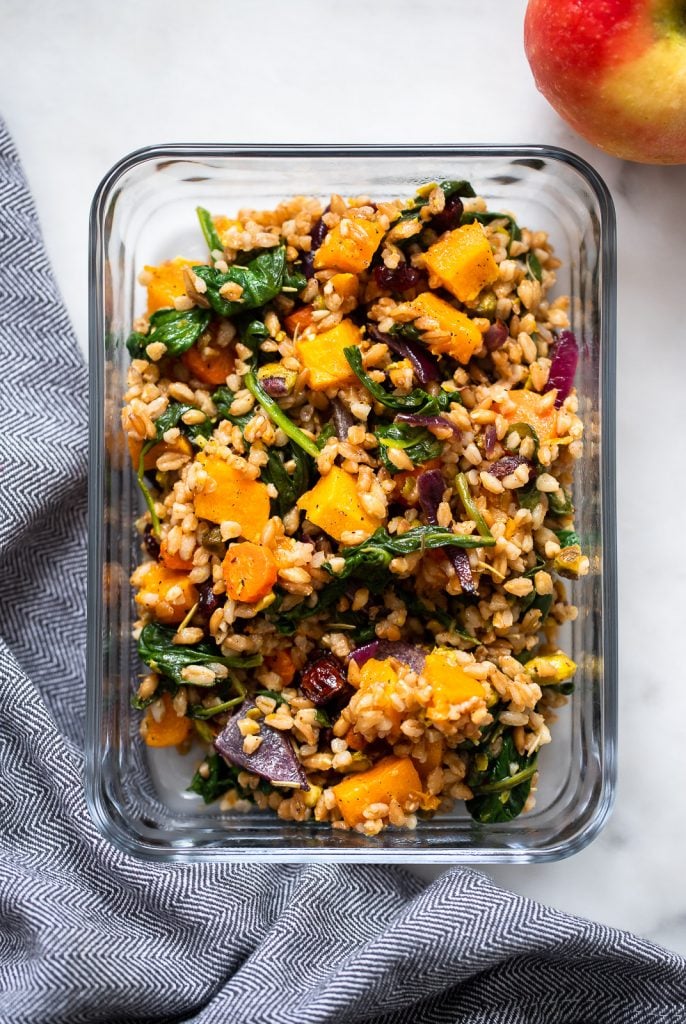 Is Farro Good for You?
Nutrition-wise, farro is similar to other whole grains with 7 grams of fiber and 7 grams of protein per 1/2 cup cooked farro. If you can't find farro, you can definitely replace it with your favorite grain/starch like barley, quinoa, brown rice, or wheat berries. You'll need 2 cups of cooked grain to make this salad if using something other than farro.
Is Farro Gluten Free?
No — Farro is a type of wheat so it does contain gluten.
How to Serve this Farro Salad
Make it a meal by adding some protein like a hard boiled egg or chickpeas.
Serve warm or cold! Both ways this salad tastes delicious.
Makes a great side dish when paired with a cooked vegetable and a vegan sausage.
To make it vegan, leave off the goat cheese.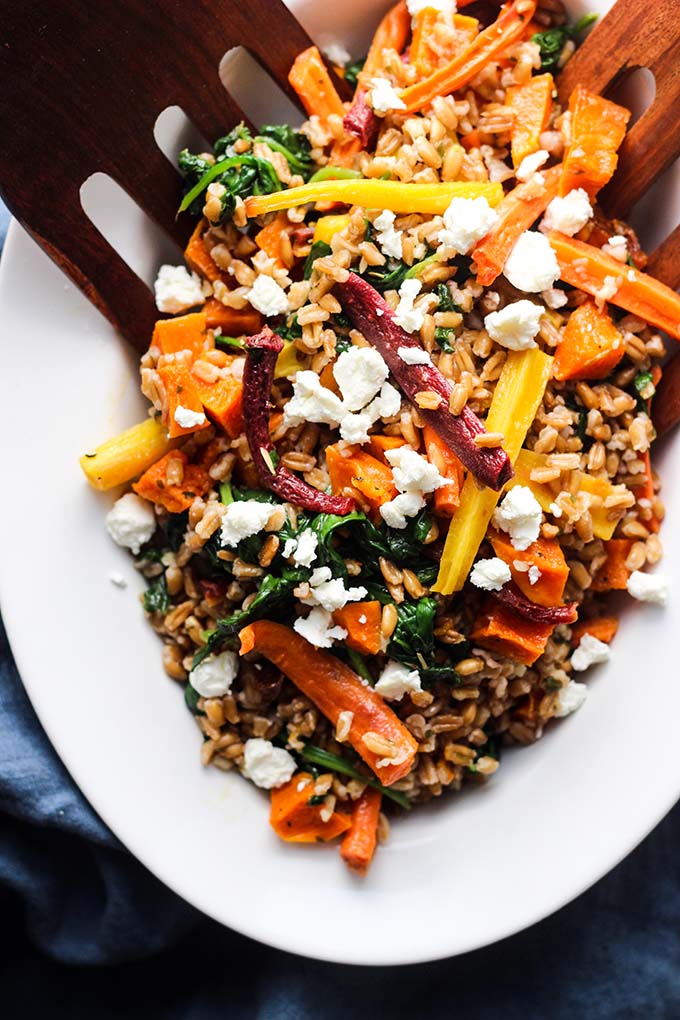 Did you love this recipe? Make sure to leave a ⭐️ rating and tag #dietitiandebbie on instagram!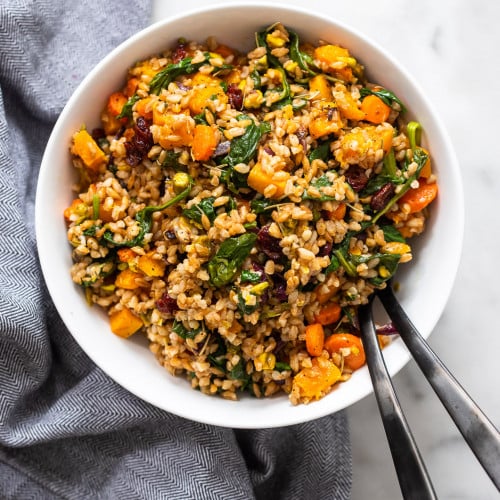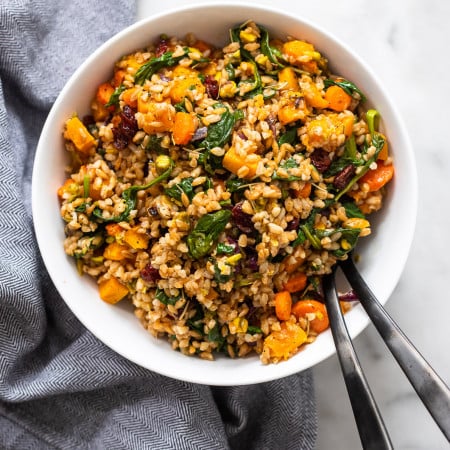 Warm Farro Salad with Roasted Root Vegetables
Step up your salad game by making this warm farro salad with roasted root vegetables! Simple ingredients like roasted vegetables, lemon and rosemary complement each other perfectly.
Ingredients
For the Roasted Vegetables: 
1 1/2 tablespoons olive oil
3 cups cubed butternut squash
2-3 carrots, peeled and sliced
1/2 red onion, cut into 1/2 in wedges
1 teaspoon dried rosemary
2 cloves garlic, minced (OR 1 teaspoon garlic powder)
1 dash Sea salt and ground black pepper
For the Farro: 
1 cup farro
1 cup vegetable broth
1 cup water
For the Salad: 
1/2 bag (5 oz) baby spinach
1/2 lemon, juiced
1/2 teaspoon lemon zest
1 tablespoon red wine vinegar
1 tablespoon olive oil
1/3 cup crumbled goat cheese
1/3 cup chopped pistachios
1/4 cup dried cranberries
Sea salt and ground black pepper, to taste
Instructions
For the roasted vegetables:
Preheat your oven to 375 degrees Fahrenheit. 

In a large mixing bowl, toss squash, carrots, and red onion in olive oil, rosemary, and garlic and spread in a single layer on a baking sheet. Sprinkle with salt and pepper and bake until tender and lightly browned, about 45-55 minutes. Once roasted, transfer to a large mixing bowl. 
For the farro:
Meanwhile, bring broth and water to a boil in a small saucepan. Add the farro, reduce to a simmer and cook until tender, about 15-20 minutes.
For the Salad:
Add cooked farro and roasted vegetables to a large mixing bowl. While still hot, stir in the baby spinach so that it wilts slightly.

Stir in the lemon juice, lemon zest, vinegar, olive oil, goat cheese, pistachios, and cranberries. Season with additional salt and pepper, to taste. Serve warm or chilled.
Notes
Salad will keep in the refrigerator for up to 3 days. 
Freezes well in an airtight container. When ready to eat, allow to thaw in the fridge overnight or microwave in covered dish until warm. 
Nutrition
Serving: 1/5 salad | Calories: 308kcal | Carbohydrates: 44g | Protein: 9g | Fat: 12g | Saturated Fat: 3g | Polyunsaturated Fat: 2g | Monounsaturated Fat: 7g | Cholesterol: 6mg | Sodium: 79mg | Potassium: 567mg | Fiber: 9g | Sugar: 8g | Vitamin A: 12102IU | Vitamin C: 22mg | Calcium: 93mg | Iron: 2mg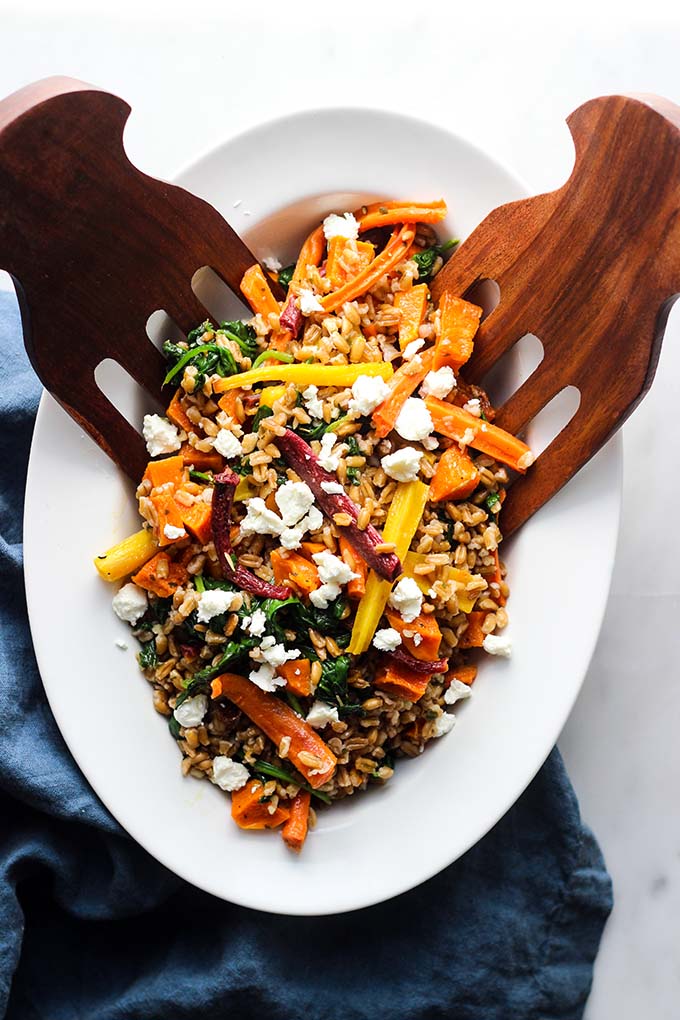 Reader Interactions