This simply curry spiced quinoa is spiced with curry powder and loaded with add-ins like raisins, chickpeas, and fresh herbs. It also packs well for meal prepping for lunch!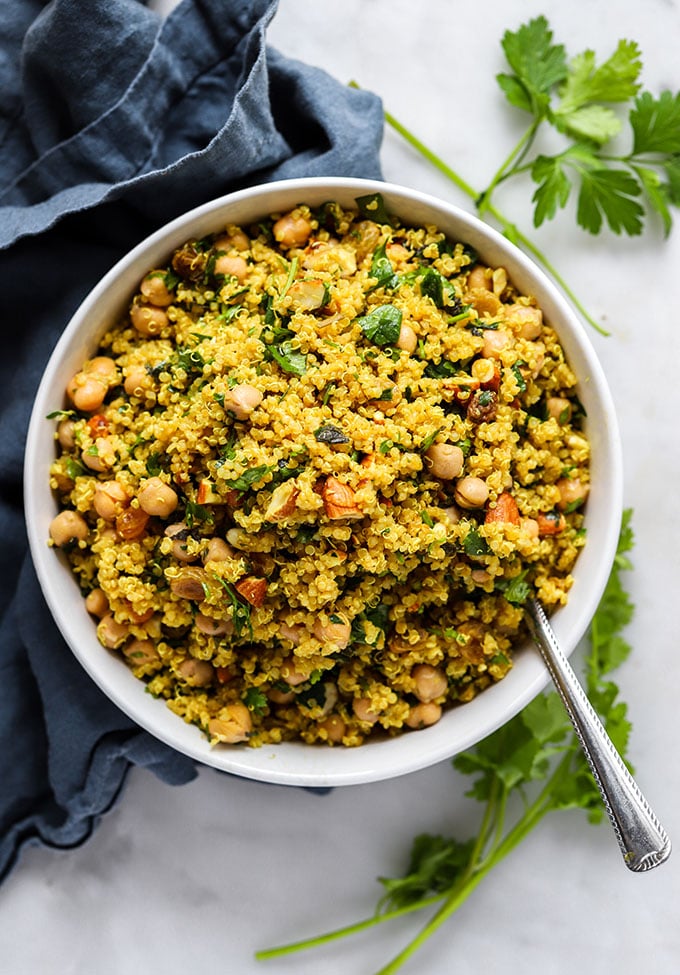 I feel like I haven't made any quinoa recipes in ages and I'm not sure why, because I love quinoa! This simple curry spiced quinoa is the perfect accompaniment to fall based meals since it pairs really well with roasted vegetables like carrots or squash.
It is super simple to whip up with just a few basic ingredients including: quinoa, broth, curry powder, herbs, raisins, and almonds.
Tips for Cooking Quinoa
Make sure to thoroughly rinse your uncooked quinoa under cold running water. Rinsing is an important step as it removes the coating (called saponin) which can make your cooked quinoa taste bitter or soapy.
If you haven't had quinoa before, buy white quinoa which is what I used for this recipe. White quinoa has a milder flavor than black or red quinoa.
One cup of uncooked quinoa makes about 3 cups of cooked quinoa.
For every 1 cup of quinoa, add 2 cups of liquid for cooking. It should take about 20 minutes to cook up 1 cup of dried quinoa on the stovetop.
Why is Quinoa Good for You?
Although quinoa is often prepared and served like a grain, it is actually a seed! Since it is a seed, it still includes the germ which is full of healthy fats and protein. About 15% of the total weight of dried quinoa seeds is made up of protein which is higher than most grains.
The other unique characteristic of the protein in quinoa is that it contains all nine essential amino acids including lysine which is not found in other whole grains like wheat. Those who follow a plant-based diet (ie. vegetarian/vegan) should make sure to incorporate foods high in lysine like quinoa into their daily diet.
Quinoa is also a good source of many B-vitamins like thiamine, riboflavin, B6 and folate as well as phosphorus and magnesium. Quinoa is gluten free so it makes for a tasty grain option for those who need to avoid wheat.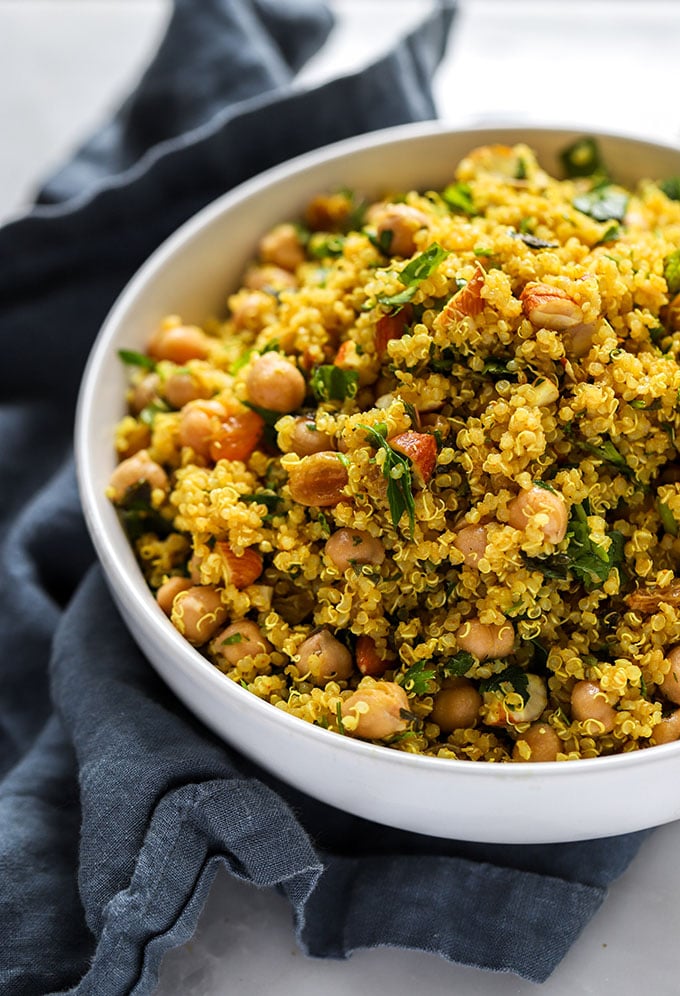 What is Curry Powder?
The key ingredient in this simply curry spiced quinoa recipe is curry powder. Although the exact mix of spices varies, the spices in the curry powder I have at home include: coriander, turmeric, mustard, cumin, fenugreek, paprika, cayenne, cardamom, nutmeg, cinnamon, and cloves.
The origin of curry powder is interesting as it is actually a British invention created to be able to mass produce some of the flavor from traditional Indian dishes .However, Indian cooking never uses a standard blend curry powder as unique spices are chosen based on the specific dish. You can read more about the history in this article from Gastro Obscura.
If you don't have curry powder at home, you can make a blend of your own with the spices listed but it can often be easier to just pick up a store-bought blend. Some curry powders tend to be more spicy than others depending on how much cayenne that particular brand includes in the mix.
In addition to this simple curry spiced quinoa recipe, I also use curry powder on roasted vegetables, hummus, soup, and more! Not only does curry powder add a punch of flavor to dishes, but it is also high in antioxidant rich spices like turmeric.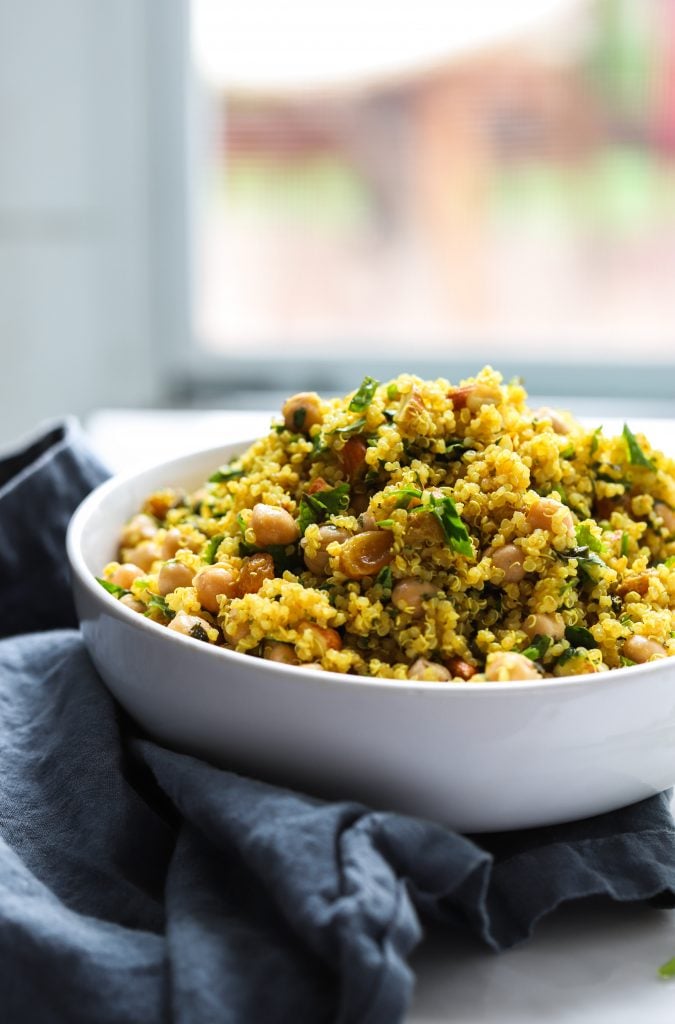 This Recipe Is…
Gluten free, vegan, easily packable for a healthy lunch at work, and great for meal prep!
Looking for more quinoa recipes? Check out these!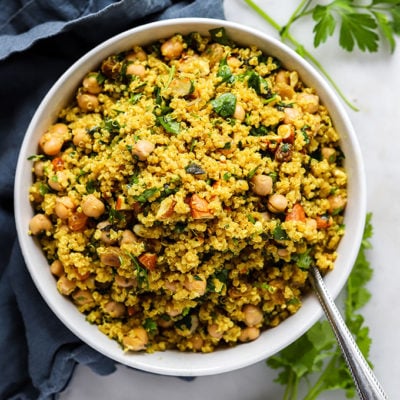 Simple Curry Spiced Quinoa
This simply curry spiced quinoa is the perfect accompaniment to festive fall meals. It also packs well for meal prepping for lunch!
Ingredients
1 cup uncooked white quinoa
1 cup vegetable broth
1 cup water
2 teaspoons curry powder
Juice from 1 lemon ~2 tablespoons
1 tablespoon red wine vinegar
1/2 cup chopped herbs I used a combo of mint, cilantro, and parsley
1/2 cup golden raisins
1 15 oz. can chickpeas, drained
1/2 cup slivered almonds
1/4 teaspoon sea salt
1/4 teaspoon ground black pepper
Instructions
Rinse quinoa well under cold running water using a fine mesh strainer. 

Transfer quinoa, water, broth, and curry powder to a medium saucepan and bring to a boil. Turn down heat, cover, and cook 15 minutes or until quinoa is tender and liquid has been absorbed.

Turn off the heat, leave the lid on, and let quinoa sit for another 5 minutes to finish cooking then fluff with fork.

Transfer cooked quinoa to a large mixing bowl and add lemon, red wine vinegar, herbs, raisins, chickpeas, almonds, salt, and pepper. Toss until mixed well. Add more salt and pepper to taste if needed.
Notes
Keeps up to 3 days in the refrigerator. 
Nutrition
Serving: 1/6th recipe | Calories: 199kcal | Carbohydrates: 30g | Protein: 8g | Fat: 5.5g | Saturated Fat: 0.5g | Polyunsaturated Fat: 5g | Sodium: 363mg | Fiber: 6g | Sugar: 2.5g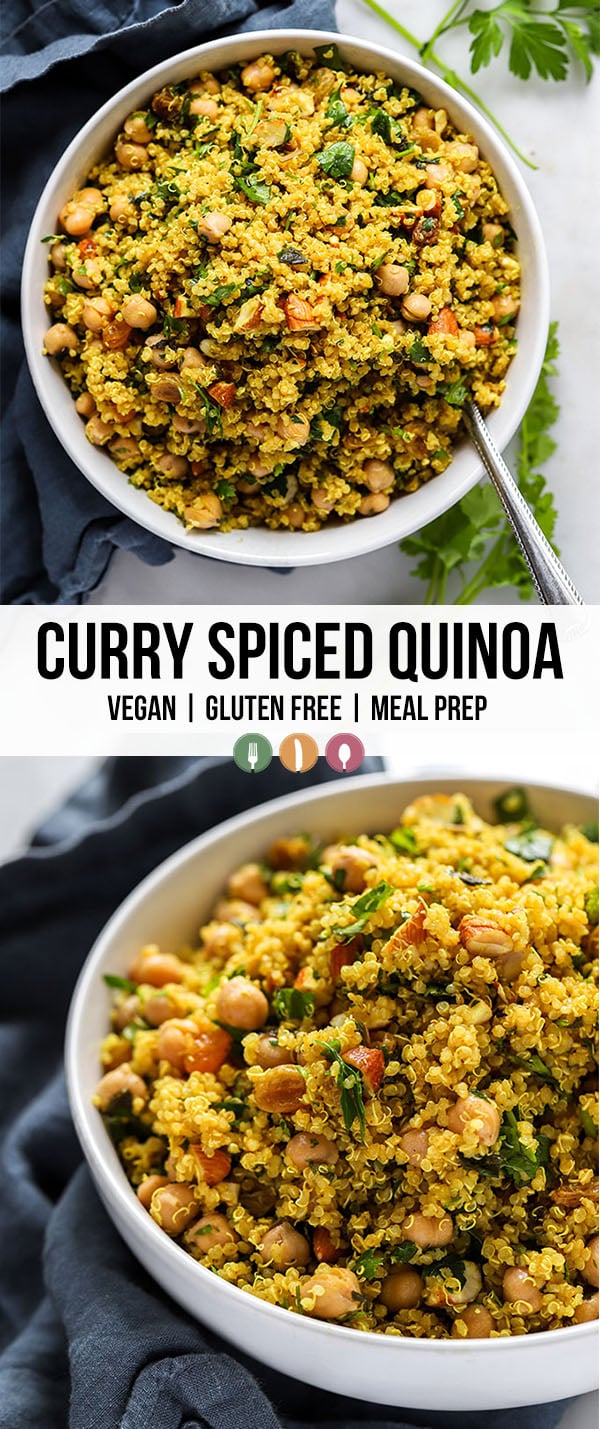 Reader Interactions