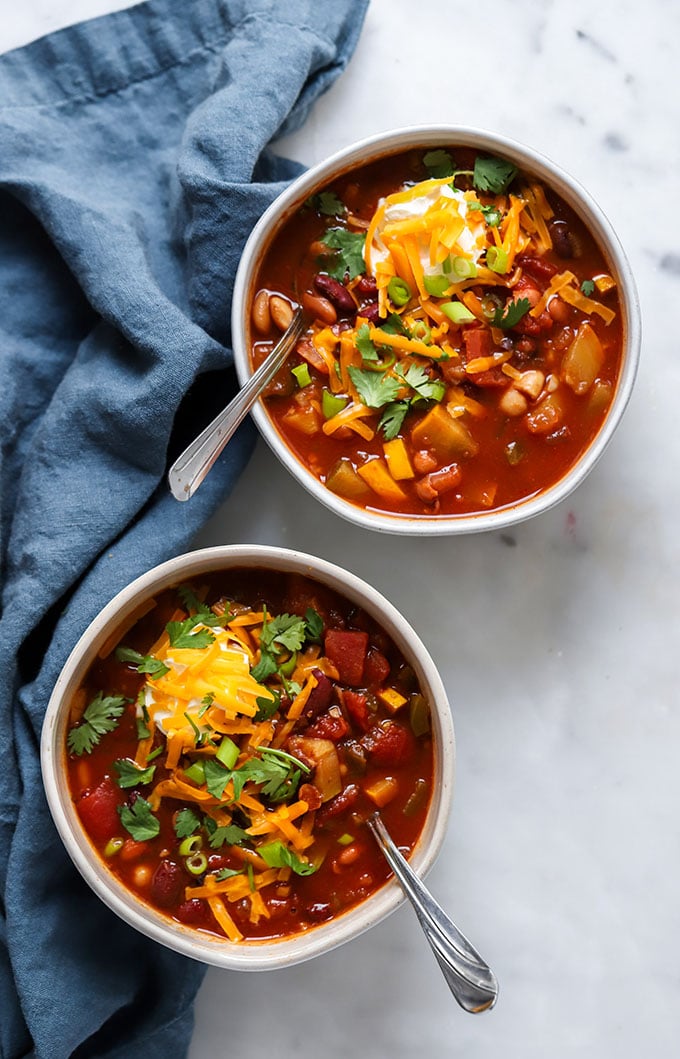 Hello soup season! I have been so excited to bust out my crockpot for soup recipes. I was looking back through the blog archives and realized it had been ages since I last posted a chili recipe, so I developed this one a couple weeks ago. I wanted to create a vegan chili that was packed with a bunch of different beans and chock full of chopped veggies so that it was both filling and delicious. This four bean vegan crockpot chili really checks all the right boxes! Crockpot recipes are some of my favorite since I love coming home from a long day at work to a crockpot full of dinner that is ready to eat. Thanks to a bunch of canned goods, this chili comes together rather quickly.
Tips for Making this Four Bean Vegan Crockpot Chili
The great thing about this chili is that you only need to chop a few things and then the rest is is basically just opening cans and dumping everything in! I dump all my canned beans into a colander and give them a quick rinse before adding them to the crockpot.
If you need to limit your sodium intake, make sure to buy low sodium canned goods and broth for this recipe.
Chop all of your vegetables (onion, zucchini, bell pepper) into similar sized pieces so that they all cook evenly.
I used 2 tablespoons of freshly ground dried ancho chile pepper for this recipe, which has a milder spice level and a smoky flavor. Chile powder is different than chili powder. Chile with an "e" is made with just the pepper while chili powder with an "i" is actually a blend of ground pepper and other spices. Feel free to skip or adjust based on your preference (ours was mild so I could use a couple tablespoons!) or you can also add 1 tablespoon sauce from canned chipotle peppers.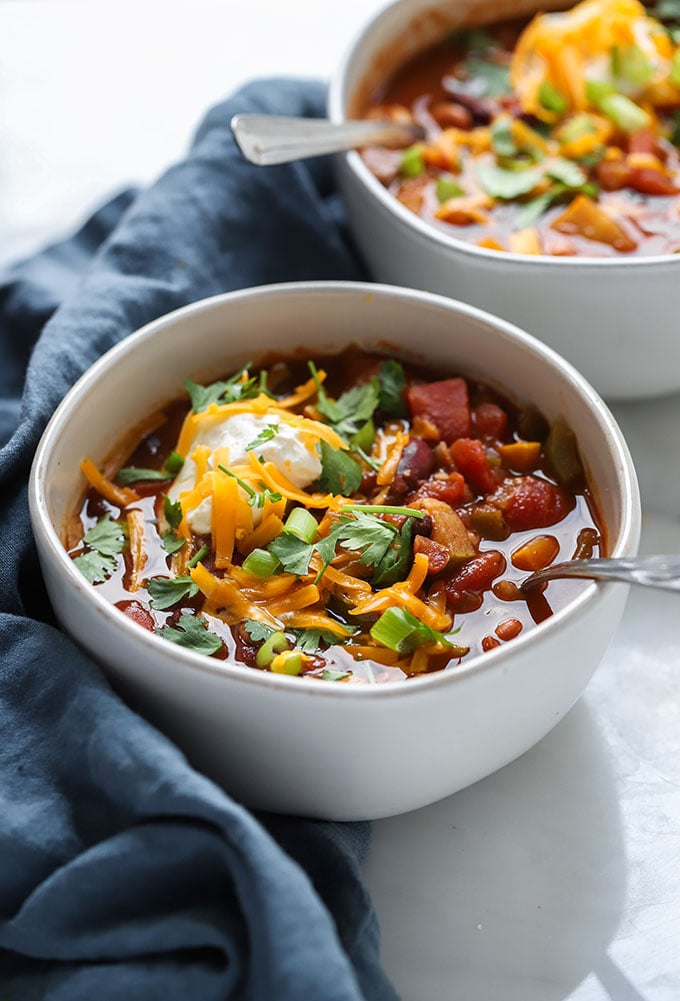 In a small household of 2, this chili goes a long way! I will make this up early in the week and then pack the leftovers for lunch the rest of the week. This chili can be stored for up to 3 days in the refrigerator. If you want to store it longer, portion it into smaller containers and freeze it. It does still taste great after being frozen!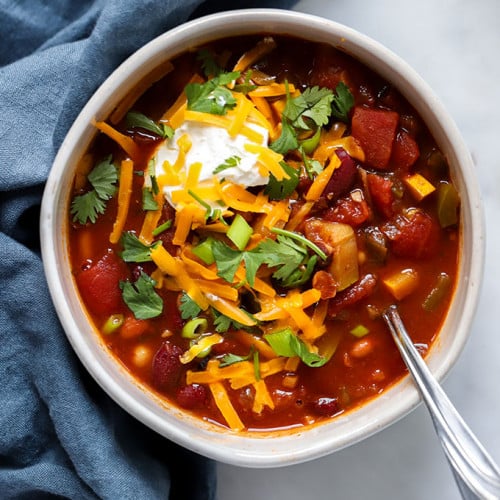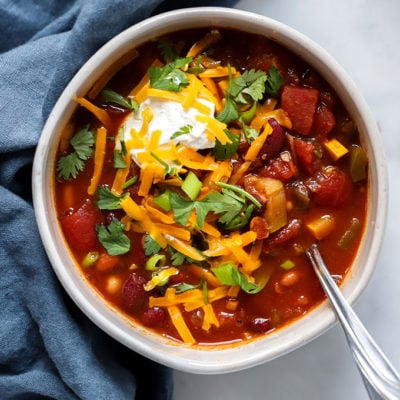 4 Bean Vegan Crockpot Chili
This quick and easy 4 bean vegan crockpot chili still feels hearty and filling without any meat. Beans add plenty of fiber and protein to keep you feeling satisfied!
Ingredients
2 tablespoons olive oil
1 yellow onion chopped
3 cloves garlic minced
1 green bell pepper chopped
1 zucchini chopped
2 tablespoons ancho chile powder Chile/chili powder spice level varies by brand so taste and adjust as needed
2 teaspoons cumin
1 teaspoon dried oregano
1 bay leaf
1 6 oz can tomato paste
1 quart 32 oz vegetable broth
2 14.5 oz cans diced tomatoes
1 15 oz can black beans, drained
1 15 oz can northern white beans, drained
1 15 oz can kidney beans, drained
1 15 oz can pinto beans, rinsed
Instructions
Add all of your ingredients to a crockpot. Cook on high heat for 6 hours. Garnished with desired toppings like cheese, sour cream, cilantro, chopped green onions. 
Notes
Leftovers keep well for up to 3 days in the refrigerator. This chili also freezes well if you want to make it in advance. 
Nutrition
Serving: 1/8 Recipe | Calories: 320kcal | Carbohydrates: 55g | Protein: 17g | Fat: 5.5g | Saturated Fat: 1g | Polyunsaturated Fat: 4.5g | Sodium: 991mg | Fiber: 12g | Sugar: 11g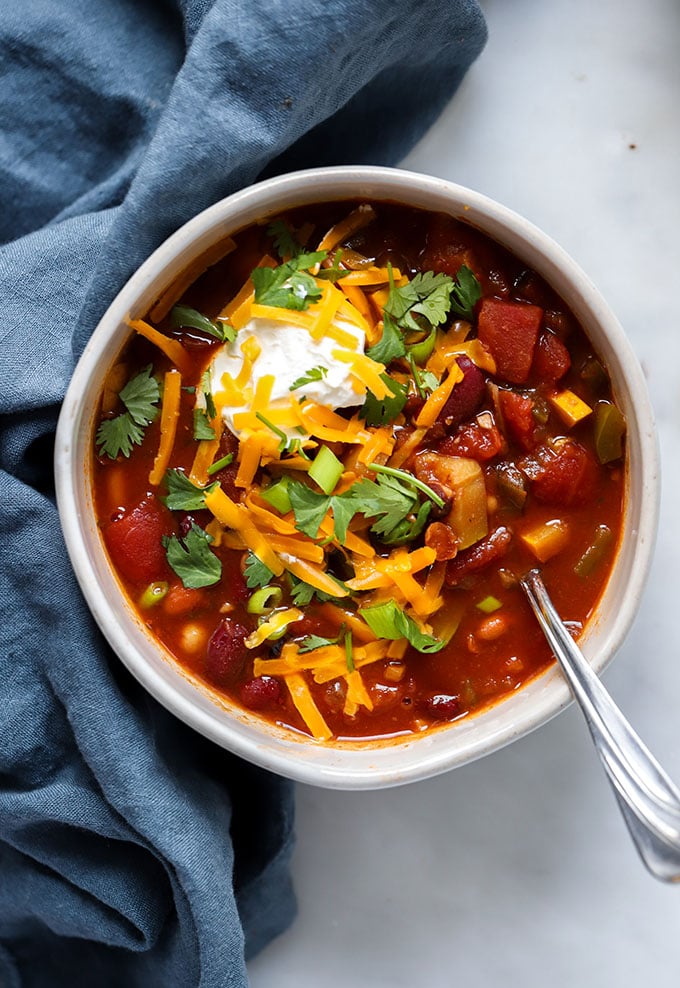 Reader Interactions