This one pot red lentil pumpkin soup is simple to whip up on even the busiest weeknight. A hearty vegan soup that will fill you up. I love to serve with a slice of buttered bread to add to the comfort factor!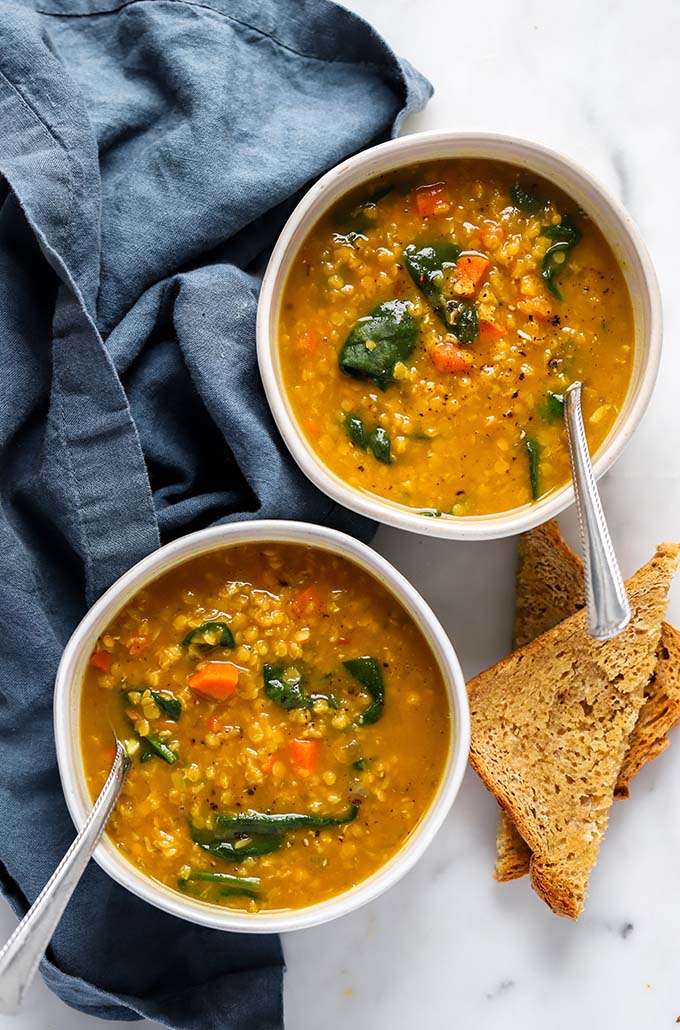 Last month, a bunch of my college friends and I got together for the first time in years. We booked an AirBnB in Pittsburgh for the weekend and spent the whole time catching up while noshing on some great food! My friend Teresa whipped up a red lentil soup that was super tasty and I found myself craving it again after our weekend get-together. It looked so easy, I thought I would try to recreate the recipe at home. I stirred in some canned pumpkin to add some extra creaminess and spiced it up with curry powder because red lentils and curry powder are just meant to be.

We've made this red lentil pumpkin soup a couple of times already and it is the perfect cozy soup for snowy nights. You can whip this up in just one pot so you can save yourself some time in the kitchen since there won't be a lot of pots to wash up. I usually buy my red lentils from the bulk bins at the store, but you can also find them in the dry goods section as well. Since they are smaller than other varieties of lentils, they cook up much faster so you can get this soup on the table in just about 30 minutes.
What Are the Health Benefits of Lentils?
Since you'll be cooking up this yummy soup, why not talk about why lentils are so good for you! Lentils belong to the legume family of plants which also includes beans, peas, chickpeas, etc. As a vegetarian, I love incorporating them into meals because they are a good source of plant-based protein. In fact, one cup of cooked lentils provides 14 grams of protein! Legumes are also a great source of fiber with about 16 grams per 1 cup serving.
The Institute of Medicine recommends women consume 25 grams fiber per day (21 grams if >51 years of age) and men consume 38 grams fiber per day (30 grams if >51 years of age). Just one bowl of this lentil soup provides at least half of the recommended amount of fiber you need for the day. In addition to fiber and protein, lentils are also a great source of iron, vitamin B6 and magnesium. Many Americans don't get enough magnesium in their diet which is important to note since magnesium deficiency has been associated with cardiovascular disease, osteoporosis, hypertension, and diabetes.
Regularly incorporating foods that are high in magnesium in your diet like lentils, green leafy vegetables, unrefined grains, and beans will help you meet the recommended intake for magnesium.
How to Serve this Red Lentil Pumpkin Soup
I like serving it with some buttered toast for dipping but it would also be good paired with a salad, here are some of my favorites –> winter kale salad, simple Italian salad, blood orange moroccan salad.
Looking for other hearty soups to try this winter? Check out these: crockpot vegan minestrone, vegan broccoli cheddar soup, vegetarian lasagna soup.
One Pot Red Lentil Pumpkin Soup
This one pot red lentil pumpkin soup is super simple to whip up on even the busiest weeknight. A hearty vegan soup that will fill you up on a cold night.
Ingredients
2 tablespoons olive oil
1/2 onion chopped (~1 cup)
3 carrots peeled and chopped (~1 1/3 cup)
2 teaspoons curry powder
2 cloves garlic minced
1 15 oz can pumpkin puree
8 cups vegetable broth
2 cups red lentils
1 bay leaf
Dash of red pepper flakes
Sea salt and ground black pepper to taste
2 teaspoons lemon juice
1 5 oz bag baby spinach
Instructions
Add olive oil to a large dutch oven and heat over medium-high heat. Stir in in the onion, carrots, and curry powder. Simmer for 3-5 minutes or until onion is translucent.

Stir in the garlic and saute for 1 minute. 

Add the pumpkin, broth, lentils, bay leaf, and red pepper flakes. Bring to a simmer and cook until lentils are softened, about 8-10 minutes. Stir in the salt, pepper, lemon juice, and spinach. Cook until spinach is wilted. Serve! 
Nutrition
Serving: 1/6th recipe | Calories: 332kcal | Carbohydrates: 55g | Protein: 17.5g | Fat: 6g | Saturated Fat: 1g | Polyunsaturated Fat: 5g | Sodium: 800mg | Fiber: 10.5g | Sugar: 7g
Reader Interactions