This one pot red lentil pumpkin soup is simple to whip up on even the busiest weeknight. A hearty vegan soup that will fill you up. I love to serve with a slice of buttered bread to add to the comfort factor!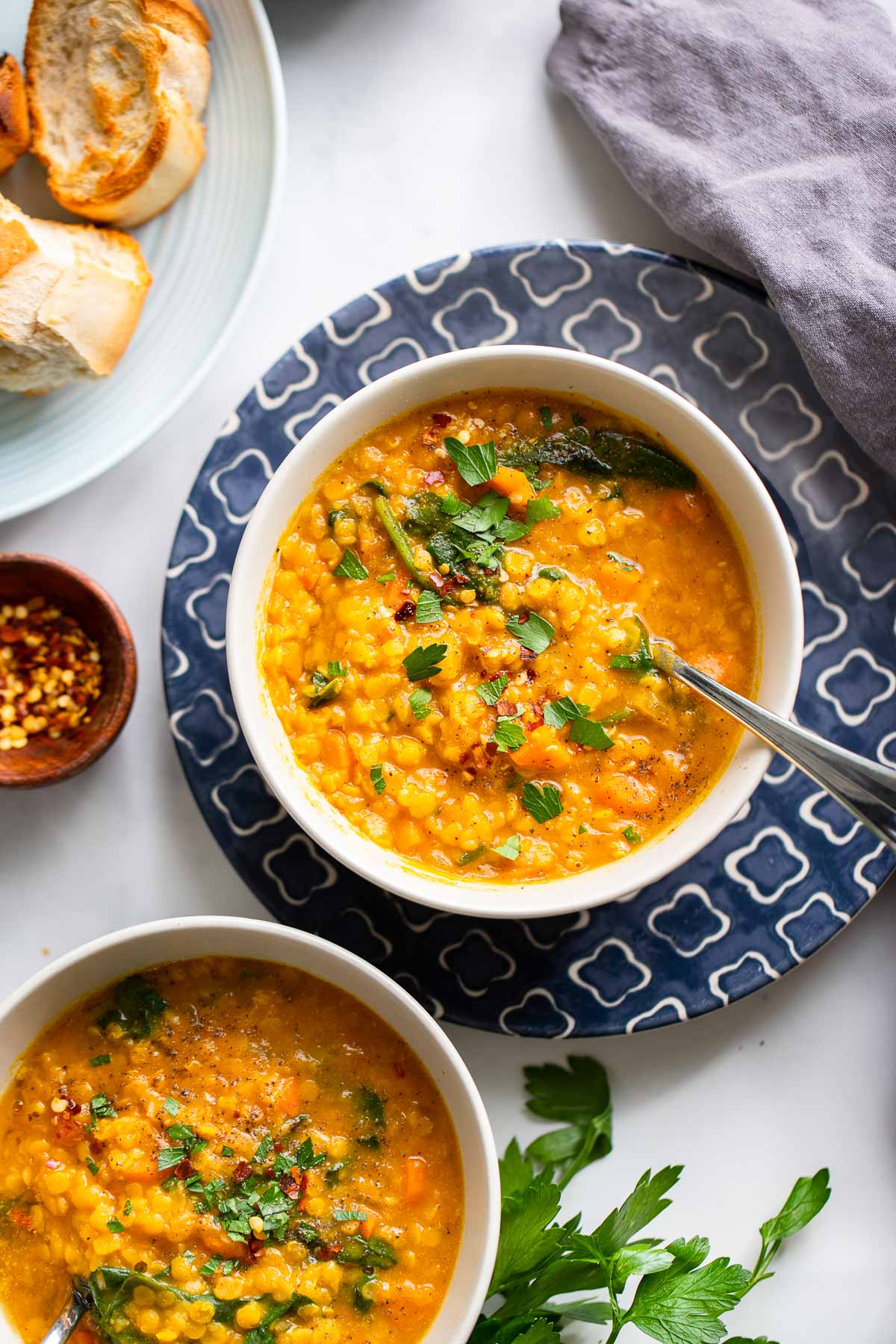 The inspiration for this soup came from my friend Teresa who make a similar soup when I was spending a weekend with a bunch of my friends from college. It's been a few years now since I first published this recipe on the blog and we make it several times every fall/winter. It never gets old!
I love using red lentils in soups like this one because they cook so much faster than brown or green lentils. We always try to keep a jar of them tucked away in the pantry whenever the craving for this soup hits!
Why You'll Love this Recipe
The perfect cozy soup for cold fall/winter evenings.
Use just a handful of pantry-staples like red lentils, canned pumpkin, curry powder, and vegetable broth to recreate this delicious soup.
One pot and ready in just about 30 minutes – perfect for even busy weeknights!
A great option for those with dietary preferences or allergies since it is vegan, egg free, dairy free, and gluten free.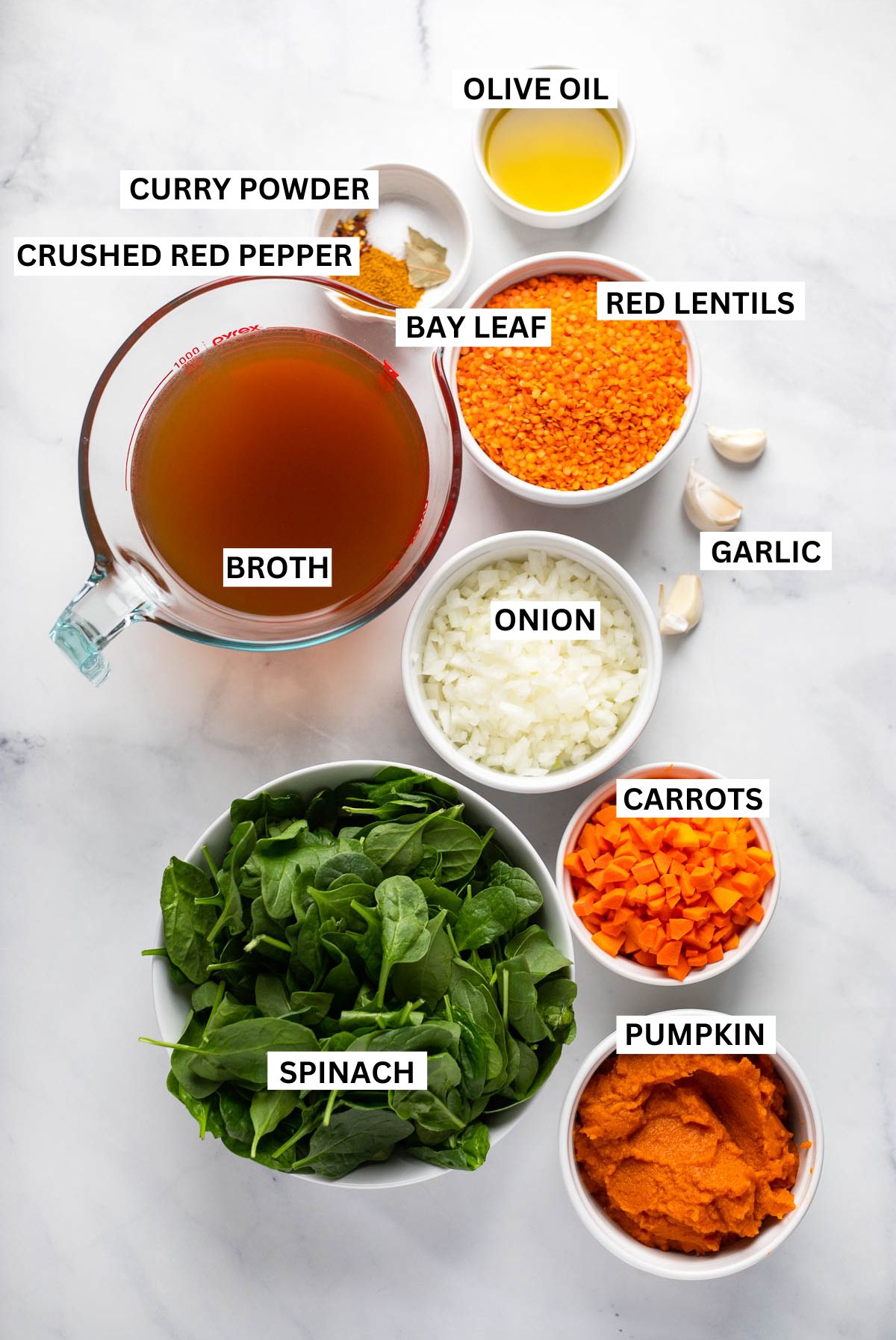 Ingredients Notes
Red Lentils: Quick cooking and rich in fiber and plant-based protein.
Canned Pumpkin: Adds extra creaminess to this soup with just a hint of pumpkin flavor.
Onion/Garlic/Carrots: Essential vegetables for any delicious soup recipe.
Curry Powder: Packs a ton of flavor into this soup and pairs well with the red lentils.
Vegetable Broth: Balances out all the flavors in this soup, complementing the fresh onion and garlic. Feel free to use 50/50 water and broth OR use only water if you wish. Use a low sodium vegetable broth if you need to watch your salt intake as some packaged broths can be quite high in sodium.
Spinach: Adds more color as well as additional iron, fiber, and nutrients to this soup.
Lemon: Brightens up all the flavors going on in this soup. Don't skip it!
Step by Step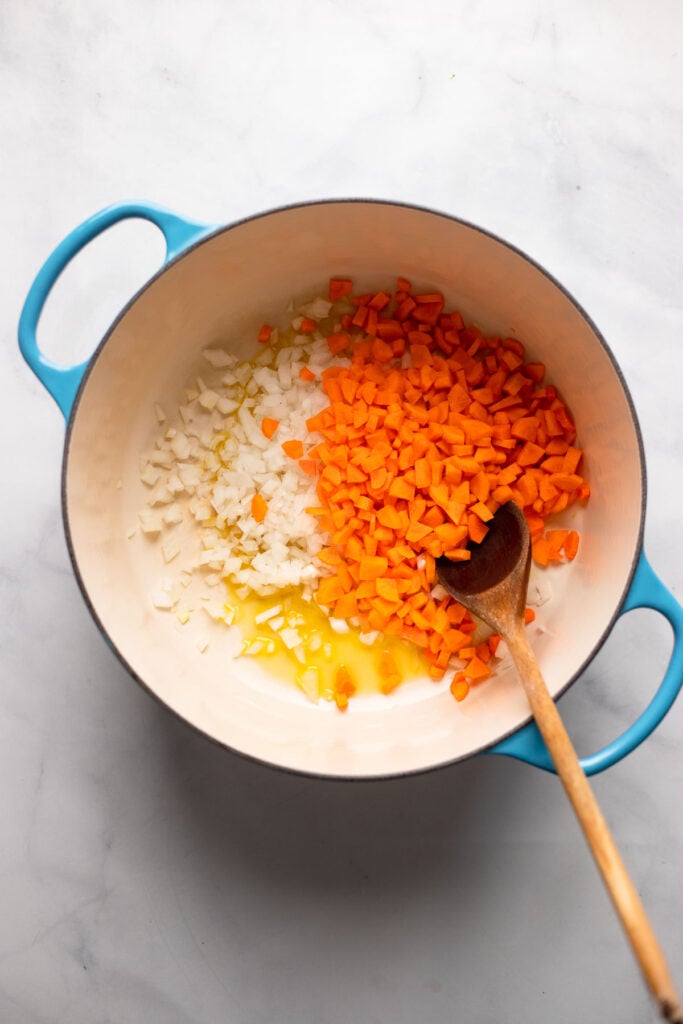 STEP 1: Add the oil, onion, and carrot to a dutch oven. Sauté over medium heat for 5-7 minutes or until onion is translucent.
STEP 2: Stir in the curry powder and garlic. Cook for 1 minute.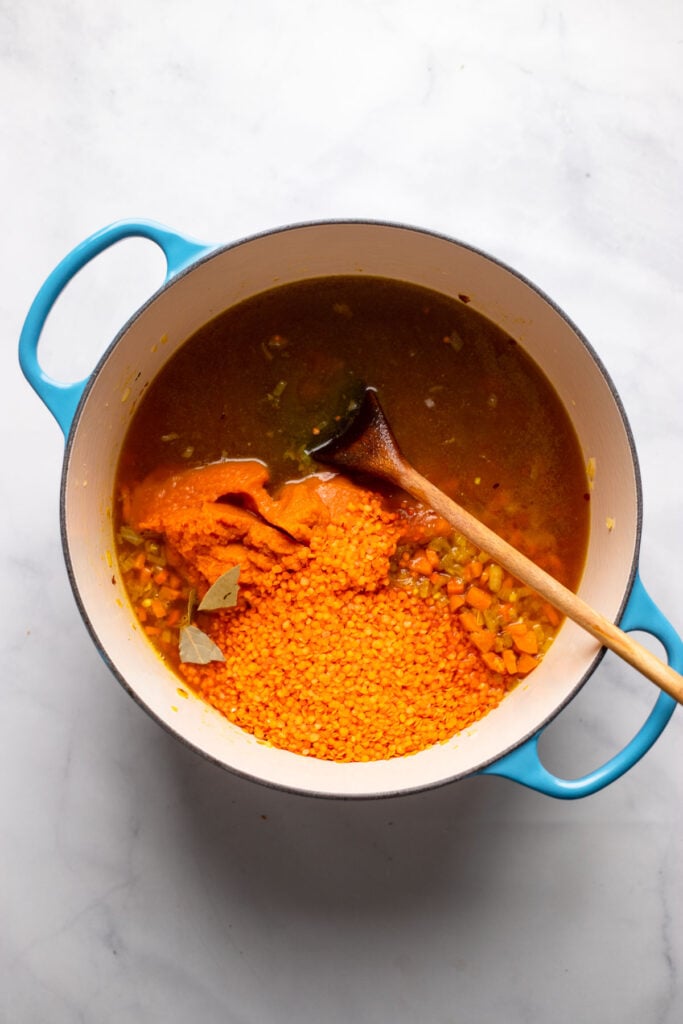 STEP 3: Add the broth, pumpkin, lentils, bay leaf, and red pepper flakes. Stir well and bring to a simmer. Allow to simmer or 10-12 minutes or until lentils have softened.
STEP 4: Stir in the spinach and lemon juice. Cook for about 2 minutes or until the spinach has wilted. Remove from heat, taste and season with additional salt and ground black pepper. Serve with some buttered bread!
Lentil Health Benefits
Since you'll be cooking up this yummy soup, why not talk about why lentils are so good for you! Lentils belong to the legume family of plants which also includes beans, peas, chickpeas, etc. As a vegan, I love incorporating them into meals because they are a good source of plant-based protein. In fact, one cup of cooked lentils provides 14 grams of protein!
Legumes are also a great source of fiber with about 16 grams per 1 cup serving. The Institute of Medicine recommends women consume 25 grams fiber per day (21 grams if >51 years of age) and men consume 38 grams fiber per day (30 grams if >51 years of age). Just one bowl of this lentil soup provides at least half of the recommended amount of fiber you need for the day.
In addition to fiber and protein, lentils are also a great source of iron, vitamin B6 and magnesium.
Many Americans don't get enough magnesium in their diet. Magnesium deficiency has been associated with cardiovascular disease, osteoporosis, hypertension, and diabetes. Regularly incorporating foods that are high in magnesium like lentils, green leafy vegetables, unrefined grains, and beans will help you meet the recommended intake for magnesium.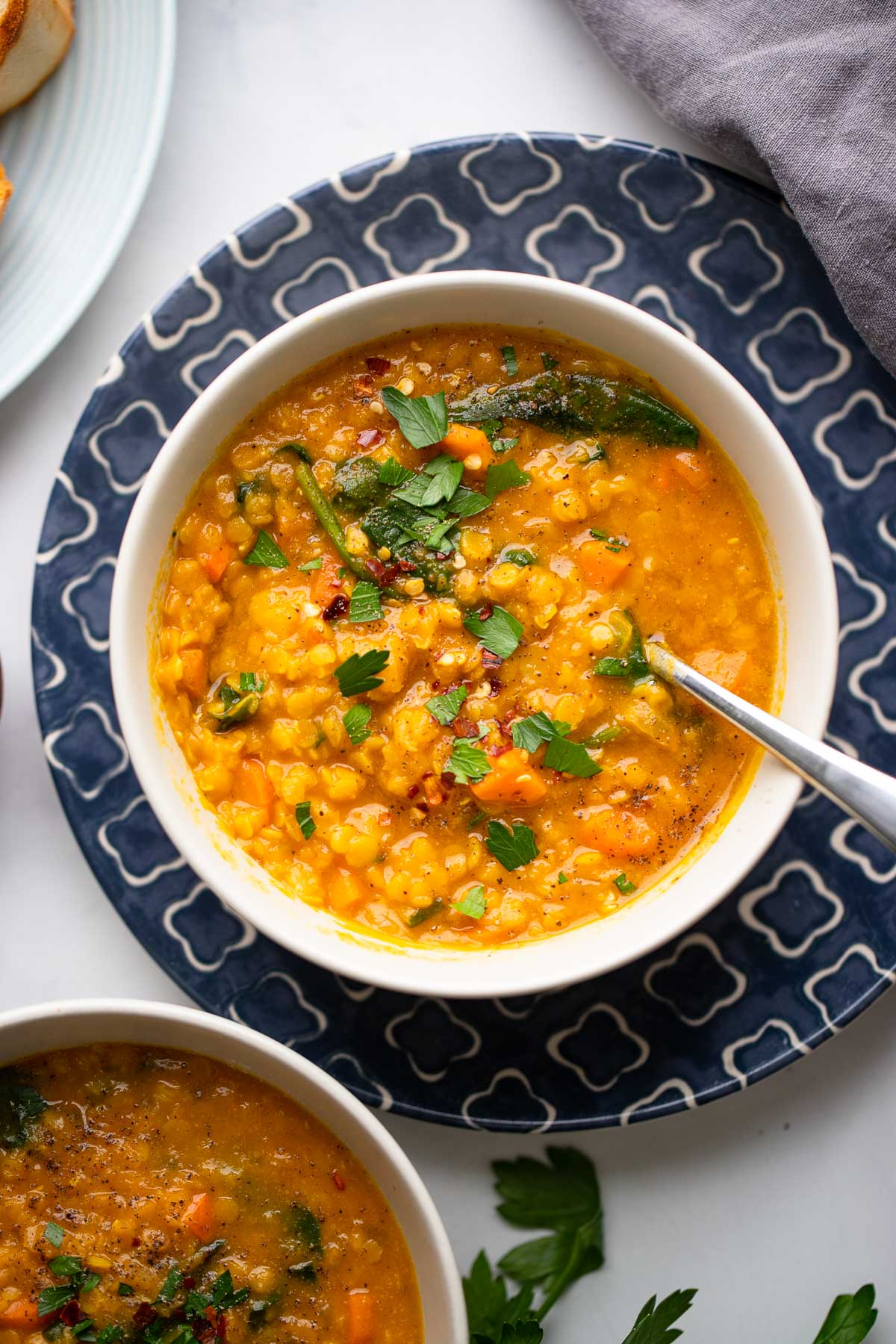 How to Serve this Red Lentil Pumpkin Soup
This lentil pumpkin soup is chock full of plant-based protein and fiber so it can be filling enough on its own with some buttered toast for dipping. You could also pair it with a salad (love the combo of soup & salad!). Here are a few salad options to try: winter kale salad, blood orange moroccan salad, lemon kale Caesar salad.
Storage
Fridge: Allow soup to cool to room temperature and then transfer to an airtight container. Leftover soup can be stored in the fridge for up 3-4 days. To reheat, add soup to a microwave safe bowl and cook or 2-3 minutes or until warmed through. Soup can also be reheated on the stove in a small saucepan (for individual servings) or the dutch oven (several servings).
Freezer: Leftover soup can be frozen for up to 3 months. Allow soup to cool to room temperature and transfer to storage container before putting it in the freezer. To defrost, transfer frozen soup to the fridge overnight. Reheat in the microwave or on the stovetop.
Frequently Asked Questions
Can you make this with a different type of lentil?
I have not made this soup with green or brown lentils, but it should work just as well. However, the cooking time will be much longer and the texture will be different.
Do red lentils require soaking?
Red lentils can be cooked from dried – no need to presoak them before cooking! Even without any soaking, red lentils cook quickly. You may still want to rinse your lentils before cooking and make sure there is no debris in your lentils.
What is the difference between red lentils and green lentils?
Red lentils are split into halves and do not contain their outer coating like green lentils. Since they are split, red lentils cook much faster than other varieties.
More Delicious Soup Recipes to Try
Did you love this recipe? Make sure to leave a ⭐️ rating and tag #dietitiandebbie on instagram!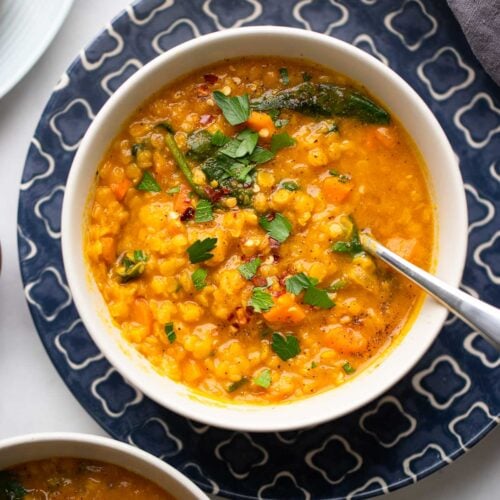 One Pot Red Lentil Pumpkin Soup
This one pot red lentil pumpkin soup is super simple to whip up on even the busiest weeknight. A hearty vegan soup that will fill you up on a cold night.
Ingredients
2 tablespoons olive oil
1/2 onion, chopped (~1 cup)
3 medium carrots, peeled and chopped (~1 cup)
1 1/2 tablespoons curry powder
3 cloves garlic, minced
1 can (15 oz) pumpkin puree
6 cups vegetable broth (can also use 4 cups broth, 4 cups water)
1 1/2 cups red lentils
1 bay leaf
Dash of red pepper flakes
1/2 lemon, juiced (about 1 tablespoon juice)
1 5 oz bag baby spinach
Sea salt and ground black pepper to taste
Instructions
Add olive oil to a large dutch oven and heat over medium-high heat. Stir in the onion and carrots. Sauté for about 5 minutes or until onion is translucent.

Stir in the curry powder and garlic and sauté for 1 minute. 

Add the pumpkin, broth, lentils, bay leaf, and red pepper flakes. Bring to a simmer and cook until lentils are softened, about 10-12 minutes.

Stir in the lemon juice and spinach. Cook until spinach is wilted. Taste and season with salt and pepper as needed. Garnish with chopped parsley and red pepper flakes to serve.
Notes
Allow soup to cool to room temperature before transferring to storage containers. Leftovers will keep up to 3 days in the fridge and up to 3 months in the freezer. 
To reheat, add to a small saucepan and simmer briefly over medium heat OR add to microwave safe bowl and reheat 2-3 minutes (adjust based on your microwave). 
Nutrition
Serving: 1/6th recipe | Calories: 160kcal | Carbohydrates: 24g | Protein: 7g | Fat: 5g | Saturated Fat: 1g | Polyunsaturated Fat: 1g | Monounsaturated Fat: 4g | Sodium: 46mg | Potassium: 578mg | Fiber: 9g | Sugar: 6g | Vitamin A: 18360IU | Vitamin C: 13mg | Calcium: 71mg | Iron: 4mg
Reader Interactions