Want to add beets to your diet but don't know where to start? Try this delicious beet juice recipe made in the blender – no juicer required! As a Registered Dietitian, I love sipping on homemade juices like this one; beets are packed with antioxidants and offer many health benefits.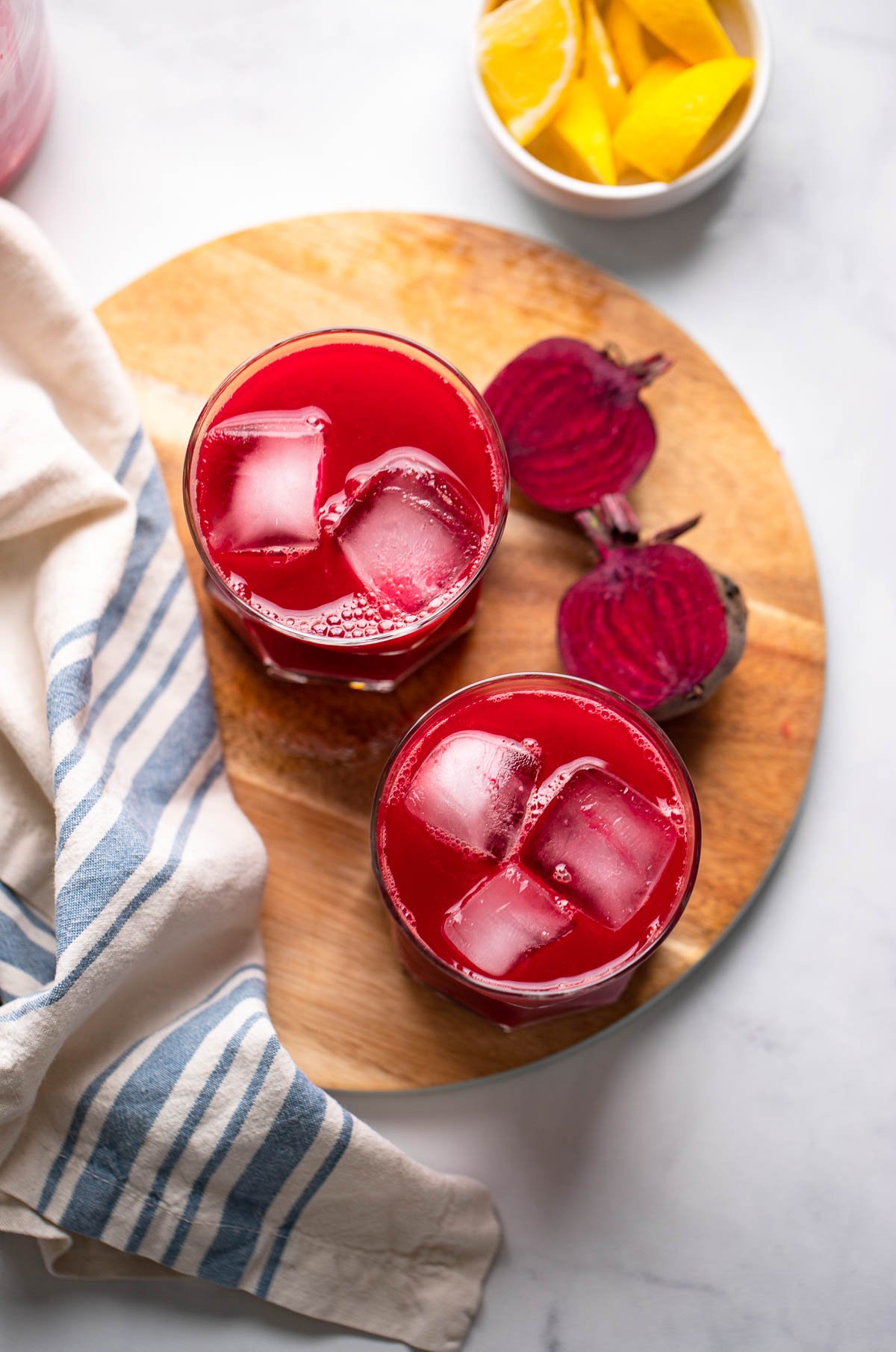 I love making up a glass of fresh pressed juice like this carrot and ginger juice on the weekend. This blender beet juice recipe is another favorite of mine since it tastes almost like a ginger-y lemonade. It is so refreshing served with a few ice cubes or even a splash of sparkling water for some bubbles.
Love sipping on this juice with a yummy breakfast option like this vegan broccoli cheddar quiche, a vegan breakfast burrito with tofu scramble, JUST Egg vegan spinach quiche, or a slice of this lemon blueberry baked oatmeal.
Why You'll Love this Recipe
Delicious: The healthy beetroot juice has just the right balance of sweet and tang thanks to the lemon and ginger.
Packed with Nutrients: Beets are packed with nutrients such as folate and nitrates while providing anti-inflammatory benefits, lower blood pressure, and improved athletic performance.
Easy: Simple to make in either the blender or a juicer. Making juice at home is much cheaper than buying it!
Ingredients You'll Need
Beets: use raw beets that have been scrubbed well, trimmed, and peeled. You can use any color beets you would like: red, pink, or yellow. I used red beets for the juice in the photos for this post as I really like the vibrant red color. However if using another color beet, you will have a lighter colored juice.
Carrots: carrots add a little sweetness to this juice. I usually use 2 medium peeled carrots.
Apple: adds some sweetness to balance out the other flavors in this juice recipe. If you want lower the sugar content, replace the apple with a 6 inch piece of cucumber.
Lemon: the acidity in the lemon brightens the earthy flavor of the beets. This recipe tastes best with fresh lemon, but you can use 3-4 tablespoons lemon juice. If you like, you can try this raw beet juice with lime juice or orange juice too.
Ginger: I just love the punch of flavor that ginger adds to any homemade juice recipe. It makes this juice recipe taste a little like a gingery lemonade.
Water: in order for the ingredients to puree well in the blender, you may want to add some water. If you have a juicer, you may be able to skip the water.
Beet Juice Health Benefits
What are the health benefits of beets? Here's a registered dietitian's recap of just some of the potential health benefits of incorporating beets into your diet. Have more questions about juicing vs smoothies? Check out my juicing vs blending: which is better? post.
Beets are particularly rich in folate which plays a critical role in growth and development. They are also a good source of potassium; 1 cup of raw beets provides about 10% of the daily value.
Like most fruits and vegetables, beets are high in antioxidants. Beets in particular have been shown to support the natural detoxification processes in the liver.
Beets contain pigments called betalins which have anti-inflammatory properties; chronic inflammation can lead to diseases like type 2 diabetes, heart disease, and cancer.
Beets can help lower blood pressure since they are a natural source of nitrates (the good ones!). Dietary nitrates can cause blood vessels to relax which in turn lowers blood pressure. However, the effects of beets on blood pressure are only temporary so you would need to consume them regularly to see health benefits long term.
Drinking beet juice may support better athletic performance because the nitric oxide in beets improves cardiovascular performance through increased blood flow and stronger muscle contraction. In these studies, athletes were drinking anywhere from 6 oz to 16 oz of beet juice for improved performance.
Other Health Benefits of This Recipe
Carrots are an excellent source of Vitamin A. This vitamin is not only important for eye heath, but plays a big role in supporting your immune system by maintaining the endothelial cells that line our body's interior surfaces as well as the production of white blood cells.
Apples are a good source of vitamin C and potassium. Potassium has been associated with heart health as those with higher potassium diets often have better blood pressure control. In addition, apples are high in certain antioxidants like quercetin.
Lemons are a great source of vitamin C which is important for healthy skin as it supports the production of collagen, the structural component of skin, cartilage, and more.
Ginger is a powerful antioxidant food thanks to bioactive compounds called gingerols. Antioxidants are important because excess oxidative stress in the body can lead to chronic diseases over time.
How to Make Beet Juice in a Blender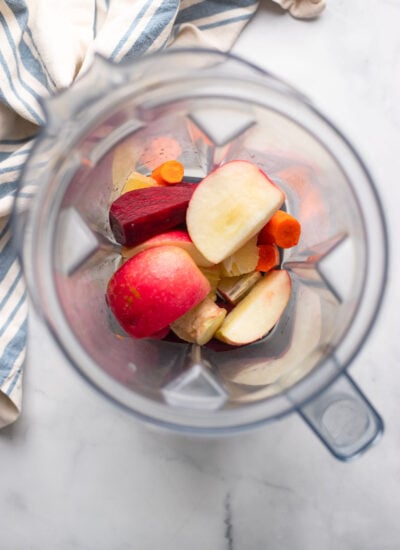 Step One: Add all of your ingredients to a high-speed blender and puree until smooth.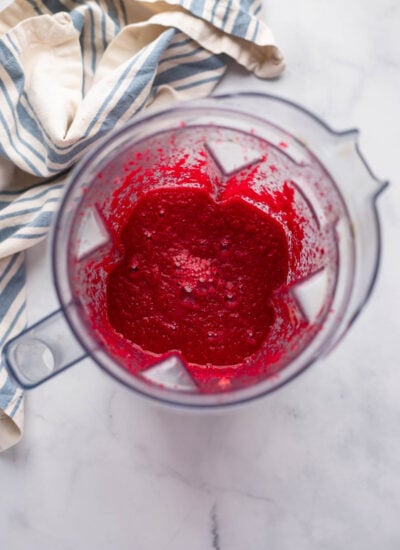 Step Two: Add more water if needed to help the ingredients move in the blender and produce a fine puree.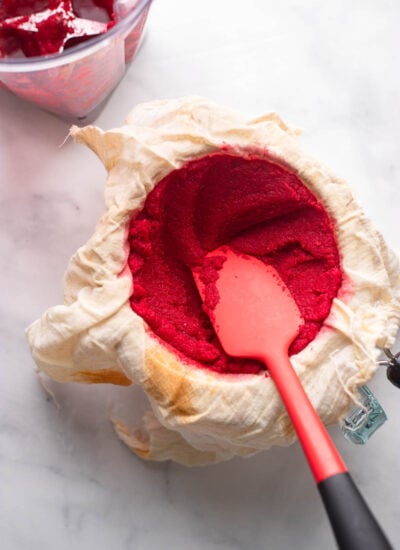 Step Three: Fit a fine mesh strainer over the top of a measuring cup or bowl. Line with cheesecloth or nut milk bag. Pour pureed beet blend over cheesecloth. Press juice out of the blended beets with a spatula.
Step Four: Gather the ends of the cheesecloth and twist to seal and squeeze out the rest of the juice. Serve over ice OR add a splash of sparkling water for a fun fizzy vibe.
Frequently Asked Questions
Should I boil beets before juicing?
Nope! No need to follow the extra step of boiling the beets before juicing. Raw beets taste better when made into a fresh juice. Just wash, peel, and trim your beets before adding to your blender or juicer.
How long does homemade beet juice last?
Homemade beet juice can last up to 3 days in the refrigerator stored in a jar with a tight fitting lid.
Should anyone avoid drinking beet juice?
Beetroots are higher in oxalates than other foods so anyone who has history of kidney stones may need to avoid beet juice.
Storage
Fridge: Store homemade beet juice in an airtight glass container in the fridge for up to 3 days.
Freezer: For longer storage, you can freeze the juice in ice cube trays and then transfer to a freezer safe bag. Frozen beet juice can last for up to 3 months. Add frozen beet juice cubes to smoothies or sauces.
More Juice & Smoothie Recipes
Did you love this recipe? Make sure to leave a ⭐️ rating and tag #dietitiandebbie on instagram!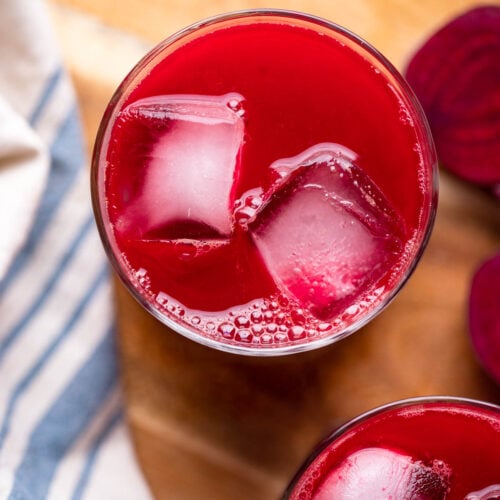 Blender Beet Juice
Want to add beets to your diet but don't know where to start? Try this delicious beet juice recipe made in the blender – no juicer required! Beets are packed with antioxidants and other good-for-you nutrients.
Ingredients
2 small beets, peeled
2 carrots, peeled
1 apple, cored
1/2 lemon, skin removed
1/2 inch piece fresh ginger root
1 cup cold water
Instructions
Combine all the ingredients in your blender and puree until smooth. Pour the contents into a nut bag or fine mesh strainer that is lined with a cheese cloth.

Use a spatula to press juice out of the pulp. Gather the four corners of the cloth, twist, and squeeze the rest of the juice out of the puree. Serve immediately.
Notes
Recipe makes 16 ounces of juice (two 8 oz servings of juice). 
If you have a juicer, you can omit the water. Water is added for the blender method to help with blending more effectively.
Store any leftovers in a jar in the fridge for up to 2 days. 
Nutrition
Serving: 1glass | Calories: 117kcal | Carbohydrates: 29g | Protein: 2g | Fat: 1g | Saturated Fat: 1g | Polyunsaturated Fat: 1g | Monounsaturated Fat: 1g | Sodium: 108mg | Potassium: 608mg | Fiber: 7g | Sugar: 19g | Vitamin A: 10358IU | Vitamin C: 27mg | Calcium: 51mg | Iron: 1mg
Reader Interactions