Is there anything better than sitting down with a cup of coffee and a homemade treat? These vegan pumpkin donuts with maple frosting are just the thing for treating yourself on a lazy weekend morning.
Editor's note: this post was originally published on 11/9/2016 but has been updated. The recipe is now vegan and post content has been rewritten.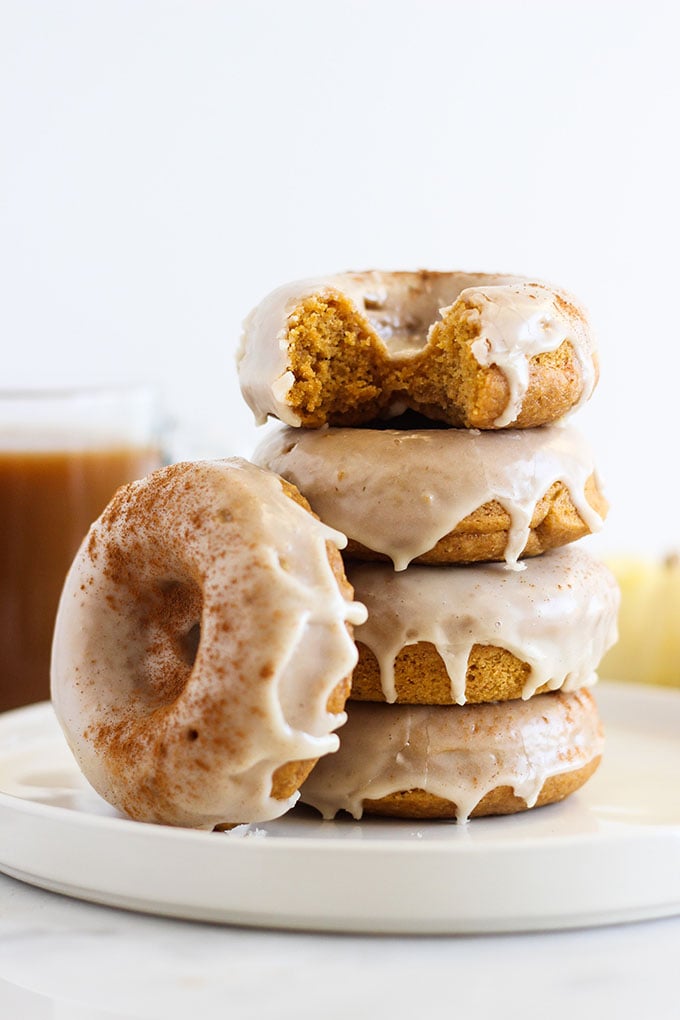 What is your favorite holiday dessert? Although cinnamon rolls are typically what we ate as a sweet breakfast during the holidays, these pumpkin donuts may just become a new tradition! They are way easier to make than cinnamon rolls and just as delicious if you ask me. They taste best they day they are made unless you wait to frost them and then they can be made a few days ahead of time if you want to get a head start on prepping dishes for a holiday gathering.
Vegan pumpkin donuts with maple glaze ingredients
Whole wheat flour and all-purpose flour: I like using a combination of whole wheat flour from Bob's Red Mill and unbleached white all-purpose flour. That way, you still get a lighter, more airy donut while still getting some of the nutty flavor and fiber that whole wheat flour provides.
Granulated sugar: You can use any traditional granulated white sugar. I like using an organic cane sugar like this one for baked goods.
Canned pumpkin: Make sure you are using a plain canned pumpkin and not the canned pumpkin pie filling which has added sugar and spices.
Soy Milk: Use a plain, unsweetened soy milk for this recipe. If you prefer, you can also use almond milk or your favorite plant-based milk.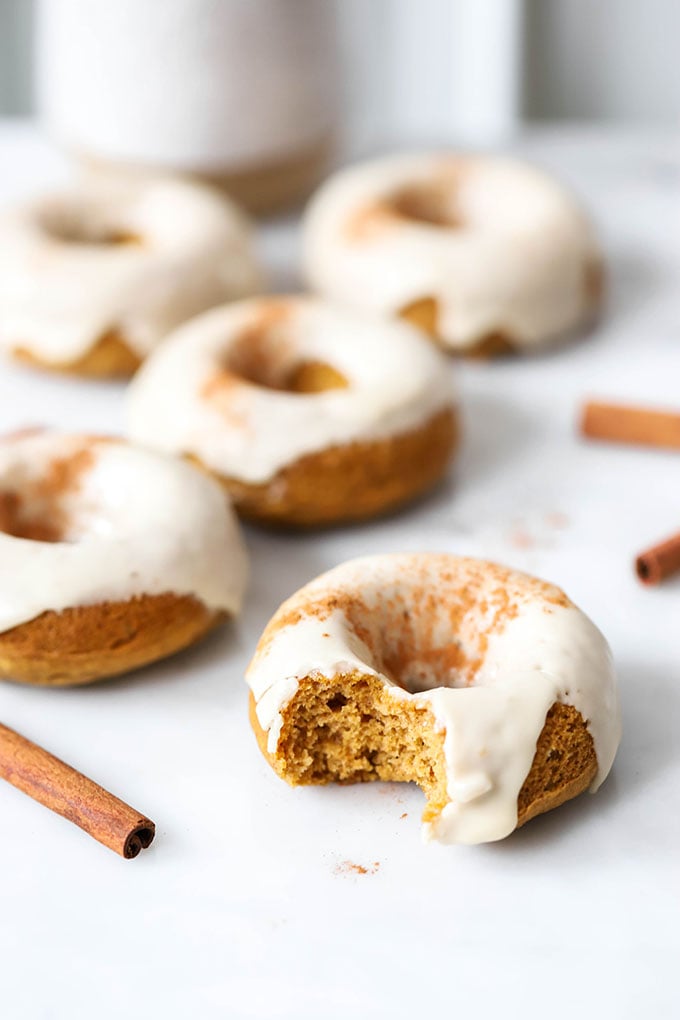 Tips for making these vegan pumpkin donuts with maple glaze
Measure out the flour for this recipe by scooping the flour into the measuring cup with a spoon and leveling it off with the blunt edge of a butter knife. (Check out this video to see it in action.) If you scoop with the measuring cup, you'll likely get more flour than you need which can cause a denser donut.
Mix all of your dry ingredients together in one bowl and all the wet ingredients together in a second bowl.
Use a piping bag or ziplock bag with one of the corners cut off to pipe the donut batter into the donut pan (affiliate link). It can get very messy if you try to spoon it in by hand!
Don't bake your donuts too long! My oven only takes 10-12 minutes to bake these donuts. If you over bake them, you'll get a tougher/denser donut.
Make sure your donuts are completely cooled before adding the glaze! Your glaze will become too runny if you add it to donuts that are still warm from the oven.
Add liquid to the glaze gradually. I like a thick glaze, so I start by adding only 1 tablespoon of the milk and then drizzling in the second tablespoon a little bit at a time until it is the consistency I like.
The maple frosting/glaze should be pretty thick so I found it easier to spoon the glaze over the donuts rather than dipping them into the glaze to cover.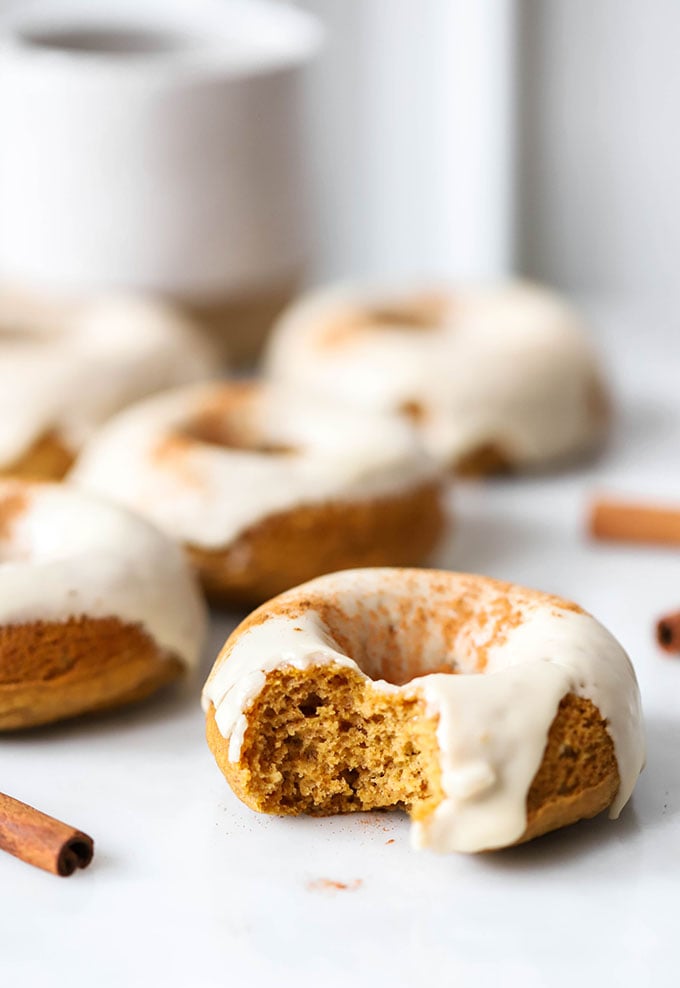 Do I need a donut pan to make donuts?
I like this donut pan (affiliate link) from Wilton that I bought for making donuts at home. However, if you don't want to invest in a pan, there are some clever hacks for baking them without a special pan like this one using a muffin pan and aluminum foil.
What do I serve with these pumpkin donuts with maple glaze?
Personally, I just like to enjoy one of these with a cup of coffee in the morning.
Looking for more pumpkin recipes? Check out these!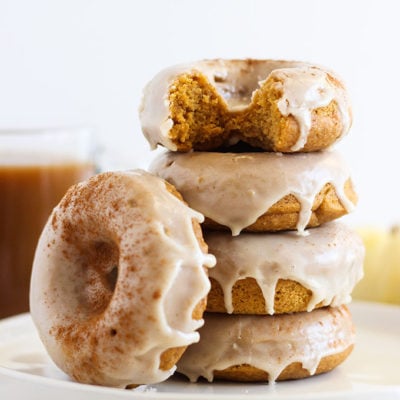 Vegan Pumpkin Donuts with Maple Frosting
Is there anything better than sitting down with a cup of coffee and a homemade treat? These vegan pumpkin donuts with maple frosting are just the thing for treating yourself on a lazy weekend morning.
Ingredients
Donuts:
1/2 cup 60 g whole wheat flour
1/2 cup 60 g all purpose flour
1 teaspoon baking powder
1/2 teaspoon baking soda
1 teaspoon pumpkin pie spice
1/4 teaspoon sea salt
1/2 cup 120 mL soy milk
1 teaspoon apple cider vinegar
1/3 cup 68 g granulated sugar
1/2 cup 122 g pumpkin puree (NOT canned pumpkin pie filling)
1 teaspoon vanilla extract
2 tablespoons coconut oil melted (or other neutral oil)
Maple Frosting:
1 1/2 cup 187 g powdered sugar, sifted
1 tablespoon maple syrup
1-2 tablespoons soy milk
Dash of sea salt
Instructions
Preheat the oven to 350 degrees Fahrenheit. Spray donut pan with cooking spray.

Mix the dry ingredients: In a large mixing bowl, sift together the whole wheat flour, all purpose flour, baking powder, baking soda, pumpkin spice, and salt.

Mix the wet ingredients: In a small mixing bowl, stir together soy milk and apple cider vinegar and let sit for 1 minute. Add the sugar, pumpkin, vanilla, and oil. Whisk together. 

Combine: Pour wet ingredients into mixing bowl with dry ingredients and mix just until everything is incorporated.

Transfer batter to a piping bag or ziploc bag with one corner cut off.

Divide batter evenly among the 6 wells of a donut pan by piping into the wells with the piping bag. Bake for 10-12 minutes or until toothpick inserted into donut comes out clean. Allow to cool in pan for 5 minutes before transferring donuts onto a cooling rack to cool completely.

To make the frosting, sift powdered sugar into a mixing bowl. Whisk in maple syrup, 1 tablespoon of the milk, and salt. Stir and add more soy milk 1/2 teaspoon at a time until thin enough to spoon over donuts. You want a thick frosting for dipping the donuts. 

Spoon glaze over donuts and allow to set, about 15 minutes. Sprinkle with additional cinnamon if desired.
Notes
To bump up the maple flavor in the frosting, feel free to add up to 1/4 teaspoon maple flavoring.
Nutrition
Serving: 1Donut | Calories: 288kcal | Carbohydrates: 54.5g | Protein: 6g | Fat: 6g | Saturated Fat: 4.5g | Polyunsaturated Fat: 1.5g | Cholesterol: 30mg | Sodium: 107mg | Fiber: 1g | Sugar: 36g
Reader Interactions