Oats are cheap and healthy and can be utterly delicious with the right additions! Jazz up your morning bowl of oatmeal with these 8 healthy ways to flavor your oats with fruit, spices, nut butter, yogurt, and more.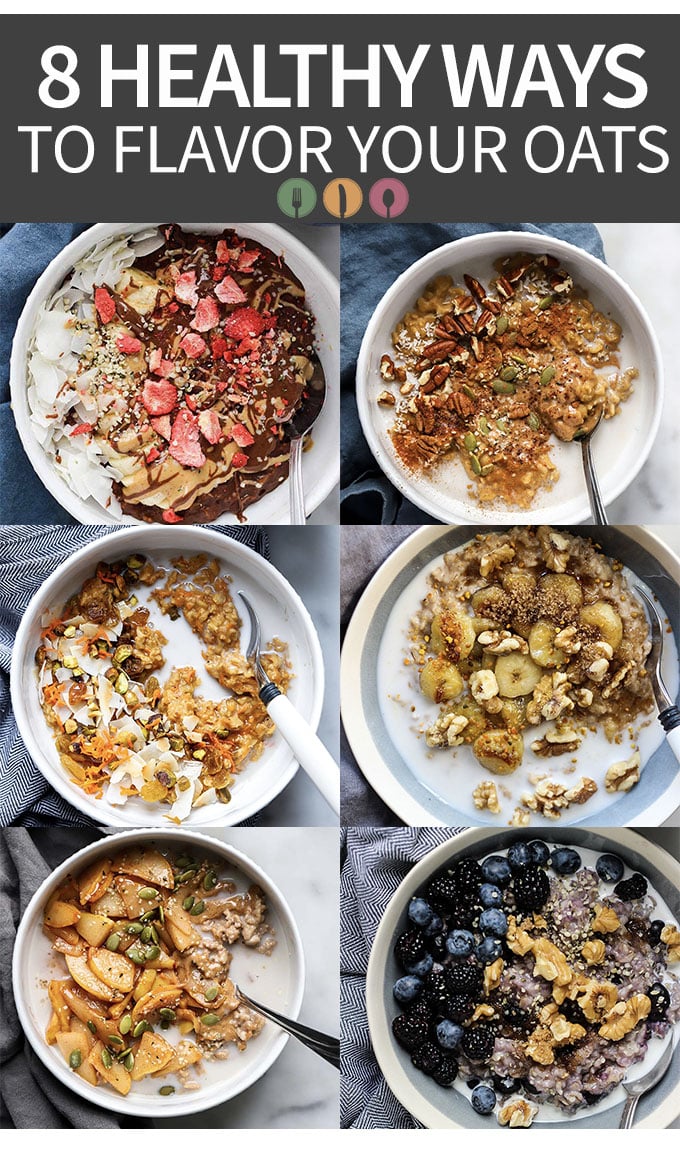 I love starting my day off with a bowl of oatmeal because it is cheap, easy to prepare, and the flavor combinations are endless. But I often hear my clients say they don't like oatmeal because it is too bland. Oatmeal is pretty bland on its own, but there are so many great ways to add flavor and texture so that it is anything but boring!
In this post, I'll be sharing my tips for making oatmeal taste good. Not sure how to make oatmeal? Check out my basic stovetop oatmeal post.
Is Oatmeal Healthy?
Yes! As a plant-based dietitian, I love that oatmeal is chock full of fiber, selenium, and magnesium and is one of the only foods that will actually keep me feeling full until lunch time.
In addition, a diet rich in the soluble fiber, beta-glucan, contained in oats has been shown to help lower your LDL or "bad" cholesterol as well as your overall risk of heart disease by as much as 10%. (Source)
Oats are a versatile and budget-friendly pantry staple that I always keeps on hand. Check out my health benefits of oats post for the lowdown on this nutritious whole grain from a plant-based dietitian.
How Do You Make Oatmeal Taste Good?
Often, when I suggest eating oatmeal to patients, they are hesitant to try it because they feel it is too bland or boring but they don't have to be! Here are some of my favorite healthy ways to dress up oatmeal:
1) Use milk to make your oats
Make your oats creamier by using milk instead of water when you cook them. I usually use a combination of 1/2 water to 1/2 milk. Any milk that you like works here – dairy or plant-based. I am really fond of soy milk since it also has more protein that other plant-based milks. You can also stir in some yogurt (both dairy or plant-based yogurt works!) to bump up the creaminess of your oatmeal.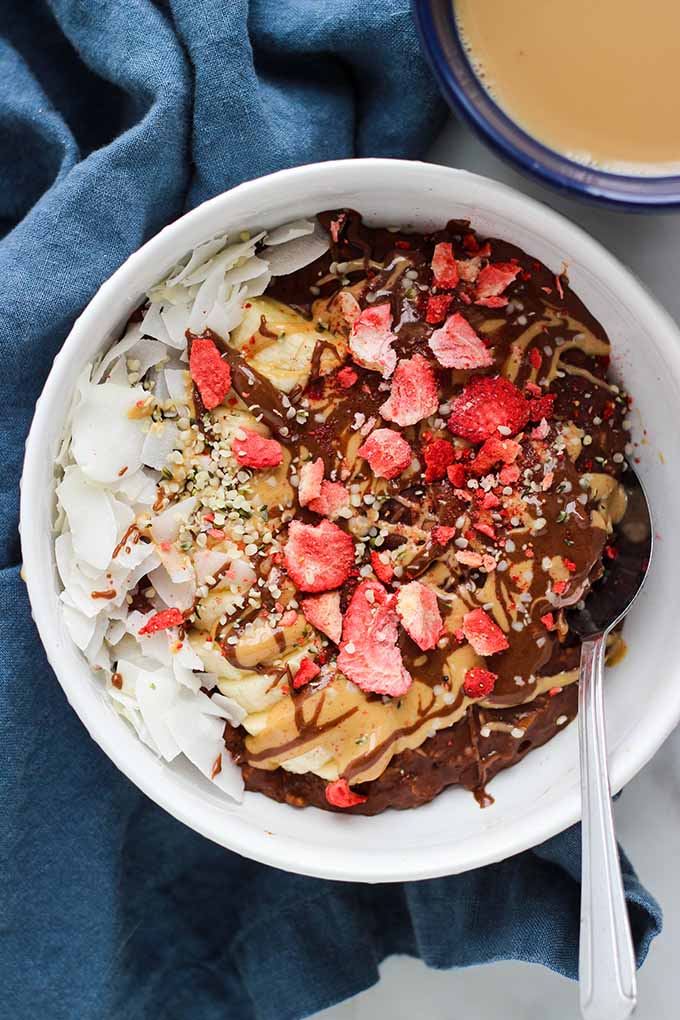 2) Add Some Fruit
Adding fruit to your oatmeal is a great way to add a bunch of flavor as well as natural sweetness and some fiber. You can either chop your fruit and add it to the oats as they cook or use them as a topping once your oats are finished. I switch it up depending on the fruit I plan to use.
The fruit doesn't have to be fresh either, I often toss frozen blueberries or strawberries into my oatmeal as it cooks. You can also add dried fruit like raisins, dried cranberries, apricot, etc. Fruit compote is also delicious on oatmeal, my go-to compote recipes are this peach compote and strawberry rhubarb compote.
3) Spice it up!
Add lots of great flavor to your oatmeal with a variety of spices. Some classic options include: cinnamon, nutmeg, ginger, pumpkin pie spice, etc. I typically add about 1/2 teaspoon of spices to a single serving of oats. You can also add unique flavor to your oats by using brewed tea (like chai) for the liquid. Craving chocolate? Stir in cocoa powder as you cook your oats for a rich chocolate-y oatmeal.
4) Add a Pinch of Salt
Just like any other food, you should season your oatmeal with just a pinch of salt. It not only highlights the flavors from the fruit and spices, but it also brings out the sweetness from any additions too.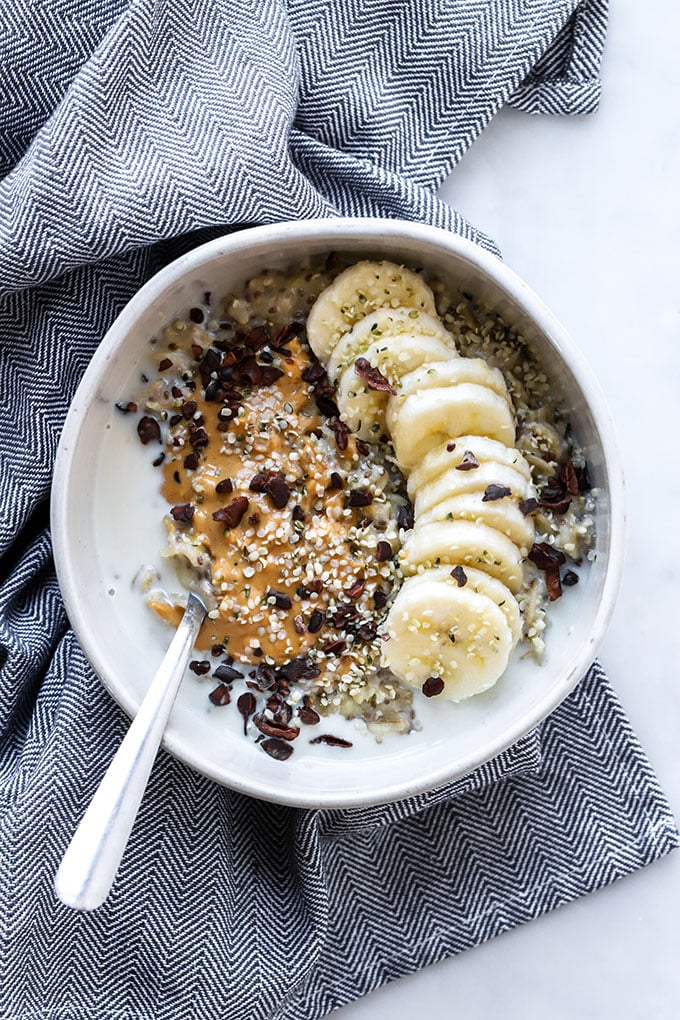 5) Add Nuts or Nut Butter
Make your morning bowl of oatmeal more rich and filling by adding a tablespoon of nut butter. Any nut butter will work: peanut butter, almond butter, hazelnut spread, tahini, etc. Your choice of nut butter just depends on the other ingredients you've added.
You can also add whole nuts on top of your cooked oats for some texture/crunch. Again, you can add really any nut/seed that you wish! Some great options include: walnuts, peanuts, pumpkin seeds, hemp hearts, almonds, cashews, hazelnuts, etc.
6) Add Something Sweet
Granulated sugar is one way to add sweetness to oats, but there are so many other more interesting options! Adding fruit is a great way to sweeten your oats without added sugars. However, if you need a little more sweetness, consider maple syrup, coconut sugar, honey, agave, etc. My go-to way to sweeten oats is to add 1 tablespoon maple syrup per serving of oats.
7) Mix in a Veggie Or Go Savory
Why not sneak in a serving of veggies while you enjoy your morning bowl of oatmeal? Shredded zucchini and carrot make tasty additions to oats – kind of like carrot cake or zucchini bread inspired options. Pureed pumpkin is also a great addition for fall. You could also try a savory oatmeal and stir in spinach and cheese while cooking and then top with a fried or soft boiled egg.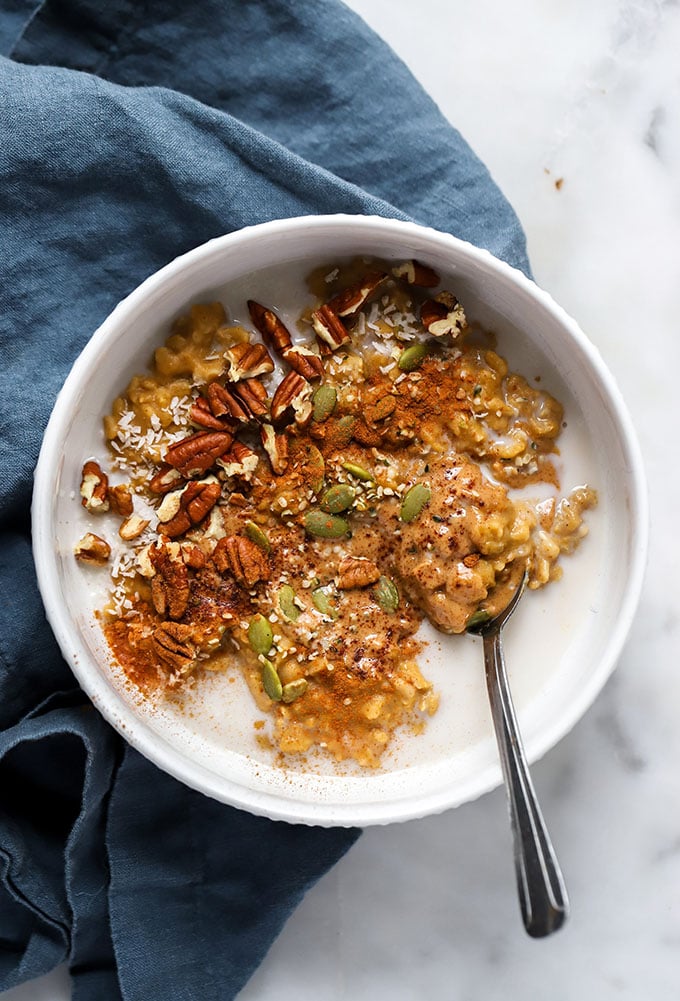 8) Add in Other Grains/Seeds
Switch up the consistency of your oatmeal by adding in other grains when cooking like millet, amaranth, or buckwheat. You can also bump up the nutrition by adding chia seeds or ground flaxseeds while cooking.
Tasty Oatmeal Flavor Combinations
Apple or pear, cinnamon, and walnuts
Banana, peanut butter, cocoa nibs
Figs, tahini, vanilla, and walnuts
Pear, almond butter, cinnamon
Peaches, nutmeg, slivered almonds
Peanut butter and dark chocolate chips
Pumpkin puree, pumpkin pie spice, pecans
Berries, almond butter, and chia seeds
Mango, coconut, and pistachios
Shredded carrots, nutmeg, ginger, and pecans
Check Out These Healthy Oatmeal Recipes