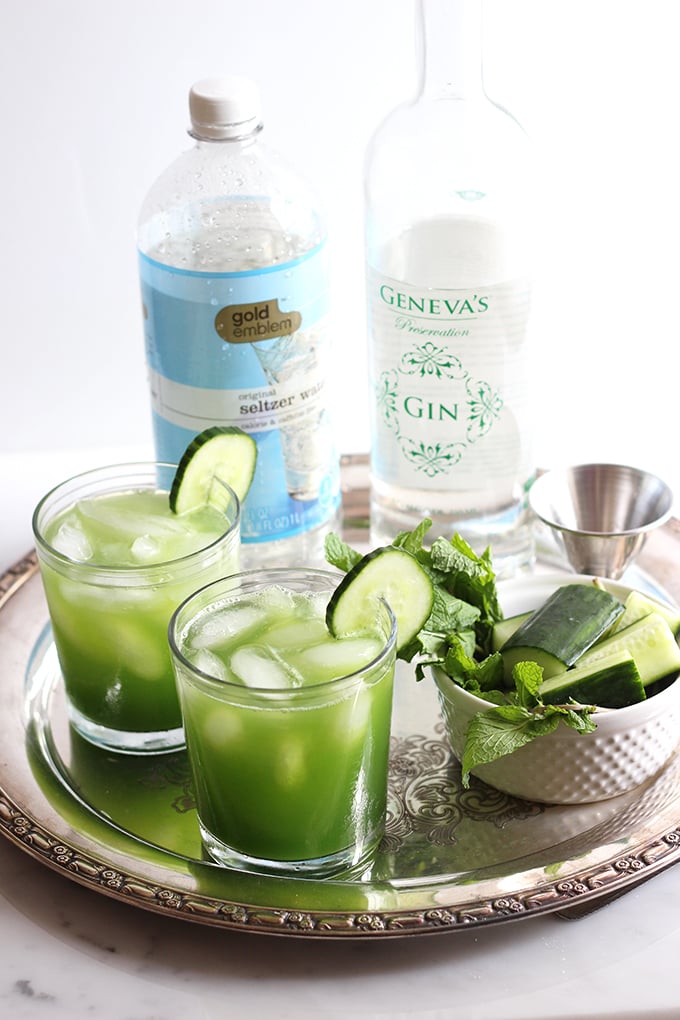 Since green smoothies have become all the rage, who is to say the same trend can't translate to cocktails? This cocktail is all the things you would want in a summer cocktail: light, refreshing, and icy cold. Cucumbers have a very mild flavor that blends well with the fresh mint, lime, and ginger. Another selling point for this cocktail? It only has 150 kcals per serving and less than 2 grams of sugar. A great option for those looking for a lighter drink that isn't loaded down with lots of sugary syrup.
I have a feeling I'll be making this cocktail on repeat over the summer! Leave out the gin to make an equally refreshing mocktail.
Cucumber Mint Cocktails
This cucumber mint cocktail with gin is destined to be your favorite drink for summer!
Ingredients
4 ounces gin
1/2 English cucumber ~6 inches
1/3 cup fresh mint leaves
1/2 lime juiced (~1 tablespoon juice)
1 inch fresh peeled ginger root
Sparkling water
Ice
Instructions
Divide ice and gin evenly between to 12 ounce glasses.

Place cucumber, mint, lime juice, and ginger in a blender and puree until smooth.

Press cucumber puree through a cheese cloth, nut milk bag, or coffee filter to remove any solids.

Divide strained cucumber juice between two glasses.

Top with sparkling water to fill the glass and serve immediately.
Nutrition
Serving: 12ounces | Calories: 146kcal | Carbohydrates: 4g | Protein: 0.5g | Fiber: 0.5g | Sugar: 1.5g
Reader Interactions