If I had to give only one tip for learning how to eat healthier, it would be cook most of your meals at home. Simple, right? Of course I have also heard almost every excuse in the book about why cooking at home is not an option: 1) I don't know how to cook 2) it's too expensive 3) I don't have the time, etc. Cooking healthy foods at home doesn't have to be complicated, time consuming or expensive. It just takes a little planning and practice.
Figure out how to make a few simple healthy dishes and rotate them each week. Also, consistently keeping a few staples on hand will ensure that you have what you need to whip up simple, healthy meals. (Rather than making yet another trip the grocery store!) In case you need some inspiration for meals, check out my one month healthy vegetarian meal plan.
Make the most of your weekly shopping trip and prepare yourself for a week of healthy eating with these tips:
1. Make a list/have a plan. Try to plan out at least 3-4 of your meals and make a list of the ingredients you need for those recipes. Fill in the rest of the gaps on your list with simple things you can eat for breakfast: PB toast, yogurt, eggs, fruit, oatmeal, etc. After that, figure out what you want to pack in your lunch for the week. We typically pack a large salad for lunch every day but keep it interesting by changing up the toppings and fruit or snacks that go along with it.
2. Don't shop on an empty stomach. I know you've heard this one before, but it's true! I am much more likely to wind up cookies or sugary cereal in my cart if I go shopping while hungry. So, plan your weekly grocery shopping after lunch on the weekend.
3. Fill your cart with foods that don't have labels or ingredient lists. Fresh fruit, vegetables, whole grains, dried beans, eggs, and nuts don't have ingredient labels because there are not any other ingredients to claim. What you see is what you get! Of course, these are also the healthiest choices as well. Supplement those foods with others that do not have long ingredient lists like yogurt, tempeh, tofu, hummus, etc.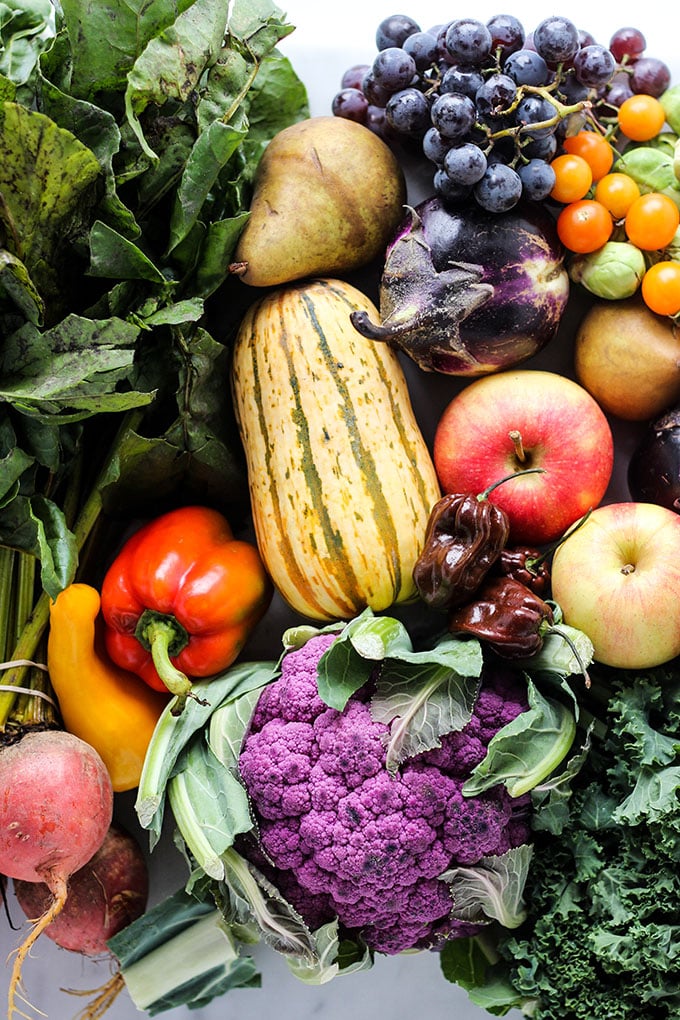 4. Buy produce when it is in season. Although we still purchase some of our produce when not in season (umm… hello long Chicago winters!), we do try to stick to the seasons. For example, buying tons of asparagus and artichokes in the spring when they at their peak rather than filling the cart with tomatoes or watermelon. There are a lot of great produce seasonality charts online that will help you figure out what is in season in your area at any given time. Also, shopping locally either at the farmers market or looking for "grown locally" signs at the grocery is a great way to find seasonal produce that is at its best.
5. Prep vegetables as soon as you get home. Wash your lettuce greens, peel and cut up your carrots, slice your zucchini, etc as soon as you get home from the store. Make everything as ready to eat as possible before you put it away in the refrigerator. Why? You are more likely to eat all of your produce throughout the week if it is already ready-to-eat. Plus, weeknight meal preparation will go so much faster if you already have most of the ingredients chopped and ready to go.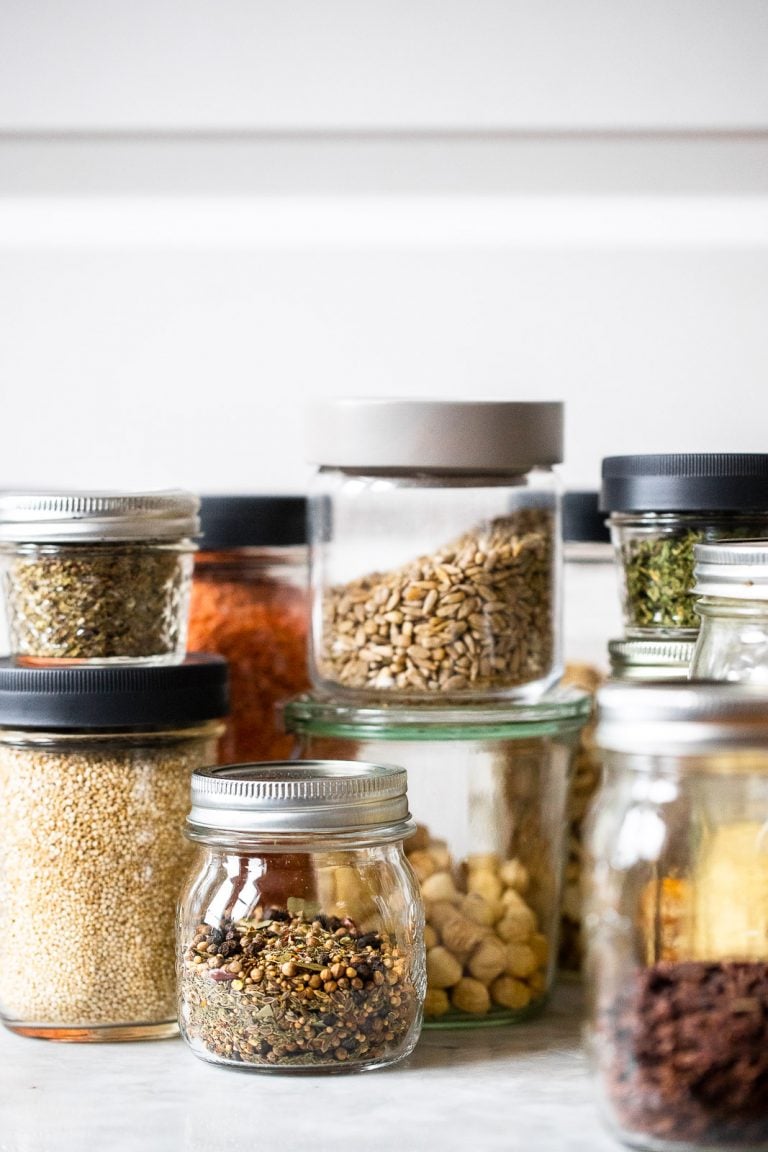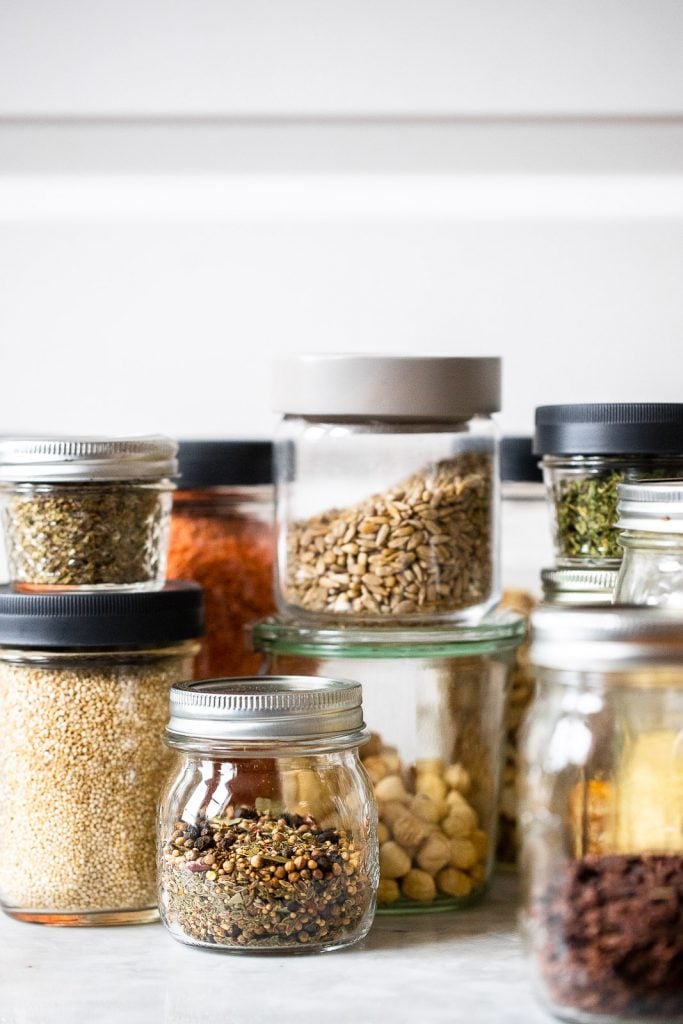 This healthy vegetarian grocery list is just a basic example of the foods that are on our grocery list on a regular basis. It is broken down into sections and includes many of the foods that I buy on a regular basis. Of course, we don't buy everything on this list each week but it gives you an idea of foods to keep on hand so that you can create healthy vegetarian meals at home.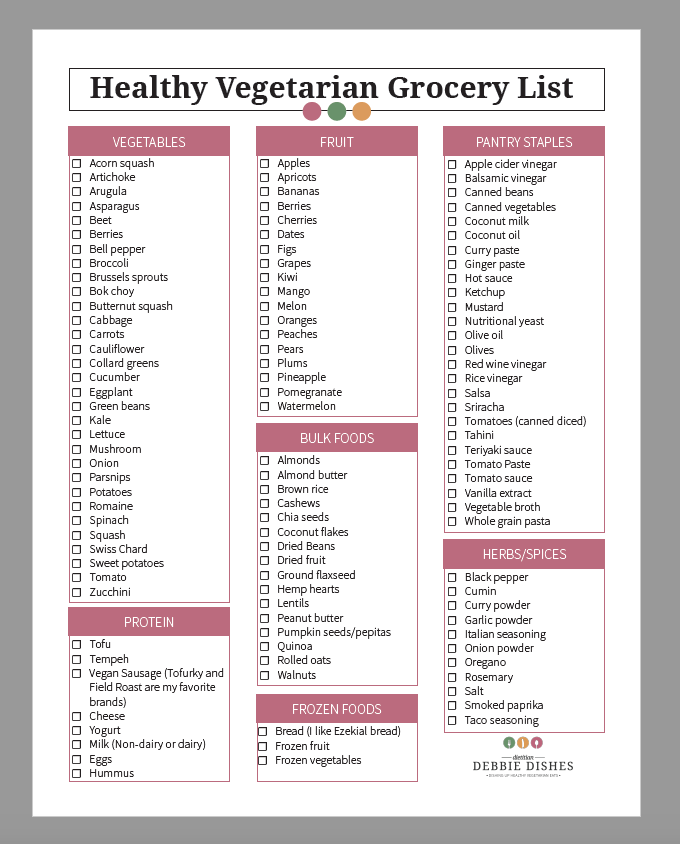 Psst… Here are some more helpful posts for cooking and eating a vegetarian/vegan diet!