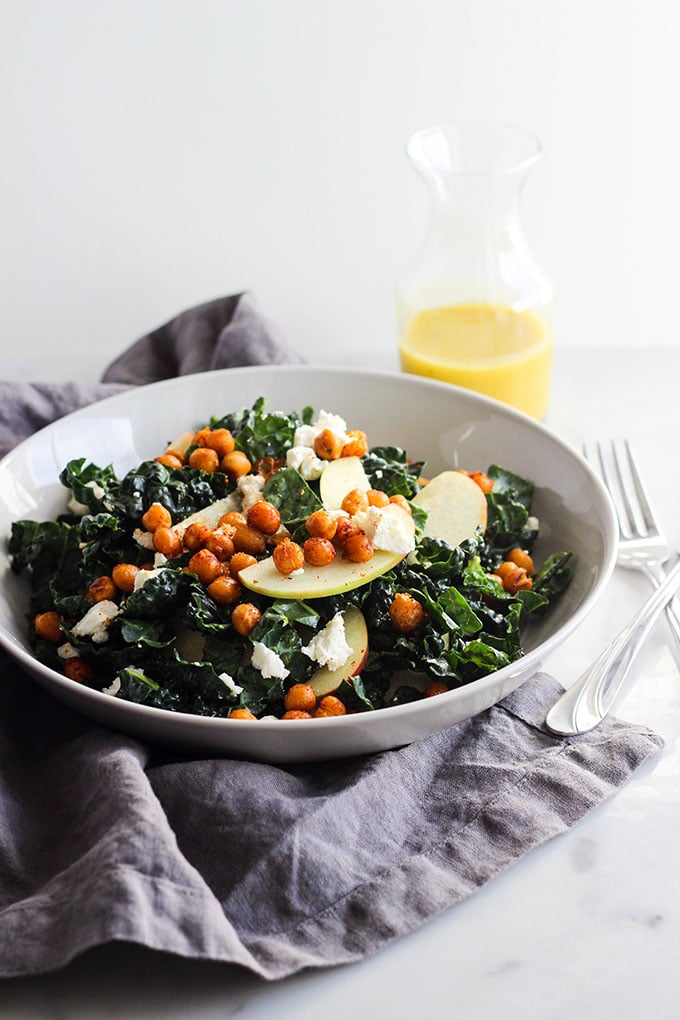 Will and I went apple picking over the weekend so I have an abundance of apples sitting on my counter waiting to be used in recipes. I made a batch of applesauce over the weekend. It was so much simpler than I realized! It also gave me the opportunity to use the food mill attachment on our Kitchen Aid mixer – something I don't get to do often. 🙂 Another way I love to eat apples is in salads. I think kale salads are best when there is one sweet element in order to balance out the "green" flavor of the kale. In this case, sweet and crunchy apples add that brightness to the salad.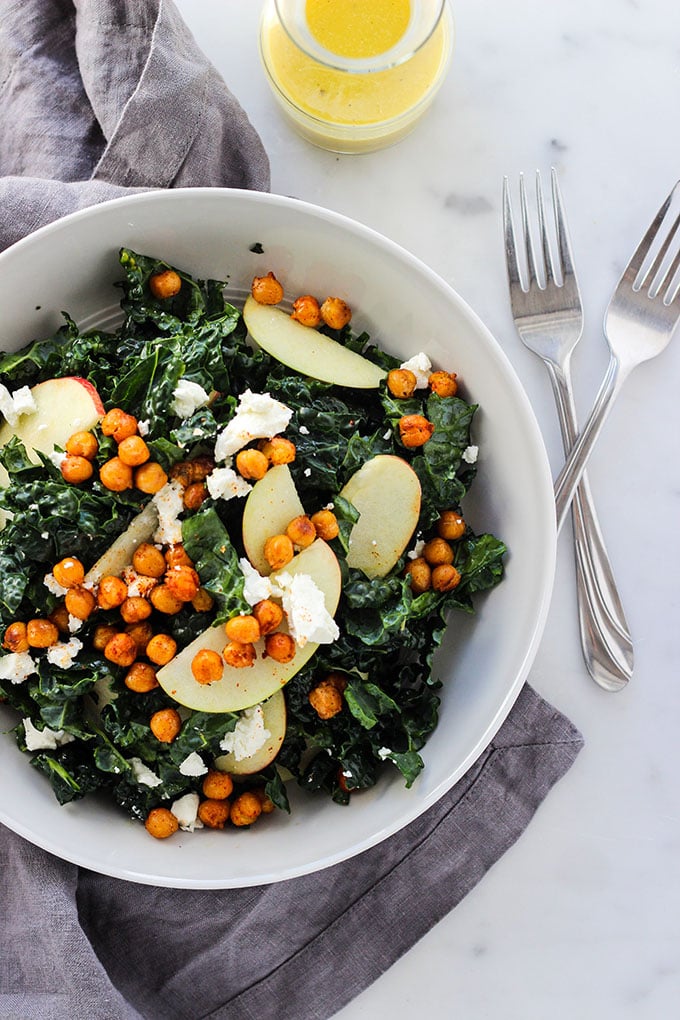 The chickpeas are simply fried in a bit of olive oil in a skillet on the stovetop to make them crispy and then seasoned with a dash of smoked paprika. <— I love smoked paprika! If you have a Trader Joe's in your area, I usually find it for a good deal there. To top it off, the dressing is a super simple vinaigrette made with apple cider vinegar, mustard, and fresh squeezed lemon.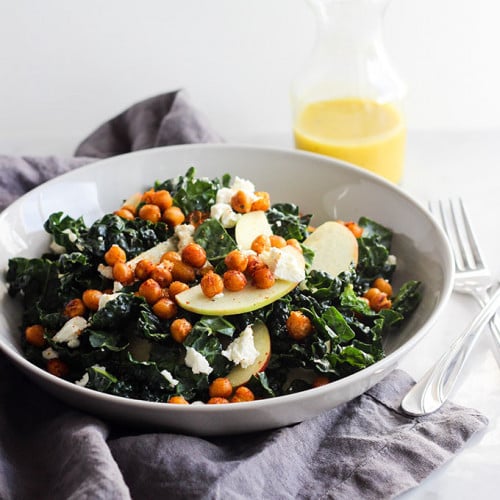 Kale Salad with Crispy Chickpeas and Apples
This kale salad with crispy chickpeas and apples is a simple side dish for any fall meal.
Ingredients
For the Salad:
1 bunch lacinato kale
1 teaspoon olive oil
1 tablespoon fresh squeezed lemon juice
1 large honey crisp apple thinly sliced
3 ounces goat cheese crumbled
For the Chickpeas:
2 tablespoons olive oil
1 1/2 cup cooked chickpeas
1/8 th teaspoon salt
1/8 th teaspoon ground black pepper
1/4 th teaspoon smoked paprika
For the Dressing;
1/4 cup olive oil
2 tablespoons apple cider vinegar
1 tablespoon fresh squeezed lemon juice
1 teaspoon maple syrup
1 teaspoon Dijon mustard
Dash of salt and ground black pepper
Instructions
Cut the ribs out of the kale leaves and chop. Toss with the olive oil and lemon juice. Massage with your hands until kale starts to soften. Top with apples and goat cheese.

In a skillet, heat up the olive oil and add the chickpeas. Cook for 5-7 minutes until they start to brown and some of the chickpeas have cracked open. Line a plate with paper towels and transfer chickpeas to the plate. Sprinkle with salt, pepper, and paprika and toss to coat. Add to the salad bowl with the kale.

To make the dressing, combine all the dressing ingredients together in a mason jar. Screw on the lid of the jar and shake vigorously to emulsify.

To serve, drizzle dressing over salad and toss well to coat. If not serving right away, store dressing, chickpeas, and salad separately until ready to serve.
Notes
Makes 2 large meal-sized salads or 4 side salads. Note: The chickpeas lose a lot of their crispiness as they are stored, so it is best to cook them right before serving.
Reader Interactions