Your favorite comfort food got a healthy makeover with this vegan broccoli and cheddar stuffed potato recipe.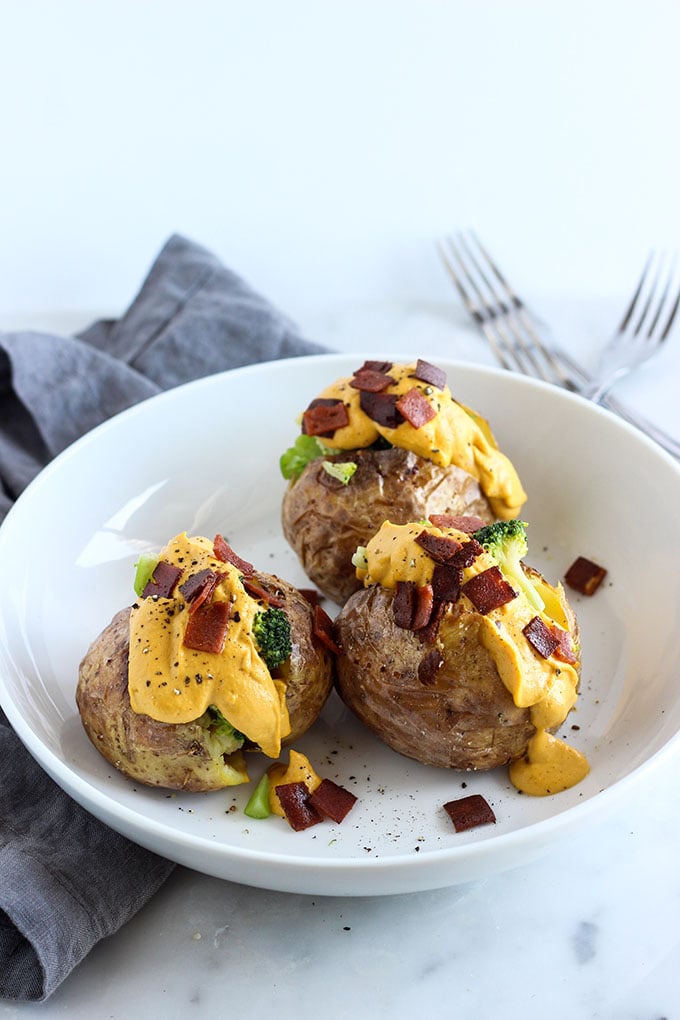 There are some recipes that I feel like-a-kid-on-Christmas-morning excited to share on the blog. The recipe for these vegan broccoli and cheddar stuffed potatoes is one of them! They are the definition of comfort food – cheesy, bacon-y, and delicious. But unlike regular stuffed potatoes, these vegan broccoli and cheddar stuffed potatoes got a bit of a healthy makeover. No dairy or pork included in this recipe. The creamy vegan cheese sauce for these is made from raw cashews that have been soaked overnight so they make a smooth puree. For color, I added a couple of steamed carrots into the mix. As you bake the potatoes, you can make the rest of the components so it all comes together easily.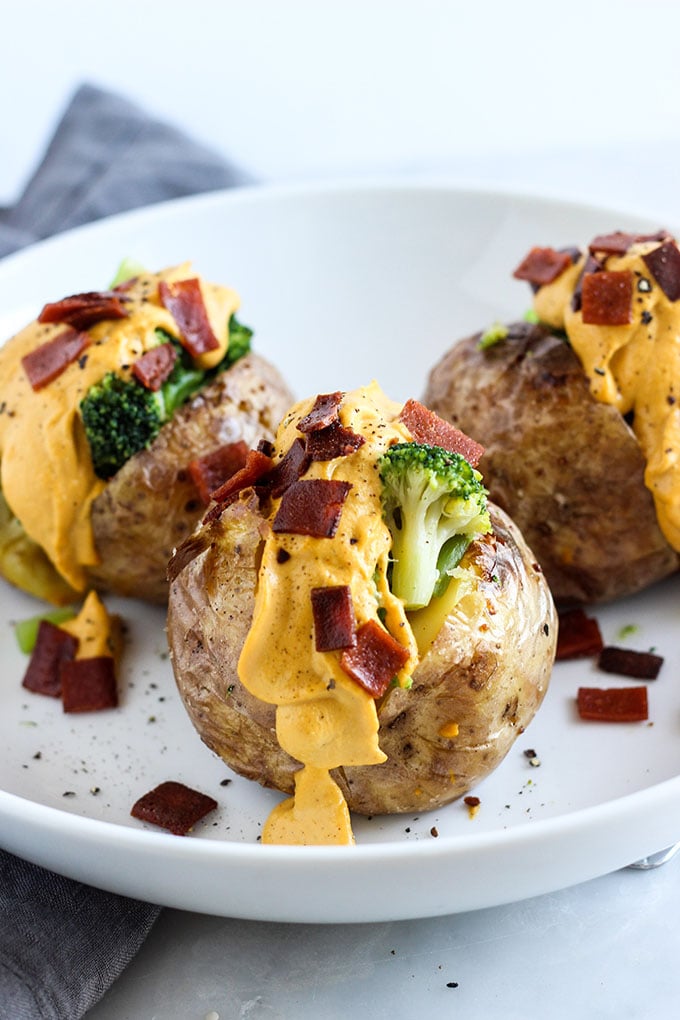 For my potatoes, I used this method from Gimme Some Oven. So simple! I didn't want to stop with just cheese sauce, so I added some chopped vegan bacon too. The veg-friendly Smart Bacon from Lightlife is one of my favorites if you haven't yet found one you like. You may be tempted to skip the veggie bacon ingredient, but I think it really puts these over the top!
More Recipes You'll Love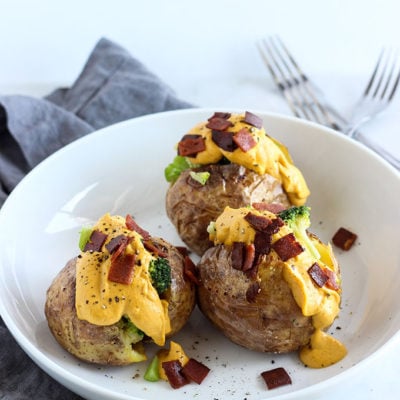 Vegan Broccoli and Cheddar Stuffed Potatoes
Your favorite comfort food got a healthy makeover with this vegan broccoli and cheddar stuffed potato recipe.
Ingredients
For the Potatoes:
4 medium russet potatoes
1 tablespoon olive oil
Dash sea salt
For the Vegan Cheese Sauce:
2 carrots peeled
1 cup raw cashews soaked 2 hours to overnight
3/4 cup vegetable broth
1/4 cup nutritional yeast
1/2 teaspoon garlic powder
1 teaspoon reduced sodium soy sauce
Dash of smoked paprika
1/8 th teaspoon sea salt
1/8 th teaspoon ground black pepper
1 medium-large floret broccoli chopped
5 slices veggie bacon chopped
Cooking spray
Instructions
For the Potatoes:
Preheat the oven to 450 degrees fahrenheit.

Scrub your potatoes well, poke with a fork multiple times on all sides, and place on a baking sheet lined with aluminum foil. Bake for 25 minutes. Remove potatoes from the oven, brush on all sides with oil and sprinkle with salt. Place potato back on the baking sheet with the opposite side up so that both sides cook evenly. Return to oven and bake for another 20 minutes or until fork tender.
For the Vegan Cheese Sauce:
Peel carrots and slice 1/3 inch thick. Add 1" of water to a saucepan and add steamer basket. Place carrots in steamer basket and cover pot. Cook 7-8 minutes or until carrots are fork tender.

To make the cheese sauce, add the steamed carrots, cashews, broth, nutritional yeast, garlic powder, soy sauce, salt and pepper to a food processor or blender cup and puree until smooth.
Broccoli and Bacon:
In the same steamer basket used for the carrots, add the broccoli and cook 3-4 minutes or until crisp-tender.

Spray a skillet with cooking spray and add the chopped veggie bacon. Cook until dark brown and crispy, about 3 minutes.

To assemble, cut down the middle of each potato and squeeze to open. Stuff with broccoli, drizzle with cheese sauce, and sprinkle with veggie bacon.
Nutrition
Serving: 1/4 recipe | Calories: 500kcal | Carbohydrates: 64.5g | Protein: 15.5g | Fat: 22.5g | Saturated Fat: 4g | Polyunsaturated Fat: 18.5g | Sodium: 445mg | Fiber: 9g | Sugar: 8g
Reader Interactions