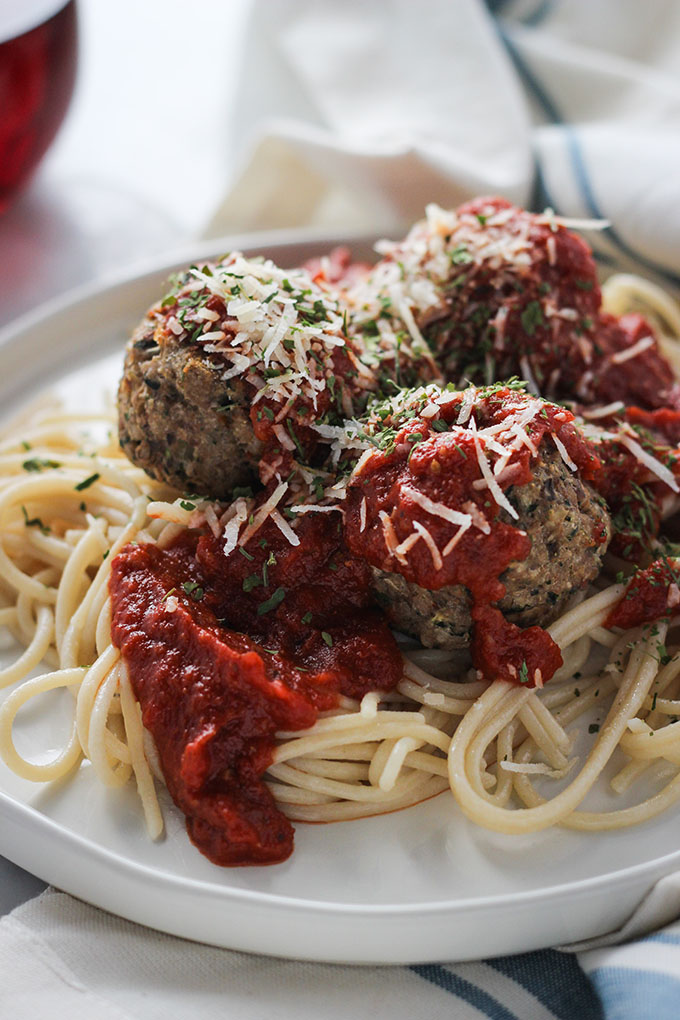 Sigh. Weekends during the holidays are hard to beat. We've been filling our days with Elf, zoo lights, and cozy cocktails like the spiced wine I have coming up later on the blog this week! Last weekend, we walked over to Sprout Home to get our Christmas tree. It makes me so happy to see it at home all lit up! Also, it was a miracle we walked out before I bought all the air plants. I love those! Since we were moving into our apartment last year at this time, we didn't have a tree so I've been savoring it all the more this year. For fun, we brought Honey along for our tree buying adventure. By the time we had picked out our tree, she had enjoyed two treats from the friendly staff there. She was one happy pup! Afterwards, Will and I each grabbed an end and walked the tree home. (All those HIIT classes I've been taking have been paying off!)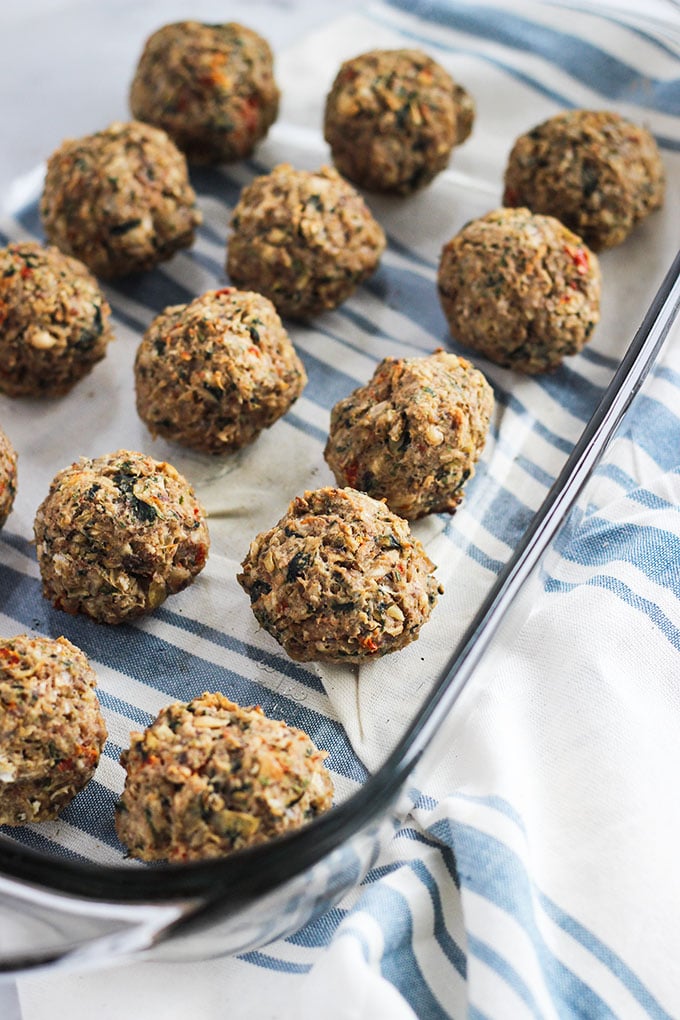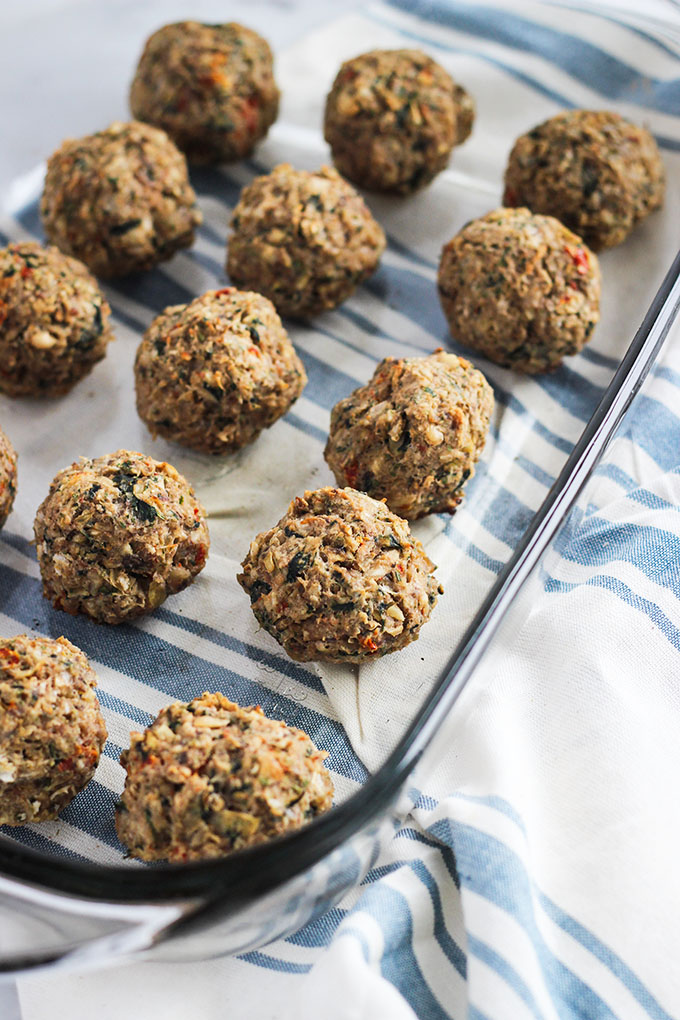 Holiday weekends also call for comfort foods like these vegetarian white bean meatballs! In the very early days of my blog, I had a lentil meatball recipe that had terrible photos and were a bit bland. (I've since deleted that recipe, I was so embarrassed!) Several years of practice with a camera and recipe development have lead me to this uber delicious white bean version. I served them up with our favorite semi-homemade pasta sauce and Trader Joe's brown rice and quinoa noodles. When purchasing your tomato sauce, make sure to take a look at the label and choose one without added sugar. We like to buy plain sauce and season it ourselves like in the recipe below, but you could simply use your favorite brand to save a few extra steps.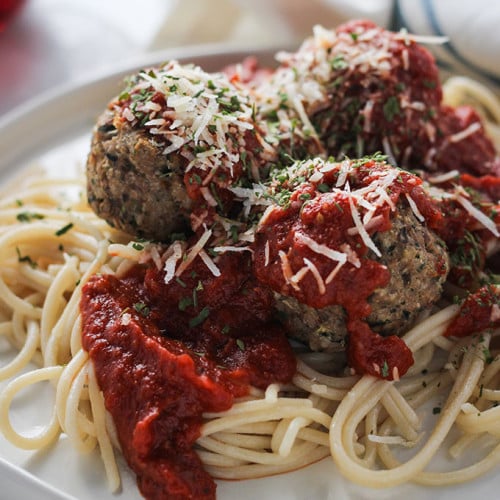 Vegetarian White Bean Meatballs
These vegetarian white bean meatballs are a delicious alternative to your traditional meatballs with ground beef. Parmesan, mushrooms, and sun-dried tomatoes add great flavor to these meat-free meatballs.
Ingredients
For the Meatballs:
1 tablespoon olive oil
1/2 onion finely chopped
1 cup chopped cremini mushrooms
1 clove garlic minced
1 cup spinach chopped
1/3 cup rennet-free parmesan cheese shredded
1/4 cup chopped walnuts
1/3 cup chopped sun-dried tomatoes packed in oil and drained
1 15 oz. can great northern white beans, drained and rinsed
1 teaspoon dried parsley
1/2 teaspoon salt
1/2 teaspoon dried oregano
1/8 teaspoon dash of cayenne pepper --> optional
2/3 cup panko breadcrumbs
2 eggs
For the Sauce:
1 tablespoon butter or olive oil
1/4 cup chopped cremini mushrooms
2 tablespoons minced jalapeno
1 tablespoon garlic granules
1 tablespoon dried oregano
1 15 oz. can plain tomato sauce
1 6 oz. can tomato paste
To Serve: Cook up pasta according to pasta directions. Sprinkle dish with additional shredded parmesan cheese.
Instructions
Heat the olive oil in a medium skillet. Add the onion and mushrooms. Cook over medium high heat until onions are translucent and any liquid released from the mushrooms has cooked off - about 6-8 minutes.

Add the garlic and spinach. Cook until spinach is wilted and any liquid released has been cooked off - about 2-3 minutes.

Drain and rinse beans. Transfer the mushroom mixture to a food processor and add the parmesan, walnuts, tomatoes, kidney beans, parsley, salt, oregano, and cayenne. Pulse 12-14 times or just until mixture start to stick together and form a shapeable dough. (Don't puree until completely smooth!)

Transfer to a bowl and add breadcrumbs and eggs. Stir well until combined. Cover and place in the fridge for 30 minutes.

Preheat the oven to 400 degrees Fahrenheit. Generously grease the bottom of a 9"x11" glass baking dish. Roll meatball mixture into golf ball sized meatballs. Arrange in neat rows in the glass baking dish. Bake for 30 minutes or until lightly browned and firm to touch. Allow to cool for 5 minutes before serving.

To make the sauce, heat the butter/olive oil in a small saucepan. Add the mushrooms and onion and cook until onion is translucent and lightly browned. Add the jalapeño and cook another 2 minutes. Stir in the garlic, oregano, tomato sauce, and tomato paste. Bring to a gentle simmer and turn off heat. Serve with pasta and meatballs.
Nutrition
Serving: 3Meatballs | Calories: 276kcal | Carbohydrates: 30g | Protein: 15g | Fat: 10.5g | Saturated Fat: 2.5g | Cholesterol: 71mg | Sodium: 429mg | Fiber: 7g | Sugar: 4g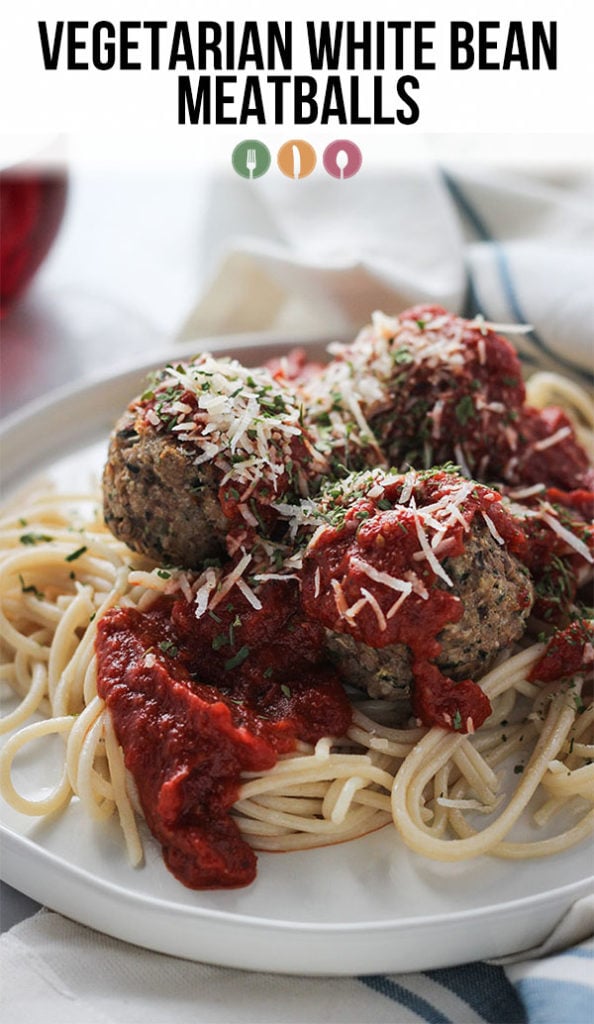 Reader Interactions