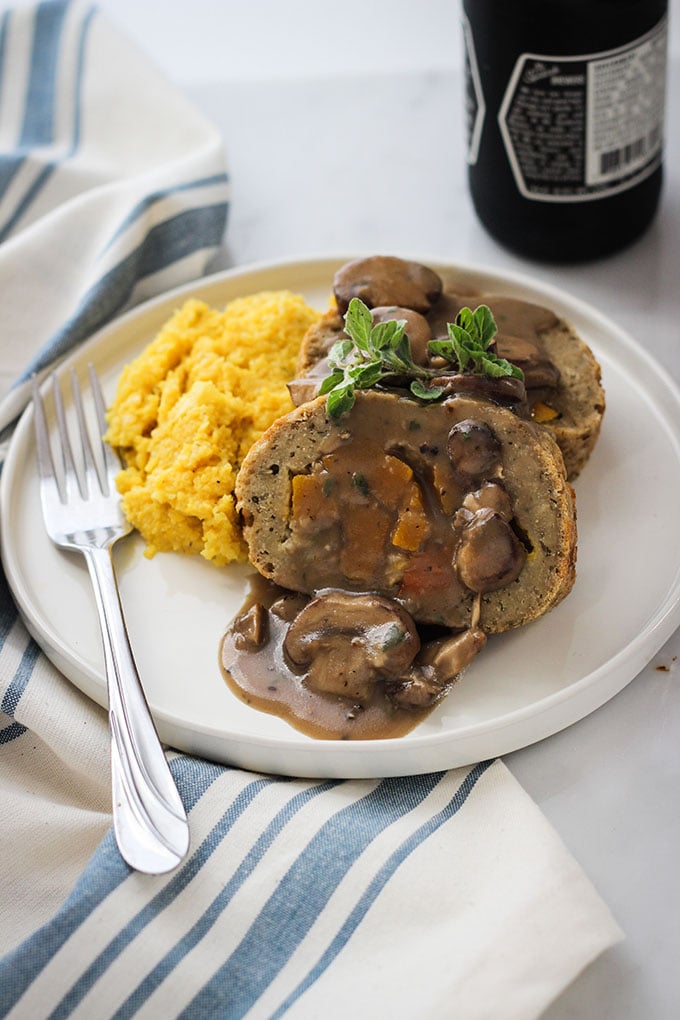 This recipe is a homemade version of the vegetarian "celebration" roast from the Field Roast company that is available around the holidays. If you haven't heard of it, this loaf is made from seitan and stuffed with traditionally flavored stuffing for a tasty, veg-friendly option. I have been wanting to make it since last year!
Now, I know this recipe is a lot more complicated than the heat-and-eat version you can buy in the store, it is actually quite fun to make. All you need is a bit of time to spend on roasting the butternut squash for the stuffing and then waiting around for the roast to bake. This vegan stuffed seitan roast is totally worth every minute!
The recipe does call for one kind of hard-to-find ingredient. For those who don't have easy access to a Whole Foods or other specialty store, I would suggest buying the vital wheat gluten online. One bag goes a loooong way!
More Holiday Recipes You'll Love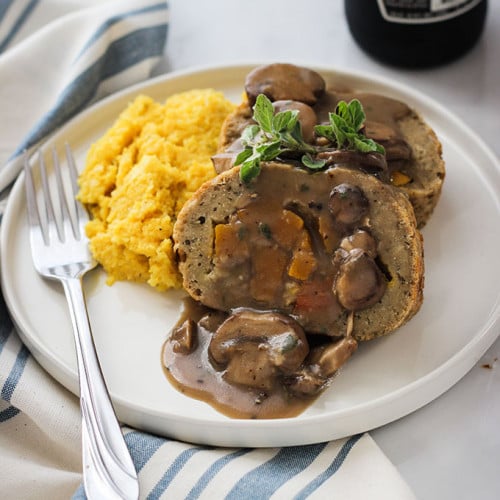 Vegan Stuffed Seitan Loaf
Savor the flavors of the holidays with this delicious vegan stuffed seitan loaf filled with butternut squash, cranberries, and kale.
Ingredients
Stuffing
2 cups cubed butternut squash
1 tablespoon olive oil
1/2 yellow onion chopped
1 stalk celery chopped
1 carrot chopped
1/2 cup mushrooms chopped
2 cloves garlic minced
1 cup chopped lacinato kale
1/4 cup dried cranberries
1 teaspoon oregano
Leaves from 2 stems of fresh thyme or 1 teaspoon dried thyme
2 tablespoons bread crumbs
1/8 teaspoon sea salt
1/8 teaspoon ground black pepper
Seitan Roast
2 cups vital wheat gluten
1/3 cup garbanzo bean flour
2 cups vegetable broth
1 teaspoon garlic powder
1 teaspoon onion powder
1 teaspoon dried oregano
1 teaspoon celery salt
1/4 teaspoon dried rosemary
Gravy
16 oz baby portobello mushrooms chopped
4 tablespoons olive oil
2 cloves garlic minced
4 tablespoons all-purpose flour
2 cups vegetable broth
2 tablespoons fresh oregano chopped
1/4 teaspoon sea salt
1/4 teaspoon ground black pepper
Instructions
To make the stuffing:
To make the butternut squash, peel and cut it into 1/2″ cubes, toss in olive oil and bake for 1 hour at 350 degrees Fahrenheit or until tender when poked with a fork. Set aside.

In a large skillet, heat 1 tablespoon olive oil and add the onion, celery, and carrot. Cook until the onion is translucent, about 5 minutes. Stir in the mushrooms and cook another 2 minutes. Add in the kale and garlic. Cook until the kale is wilted. Toss in the butternut squash, cranberries, oregano, and thyme. Cook another 1 minute. Turn off the heat and stir in the breadcrumbs, salt and pepper. Transfer stuffing to a food processor and pulse 10-12 times just until stuffing starts to stick together. Set aside.
To make the Seitan Roast:
Preheat oven to 350 degrees Fahrenheit. In a large mixing bowl, add all of the seitan ingredients. Stir well until it forms a ball of dough. Tear off a large piece of aluminum foil and spray with cooking oil. Transfer the seitan to the foil and use your hands to spread into a rectangle about 10" x 12". Spoon 2 cups of the stuffing onto the center of the loaf leaving 2" of space at the ends. Now, grab the foil to bring the longer sides of the seitan up and over the filling. Use your fingers to close up the gap and the ends. Then, tightly fold the aluminum foil to seal up the seitan roast inside. Place on a baking sheet and bake for 1 hour. While baking, roll the loaf a quarter turn every 15 minutes. Once baked, allow to cool a couple of minutes and then peel off the aluminum foil.
To make the gravy:
Heat the olive oil in a large skillet. Add the mushrooms and cook for 5-7 minutes or until some of the liquid from the mushrooms has been cooked off. Add the garlic and flour and toss to coat the mushrooms. Add the vegetable broth and stir well. Bring to a simmer for about 10-12 minutes or until gravy has reached desired consistency.

To serve, slice up the seitan roast into 1″-1 1/2″ slices. Spoon mushroom gravy over top.
Nutrition
Serving: 1slice | Calories: 384kcal | Carbohydrates: 27g | Protein: 28g | Fat: 20g | Saturated Fat: 2g | Polyunsaturated Fat: 4g | Monounsaturated Fat: 12g | Sodium: 912mg | Potassium: 518mg | Fiber: 4g | Sugar: 8g | Vitamin A: 5266IU | Vitamin C: 10mg | Calcium: 96mg | Iron: 3mg
Reader Interactions