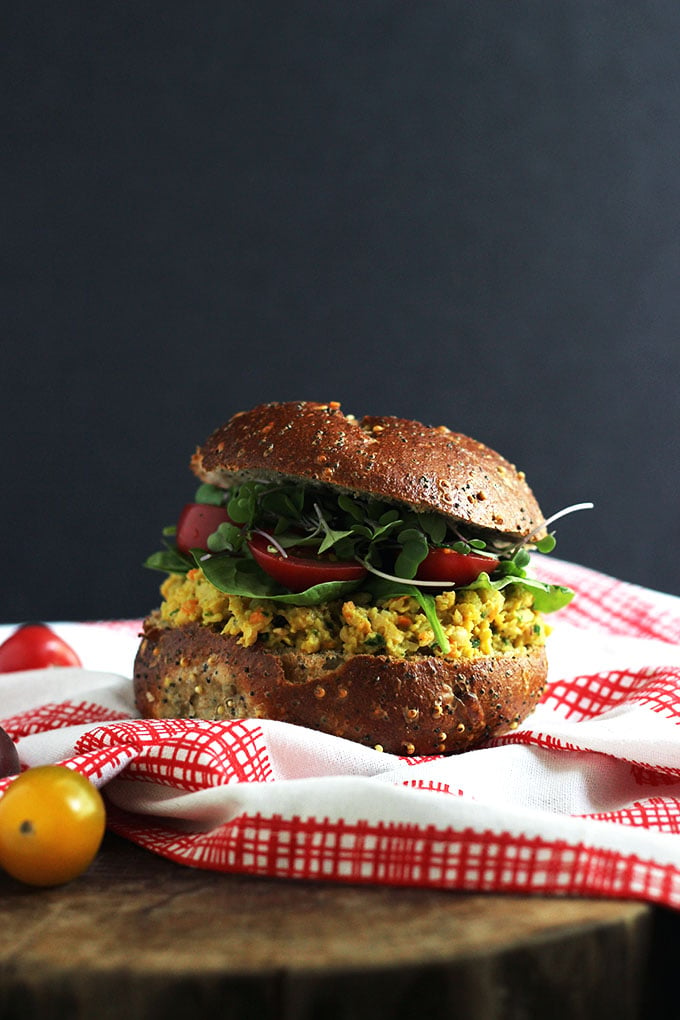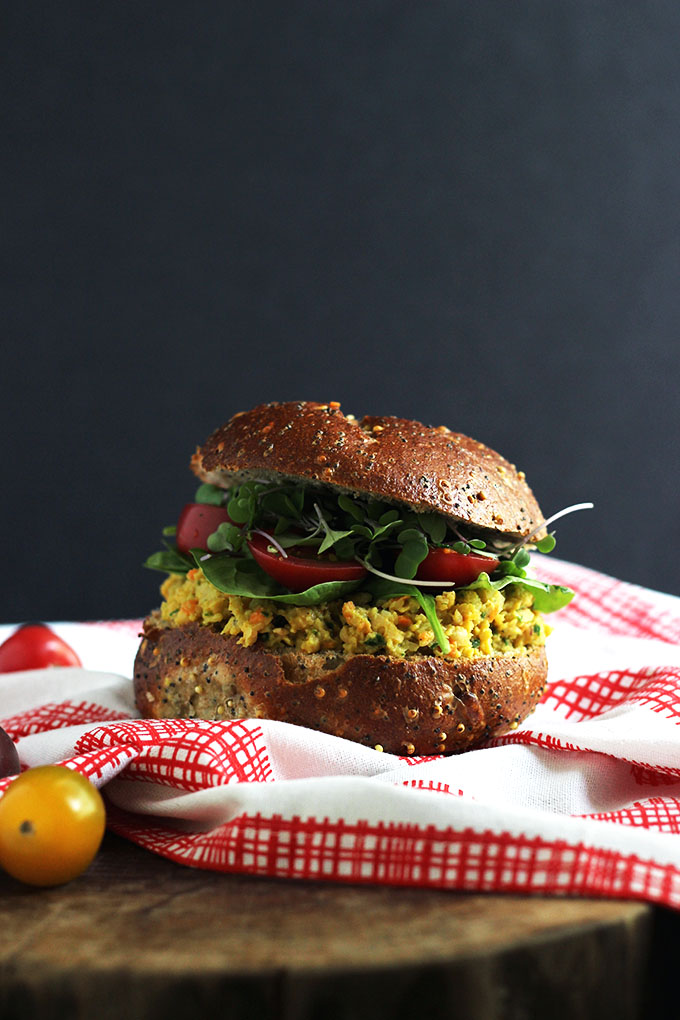 This curry chickpea spread is delightfully simple and equally delicious! Although I do love hummus, sometimes I get a little burnt out on it. Since this spread isn't completely pureed smooth like hummus, it has a bit of crunch to add more texture to your sandwich. I tried this a couple times and found that no two cans of chickpeas were the same when it came to mashing them up. Some were much softer than others, so if you are having trouble mashing them with a fork, simply pulse the mixture in your food processor a few times just until it starts to stick together.
You don't have to eat this in a sandwich either! I can imagine that seedy crackers would also be a great way to deliver this yummy spread from bowl to mouth. Make this curry chickpea spread your go-to option for a simple, healthy, no-cook meal on these hot summer days!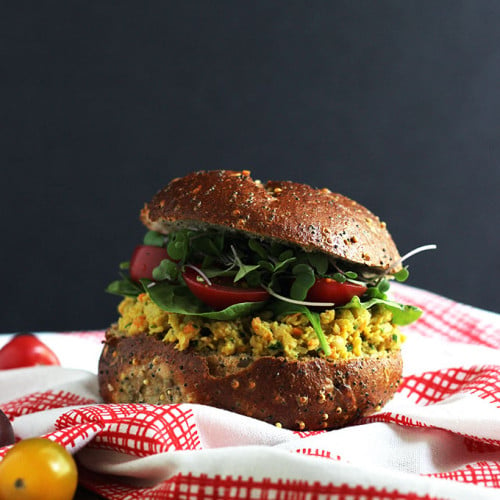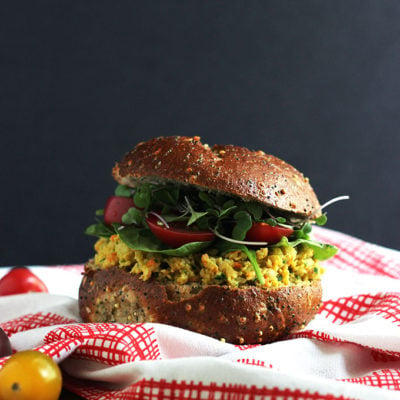 Curry Chickpea Spread
No need to heat up the oven or fire up the grill to make this healthy curry chickpea spread. Spread it on a sandwich and serve with a salad or soup and you've got dinner in a matter of minutes.
Ingredients
1 15 oz. can chickpeas, drained
2 tablespoons chopped parsley
2 tablespoons chopped red onion
4 tablespoons plain yogurt or vegan mayonnaise to be vegan friendly!
1 carrot finely diced
1 1/2 teaspoons curry powder
Salt and ground black pepper to taste
To serve: buns or sandwich bread spinach, sprouts, tomatoes, canned red peppers, etc.
Instructions
Place all the ingredients from chickpeas to black pepper in a bowl and mash with a fork or process for a few pulses in your food processor until it all starts to stick together. You don't want to mash it smooth into a hummus consistency, aim for an oatmeal texture.

Spread chickpeas onto a slice of bread and top with spinach, sprouts, tomatoes or whatever toppings you have on hand.
Notes
Nutrition information does not include sandwich bun or toppings.
Nutrition
Serving: 1/4 Recipe | Calories: 112kcal | Carbohydrates: 18g | Protein: 5.5g | Fat: 2.5g | Saturated Fat: 0.5g | Polyunsaturated Fat: 2g | Cholesterol: 2mg | Sodium: 175mg | Fiber: 5g | Sugar: 4.5g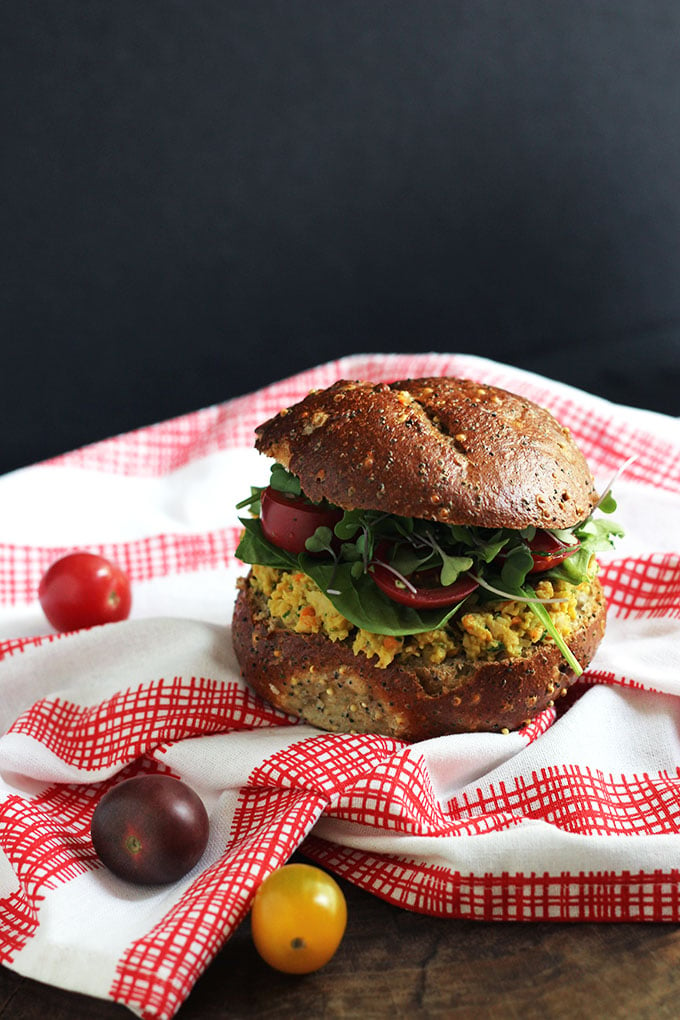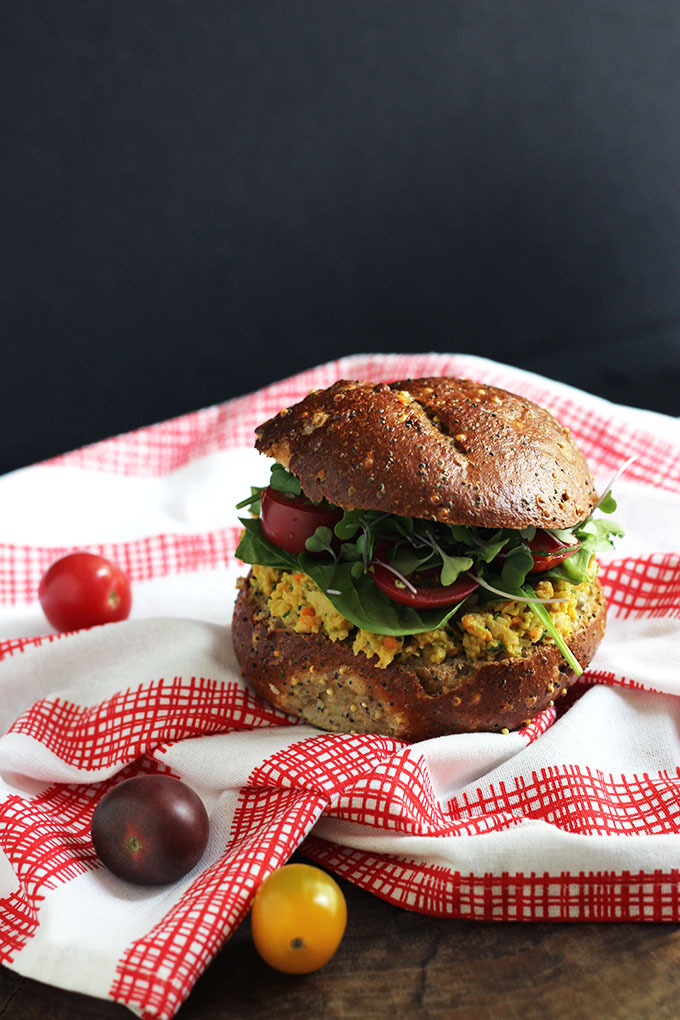 Reader Interactions