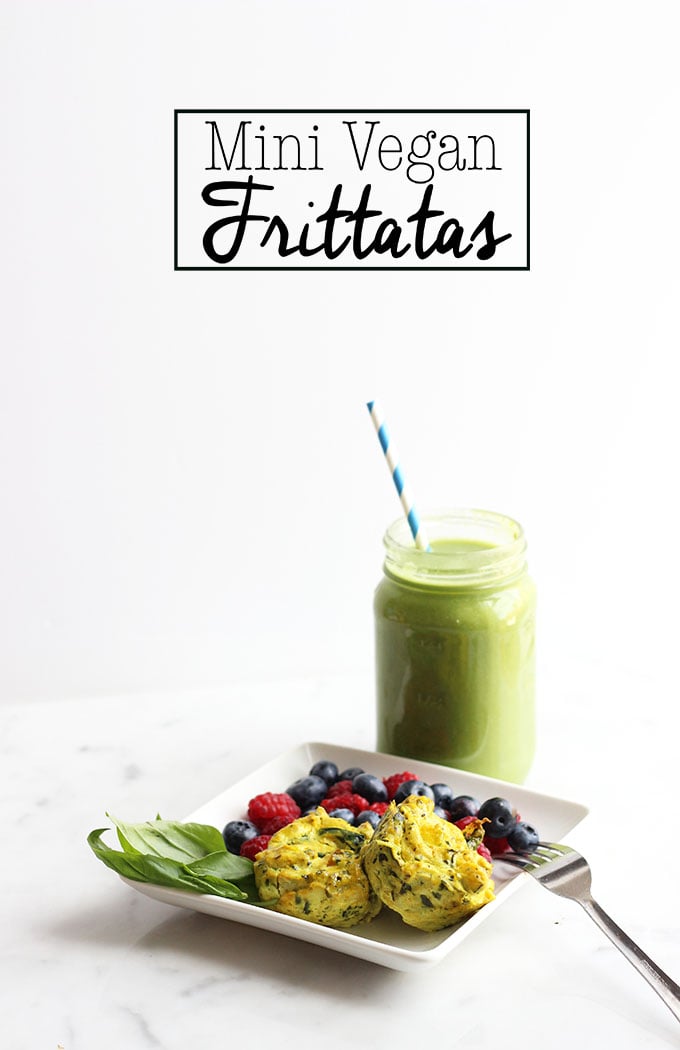 Finding the time to make a healthy breakfast can be tough. Working a full-time job in addition to running this little blog of mine means I don't have a lot of spare time to cook breakfast. Most days, I am running around the house with a slice of toast in one hand while getting ready for work. That is why these mini vegan frittatas are so perfect. They check all the right boxes when it comes to breakfast: hand-held, ready to eat in a minute, and nutritious. 
Let's talk about what is inside these cute mini vegan frittatas:
Tofu – This recipe is a great example of how easy it can be to start incorporating more plant-based proteins into your diet in a familiar way. In fact, these turn out so similar to an egg-based frittata, you may be able to fool your family/friends! Tofu is not only packed with protein, but is also a great source of calcium and iron. Each one of these mini frittatas has about 8 grams of protein which is equivalent to 1 egg which has 6 grams of protein.
Basil Pesto – The pesto is an easy way to add flavor to these little frittatas. Save time by purchasing pre-made pesto in a jar at the store.
Vegetables (Corn, zucchini, tomatoes, spinach) – These frittatas are chock full of vegetables to help you reach that goal of 2-3 cups of vegetables per day. (A goal more than 80% of Americans don't reach!)
Turmeric – A dash of turmeric in these frittatas gives them their yellow color, but it also provides a lot of antioxidants. An increasing number of studies have looked at the potential health benefits of curcumin which is an active compound in turmeric and provides that distinctive yellow color.
Tips for making these mini vegan frittatas
Make sure to use paper liners for your muffin tin as they are too difficult to remove from the muffin pan with out the paper. Plus, it makes it easier to clean!
Use an ice cream scoop to portion out the batter into the muffin tin. It is so much easier than trying to do it with a spoon.
When done baking, let the frittatas cool in the pan for 10 minutes before lifting them out. This allows them to firm up a little after baking.
Store these in the refrigerator after cooking for up to 3 days. Store in the freezer if you want to keep them longer. Simply reheat them in the microwave when you are ready to eat them.
To reheat these in the morning, just put them on a plate in the microwave for about 1 minute. I usually pair mine with side of fresh fruit or a green smoothie like in the pictures above. Hopefully you'll love these as much as I do! If you are looking for other simple breakfast recipes, be sure to check out my blueberry acai chia pudding, mango cilantro green smoothie, and overnight oats 4 ways.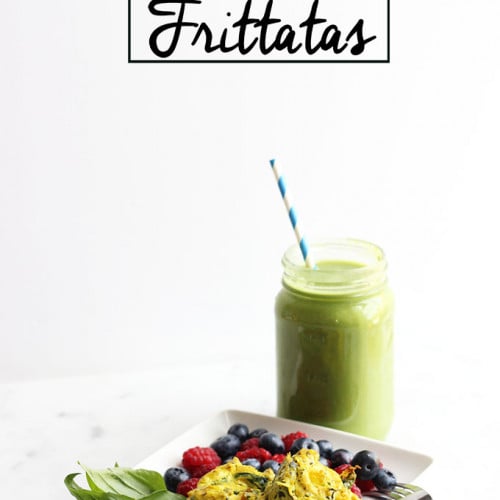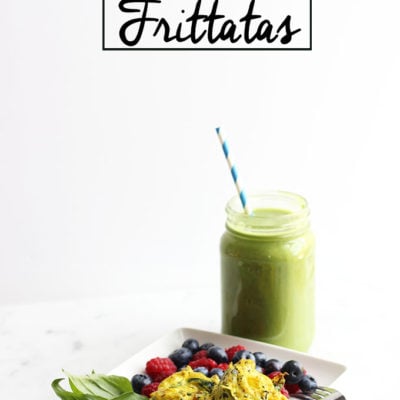 Mini Vegan Frittatas
Whip up a batch of these cute little mini vegan frittatas made with simple ingredients like tofu, zucchini, and spinach for a healthy breakfast for busy weekday mornings.
Ingredients
14 oz package firm tofu drained
1/3 cup unsweetened soy milk
1 teaspoon turmeric
1 tablespoon olive oil
1 cup finely chopped zucchini
1/2 cup corn fresh or frozen
1 cup halved cherry tomatoes
2 cups fresh spinach leaves chopped
3 tablespoons vegan pesto I like the one from Gotham Greens
1/2 teaspoon sea salt
Dash of ground black pepper
Instructions
Preheat the oven to 350 degrees Fahrenheit.

Place tofu, soy milk, and turmeric in a food processor and blend until smooth.

In a saucepan, heat the oil and add the zucchini. Cook for 5-6 minutes or until it starts to lightly brown and soften.

Add the corn and tomatoes. Cook another 2-3 minutes.

Stir in the spinach and cook until spinach is starting to wilt then turn off the heat.

Mix the pureed tofu, vegetables, pesto, salt, and pepper together in a large bowl. Taste and add more salt if needed. 

Cut parchment paper into 4 inch squares and fold into muffin tin cups or use paper muffin liners. (Don't skip the paper liners as these help the frittatas hold their shape.) Divide batter into 10 cups. (I use an ice cream scoop to make this step easier!)

Bake for 28-32 minutes or until slightly puffy and lightly browned on top.
Nutrition
Serving: 2g | Calories: 242kcal | Carbohydrates: 13g | Protein: 17.5g | Fat: 15g | Saturated Fat: 2.5g | Polyunsaturated Fat: 12.5g | Cholesterol: 3mg | Sodium: 97mg | Fiber: 3.8g | Sugar: 3g
[inlinkz_linkup id=538498 mode=1]
Reader Interactions