This strawberry rhubarb chia pudding is the perfect way to start off your morning. We are nearing the tail end of the rhubarb season here in Chicago, so you've got to enjoy it before it's gone! Strawberry and rhubarb are such a classic pairing. Simmer the two together in a saucepan with a little water and maple syrup and you have got this magical compote that is perfect for stirring into chia pudding, yogurt, oatmeal, and more! The recipe makes extra, so keep it tucked away in the fridge for spooning on things all week long. (I know I do!)
If I had thought ahead a bit more, I would have added a layer of blueberries to make a fitting breakfast for Fourth of July! Shucks. Maybe by next year I'll be ahead of the game? Have a lovely long weekend!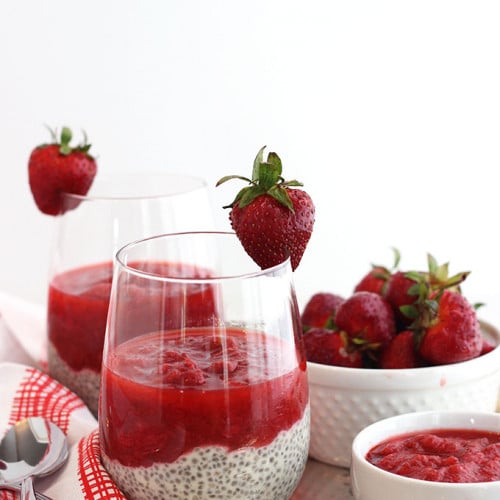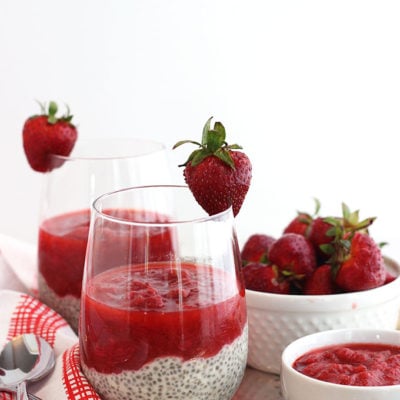 Strawberry Rhubarb Chia Pudding
This naturally sweetened strawberry rhubarb chia pudding is a healthy way to start your day off right.
Ingredients
2 cups rhubarb stalks 1/3 inch slices
2 cups quartered strawberries
1/4 cup water
2 tablespoons maple syrup
1 1/2 cup almond milk
1/4 cup chia seeds
1/4 cup shredded unsweetened coconut flakes
1 teaspoon vanilla
Instructions
In a medium saucepan, add the rhubarb, water, and maple syrup. Bring to a simmer, stirring occasionally for ~2 min.

As soon as the rhubarb starts to soften, add the strawberries and continue to simmer. Cook about 5-7 minutes until strawberries and rhubarb have softened and a thick sauce forms. Set aside to cool.

To make the chia pudding, place milk, chia, coconut, and vanilla in a bowl. Stir well and place in the fridge to set at least 1 hour to overnight.

To serve, spoon half of the chia pudding into 2 separate bowls and top with strawberry rhubarb compote.
Nutrition
Serving: 1/2 recipe | Calories: 350kcal | Carbohydrates: 37g | Protein: 6g | Fat: 13g | Saturated Fat: 3.5g | Polyunsaturated Fat: 9.5g | Sodium: 150mg | Fiber: 14g | Sugar: 20g
Reader Interactions