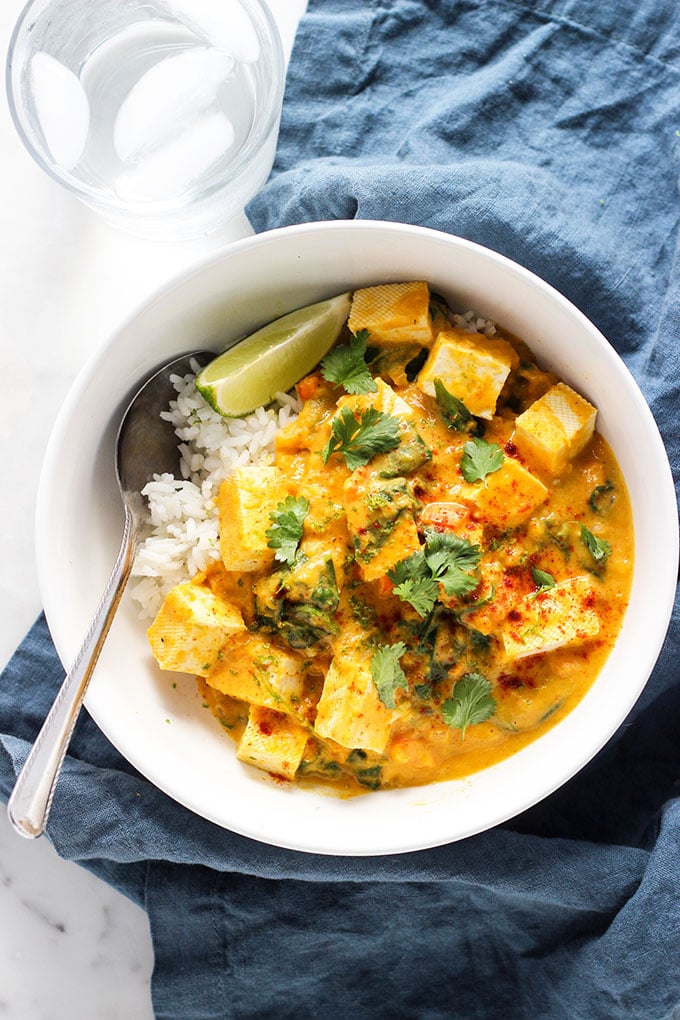 Growing up in rural Pennsylvania, I feel like I missed out on so many delicious ethnic foods. For example, I had never had curry or sushi until college! Luckily, living in a big city like Chicago now gives me the opportunity to make up for lost time. 🙂 We love whipping up a simple curry for dinner often, especially during the cooler months of fall/winter. This delicious easy tofu pumpkin curry need less than 10 ingredients (plus salt and pepper!) and can be ready to eat in about 30 minutes, which is perfect for busy weeknights. Keep just a few ingredients like curry paste, pumpkin, and coconut milk stocked in your pantry and you can make this curry whenever the craving hits.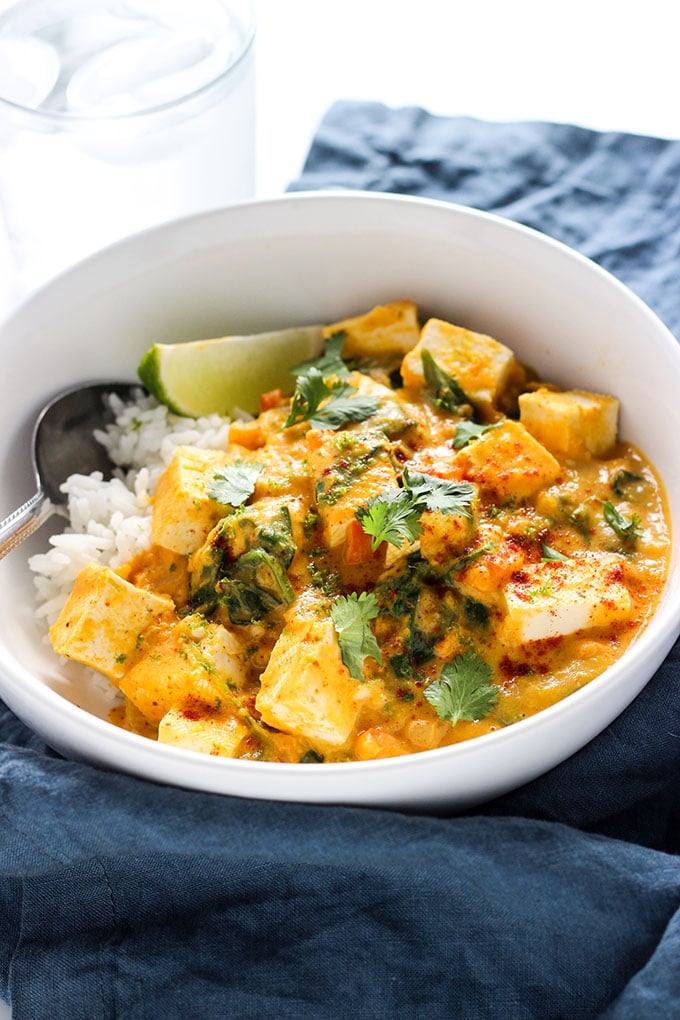 To serve, pile your curry high on a bit of white or brown rice then sprinkle with fresh chopped cilantro and a squeeze of fresh lime juice. If you aren't familiar with curry paste, you can usually find it in a small can in the ethnic foods aisle of the grocery store. For fun, we sometimes head over to Chinatown on a weekend to restock our curry paste supply when running low and pick up other random ingredients that look interesting to try. You can also find curry paste online too of course. We always try to keep a couple cans of paste on hand in our pantry since it makes curry dishes like this one so easy.
Easy Tofu Pumpkin Curry
Whip up this easy tofu pumpkin curry in less time than it takes to order take out. All you need are a few pantry staples to create this healthy dish any night of the week.
Ingredients
For the Curry:14 oz. extra firm tofu cut in 1/2″ cubes
1 tablespoon olive oil
1/2 yellow onion chopped
1 red bell pepper chopped
1 clove garlic minced
2 tablespoons red curry paste
1 15 oz. can pumpkin puree (or 1 1/2 cups homemade pumpkin puree)
1 15 oz. can full fat coconut milk (or sub 1 can lite coconut milk)
1 tablespoon soy sauce
4 cups fresh spinach leaves
1/8 th teaspoon sea salt + more to taste
1/8 th teaspoon ground black pepper
To Serve:Cooked rice fresh lime, chopped cilantro, naan bread
Instructions
Heat olive oil in a large skillet over medium high heat. Add the tofu and cook for several minutes on each side, flipping as the bottom end of the tofu begins to brown. Cook until tofu is lightly browned and crispy on most sides. Transfer to a plate and set aside.

To the same skillet, add the onion and red bell pepper. Saute for 3-5 minutes or until onion begins to soften. Add the garlic and cook one more minute.

Stir in the curry paste, pumpkin, coconut milk, and soy sauce and bring to a gentle simmer.

Cut tofu into 1/2″ cubes and stir into the skillet.

Cook for 3 minutes. Add the spinach, salt, and pepper, and cook another 3-5 minutes or until spinach is wilted.

Serve over rice or other starch and top with a squeeze of fresh lime juice and chopped cilantro.
Nutrition
Serving: 1/4 recipe | Calories: 415kcal | Carbohydrates: 20g | Protein: 15g | Fat: 34g | Saturated Fat: 21.5g | Polyunsaturated Fat: 12.5g | Sodium: 255mg | Fiber: 5g | Sugar: 7g
Reader Interactions