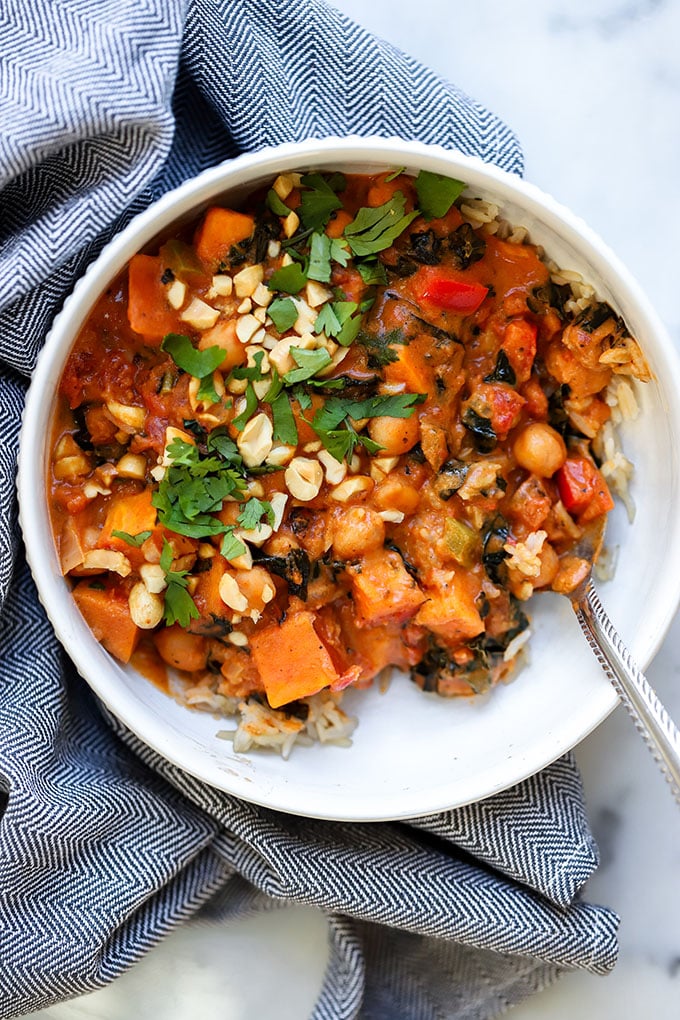 This vegan peanut curry with chickpeas and sweet potato is the newest addition to my back pocket repertoire of simple and fast weeknight meals! I have made it a couple times already and packed the leftover for my work lunch and I can't get enough of it!
You only need one pan to whip it all up and it usually takes me only ~40 from start to finish. The other great thing about this recipe is that it utilizes a lot of pantry staples like chickpeas, coconut milk, diced tomatoes, and peanut butter. Keep those ingredients on hand and you are well on your way to recreating this delicious curry.
This curry is a riff on the traditional West African peanut curry dish also known as maafe, groundnut stew, or domoda. Originally, the dish was made with groundnuts before peanuts were used later. Ingredients in traditional peanut stew often include ground peanuts, meat, tomatoes, hot chiles – usually it is served over rice or millet.
This recipe makes 5-6 servings so for those with smaller households like us, you'll get to enjoy a few days of leftovers! Serve this curry over rice or your favorite grain and garnish it with a few chopped peanuts and some fresh cilantro. Feel free to use other veggies in this dish based on what you have on hand.
You could easily substitute spinach for the kale or toss in some chopped broccoli, bok choy, cauliflower, etc. I kept the basic veggies in the recipe below, but I'm excited to experiment with new ones as I make this recipe on repeat.
Did you love this recipe? Make sure to leave a ⭐️ rating and tag #dietitiandebbie on instagram!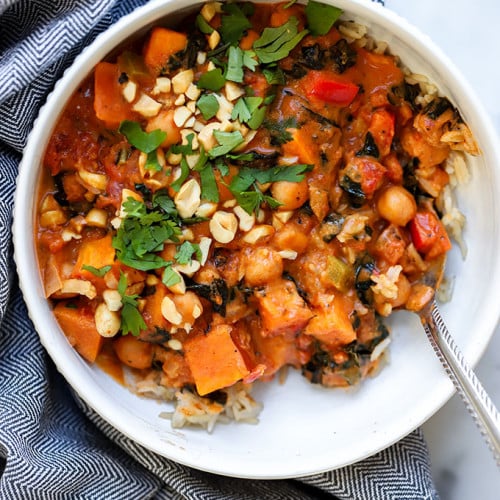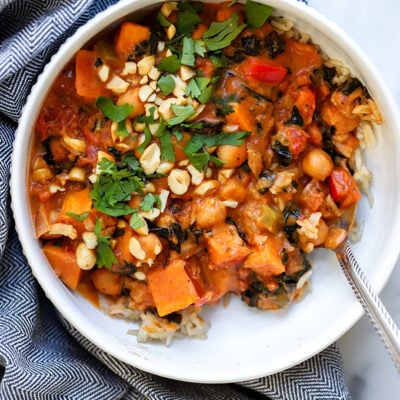 Vegan Peanut Curry with Chickpeas and Sweet Potato
Need a quick and simple dinner you can make in one pan? You're in luck because this vegan peanut curry with chickpeas and sweet potato is exactly that!
Ingredients
2 tablespoons olive oil
1 medium sweet potato
1/3 cup chopped onion ~1/4 large onion
1 bell pepper chopped
2 cloves garlic minced
1 15 oz. can fire roasted diced tomatoes
1 15 oz. can chickpeas, drained
1 15 oz. can lite coconut milk
1/3 cup creamy peanut butter
1 tablespoon sriracha sauce
1 tablespoon red curry paste
1/2 tablespoon ginger paste or fresh grated ginger
1/2 bunch lacinato kale leaves stems removed, chopped
Salt and ground black pepper to taste
Instructions
Add the olive oil, onion, sweet potato, and bell pepper to a pan. Sauté for 5 minutes or until onion is translucent. 

Add the garlic and cook another minute. 

Stir in the tomatoes, chickpeas, coconut milk, peanut butter, sriracha, ginger, and curry paste. Bring to a simmer and cook for 8-10 minutes or until sweet potatoes start to soften. 

Stir in the kale and a dash of salt and pepper. Cook an additional 3-5 minutes or until potatoes are fork tender and kale is wilted. Taste and add more salt if needed. 

Serve over cooked rice or favorite grain. Garnish with fresh cilantro if desired. 
Notes
*Not all curry pastes are vegan so make sure to read the ingredient label as some contain fish sauce.
Nutrition
Serving: 1/5 recipe | Calories: 271kcal | Carbohydrates: 27g | Protein: 7g | Fat: 14g | Saturated Fat: 5.5g | Polyunsaturated Fat: 8.5g | Sodium: 541mg | Fiber: 7g | Sugar: 11g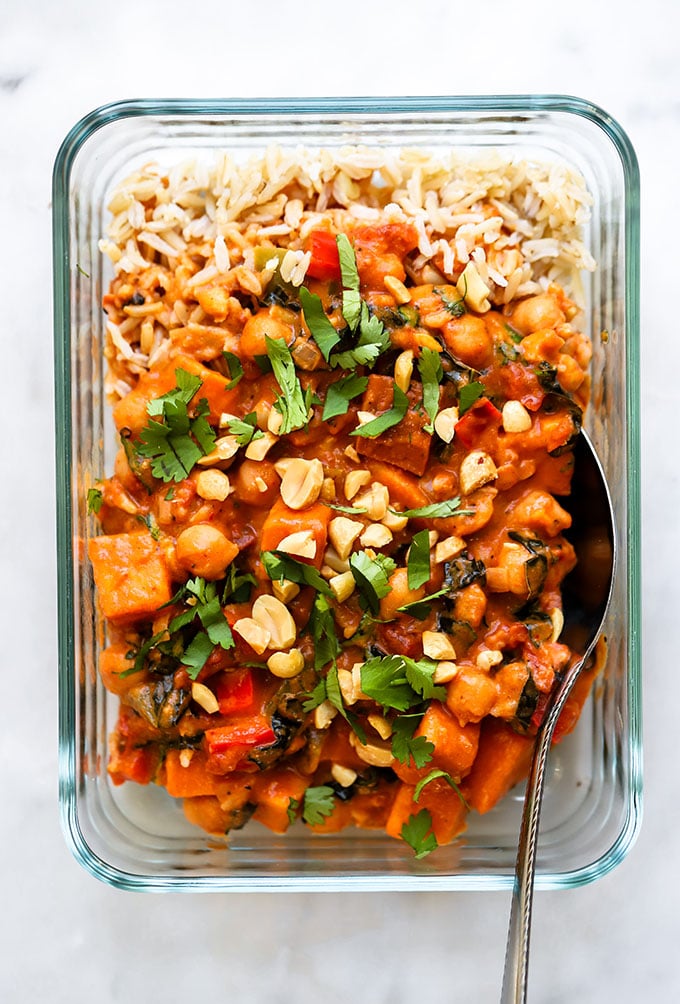 Reader Interactions