This vegan tofu shakshuka can be whipped up in one skillet from a can of tomatoes, spinach, a package of silken tofu, and spices like cumin and paprika. Serve it with some toasted pita for dipping and you have a delicious one pot meal.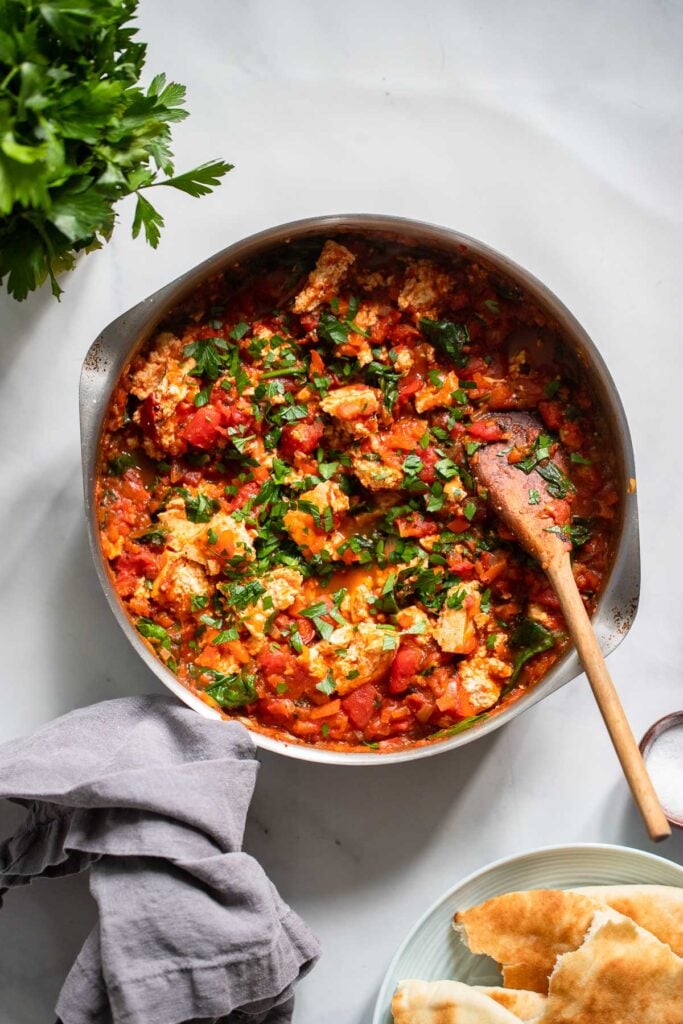 Let's make some shakshuka! Have you ever heard of it? Will actually introduced me to this dish when we were first dating and we have been making it ever since. Now that I'm vegan, we make this shakshuka without eggs and it's just as good as the original.
Origins of Shakshuka
Shakshuka is made up of eggs cooked in a thick tomato sauce with peppers, onion, herbs, or spices that is usually served with some bread on the side. The origin of the dish is debated, but most historians believe it originated in Yemen or Tunisia. This dish remains wildly popular today since it is so simple to make in just one pot. The word shakshuka comes from Arabic, meaning "all mixed up". In present day Turkey, a dish called menemen that is very similar to shakshuka is a popular breakfast dish.
Why You'll Love this Recipe
One pot and ready in just about 30 minutes!
Requires just a handful of pantry-friendly ingredients liked canned tomatoes and a few spices like cumin and paprika – most of which you probably already have on hand.
Vegan | Dairy Free | Gluten Free | Egg Free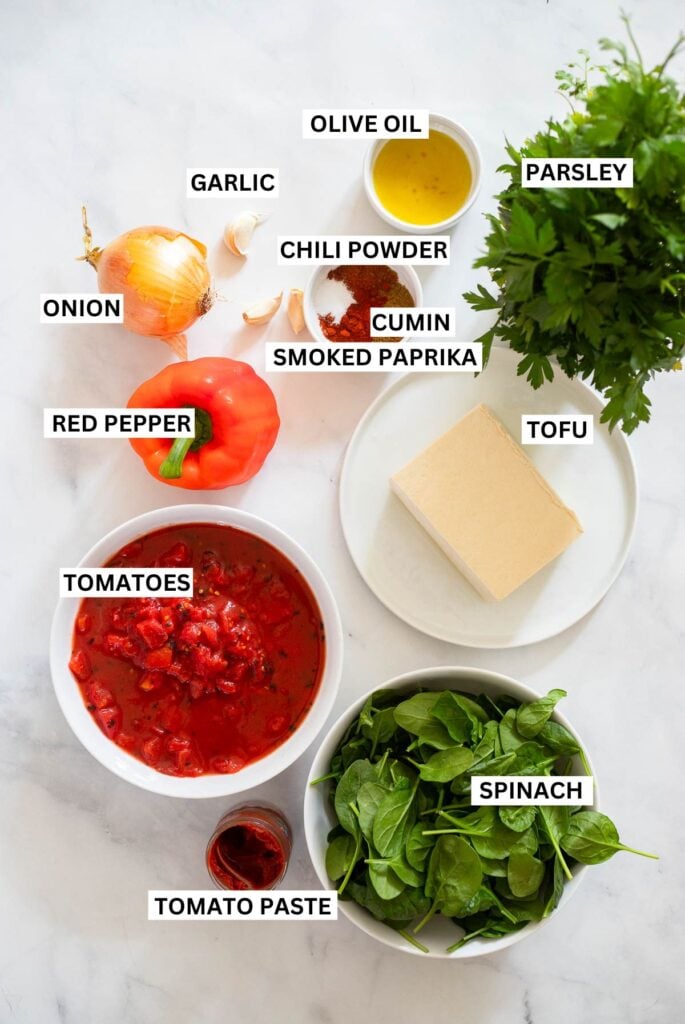 Ingredients You'll Need
Diced Tomatoes: I recommend using fire roasted diced tomatoes because they have so much more flavor and since tomatoes are the star of the show in this recipe, you'll want the best ones!
Onion/Red Bell Pepper: Add lots of flavor as well as some fiber.
Cumin/Smoked Paprika/Chili Powder: Almost every shakshuka recipe calls for a combination of these spices.
Spinach: Although not typically included in shakshuka, I like to add in some spinach greens to this dish.
Tofu: I like to use crumbled soft tofu in my shakshuka because I feel like the texture most closely resembles soft eggs, but you can use crumbled firm tofu as well.
Step by Step Directions
This one pot dinner couldn't be any simpler. You'll want a large, deep skillet so you have enough space for everything to cook down.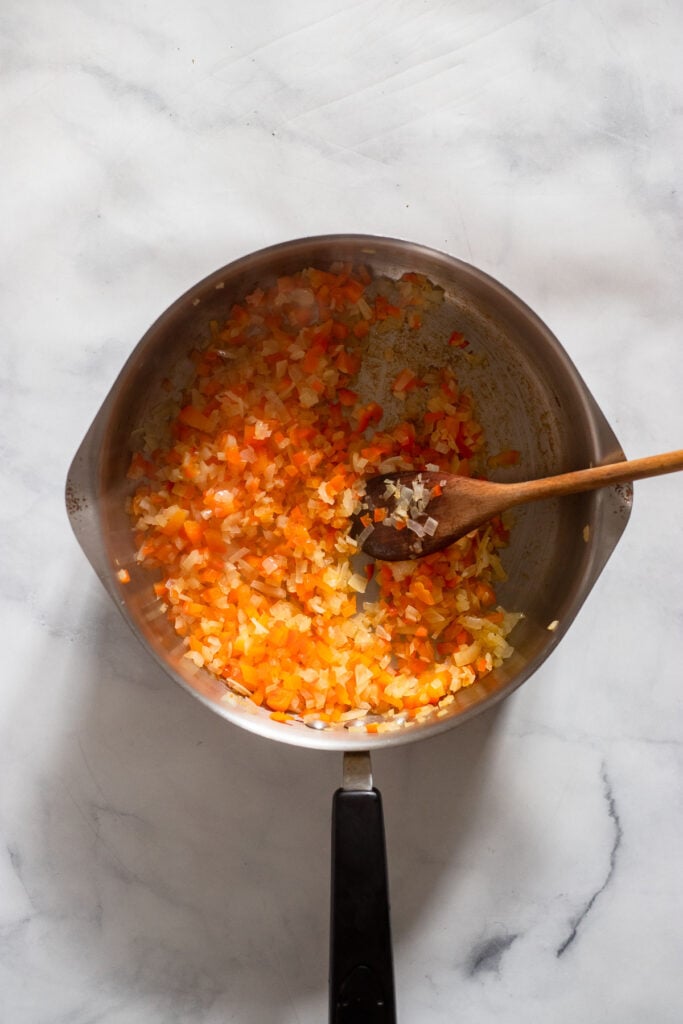 STEP 1: Add the oil, pepper, and onion to a pan and sauté on medium heat until softened, about 5 minutes.
STEP 2: Stir in the garlic, spices, and tomato paste. Sauté for another 1-2 minutes.
STEP 3: Stir in the tomatoes and simmer until they start to thicken.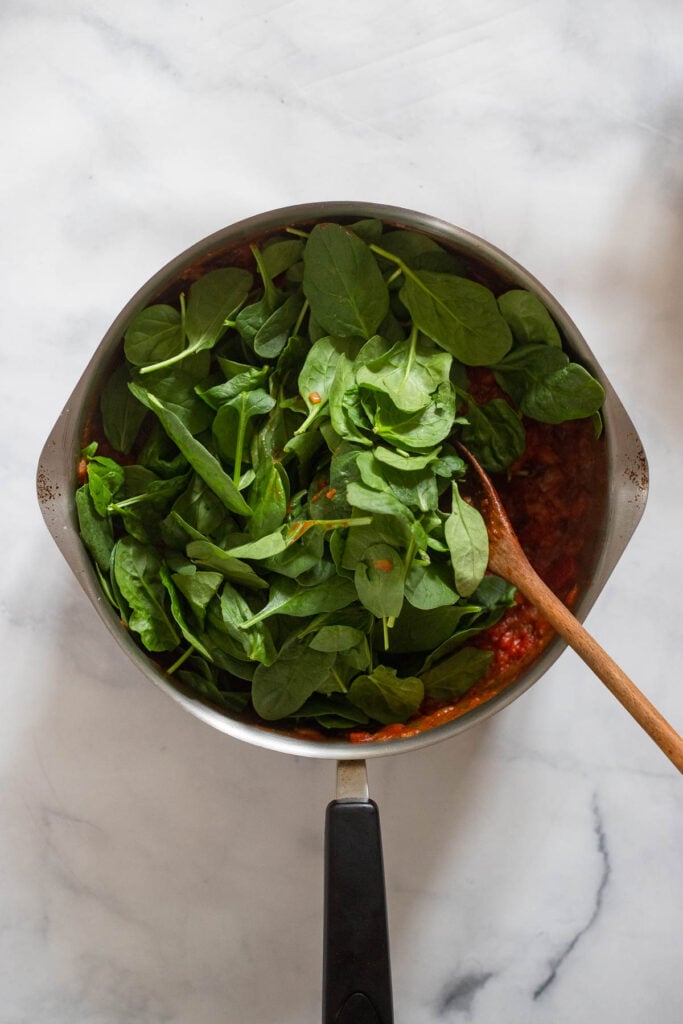 STEP 4: Stir in the spinach and cook until wilted, about 2 minutes.
STEP 5: Stir in the crumbled tofu and cook until tofu is heated through. Garnish with fresh chopped parsley. To serve, add some crumbled vegan feta cheese if desired.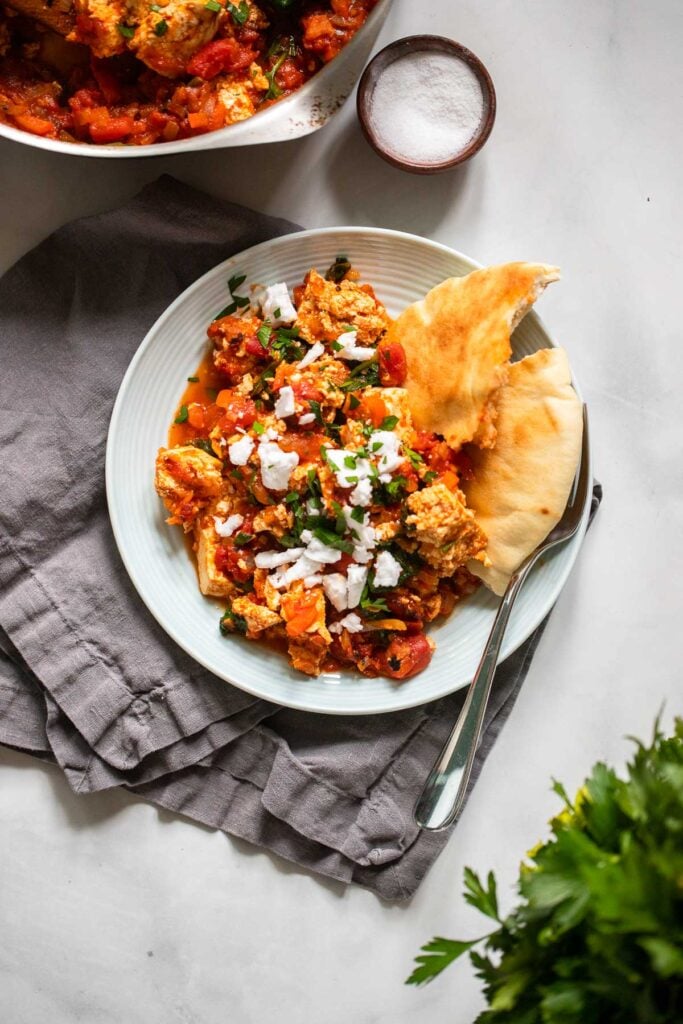 Is Shakshuka Healthy?
Yes! Shakshuka is a delicious, healthy meal that is also incredibly easy to make. The bulk of the dish is made from tomatoes, which are rich in vitamins C and K, potassium, and folate. Tomatoes are rich in an antioxidant called lycopene that has been associated with and lower risk of heart disease and certain types of cancers . Processed tomatoes liked the canned tomatoes used in this recipe, have even higher amounts of lycopene.
More Delicious Recipes You'll Love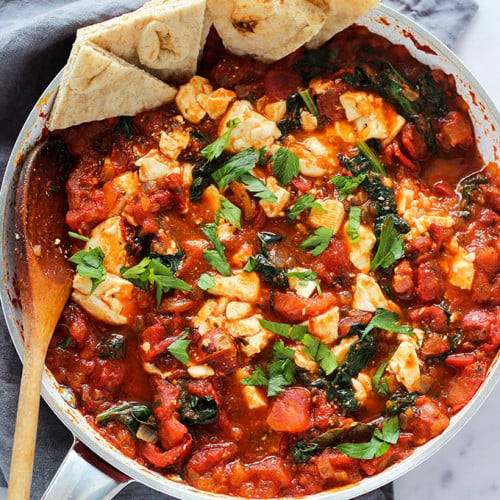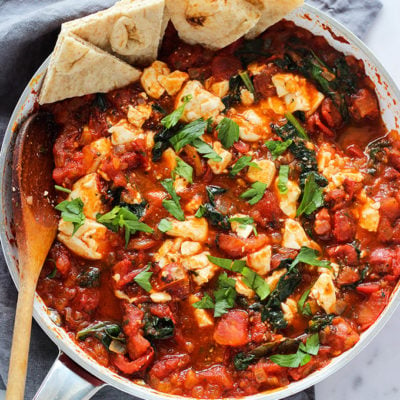 Vegan Shakshuka
This vegan shakshuka can be whipped up in 30 minutes and uses only one pan. It is the perfect weeknight meal for busy summer nights.
Ingredients
16 oz. container of silken tofu
2 tablespoons olive oil
1 onion, chopped
1 red bell pepper, chopped
2 tablespoons tomato paste
2 teaspoons cumin
1 teaspoon smoked paprika
1/2 teaspoon chili powder
3 cloves garlic, minced
1 teaspoon sugar (optional)
1 can (28 oz) fire roasted diced tomatoes
3 cups fresh spinach leaves
Sea salt and Ground Black Pepper to taste
To Serve:
Chopped parsley
Naan or pita bread
Instructions
Place tofu on a plate lined with a paper towel and set aside to drain some of the excess liquid.

Heat olive oil in a skillet.

Add the onion and pepper to a skillet and cook over medium heat until translucent, about 5 minutes.

Stir in the tomato paste, cumin, paprika, chili powder, garlic, and sugar. Stir to cook for 1 minute.

Add the tomatoes. Bring to a simmer and cook for 8-10 minutes so that it starts to thicken.

Add the spinach and stir. Cook until wilted, about 2 minutes.

Break the tofu into large chunks and add to the skillet. Stir gently to distribute through tomato sauce. Cook or 3-5 minutes. Add salt and pepper to taste.

Serve hot with naan bread and garnish with fresh chopped parsley.
Notes
Use a large deep skillet or large cast iron skillet for this recipe.
I also enjoy serving this over couscous or rice. 
The sugar is optional, but it does help cut the acidity of the canned tomatoes. 
Nutrition
Serving: 1/3 recipe | Calories: 269kcal | Carbohydrates: 27g | Protein: 12g | Fat: 15g | Saturated Fat: 2g | Polyunsaturated Fat: 4g | Monounsaturated Fat: 8g | Sodium: 154mg | Potassium: 1240mg | Fiber: 6g | Sugar: 14g | Vitamin A: 4972IU | Vitamin C: 90mg | Calcium: 194mg | Iron: 6mg
SaveSaveSaveSave
Reader Interactions