One way to add a pop of fresh sunny flavor to winter salads is the addition of citrus like in this simple grapefruit kale salad.
Why yes, I am posting a kale salad as my first post for the new year. Lol. As cliche as it may be, I just can't help but share this delicious grapefruit kale salad. I like to think of this salad as a "reset button" for healthy eating. After holiday potlucks at work and one too many Christmas cookies, I am ready for a healthy new year to start. How about you? I am actually dusting off a similar salad recipe from the archives of the blog with some adaptations for this post.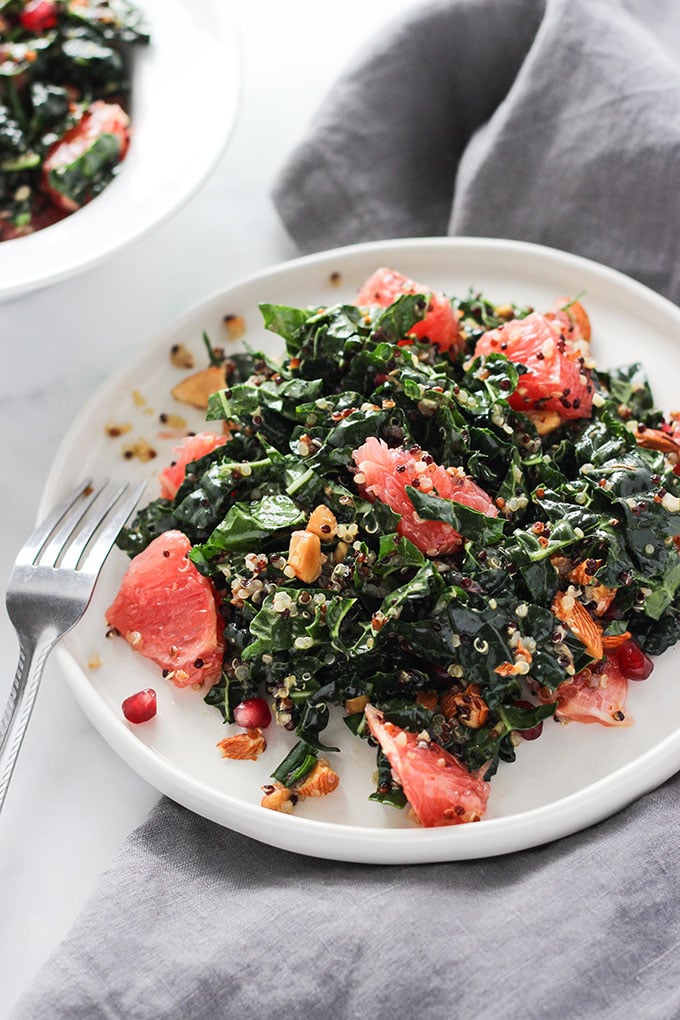 Why This Salad is Good for You
I kept the recipe super simple with just 10 ingredients plus made it vegan and gluten free friendly. Of course you already know that kale is packed with nutrients!
Kale is a good source of vitamins A, C, K and manganese.
Grapefruit also has a lot to offer with a high amount of vitamins A and C. Those fat soluble vitamins are really important for fighting off free radicals to keep your skin looking healthy while also preventing chronic inflammation and protecting against cancer.
Almonds and quinoa provide an extra does of protein to make this salad more filling. 
More Salad Recipes You'll Love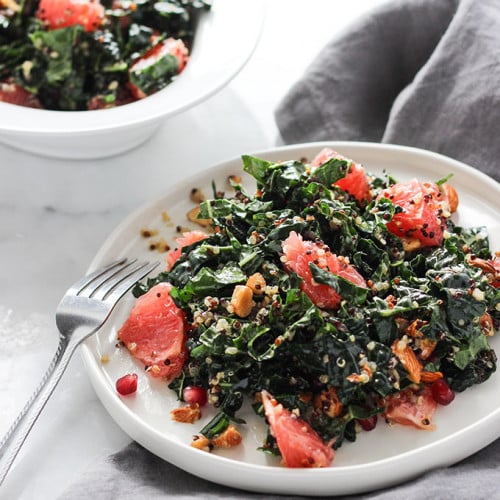 Grapefruit Kale Salad
Hit the reset button on your healthy diet goals with this simple grapefruit kale salad. With only 10 ingredients this salad is not only simple, but vegan and gluten free friendly as well.
Ingredients
Salad:
1/2 cup quinoa
1 cup vegetable broth
3 1/2 cups chopped lacinato kale
1/2 tablespoon olive oil
2 grapefruits
1/2 pomegranate ~1/2 cup seeds
3/4 cup chopped almonds
Dressing:
2 tablespoons olive oil
1 tablespoon apple cider vinegar
2 tablespoons grapefruit juice
Dash of salt and ground black pepper
Instructions
Rinse quinoa well under cold running water. Place quinoa and broth in a small saucepan.

Bring to a simmer and cover. Cook for about 15 minutes or until most of the broth has been absorbed by the quinoa. Remove the lid and cook off the rest of the broth, about 5-7 minutes.

Set quinoa aside to cool.

Remove the stems and chop your kale. Place in a large mixing bowl and toss with 1/2 tablespoon olive oil. Use your hands to massage the oil into the kale.

Peel and cut one the grapefruits into segments, removing most of the white skin. Add to the bowl with the kale along with the pomegranate, almonds, and cooled quinoa.

Juice 1/2 of the second grapefruit and pour into a jar.Add the rest of the dressing ingredients, screw on the lid and shake to mix the dressing. Pour over salad and toss to coat and serve.
Nutrition
Serving: 1/4 recipe | Calories: 285kcal | Carbohydrates: 28g | Protein: 9.5g | Fat: 16.5g | Saturated Fat: 1.5g | Polyunsaturated Fat: 15g | Sodium: 145mg | Fiber: 6g | Sugar: 7.5g
SaveSave
Reader Interactions