This simple beet, quinoa, and arugula salad gets a pop of fresh flavor by sneaking a bit of freshly chopped mint leaves into the easy vinaigrette.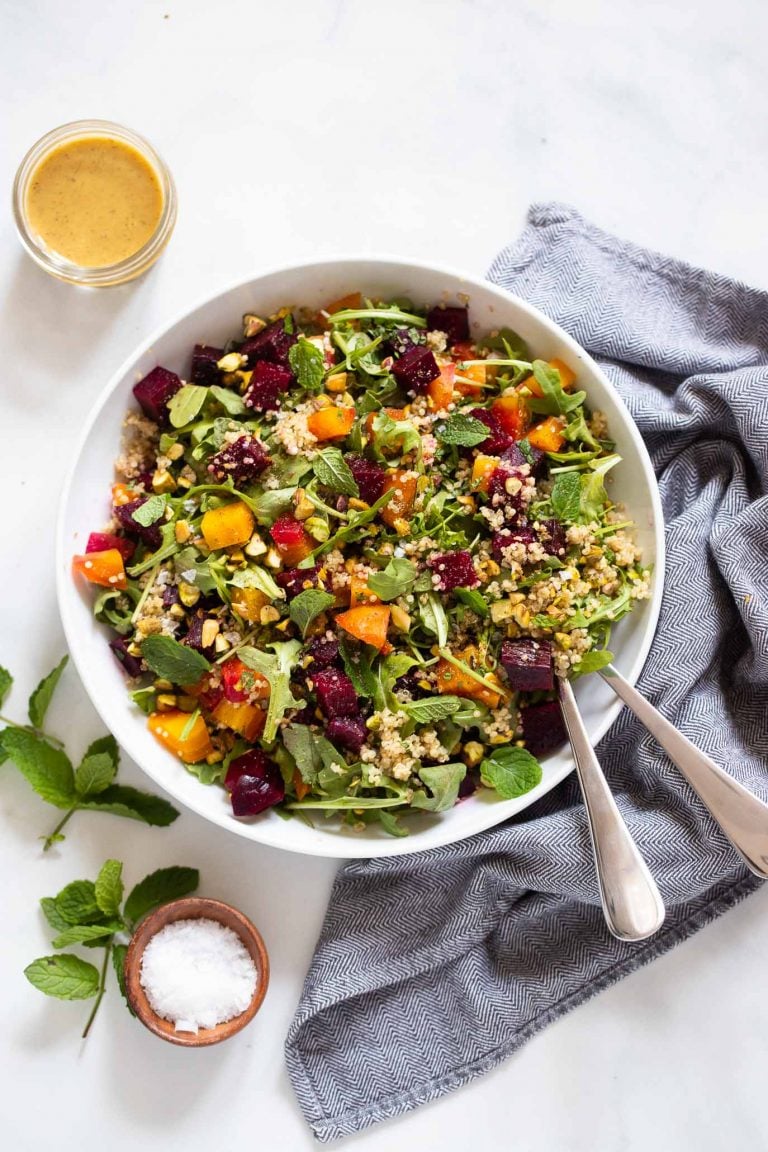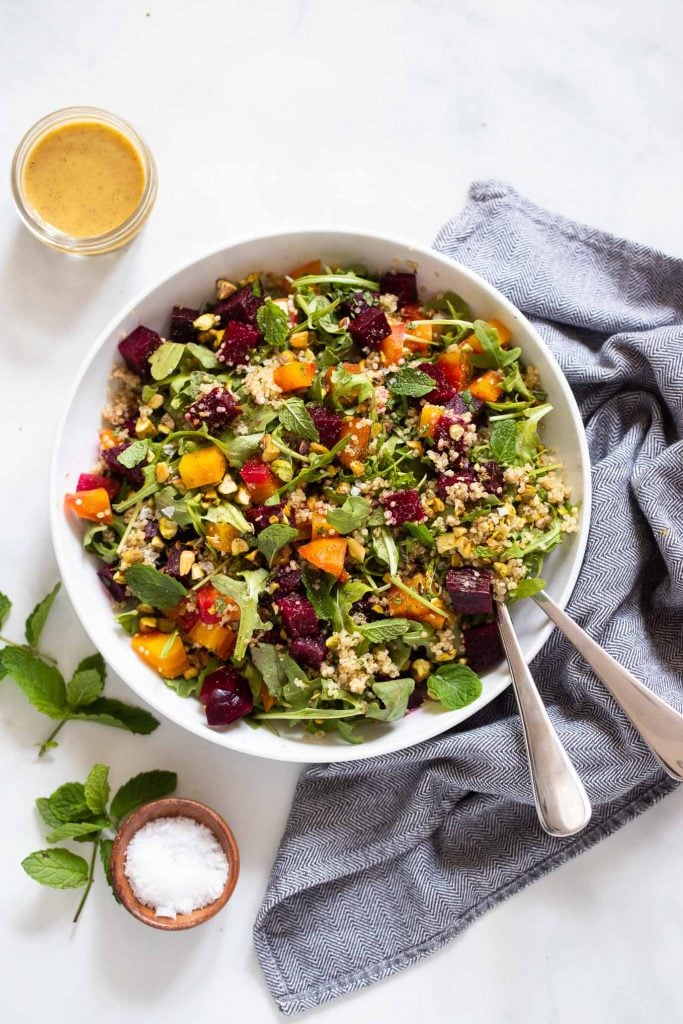 Roasted beets and arugula are such a classic salad combination – what's not to love?! You'll be sure to love this roasted beet salad with arugula and quinoa. Peppery arugula pairs so well with the slightly sweet flavor of roasted beets. Not only is this salad delicious, but it is packed with good-for-you nutrients. Beets are loaded with the compound called betalain which is both an antioxidant and anti-inflammatory – a one-two punch for helping to prevent chronic disease.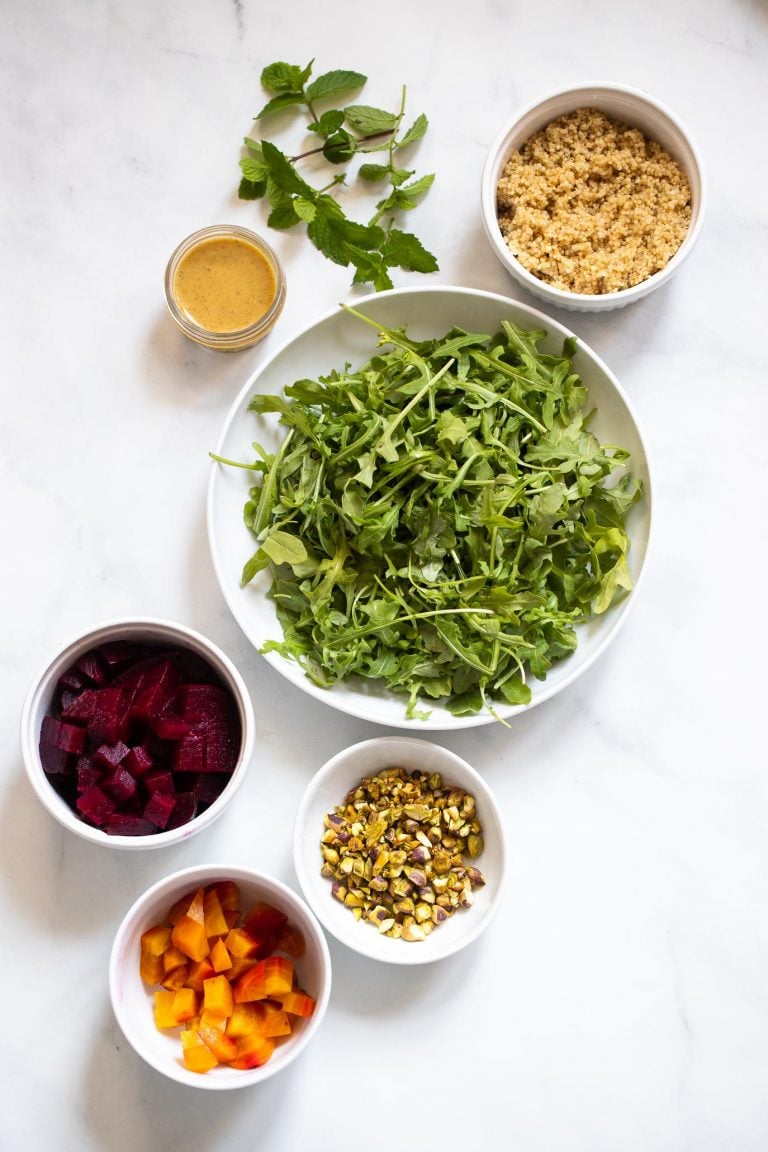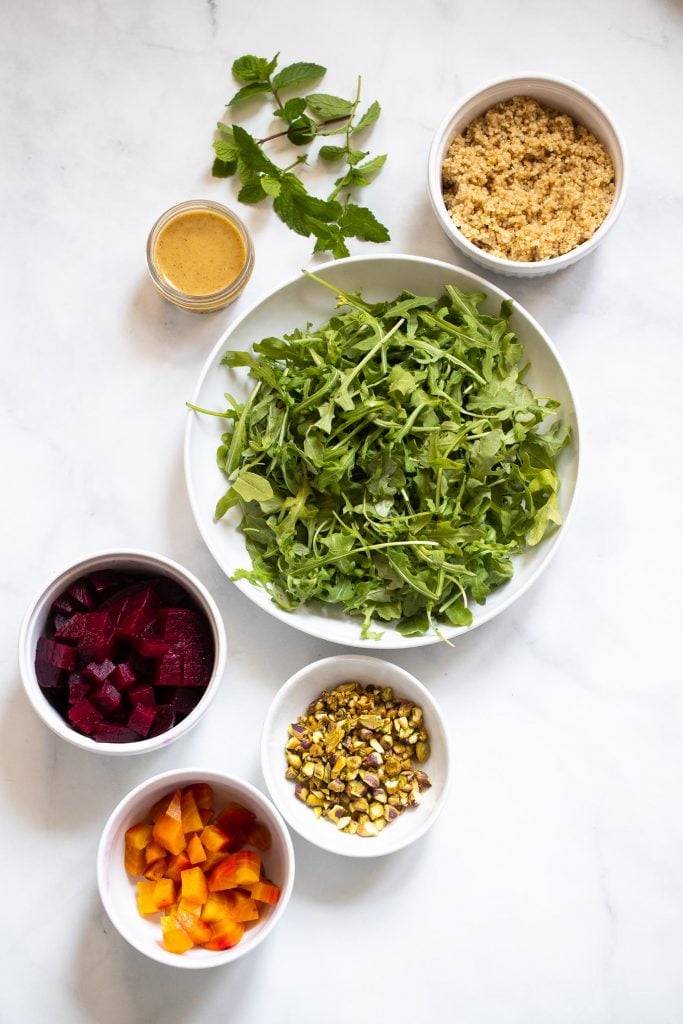 Ingredients You'll Need
Beets: For more color, use different colored beets for the salad.
Arugula: The peppery flavor of the arugula pairs well with the slightly sweet beets in this salad. You can use a different green if you'd like – spinach or massaged kale would both work well.
Quinoa: I love adding quinoa to salads as a quick way to add some extra protein and fiber. Feel free to sub for a different grain like farro, barley, couscous, or bulgar.
Pistachios: I feel like pistachios don't get a lot of love, but they are so good in salads! They pair really well with beets, but if you aren't a fan feel free to use walnuts or chopped almonds instead.
Fresh Mint: Love the pop of freshness that the mint adds to this salad.
Simple Vinaigrette: Just a few pantry friendly ingredients like olive oil, red wine vinegar, maple syrup, and dijon mustard are all you need to whip up the dressing for this salad. Give this salad some fruity flavor by using this strawberry balsamic dressing instead!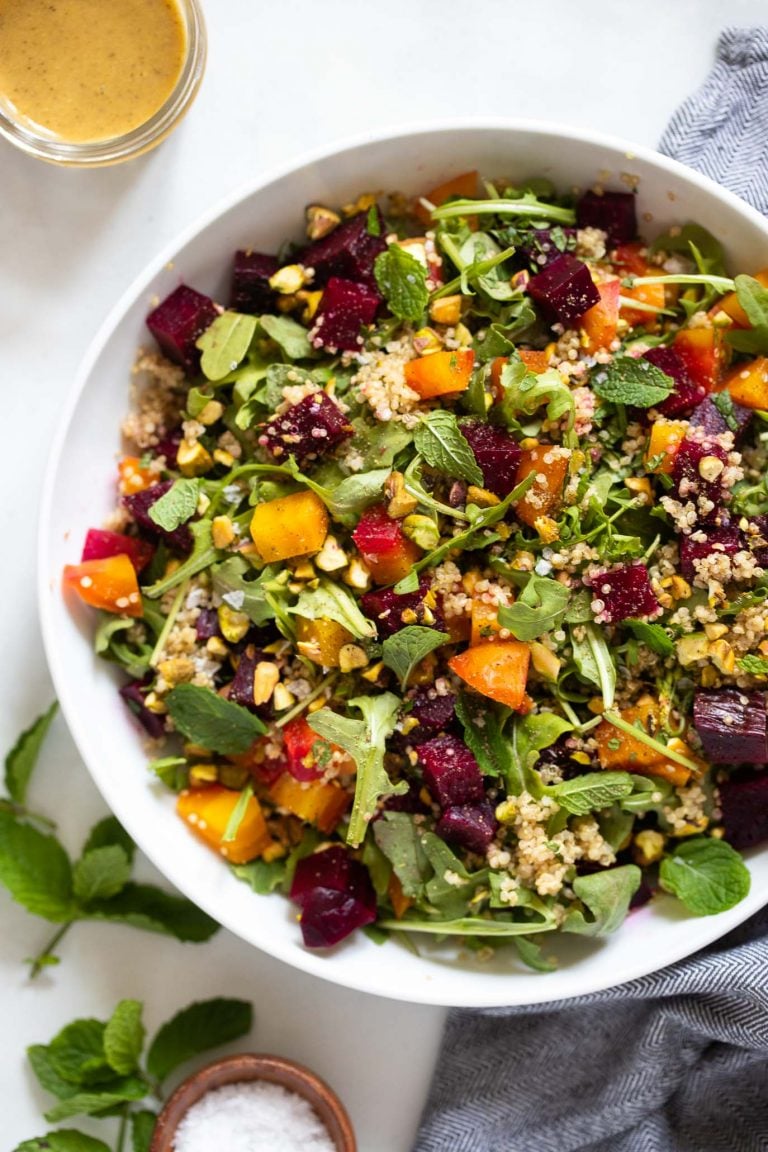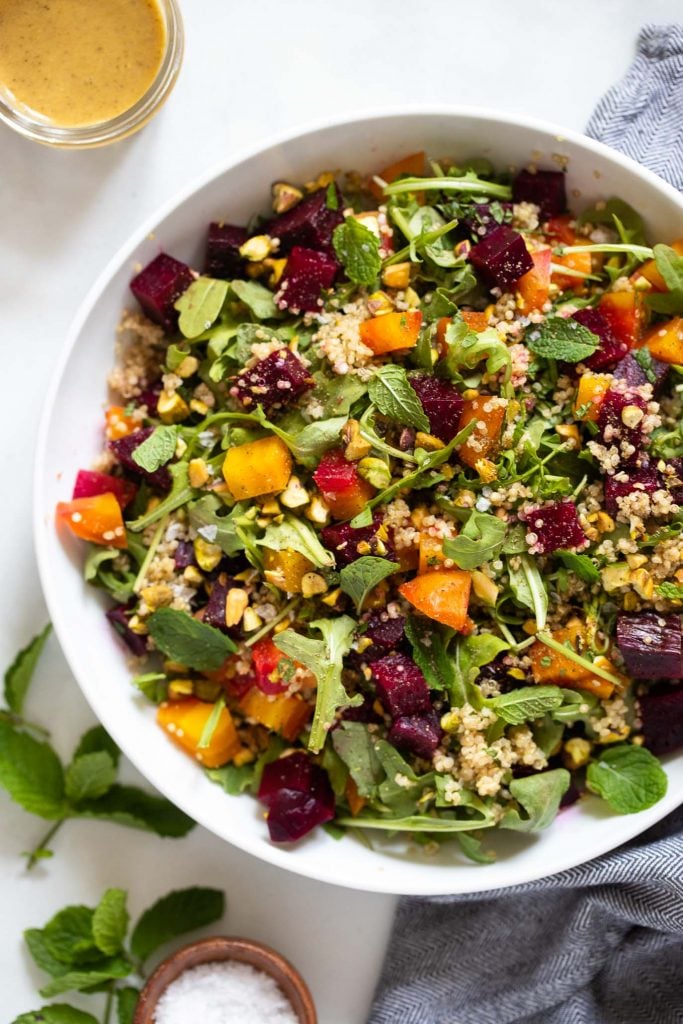 How to Cook Beets
There are a couple of ways that you can fix the beets for this salad depending on how much time you have.
Oven Roasted: Preheat your oven to 400 degrees Fahrenheit and loosely wrap your beets in aluminum foil. Pop them onto a baking sheet and roast until fork tender. Roasting time will depend on the size of your beets. Smaller beets usually take about 30 minutes and larger ones can take 60-70 minutes to roast.
Steamed: You could also peel and chop the beets and place them in a steamer basket on the stove and steam them for about 15 minutes or until tender when pierced with a fork.
Store-Bought/Pre-Made: You can also just purchase prepared roasted beets from the store. They are typically in the fresh produce section; just don't use canned beets!
Make Ahead
Make Ahead: Arugula wilts quickly in salad so you can't prep the complete salad ahead of time, but you can make some of the components in advance if you need. You can roast the beets up to 3-4 days ahead and keep them stored in an airtight container until ready to use. You can also make the quinoa and the dressing a couple days in advance too.
More Salad Recipes You'll Love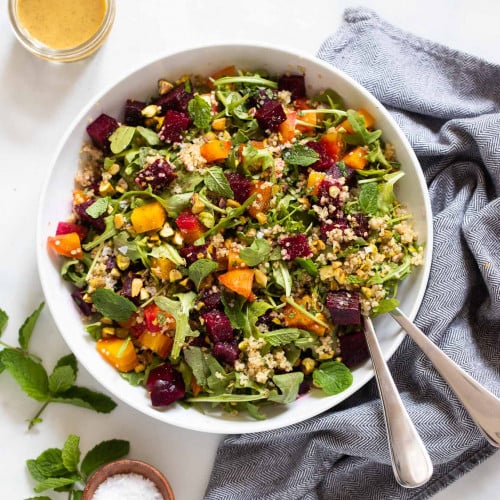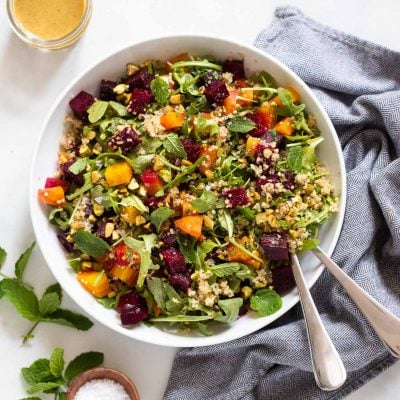 Roasted Beet Salad with Quinoa and Arugula
This simple beet, quinoa, and arugula salad gets a pop of fresh flavor by sneaking a bit of freshly chopped mint leaves into the simple vinaigrette.
Ingredients
For the Salad:
3-4 medium beets
1/2 cup quinoa rinsed
1 cup vegetable broth or water
1 5 oz container arugula
1/3 cup chopped pistachios
1/4 cup chopped fresh mint leaves
Instructions
Roast the beets: Preheat oven to 400 degrees Fahrenheit. Cut off the tops and tails of your beets and loosely wrap them in aluminum foil. Place on a baking sheet and roast in the oven for 45-60 minutes or until tender when pierced with a fork. Remove from the oven and set aside to cool. Once cooled, peel off the aluminum foil and slide the skins off the beets and thinly slice each one.

Make the quinoa: Rinse the quinoa thoroughly under cool running water and add to a small saucepan. Cover with broth and bring to a simmer. Cover with a lid and cook another ~10 minutes or until liquid is absorbed. Fluff with a fork and set aside.

Make the dressing: Combine all of the dressing ingredients in a small mason jar, put the lid on, and give it a good shake.

Assemble the salad: In a large bowl, toss the arugula, spinach, and carrots. Top with cooked quinoa and chopped beets. Pour dressing onto the salad and toss well to coat the lettuce in dressing.
Notes
This makes 2 large meal-sized servings or 3-4 smaller, side salad servings.
Nutrition
Serving: 1/4 Recipe | Calories: 325kcal | Carbohydrates: 31g | Protein: 7.4g | Fat: 20g | Saturated Fat: 2.5g | Polyunsaturated Fat: 17.5g | Sodium: 325mg | Fiber: 6g | Sugar: 11.5g
Reader Interactions