Serve up this adaptable vegan cobb salad with coconut bacon and a creamy cashew dill dressing all summer long for a light, yet filling meal.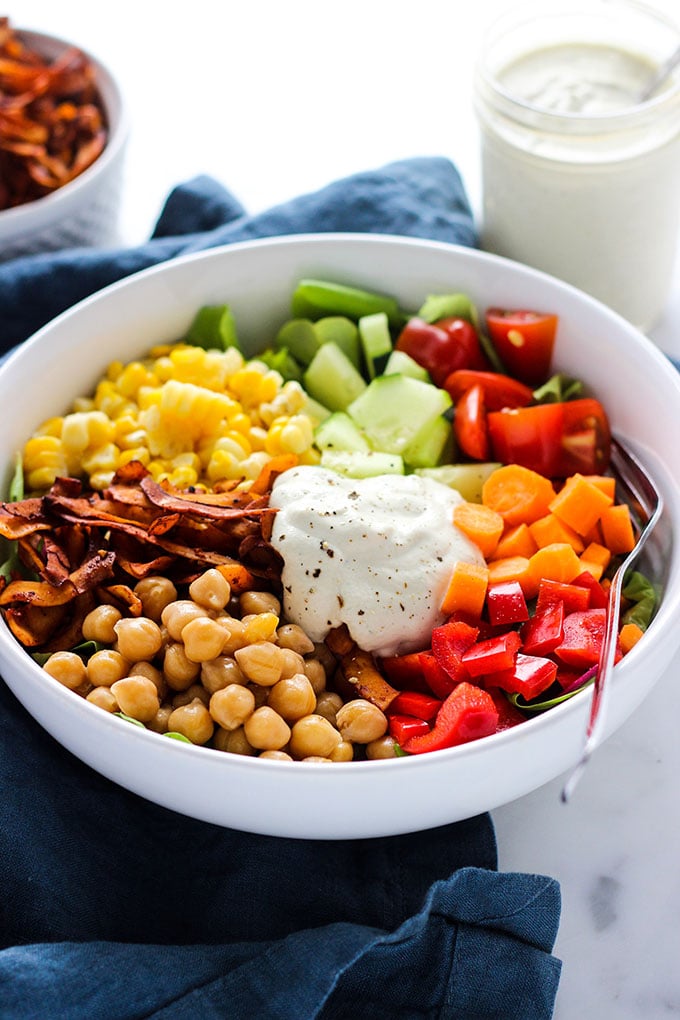 This colorful salad may become your new favorite for summer. I know I can't wait to eat it the rest of the week for lunch! Also, you must make the coconut bacon for this. It's super simple, mostly just a matter of having the right ingredients.
Ingredients You'll Need
Lettuce: I used a butter lettuce for this salad, but romaine is the traditional option. Either one works great!
Chickpeas: Replaces the chicken that you usually find on a Cobb salad.
Coconut Bacon: A delicious vegan alternative to bacon that is perfect for salads like this one. Check out my post on how to make vegan coconut bacon.
Corn: Fresh corn is best for this salad, but you could also use frozen corn that has been thawed for a few seconds in the microwave.
Tomato: I like using cherry tomatoes, but you could also use a chopped large tomato.
Carrot: Adds a pop of color and crunch. Feel free to skip if you wish.
Red Bell Pepper: Like the carrot, the red pepper adds another pop of color. I like using a variety of different colored veggies in my salads to make them colorful!
Creamy Dill Dressing: Soaking your cashews either overnight or for 30 minutes in boiling water softens them so they are easier to blend. I find using the blending cup vs the pitcher of my blender works better for salad dressings like this one. I really like using my Nutribullet magic bullet for dressings.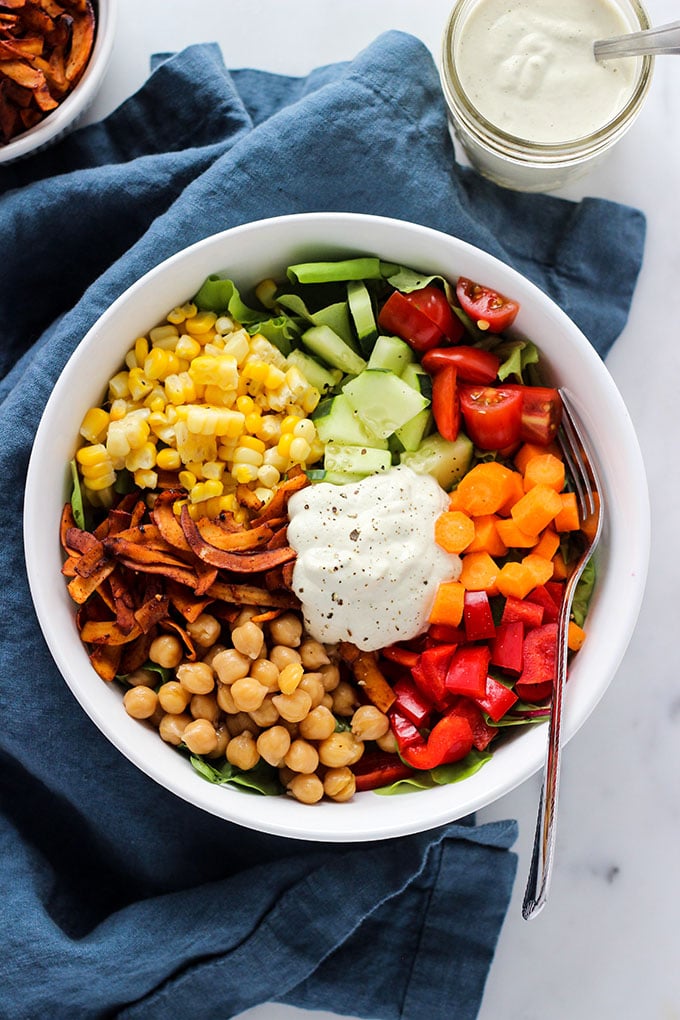 Tips for Making the Dressing
In addition to the coconut bacon, the cashew dill dressing is also a necessity for this salad. You simply soak 1 cup of chopped, raw cashews in water overnight and then puree it with your dressing ingredients when ready to serve. I used a few sprigs of the fresh dill we have growing on our porch to add lots of flavor, but you can easily use dried dill as well.
It makes more dressing than you'll likely need for the salads, but if you are like me, you'll want to use it on everything. If you want a dressing that doesn't require blending, my homemade vegan ranch would also be delicious on this salad.
More Delicious Salad Recipes You'll Love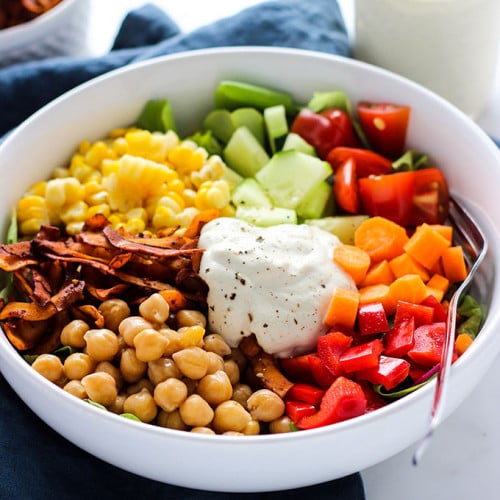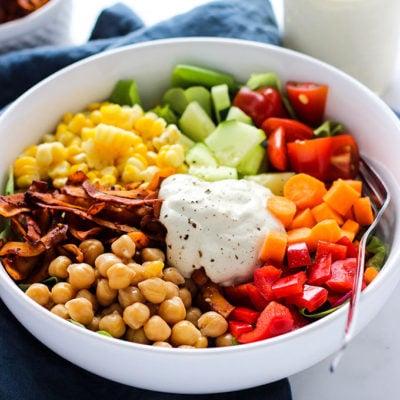 Vegan Cobb Salad
Serve up this adaptable vegan cobb salad with cashew dill dressing all summer long for a light, yet filling meal.
Ingredients
For the Dressing:
1 cup raw cashew pieces soaked overnight
3/4 cup + 2 Tablespoons cold water Adjust to dressing consistency you prefer
3-4 two inch sprigs fresh dill weed 1 teaspoon dried dill
1 teaspoon Dijon mustard
1 teaspoon garlic powder
1 teaspoon lemon juice
Ground Pepper and Sea Salt to taste
For the Salad:
1 15 oz. can chickpeas, drained and rinsed
5 cups salad leaves
1/2 cucumber chopped
3-4 carrots chopped
1/2 cup halved cherry tomatoes
1/3 cup chopped red bell pepper
1/3 cup coconut bacon
Kernels from 2 ears of steamed corn
Instructions
Add all of the dressing ingredients to a blender and puree until smooth. Adjust water as needed to obtain desired dressing consistency.

To make the salads, divide lettuce and toppings evenly among the 4 bowls. To with coconut bacon and dressing and serve.
Nutrition
Serving: 1/4 recipe | Calories: 560kcal | Carbohydrates: 57g | Protein: 18g | Fat: 34g | Saturated Fat: 16.5g | Polyunsaturated Fat: 17.5g | Sodium: 500mg | Fiber: 13g | Sugar: 14g
One more close up of that coconut bacon for good measure. 😉
Reader Interactions