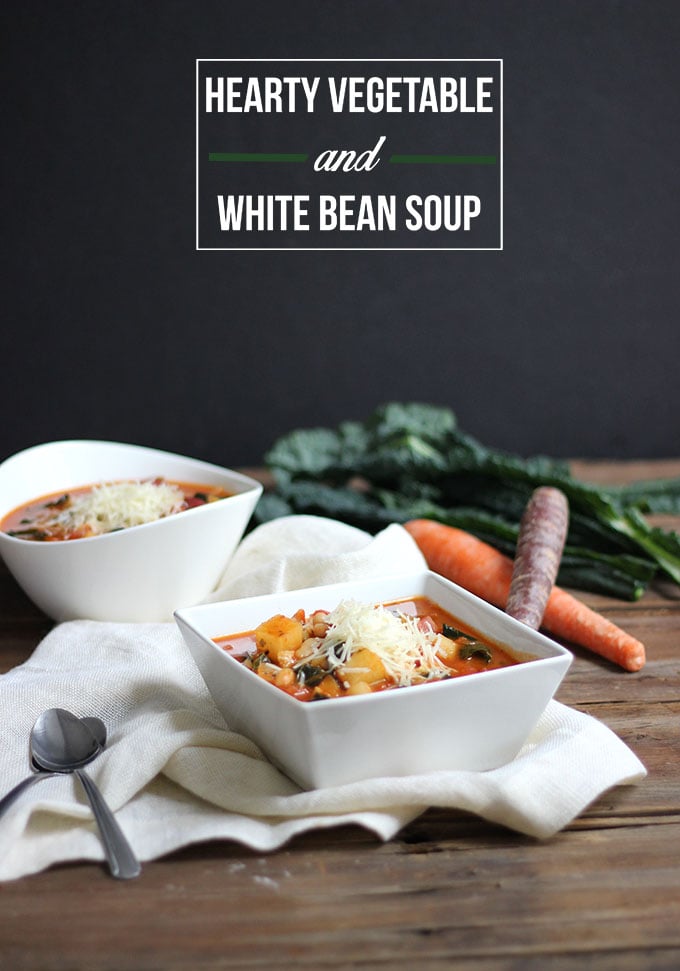 Simplify. If I had to choose one word as my intention for the new year, simplify would be that one word. It all started after listening to this one episode of The Lively Show podcast where she interviews Dana, author of one of my favorite food blogs – Minimalist Baker. I was so inspired by how her life changed after deciding to simplify her life and live with less. The episode that had me cleaning out my closet and rethinking my wardrobe was with Caroline of Un-Fancy. Both of these interviews were on my mind while Will and I spent the last month or two paring down our belongings to fit into our new one bedroom apartment. As 2015 begins, I am feeling a bit lighter.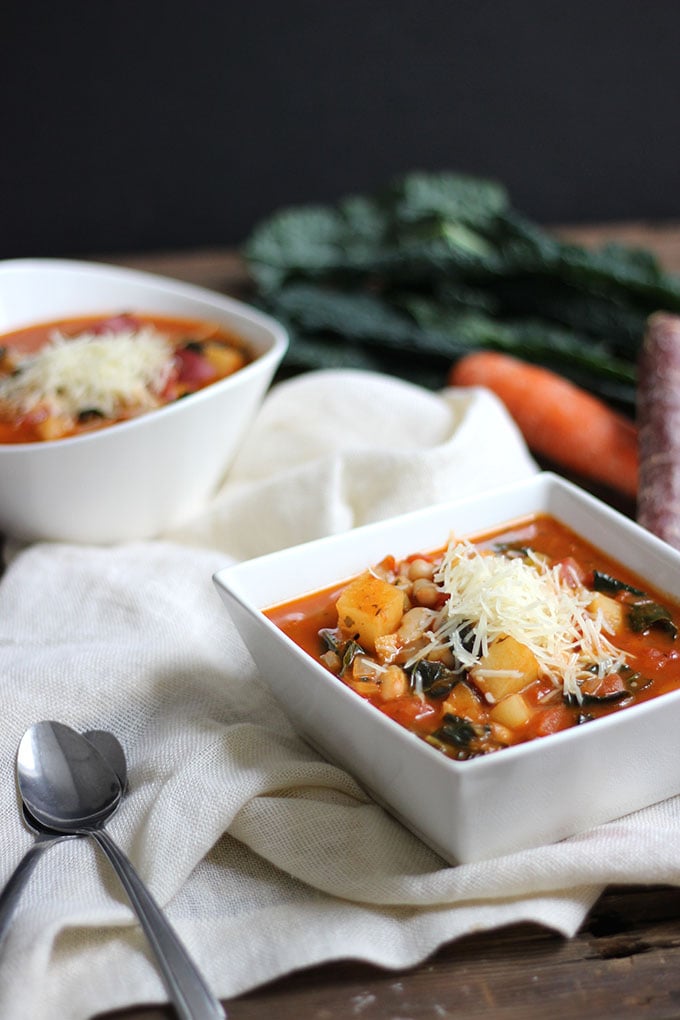 The concept of simplicity translates into diet as well. I feel one of the best ways to approach a healthy diet is to simplify it. Begin by cleaning out all the junk so that you have room for the wholesome stuff. Simple foods made from whole, unprocessed ingredients are best. This hearty vegetable and white bean soup is a great example of a simple, healthy dish. Lots of vegetables are combined with a few cans of basic pantry staples and you have a hearty dish to warm you up on the coldest of days. Root vegetables and kale provide a healthy dose of vitamins A, E, and K while beans fill you up with protein and fiber. Who says comfort food has to be laden in cheese or cream sauce?
Hearty Vegetable and White Bean Soup
Warm up with a bowl of this vegan hearty vegetable and white bean soup loaded with good for you nutrients.
Ingredients
2 tablespoons olive oil
3 carrots peeled and chopped
2 stalks celery chopped
1 onion chopped
2 red skin potatoes chopped
2 parsnips chopped
2 quarts 64 oz. vegetable broth
1 14 oz. can diced tomatoes
1 6 oz. can tomato paste
1 dried bay leaf
1/2 teaspoon dried thyme
2 cloves garlic minced
1 small bunch lacinato kale chopped
1 15 oz. can great Northern beans, drained and rinsed
1 tablespoon dried parsley
Sea salt and ground black pepper to taste
Shredded vegan parmesan cheese for serving
Instructions
In a large stock pot, melt the butter.

Add 1 of the chopped carrots, 1 stalk chopped celery, and the onion. Stir and cook for 5-7 minutes or until onion is translucent.

Add the rest of the carrots and celery, potatoes, and parsnips. Stir to coat in butter. Let cook for 5 minutes.

Add the broth, tomatoes, tomato paste, bay leaf, and thyme. Bring to a simmer and continue to stir every 5 minutes or so. Simmer soup for ~20-25 minutes or until vegetables begin to soften.

Stir in garlic, kale, beans, and parsley. Season with salt and black pepper. Simmer another 5-7 minutes.

Serve hot with shredded parmesan cheese.
Nutrition
Calories: 382kcal | Carbohydrates: 72g | Protein: 14.8g | Fat: 6g | Saturated Fat: 3.3g | Cholesterol: 13mg | Sodium: 975mg | Fiber: 15g | Sugar: 18g
Reader Interactions