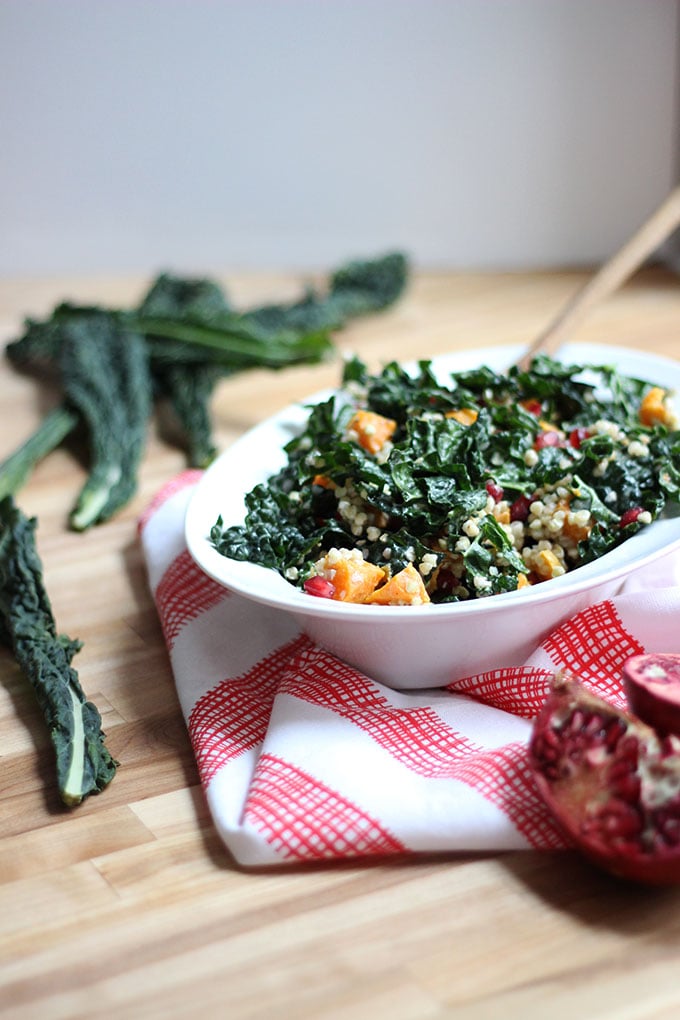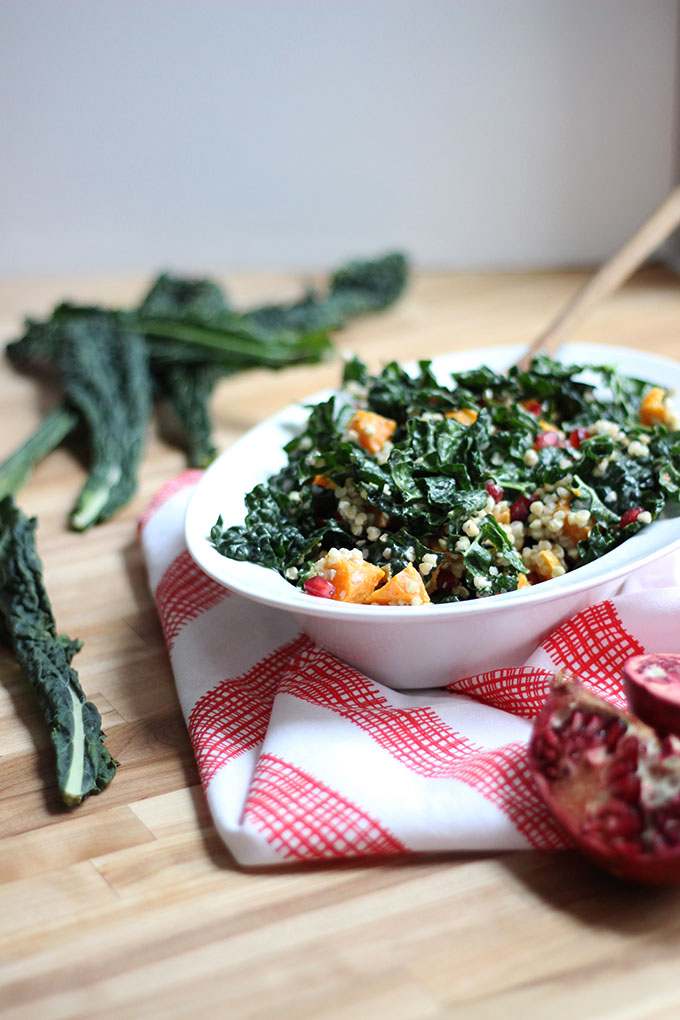 One of the best Christmas presents I received this year was a lovely new tripod. I can't even tell you how desperately I've been needing one! This weekend I spent a few hours doing what I love, playing in the kitchen and taking photos. The snow was falling outside on Sunday so I decided to stay inside all day (in my pjs!) and made a big batch of white bean vegetable soup that I'll be sharing later this week. Mmmm, it was perfect. This kale salad though, it's the perfect way to get back on your feet after a few weeks of indulgent eats during the holidays.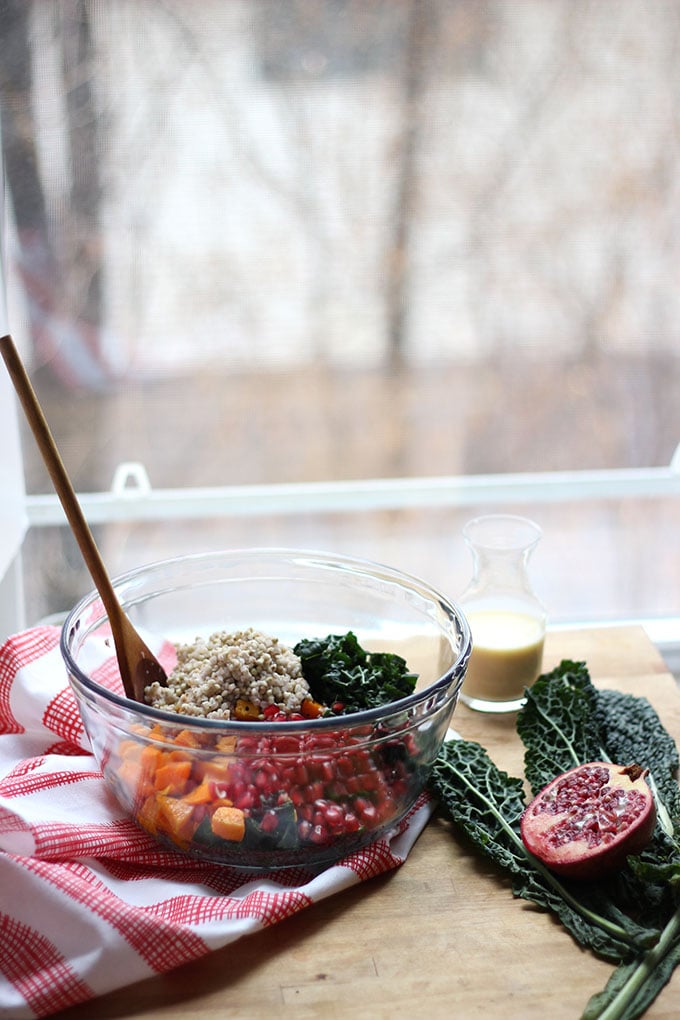 For any of you who may not be familiar with buckwheat, it is a triangular shaped seed that is often used like a grain or cereal. Although wheat is in the name, buckwheat is actually gluten free. Similar to other seeds, buckwheat offers a hearty amount of protein in addition to fiber and nutrients like magnesium, iron, and B6. Paired with pomegranate seeds, roasted butternut squash, and kale, this salad will have you feeling ready to tackle the new year. No need for a juice cleanse or detox diet. This salad has all the antioxidants, vitamins, fiber, and protein you need to get rid of holiday bloat and promote a healthy "new you" glow.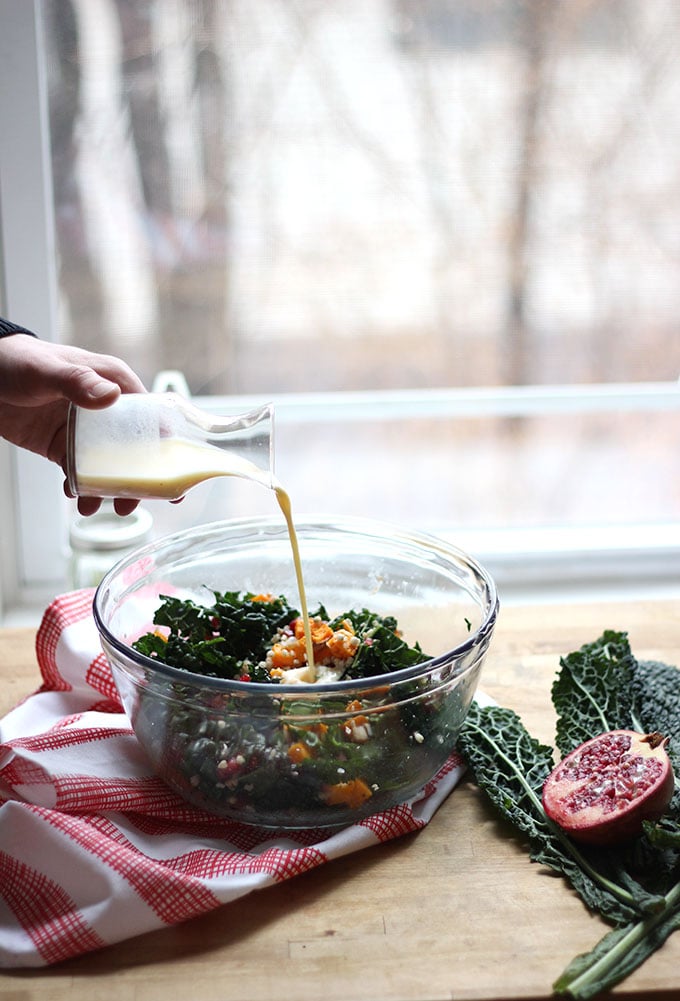 The dressing for this salad is what really brings it all together. Instead of a typical vinaigrette, I wanted to try and make a creamier dressing for this salad. I had a few more cartons of yogurt in my fridge after making my overnight oats so I used a few tablespoons as a base for this dressing. Yogurt is full of healthy gut bacteria which can help get rid of that holiday bloat. I liked this dressing so much, I have a feeling you'll be seeing more of them this year!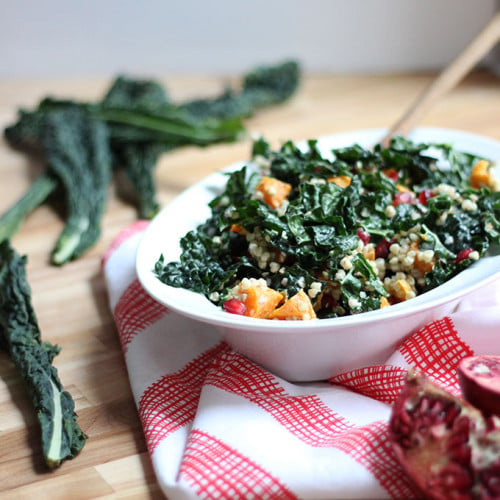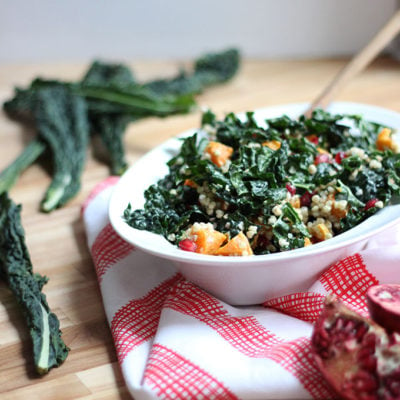 Buckwheat Kale Salad with Citrus Yogurt Dressing
Hit the reset button on healthy eating with this bloat-fighting buckwheat kale salad with citrus yogurt dressing filled with antioxidants. You'll be ready to face the new year in no time!
Ingredients
1 butternut squash
1 tablespoon olive oil
1/2 cup buckwheat
1 cup water
1/2 pomegranate
2 1/2 cups chopped lacinato kale
For the Dressing:
2 tablespoons plain Greek yogurt I used Siggi's
4 tablespoons orange juice about 1 orange worth
1 tablespoon orange zest
1 garlic clove minced (or 1/8 teaspoon garlic powder for milder garlic flavor)
1 tablespoon apple cider vinegar
3 tablespoons canola oil
Salt and Pepper
Instructions
Preheat oven to 350 degrees Fahrenheit.

Cube the butternut squash in 1/2″ pieces and remove the skin. Toss in olive oil, salt, and ground black pepper. Spread in a single layer on a baking sheet.

Bake squash for 35-40 minutes or until tender.

While the squash is roasting. combine buckwheat and water in a small saucepan. Bring to a simmer and cover. Cook for 10 minutes or until liquid is absorbed. Transfer to a small strainer and rinse well with cold water. Set aside.

Cut a pomegranate in half and remove the arils from one half and set aside.

Chop lacinato kale and set aside.

To make the dressing, combine all the dressing ingredients together in a mason jar or covered container. Shake well to combine.

To make the salad, toss together the roasted butternut, kale, pomegranate seeds, and dressing in a large bowl. Store leftovers in an airtight container in the fridge.
Nutrition
Serving: 11/2 Cup | Calories: 258kcal | Carbohydrates: 31g | Protein: 4g | Fat: 15g | Saturated Fat: 1.5g | Cholesterol: 1mg | Sodium: 200mg | Fiber: 7g | Sugar: 9g
Reader Interactions