Are you tired of seeing blogs post about green smoothies yet? I hope not, because I have just one more to share with you today! This smoothie quickly became a regular part of my breakfast. I've been drinking it alongside a piece of toast smothered in natural peanut butter for the last 5 days. It's just that good!
In addition to being super delicious, this smoothie is also packed with a lot of good for you nutrients. Who doesn't want to start their day off on a healthy note?
Spinach: Spinach gives you a lot of "bang for the buck" since it has only 7 calories per cup of fresh leaves but provides more than 50% of your daily needs for Vitamin A, a powerful antioxidant, and Vitamin K which is essential for blood clotting and helps maintain bone health.
Strawberries: Although most people think of oranges when looking for a food high in Vitamin C, but strawberries are also a good source of the vitamin. In fact, one cup of strawberry halves provides over 100% of your daily needs! Vitamin C is especially important for healthy skin due to it's role in the synthesis of collagen.
Pineapple: Pineapple is also another food that is great for your skin as it is a good source of Vitamin C.
Flax Seed: Flaxseeds are best eaten ground since their outer coating is too tough for your body to digest whole, which means you'd be missing out on some of their healthy benefits! Like most nuts and seeds, flaxseeds are high in fat – especially heart healthy Omega 3 fatty acids.
Almonds: Although almond milk is low in protein, it is a good source of Vitamin E which helps prevent oxidation in the body. In fact, one study showed that those with higher levels of Vitamin A had less severe or no atherosclerosis, ie. damage to artery walls which leads to plaque build up and contributes to clots.
Banana: In addition to potassium, bananas are also a good source of vitamin B6. This vitamin is important for hundreds of enzymes in the body which help with protein metabolism. Research indicates that B6 may also play a role in preventing heart disease by decreasing inflammation.
Looking for more great blender recipes? Check out these!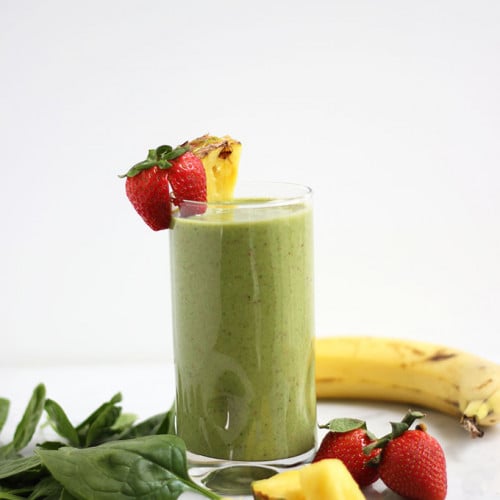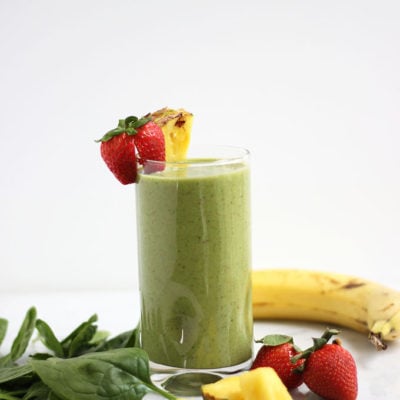 Strawberry Pineapple Green Smoothie
Start your day off right with this healthy strawberry pineapple green smoothie. It provides over 200% of your daily needs for vitamin C and A!
Ingredients
2 handfuls fresh spinach leaves
1 cup chopped pineapple fresh or frozen
5-6 large fresh or frozen strawberries
1 tablespoon almond butter
1 cup almond or soy milk
1 frozen banana
2 teaspoons ground flax seed
Instructions
Place spinach leaves in blender first and then layer the rest of the ingredients over top.

Puree until smooth and serve chilled.
Notes
If using frozen strawberries and pineapple, add up to an additional 1/2 cup almond milk to help it better puree.
Nutrition
Serving: 11/2 cup | Calories: 268kcal | Carbohydrates: 50g | Protein: 5g | Fat: 7.4g | Saturated Fat: 0.5g | Sodium: 113mg | Fiber: 5.8g | Sugar: 38g
Reader Interactions