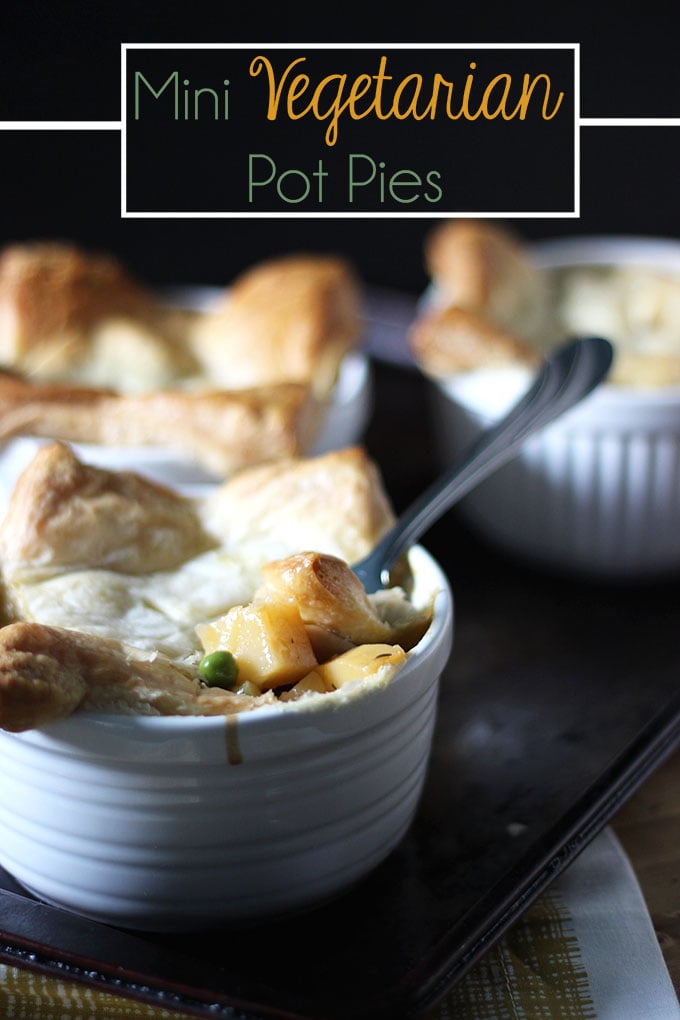 Are you all dressing up for Halloween this year? Normally, I don't really do anything but this year we were invited to a Halloween party. Cue the frantic search for a costume! I've never done a couple costume before, so I asked Will if we could do something together. Since we are big nerds, we wanted to do something along the theme of the tv show Dr. Who. Do you know it? Will basically has the wardrobe of this Doctor, so his costume was easy. I debated about trying to dress up as one of the girls from the show, but none of them seemed to fit. After some googling, I found this cute costume for the tardis (i.e. Dr. Who's time machine). I may feel a little ridiculous, but it should be a fun time!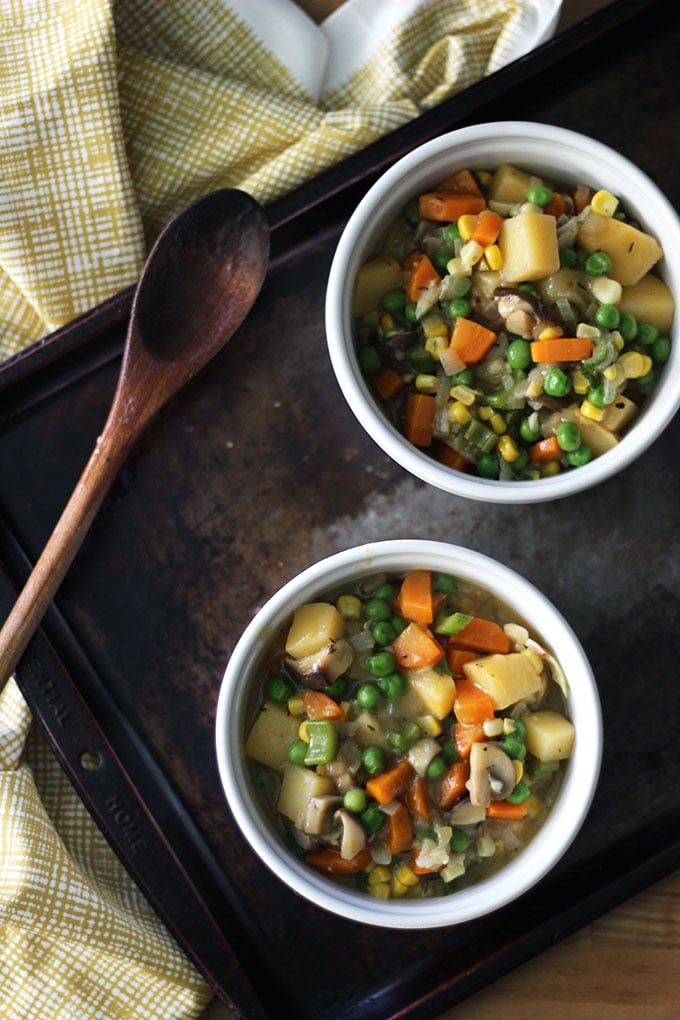 Let's talk about these pot pies! I was craving some kind of comfort food and had been wanting to make homemade pot pies for a long time. I picked up these 5″ round ramekins at the store over the weekend, just so that I could experiment with these vegetarian pot pies. This recipe makes about 6 cups worth of filling so you may be able to fill more ramekins or bowls if you use smaller ones. Those ramekins were definitely a worthy investment because I have a feeling I'll be making this recipe on repeat over the winter.
These pot pies are hearty, filling, and chock full of vegetables. To make things a little more interesting, I used a chopped rutabaga I picked up at the farmers market instead of potato. Rutabagas have an interesting flavor that is just a bit bitter, but works well in a mixed dish like this one. If you can't find any rutabagas as your local store (or you aren't feeling very adventurous), feel free to substitute with a large peeled potato.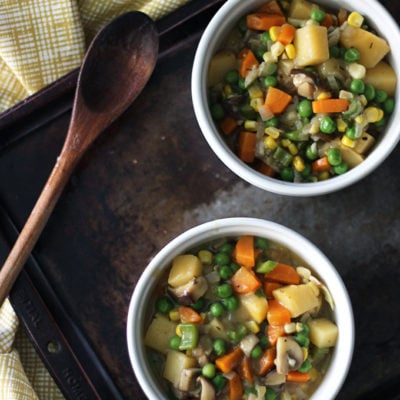 Mini Vegetarian Pot Pies
A vegetarian friendly version of one of the ultimate comfort food dishes – pot pie. These mini vegetarian pot pies are perfect for chilly fall or winter evenings.
Ingredients
2 tablespoons butter
1 yellow onion, chopped
2 carrots, chopped
6 ounces button mushrooms, chopped
2 cloves garlic, minced
1 rutabaga, chopped (can sub potato)
1 cup frozen peas
2-3 stalks celery, chopped chopped
2 1/2 tablespoons all purpose flour
2 cups vegetable broth
1/2 teaspoon dried oregano
1/2 teaspoon dried thyme
Dash sea salt and black pepper
1/2 14 oz container of puff pastry
Instructions
Two to three hours before you plan to make this dish, put the puff pastry into the fridge to thaw.

Preheat the oven to 350 degrees Fahrenheit.

In a large stock pot, melt the butter. Add the onions, carrots, and mushrooms. Stir and cook over medium heat for about 5 minutes or until onions are translucent and mushrooms begin to shrink.

Stir in the minced garlic and cook another minute. Add the rutabaga, peas, and celery and stir. Let cook another 2-3 minutes.

Sprinkle flour over the vegetables in the pot and stir to coat. Pour in the vegetable broth and bring to a gentle simmer. Let pot simmer for 7-10 minutes. The liquid in the pot should begin to thicken.

Stir in the oregano, thyme, salt, and pepper. Allow to simmer another 1-2 minutes and turn off the heat.

Arrange 3 or 4 small ramekins onto a baking sheet.

Add flour to countertop or work surface and roll out your puff pastry. You'll need about 1/2 of the package for this recipe. Cut into squared that are the diameter of your ramekins. (Mine were about 5 inches.)

Evenly divide the vegetable filling between each of the ramekins. Top with a sheet of puff pastry. Poke 4 small holes into the middle of the puff pastry to allow steam to escape while cooking.

Bake for 30-35 minutes or until filling is bubbly and the puff pastry is golden brown.
Nutrition
Serving: 1pie | Calories: 408kcal | Carbohydrates: 45g | Protein: 9g | Fat: 22g | Saturated Fat: 8g | Polyunsaturated Fat: 3g | Monounsaturated Fat: 11g | Trans Fat: 1g | Cholesterol: 15mg | Sodium: 661mg | Potassium: 698mg | Fiber: 7g | Sugar: 11g | Vitamin A: 5819IU | Vitamin C: 44mg | Calcium: 83mg | Iron: 3mg
Reader Interactions