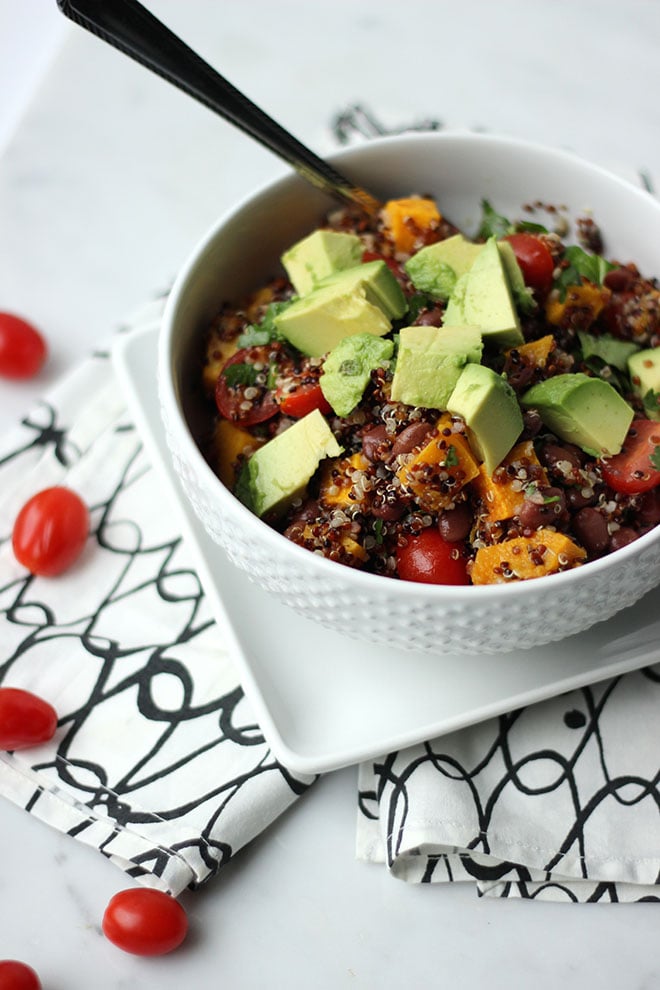 Before I head out for this big annual food and nutrition conference for dietitians in Atlanta today, I wanted to share this super easy and delicious quinoa salad recipe with you all! I love the interesting dichotomy of summer and fall veggies at the farmer's market the last couple of weeks. Hence the combo of super sweet cherry tomatoes and roasted butternut squash in this recipe!
To get started on this dish, you have to tackle that butternut squash first. Let's just say, I count it as a bit of an arm workout… Ever wonder how to get uniform cubes from such a curvy vegetable? Check out this helpful post from The Kitchn for step by step instructions and photos for dealing with a butternut squash. Once it's all cut up, things get super easy! I roasted the squash pieces in the oven after tossing in some olive oil and salt (as usual). While this are roasting, you can cook the quinoa and chop up the rest of your veggies.
I made this salad over the weekend and packed the leftovers in my lunch for the week – so good! If you are planning on eating leftovers, I would add the avocado as a topping rather than mixing them into the salad since they will begin to brown. A little queso fresco would go really well with this salad if you don't want to keep it vegan!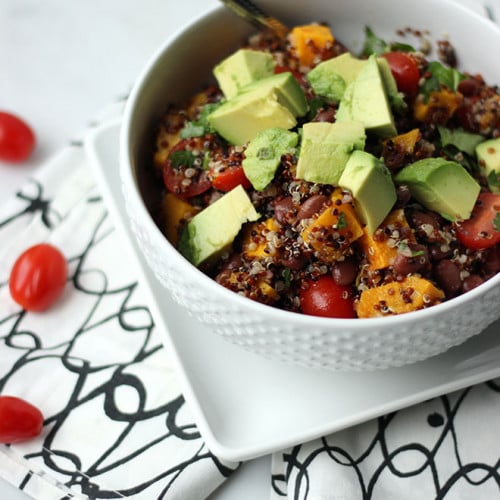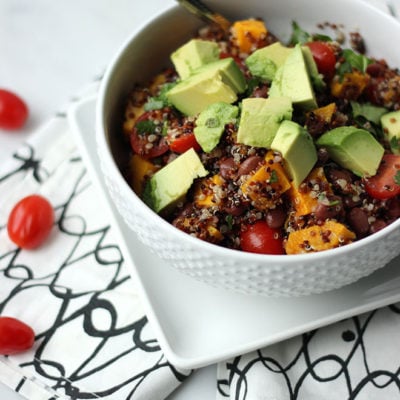 Southwest Quinoa Salad with Roasted Butternut Squash
Add an interesting twist on your typical southwest quinoa salad by adding some roasted butternut squash. Queso fresco would be a delicious addition if you don't want to keep the recipe vegan.
Ingredients
1 medium butternut squash cubed
1 tablespoon olive oil
Dash of Salt and Pepper
1 cup rinsed quinoa
2 cups vegetable broth or water
2 cups ~one 15 oz can cooked black or kidney beans
4 tablespoons red wine vinegar
Juice of 2 limes
Handful of chopped cilantro
1/2 teaspoon garlic powder
1/4 teaspoon cayenne pepper
2 avocados chopped
Instructions
Preheat oven to 350 degrees Fahrenheit.

Toss cubed butternut squash in olive oil, salt, and pepper and spread into a single layer on a cookie sheet. Bake for 35-40 minutes or until lightly browned and soft.

To make quinoa, bring quinoa and broth to a boil over medium-high heat. Lower heat to a simmer and cover partially with the lid. Let simmer for 15 minutes or until the liquid in the pan is absorbed by the quinoa.

To make the salad, combine all the ingredients together in a large bowl and toss until well mixed. Serve warm or chilled with chopped avocado on top!
Nutrition
Serving: 2/3 cup | Calories: 295kcal | Carbohydrates: 44g | Protein: 9.2g | Fat: 9.9g | Saturated Fat: 2.2g | Fiber: 5g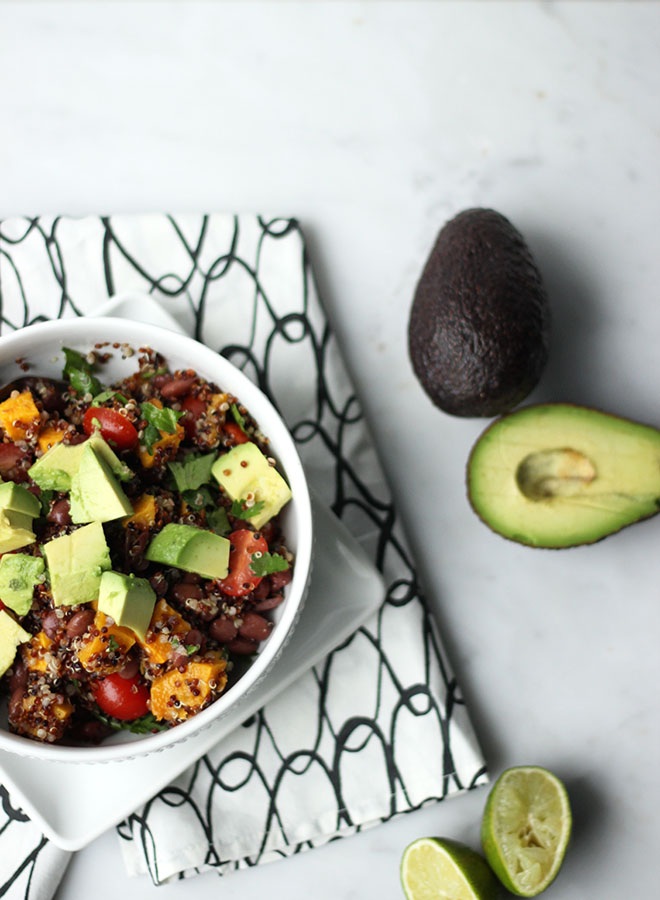 Reader Interactions