As a foodie, one of the things I have loved most about moving to a big city is the seemingly endless options of new restaurants to try. Not only that, I know that as a vegetarian, I can find something to eat on almost every menu too. (I didn't always have so much luck when we lived in BBQ central – ie. Memphis!) Despite the long list of options, we do end up at a lot of the same places in our own neighborhood. One place we have found ourselves a few times is Birchwood Kitchen. On Friday, we shared a version of this stuffed eggplant that I knew immediately I had to recreate for the blog. Of course, I made a few variations by swapping pumpkin for butternut squash in the sauce and stuffing the eggplants with quinoa instead of couscous.
As I start to think of vegetarian options for Thanksgiving, this fancied up eggplant dish just might make an appearance! So far, it's a tie between this dish and my vegetarian pot pies. Decisions, decisions… If you are more pressed for time, you can simply cube up all the eggplant, roast it in cube form with olive oil on a cookie sheet, and toss with the rest of the ingredients for a delicious grain based salad rather than a stuffing. You could also skip the additional step of making the sage pumpkin sauce.
Vegetarian Stuffed Eggplant
A fancied up version of stuffed eggplant that would be a perfect turkey stand-in for a vegetarian friendly Thanksgiving.
Ingredients
For the stuffed eggplants:
2 medium eggplants
Vegetable oil spray
1 cup quinoa rinsed
2 1/4 cups vegetable broth divided
1 tablespoon butter
1/4 onion chopped (~1/4 cup)
2 cloves garlic minced
1 15.5 ounce can chickpeas, drained and rinsed
1 teaspoon cumin
1/2 teaspoon coriander
1/2 teaspoon turmeric
1/4 teaspoon cinnamon
1 teaspoon lemon zest
1 tablespoon lemon juice
1/4 cup raisins
1/3 cup chopped almonds
1/4 cup crumbled feta cheese
For the pumpkin sage sauce:
1 tablespoon butter
2 tablespoons all-purpose flour
3/4 cup milk
3/4 cup canned pumpkin puree
1 teaspoon dried sage
Salt and Black Pepper to taste
Instructions
Eggplant Instructions:
Preheat the oven to 375 degrees Fahrenheit.

Cut eggplants in half lengthwise and scoop out the insides into a colander leaving a 1/3 inch thick "shell". Salt the shells and inside pieces and set aside.

Rinse quinoa and add to a small saucepan with the 2 cups of broth. Over medium-high heat, bring to a simmer and cover. Let simmer for 15 minutes or until the broth has been absorbed by the quinoa.

While quinoa cooks, return to your salted eggplant and pat dry with a paper towel. For the shells, spray insides with cooking spray and lay cut-side down on a cookie sheet. Bake for 35-40 minutes or until skin begins to wrinkle and shells soften.

In a large stock pot, melt the butter. Add the chopped onions and cook for 3-5 minutes or until onions are soft and translucent. Stir in the garlic and cook another minute.

Chop the eggplant pieces scooped from the skin into small 1/4" pieces and add to the onions in the stock pot. Stir in 1/4 cup broth and spices (cumin, coriander, turmeric, cinnamon). Cook for 2-3 minutes.

Add the finished quinoa and chickpeas to the pot with the onions and eggplant. Cook for another 2 minutes and then turn off the heat.

Add the lemon zest, lemon juice, raisins, almonds and feta cheese to the pot and stir to combine. Set aside.
For the pumpkin sage sauce:
In a medium saucepan, melt the butter. Stir in the flour with a whisk and cook another 2 minutes or until is starts to bubble.

Stir in the milk. Continue to stir for 3-4 minutes or until it begins to thicken slightly. Add the pumpkin, sage, salt, and ground black pepper. Stir well and cook another 1-2 minutes.
To serve:
Spread the pumpkin sauce onto a large plate. Scoop quinoa stuffing into hollowed eggplant skins and arrange on prepared plate. Garnish with arugula leaves.
Nutrition
Serving: 1Eggplant | Calories: 389kcal | Carbohydrates: 56g | Protein: 13.6g | Fat: 14g | Saturated Fat: 5.6g | Cholesterol: 23mg | Sodium: 679mg | Fiber: 9.5g | Sugar: 12g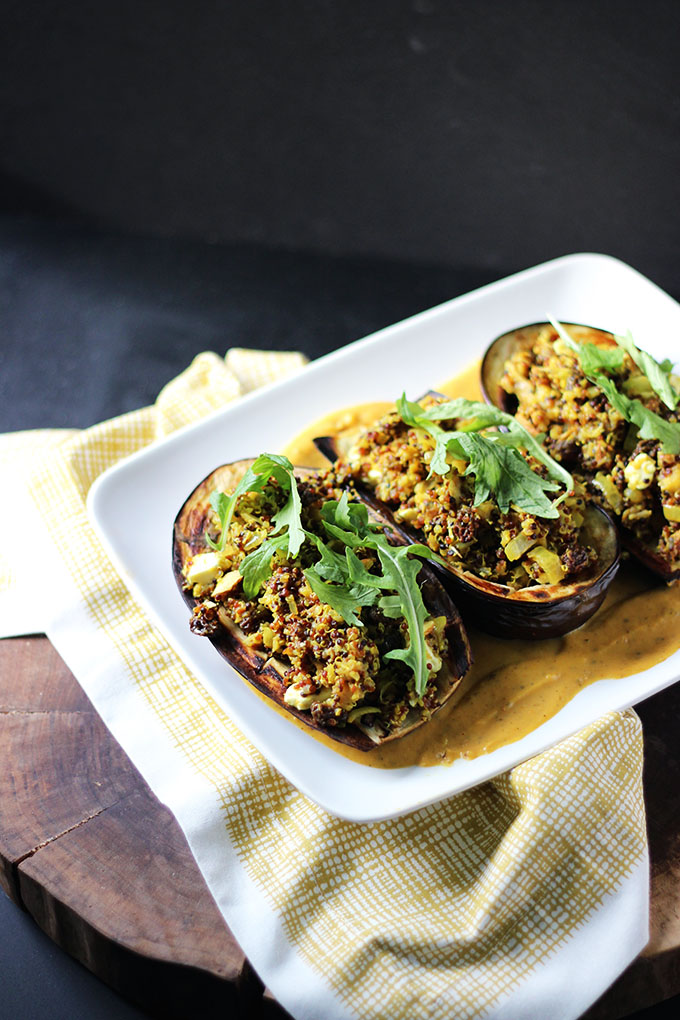 Reader Interactions