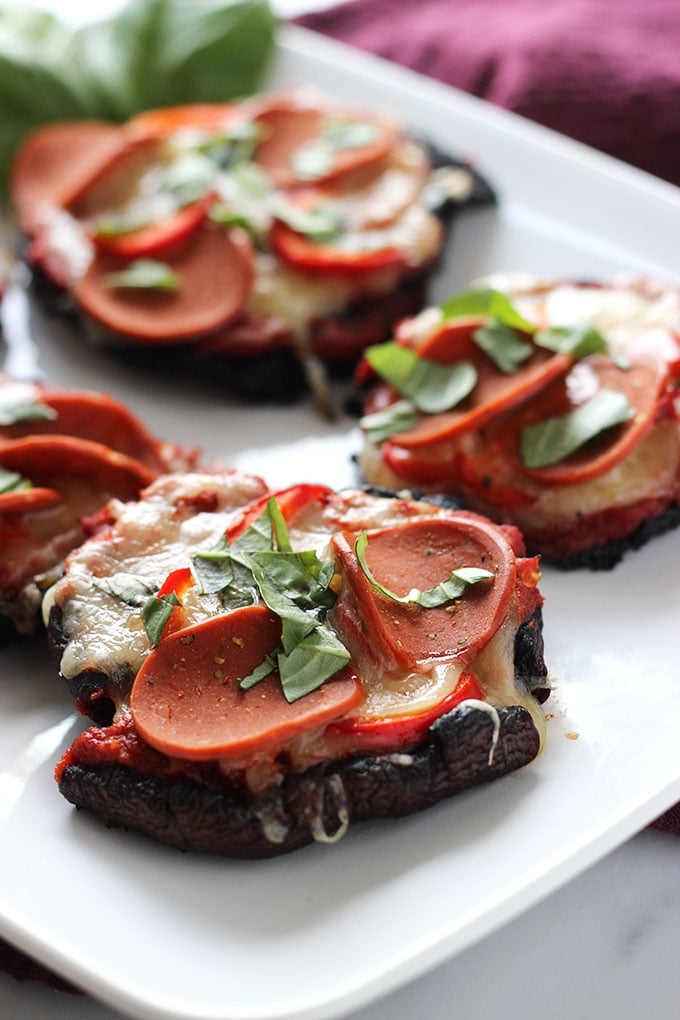 Let's talk about pizza! Cause I mean, who doesn't love a good pizza? Also, that is in fact pepperoni on my portobello mushroom pizza in the photo above. I promise it is veg-friendly! We found a great vegan pepperoni option at Whole Foods over the weekend that I was super excited to try on our second batch of these yummy portobello mushroom pizzas. It's literally been years since I've had pepperoni so it was fun to indulge a bit this weekend with a veg-friendly option. The great thing about these portobello mushroom pizzas is that you can a get creative and put whatever toppings you love on them. You could even dress up each mushroom cap with a different blend of toppings if you like. I imagine these would be fun for a build-your-own healthy pizza night!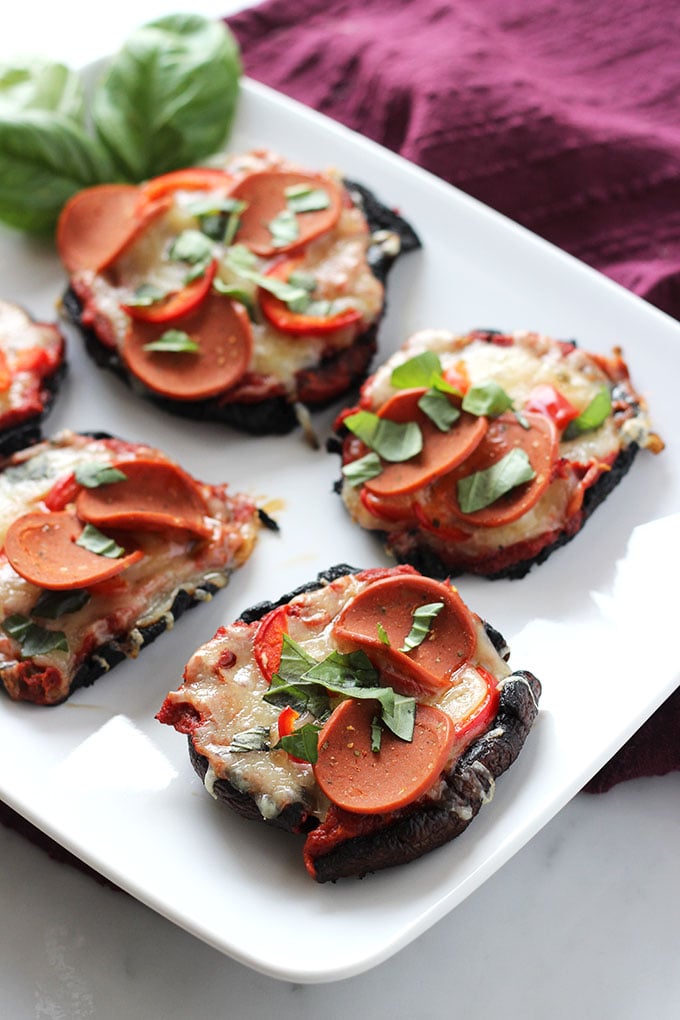 We cooked up our portobello mushroom pizzas on the grill, but if you don't feel like firing up your grill, these can easily be baked in the oven. Simply place your mushroom caps which have been brushed in oil on a baking sheet and bake them in a 350 degree oven for 7-10 minutes and then add toppings. Bake again until the cheese is good and melty, about 15 minutes. However, I do recommend the grill – it just adds so much great flavor to the finished pizzas! (We might be just a bit grill obsessed around here at the moment.)
In addition to being ridiculously tasty, these portobello mushroom pizzas are low in calories, despite their cheesy topping. A single portobello mushroom cap has only about 30 calories and is high in potassium, phosphorus, and if exposed to UV radiation, Vitamin D as well. I will usually eat 2 mushroom pizzas at dinner with a side salad.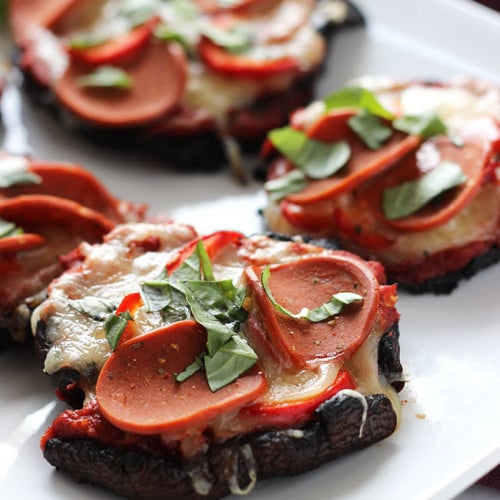 Portobello Mushroom Pizzas
Fire up your grill again before the summer ends and make up some of these crowd-pleasing portobello mushroom pizzas.
Ingredients
8 portobello mushroom caps
3 tablespoons olive oil
1/4 cup chopped onion
1 5oz. can tomato paste
1 15 oz. can tomato sauce
1 teaspoon oregano
1 teaspoon sage
1 1/2 cups shredded mozzarella cheese
Pizza Toppings: banana peppers vegan pepperoni, fresh basil leaves, etc.
Instructions
Prep and light your grill so that it is ready for cooking.

Cut off the stems of your portobello mushroom caps and wipe off any dirt with a damp paper towel. Use 1 1/2 tablespoons of the olive oil to brush the inside of the mushroom caps. Transfer mushroom caps to a grill and cover. Cook for ~7-10 minutes or until darkened and tender. Remove from the grill and transfer to a plate.

To make the sauce, add the other 1 1/2 tablespoons of olive oil to a pan and sauté the onion until translucent and soft, about 5 minutes. Add the tomato paste, sauce, oregano, and sage. Stir and bring to a simmer for 1-2 minutes, then turn off heat and set aside.

Add 1-2 tablespoons of sauce to the inside of each mushroom cap. Evenly divide mozzarella cheese between all the mushroom caps and add your desired toppings.

Place the prepped mushroom caps back on the grill, lining toward the outer edge of the grill. Grill for 2-3 minutes or until the cheese is melted.
Nutrition
Serving: 2Mushrooms | Calories: 290kcal | Carbohydrates: 15.6g | Protein: 13.2g | Fat: 21.2g | Saturated Fat: 8g | Polyunsaturated Fat: 13.2g | Cholesterol: 36mg | Sodium: 542mg | Fiber: 4g | Sugar: 9.6g
Reader Interactions