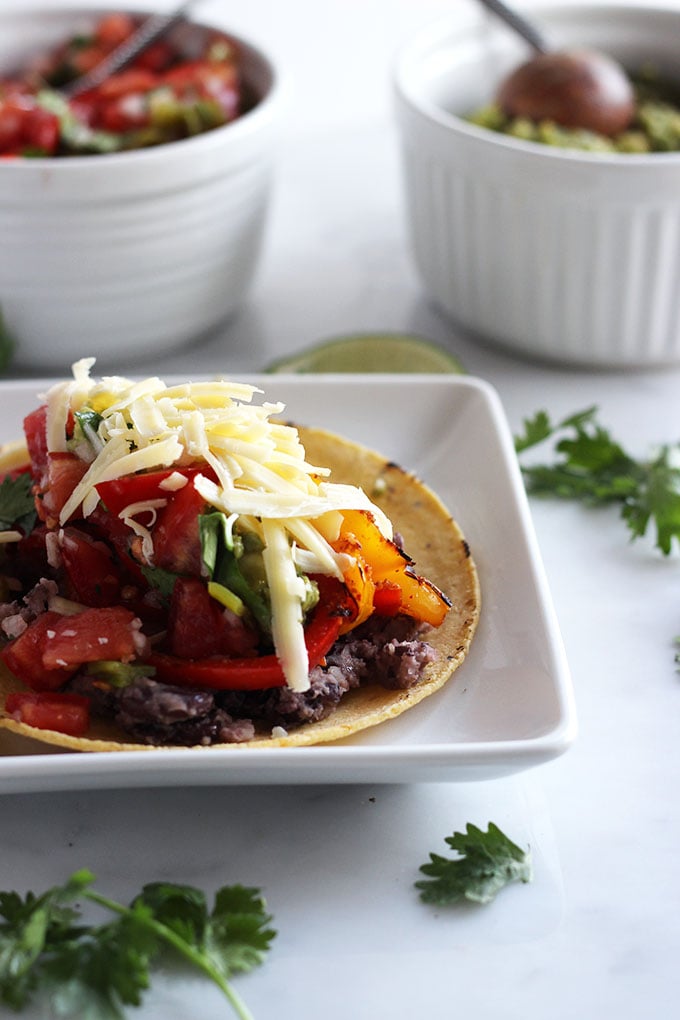 It's Friday night and you don't feel like going out. Why not fire up the grill and make these delicious vegetarian grilled fajitas? That's exactly what Will and I did! I can't imagine a better recipe for encouraging everyone to gather round for dinner than some build-your-own fajitas like these.
Will and I love to cook together so we tag teamed to make these. I did all the chopping and cooked the beans on the stovetop while Will manned the grill. Oh, he also did a bit of hand modeling for me as well. 🙂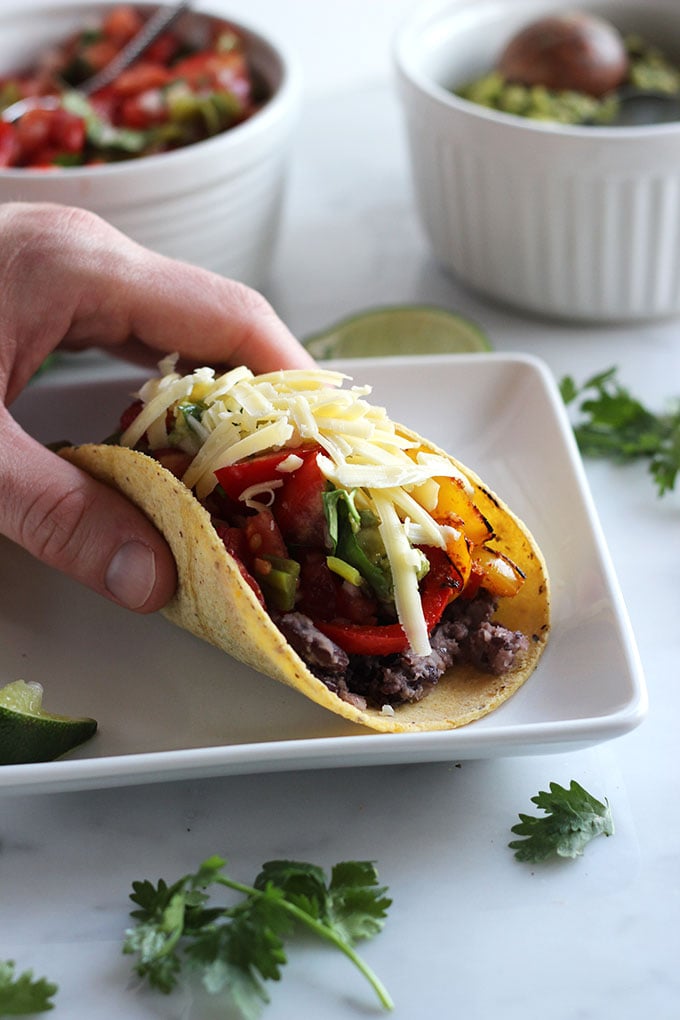 Do a little prep work over the weekend or purchase pre-made guacamole, pico de gallo, and taco seasoning from the store so these can come together in a matter of minutes on a busy weeknight. Since there is only two of us, we had some leftovers. I am thinking they will make a great addition to a vegetarian grilled fajita salad for lunch tomorrow.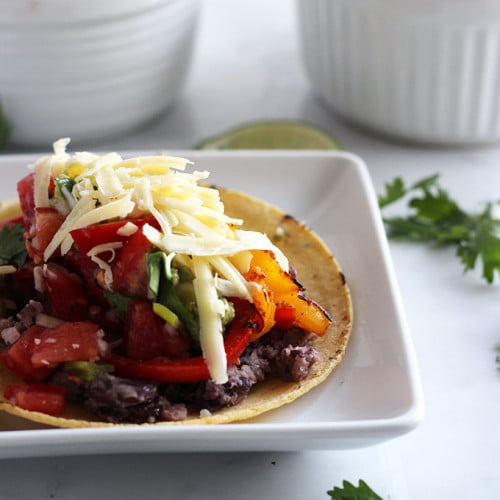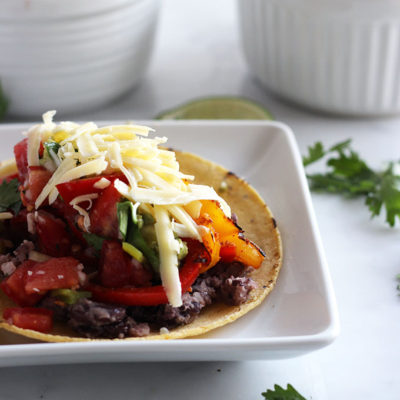 Vegetarian Grilled Fajitas
Why not just stay in tonight and make these delicious vegetarian grilled fajitas with bell peppers, guacamole, and pico de gallo. You won't be sorry!
Ingredients
Grilled Vegetables:
3 bell peppers sliced into 1/4 inch strips
1 onion sliced into 1/4 inch strips
1 tablespoon olive oil
1 tablespoon taco seasoning
Beans:
1 can kidney beans or 2 cups kidney beans
1 tablespoon butter or oil if vegan
1/4 cup broth or reserved liquid from can of beans
Guacamole:
2 avocados chopped
1/2 lime juiced
1 garlic clove minced
2 tablespoons chopped fresh cilantro
Dash of salt
Dash of ground black pepper
Dash of smoked paprika
Pico de Gallo:
2 small red tomatoes chopped
1/4 white onion chopped
2 tablespoons chopped fresh cilantro
1 grilled Hatch green chile optional
1/2 lime juiced
Dash of salt
Instructions
Prepare your grill for cooking.

Slice bell peppers and onion. Place in a large mixing bowl, add olive oil, and toss to coat. Spread vegetables evenly across

grilling tray/pan

and grill until charred. (If making the pico de gallo, add the Hatch green chile to the grill at this time too.) Transfer cooked pepper and onion mixture back into your large bowl. Add the taco seasoning and toss to coat.

While the peppers are grilling, melt the butter in a non-stick skillet. Add the beans and 1/2 cup liquid. Bring to a simmer and mash beans with the back of a wooden spoon, continuing to stir occasionally. Continue to cook until liquid is cooked off and beans are well mashed into spreadable paste. Set aside.

To make the guacamole, add all the ingredients into a bowl and mash together with a fork.

For the pico, combine all the ingredients and stir.

To assemble the fajitas, spread 1/6 of the beans onto a corn tortilla, top with pepper mixture, guacamole, pico de gallo, cheese, sour cream, etc.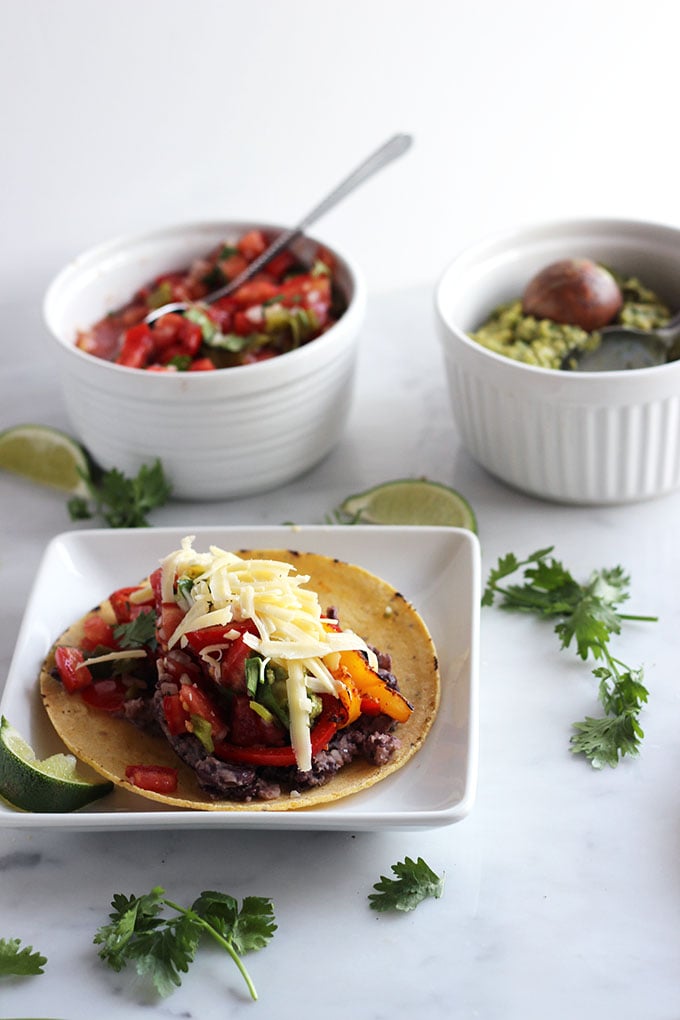 Reader Interactions