Everyone loves overnight oats since they are a convenient, affordable, and delicious, meal-prep friendly breakfast option. As soon as the calendar turns to fall, I start making these vegan pumpkin pie overnight oats on repeat.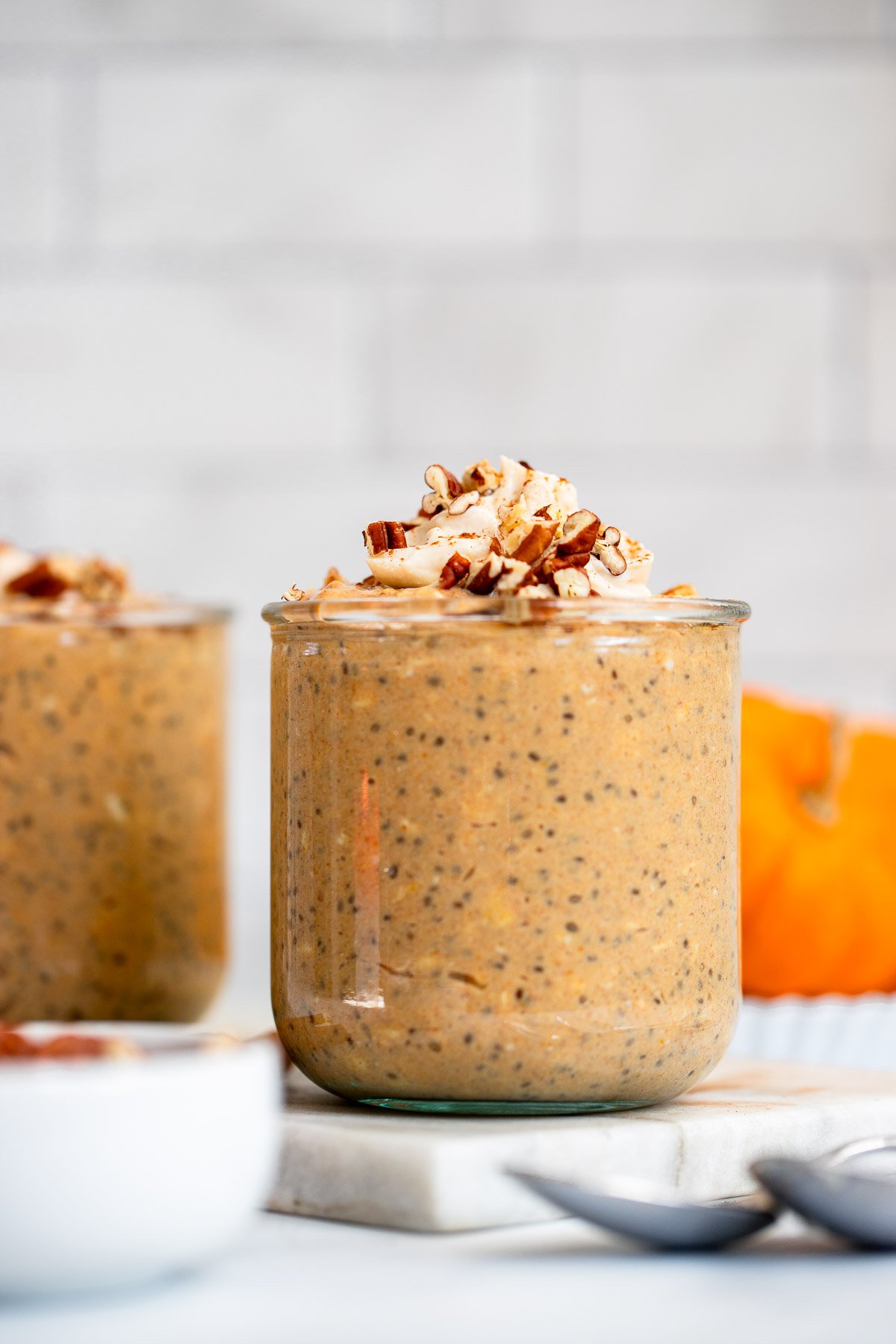 Meal prep friendly breakfasts like these overnight oats are a lifesaver for this toddler mom! If I don't have something prepped in the fridge, sometimes it is hard to squeeze breakfast for myself into our busy mornings. This pumpkin pie overnight oats recipe is a healthy breakfast option that has all the flavors of pumpkin pie.
Not only are overnight oats convenient, but as a vegan dietitian – I love all the health benefits that oats have to offer as well! Oats are especially beneficial for heart health as they can help lower both blood pressure and cholesterol. Plus, most of use could use more fiber in our diets and oats are a delicious way to help you meet the recommended fiber target for the day.
​In case you are looking for other pumpkin recipes to use up that open can of pumpkin puree, be sure to check out my pumpkin pie smoothie or pumpkin spice granola recipe!
Why You'll Love this Recipe
No-Cook: unlike your traditional bowl of oatmeal, overnight oats need no cooking! As the oats sit in the milk, they soak it up and soften so you can eat it without ever heating it up.
Scalable: this vegan overnight oats recipe is written for one serving, but it can easily be scaled to meal prep several servings of overnight oats at the same time. Perfect for a grab-and-go breakfast for busy weekdays.
Diet & Allergen Friendly: this pumpkin pie overnight oats recipe is vegan, dairy free, egg free, and gluten free (when using gluten free certified oats).
Ingredients You'll Need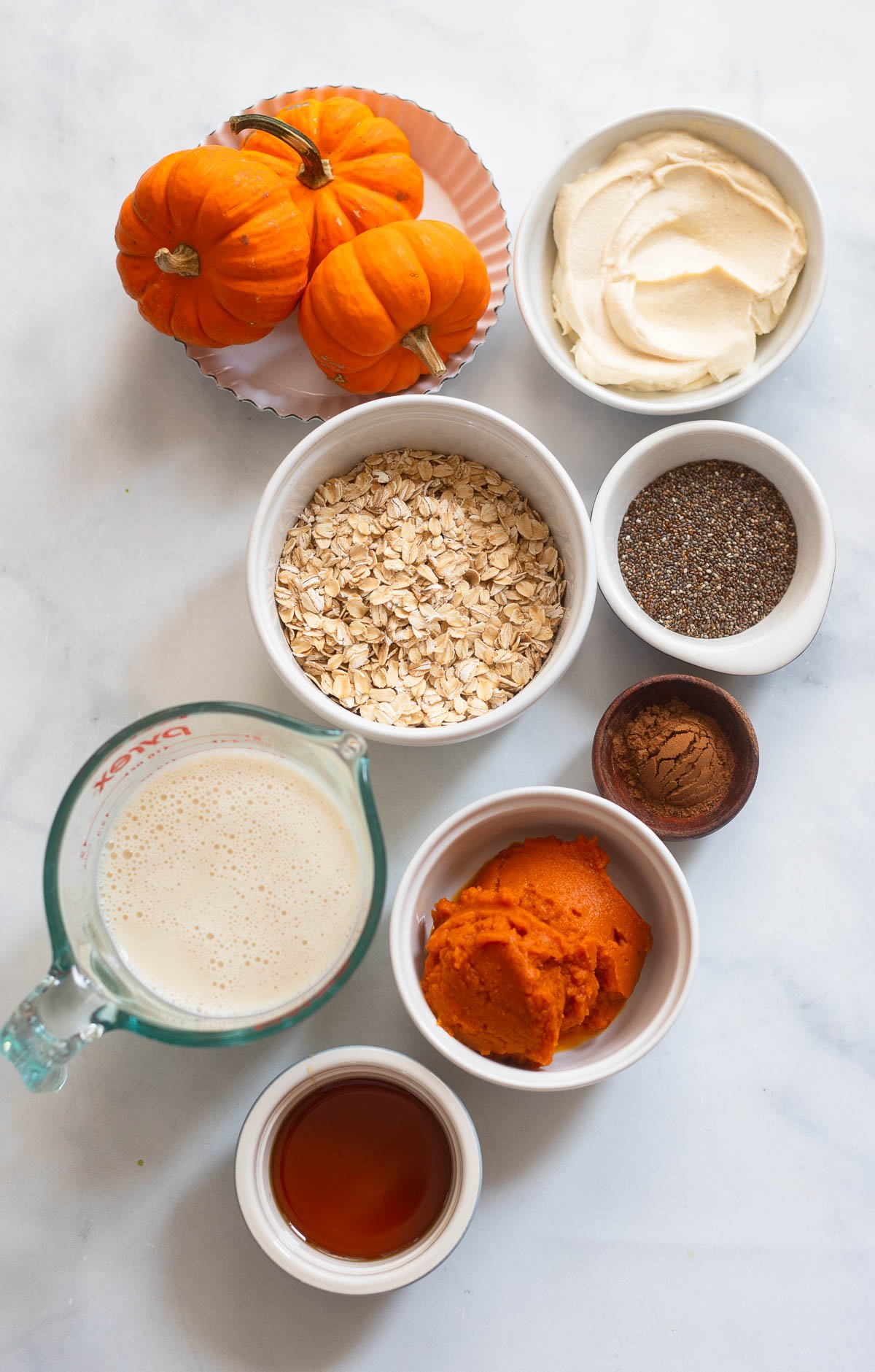 Old Fashioned Oats: Choose regular old-fashioned oats for overnight oatmeal. Since your oats are going to be sitting in liquid for several hours, you want to achieve the perfect balance between too mushy and too chewy. Quick cooking oats can work in a pinch, but the texture will be softer.
Milk: To make these vegan, I use non-dairy milk for my overnight oats. I typically use soy milk because it is higher in protein than other non-dairy milks, but you can use any plant-based milk you prefer like almond, hemp, oat, rice, or cashew.
Yogurt: To make your overnight oats extra creamy, add some yogurt. To make these vegan, I like to use a plant-based yogurt, especially one that has at least 7 grams of protein per serving. Use a vanilla yogurt for extra flavor.
Chia seeds: Using chia seeds takes your overnight oats to another level by making them more pudding-like. They are optional, but I feel like this base overnight oats recipe is so much better with them.
Maple Syrup: Add a touch of sweetness to your overnight oats with some pure maple syrup but you can skip if you want to limit your sugar intake. If you don't like maple syrup, you can also use brown sugar, coconut sugar, or agave.
Salt: It may seem counterintuitive to add a pinch of salt to a sweet recipe like overnight oats, but I promise you that a dash of salt takes your overnights oats from meh to Y-U-M!
Pumpkin Puree: To infuse these fall overnight oats with pumpkin flavor, we add some canned pumpkin puree. Just make sure to use plain pumpkin puree and not canned pumpkin pie filling which is already sweetened.
Pumpkin Pie Spice: this spice blend of cinnamon, ginger, nutmeg, allspice, and cloves adds delicious fall flavor to all kinds of pumpkin and apple recipes.
How to Make Pumpkin Overnight Oats with Chia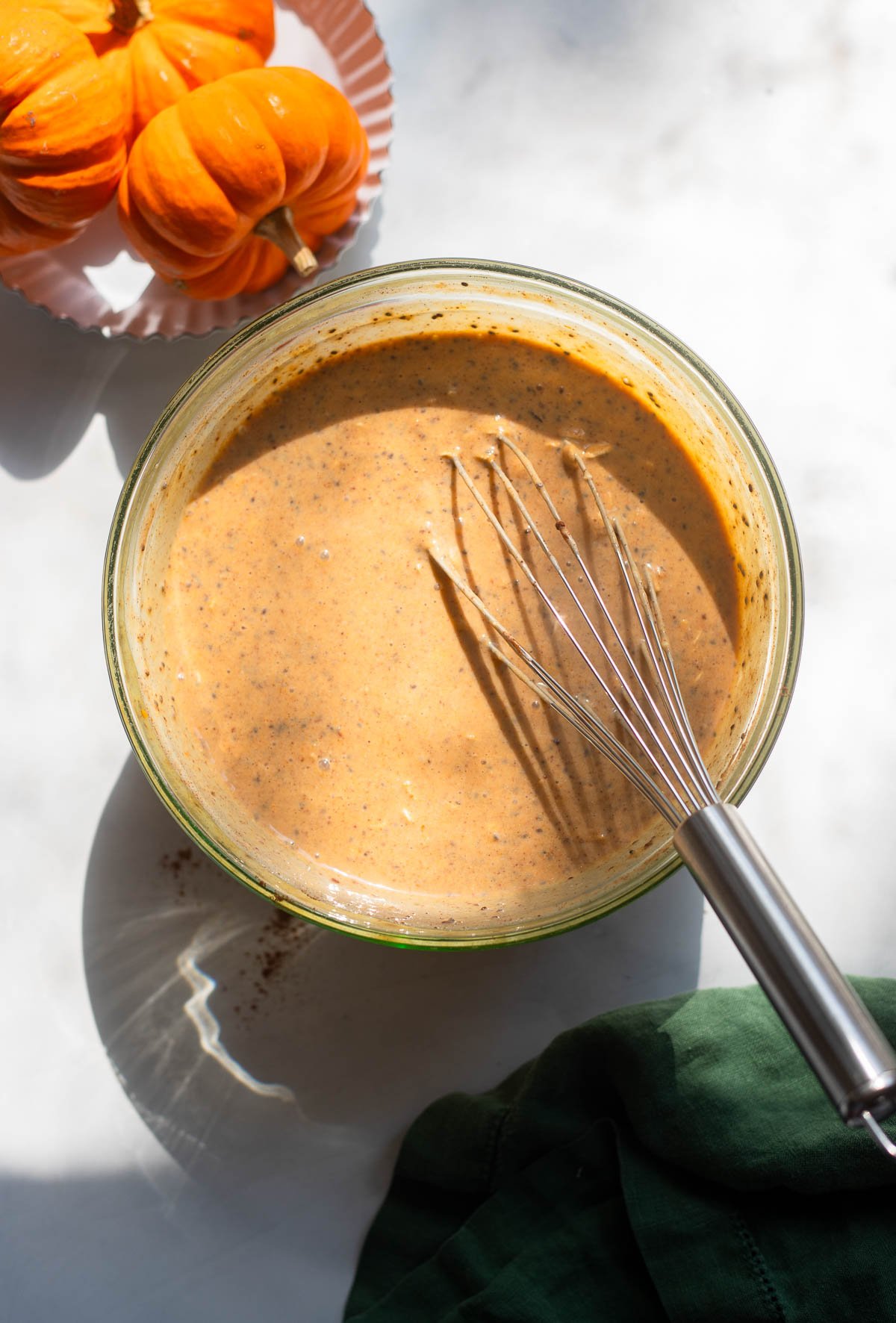 Combine: Add all of your ingredients to a medium mixing bowl and stir well with a whisk.
Chill: Cover and refrigerate at least 2 hours to overnight. Serve cold the next morning with desired toppings like additional maple syrup, yogurt, chopped pecans, or granola.
Recipe Notes:
Batch Prep: Rather than make one serving of this overnight oats at a time, you can batch prep at least 5 servings at once at the beginning of the week. They store well in the fridge for up to a week so just adjust the portions of the recipe below to batch prep as many servings as you need.
Use Old Fashioned Rolled Oats: quick cooking oats will work for this recipe, but they become mushy when chilled. However, if you like a softer, more pudding-like texture that might work for you! You just want to avoid steel cut oats as they will not soften enough overnight to be edible by morning.
Oats too thick?: If you meal prepped your oats, you may find them to be thicker after 2-3 days so just stir in a splash of milk to thin them out again.
Topping Suggestions
Add more texture and flavor to your overnight oats by topping them with something like nuts, seeds, fruit, or granola before serving. For peak freshness, we recommend adding your desired toppings just before serving as crunchy toppings like granola can get mushy if stored on top of the overnight oats.
Fresh Fruit: add chopped apple or pear on top before serving.
Dried Fruit: raisins or dried cranberries are both great toppings for this pumpkin spice overnight oats recipe.
Seeds: hemp hearts or ground flax seeds will provide some additional fiber and healthy fats. You could also try adding pumpkin seeds.
Nuts: add some crunch as well as healthy fat by topping these oats with some walnuts, almonds, or pecans.
Nut Butter: these healthy pumpkin overnight oats are delicious with some almond butter stirred in when serving.
Granola: add crunch to these oats by sprinkling some granola on top. This homemade vegan granola recipe is my favorite!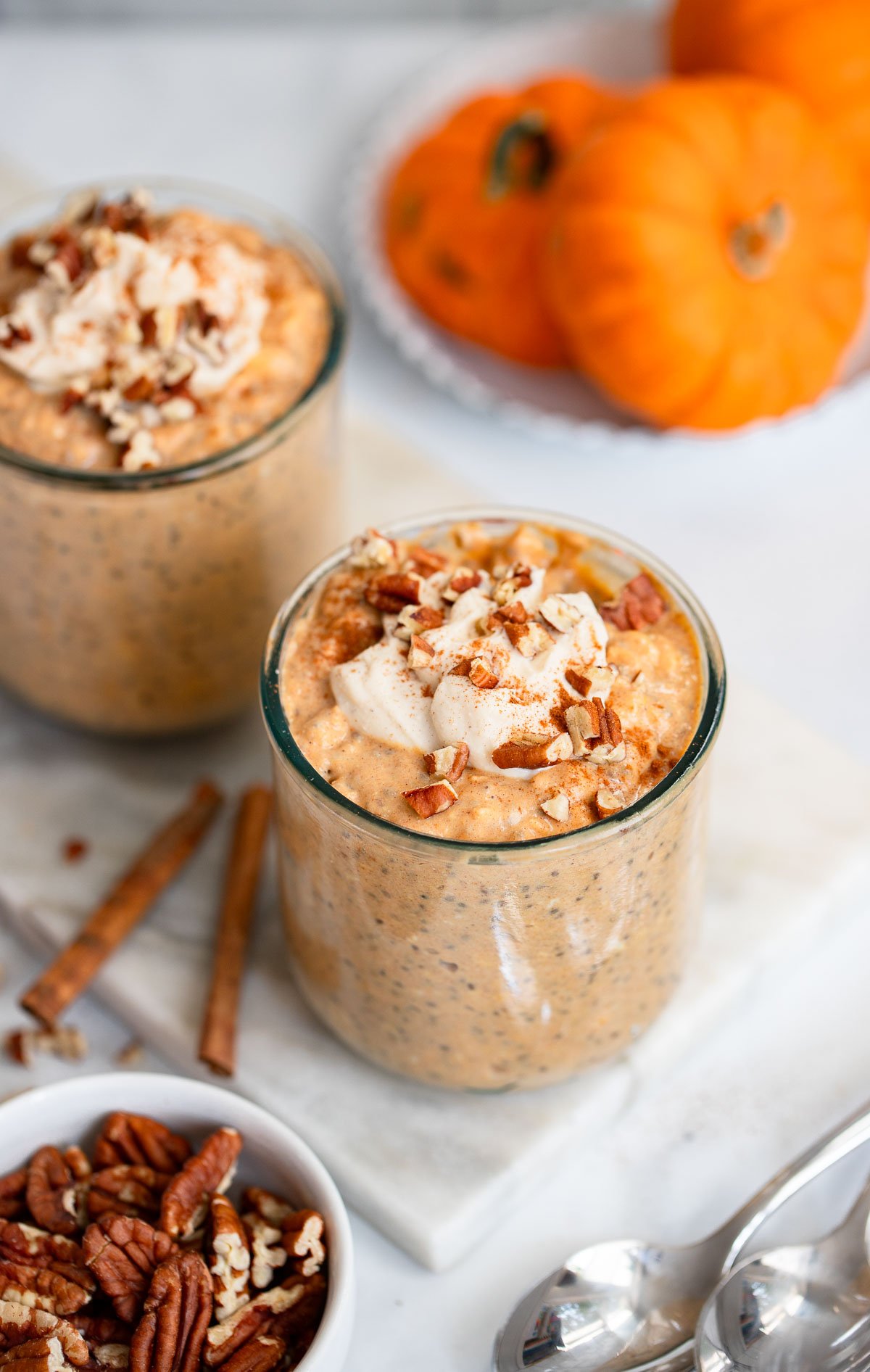 Storage
Refrigerator: store these pumpkin pie spice overnight oats with yogurt in an airtight container or mason jars in the refrigerator for up to 4-5 days.
Freezer: you can freeze this overnight oats recipe in an airtight container for up to 3 months. Allow to thaw in the fridge overnight before serving.
FAQs
Can you make overnight oats with instant oatmeal?
Yes, you can make overnight oats with instant oatmeal. The texture will be softer and less chewy and they will thicken faster in the fridge.
Are overnight oats good for gut health?
Yes – overnight oats are great for your gut because oats are packed with both soluble and insoluble fiber which support regular bowel movements and healthy gut bacteria.
How long do overnight oats last in the fridge?
For the freshest overnight oats, try not to store them in the fridge longer than 4 days.
Did you love this recipe? Make sure to leave a ⭐️ rating and tag #dietitiandebbie on instagram!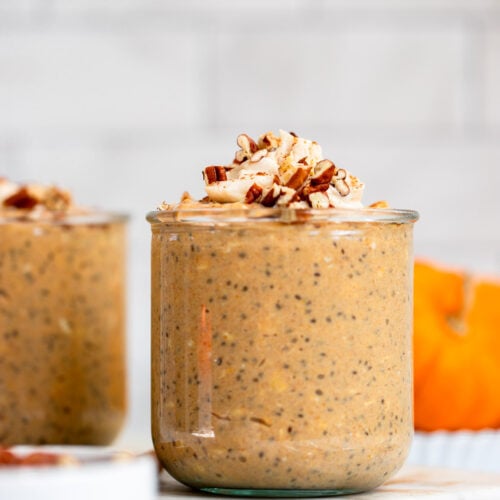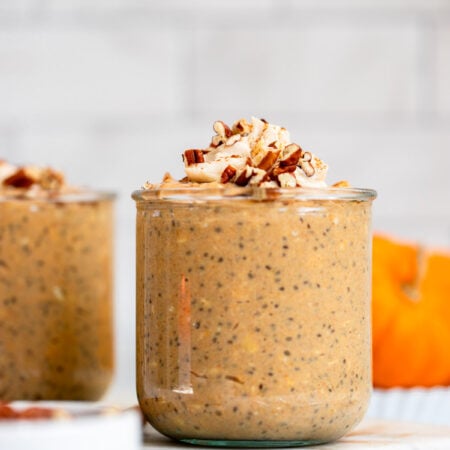 Pumpkin Spice Overnight Oats
Everyone loves overnight oats since they are a convenient, affordable, and delicious, meal-prep friendly breakfast option. As soon as the calendar turns to fall, I start making these vegan pumpkin pie overnight oats on repeat.
Instructions
Add all of the ingredients to a bowl and whisk to combine. Cover and refrigerate for at least 2 hours until thickened. Serve chilled with desired toppings.
Notes
Double or triple the recipe to make several days of overnight oats all at once. 
Meal prepped overnight oats can get really thick when sitting in the fridge for 2-3 days. Just stir in a splash of milk to thin it out again. 
My favorite pumpkin pie spice is from Spice House! Use code dietitiandebbie for 10% off your order. 
Nutrition
Serving: 1serving | Calories: 411kcal | Carbohydrates: 64g | Protein: 16g | Fat: 11g | Saturated Fat: 2g | Polyunsaturated Fat: 6g | Monounsaturated Fat: 2g | Trans Fat: 0.02g | Sodium: 127mg | Potassium: 641mg | Fiber: 12g | Sugar: 20g | Vitamin A: 13099IU | Vitamin C: 14mg | Calcium: 479mg | Iron: 5mg
Reader Interactions