Look no farther because this is the BEST homemade vegan granola recipe. A great option for meal prep that is easily mixed up in just one bowl. This granola recipe is chock full of nutrient dense nuts and seeds for a healthier homemade breakfast or snack option.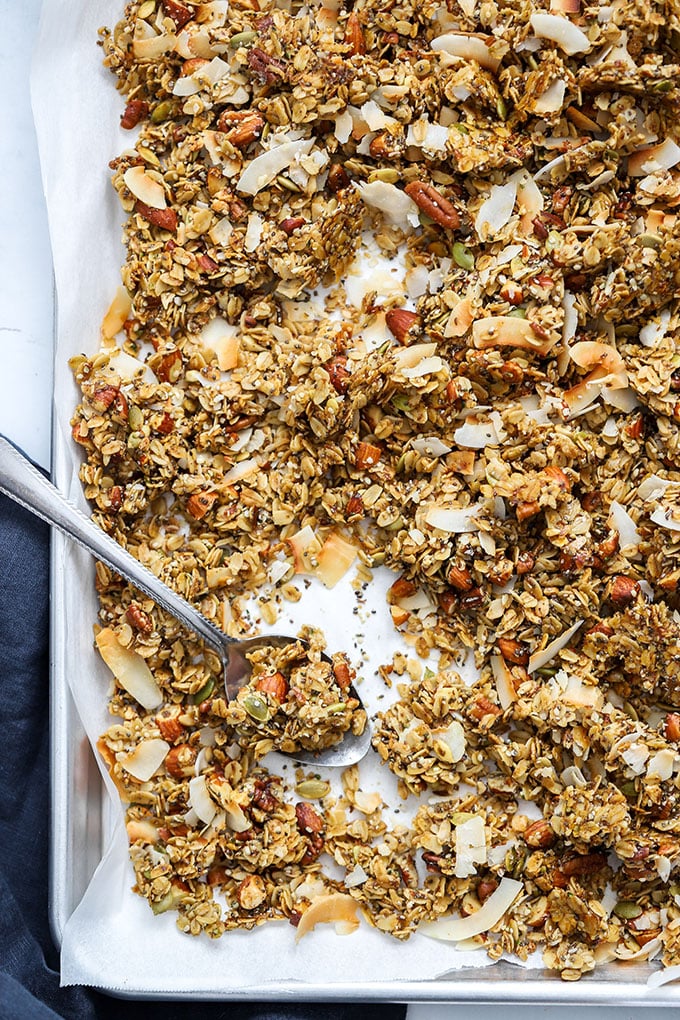 I am not joking when I tell you this is the BEST homemade vegan granola recipe. Not only do I need to keep this delicious granola stocked in the pantry for the week, but it makes the house smell amazing. Seriously, I wish I could get a candle made that smells like this granola cooking!
I don't know what it is about homemade granola, but it always tastes so much better than even the most expensive granola you can buy in the store. Maybe it has something to do with the freshness?
I also like making my own granola because I can choose what gets added in. I like a higher ratio of nuts/seeds to oats, ie. extra crunchy! Plus, all those nuts and seeds provide protein and healthy fats.
Why You'll Love this Recipe
Simple Preparation: Made in just one bowl with pantry friendly ingredients and naturally sweetened with maple syrup.  Love that this crunchy vegan granola needs only 5 minutes of hands-on time. 
Customize: Can be easily customized with different nuts, spices, and dried fruit. This recipe is vegan, dairy free, egg free, and gluten free if you use gluten free certified rolled oats.
Healthy Breakfast or Snack: This easy vegan granola recipe is great for meal prep on the weekends for an easy breakfast or healthy snack option all week long!
Ingredients You'll Need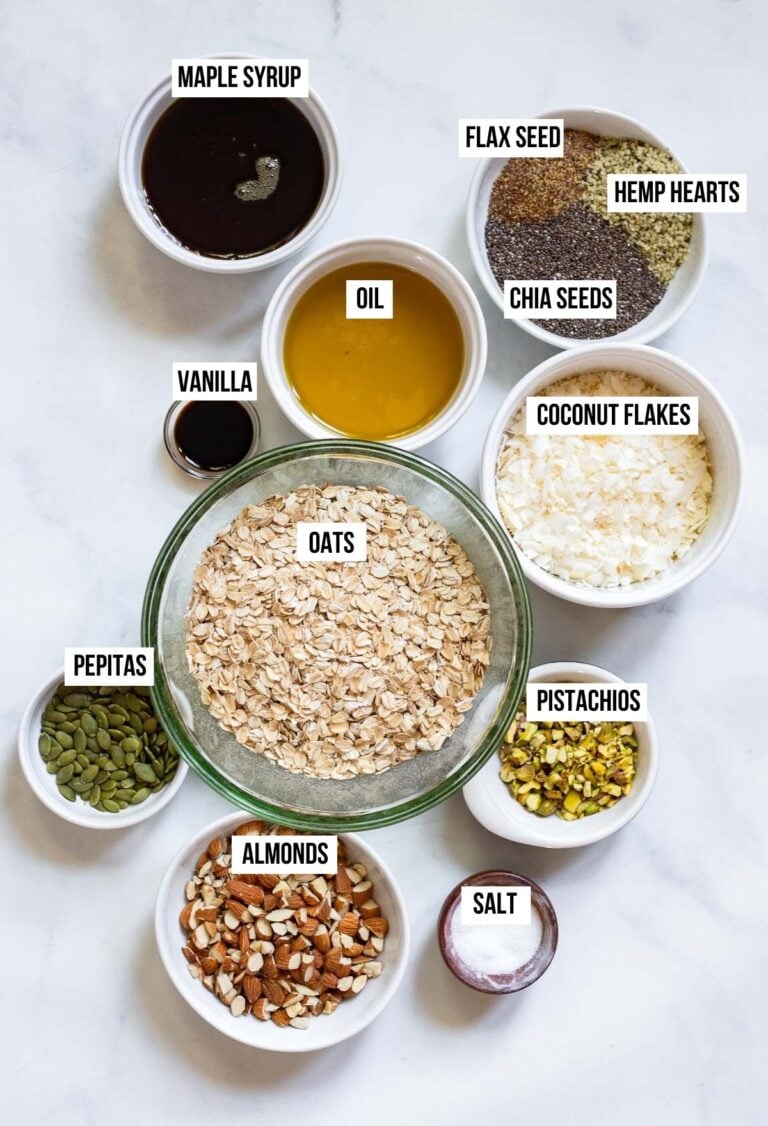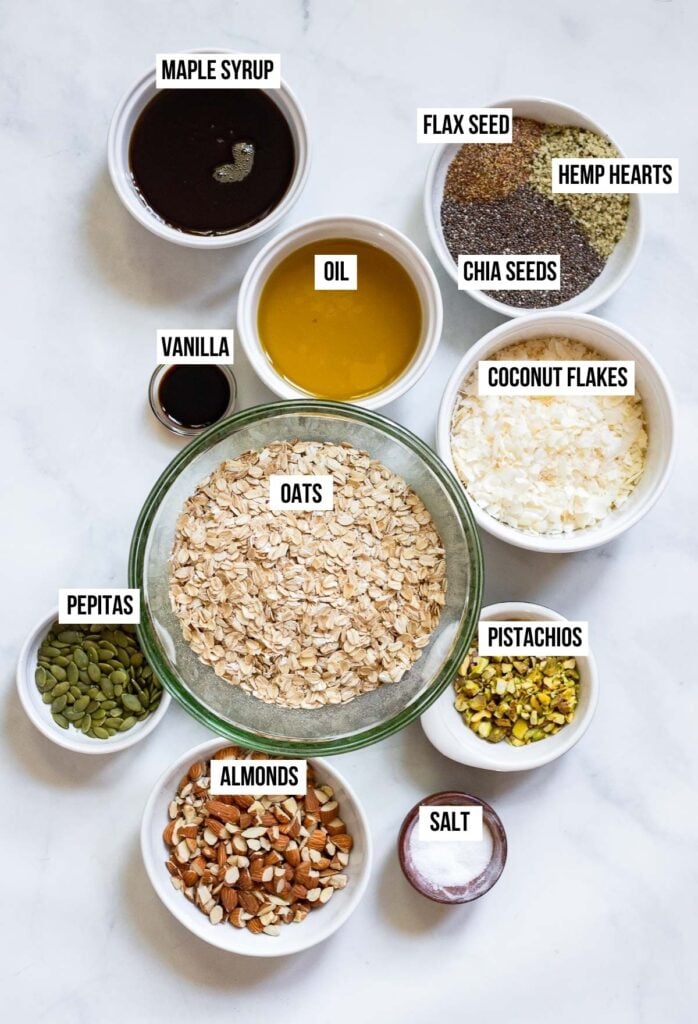 Old-Fashioned Oats: Make sure to buy certified gluten free old-fashioned rolled oats if you want to make this a gluten free granola recipe. Oats are a great source of soluble fiber which helps lower LDL (bad) cholesterol.
Almonds: Almonds are one of my favorite healthy snacks because they provide so many nutrients like vitamin E, calcium, phosphorus, riboflavin, and heart healthy fats.
Pecans: Like most nuts, pecans are also a good source of vitamin E which is a powerful antioxidant and important for the maintenance of healthy skin.
Hemp Hearts: Hemp hearts are a good source of protein and omega-3 fats just like chia seeds and flax seeds.
Chia Seeds: Chia seeds pack a lot of nutrition into their tiny form including heart healthy omega-3 fats, fiber, and protein. Speaking of protein, chia seeds are a complete protein which means they contain all 9 of the essential amino acids.
Ground Flax Seeds: Using ground vs whole flax seeds is best because whole flax seeds just pass through your GI system so you miss out on the healthy benefits. Like oats, flax seeds can also lower cholesterol and they are a good source of heart healthy omega-3 fatty acids.
Pepitas: Also called pumpkin seeds, these little seeds are a good source of zinc which is important for all kinds of things like cellular structure to gene expression.
Maple Syrup: For the best flavor, make sure to use real maple syrup rather than pancake syrup or maple flavored syrup (which is usually just corn syrup). Real maple syrup has so much more flavor than the fake stuff!
Olive Oil: I like using olive oil rather than any other oils like coconut in this granola because olive oil is rich in monounsaturated fats rather than saturated fats. Plus, I like the way the flavor balances out some of the sweetness from the maple syrup. You can use avocado oil or melted coconut oil you'd prefer. 
Variations
Nuts: the recipe as written includes almonds and pecans but the recipe is also delicious with walnuts, pistachios, or cashews.
Seeds: this recipe is already packed with nutrient dense seeds like hemp seeds, flax seeds, chia seeds, and pumpkin seeds! You can omit any of these or double up on any that you like best. Sunflower seeds also make a great option. 
Flavorings: feel free to add more spice to this granola with some ground cinnamon, nutmeg, ginger, pumpkin pie spice, or ground cloves. You can also add 1/2 teaspoon almond extract for a delicious almond granola.
Dried Fruit: after baking and cooling, stir in your favorite dried fruit like: dried cranberries, dried blueberries, golden raisins, coconut flakes, goji berries, or dried apricots.
How to Make Vegan Granola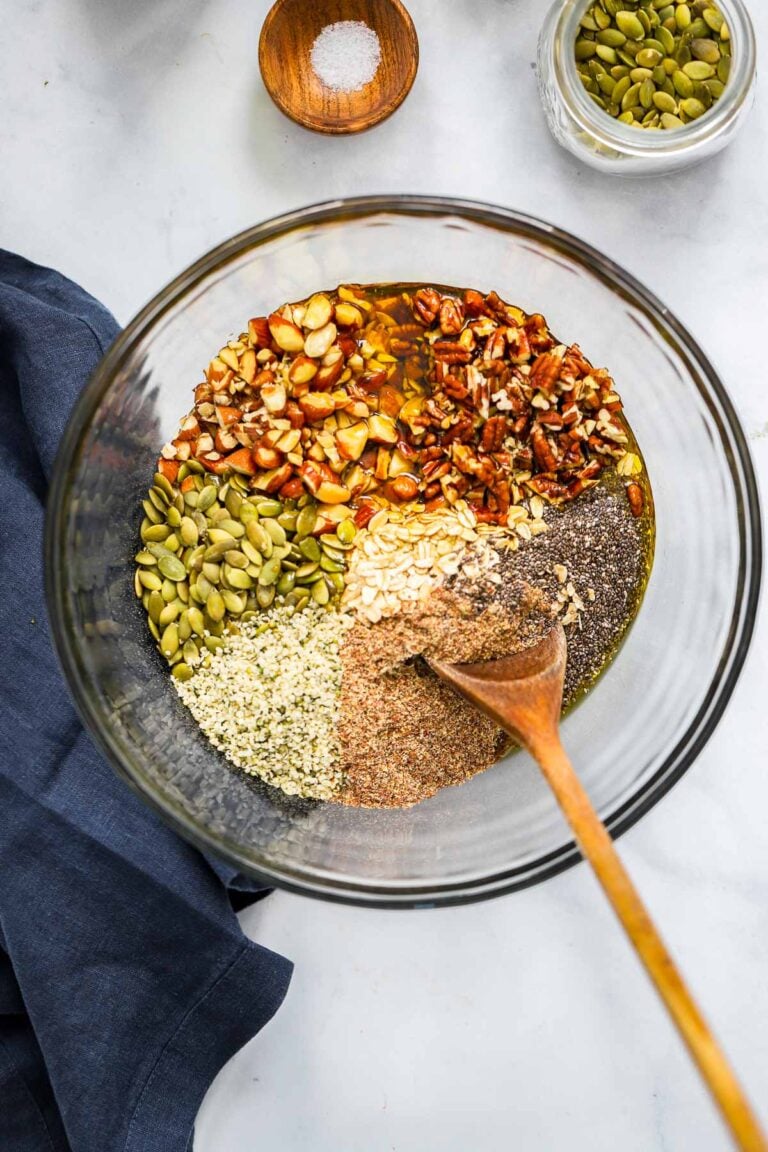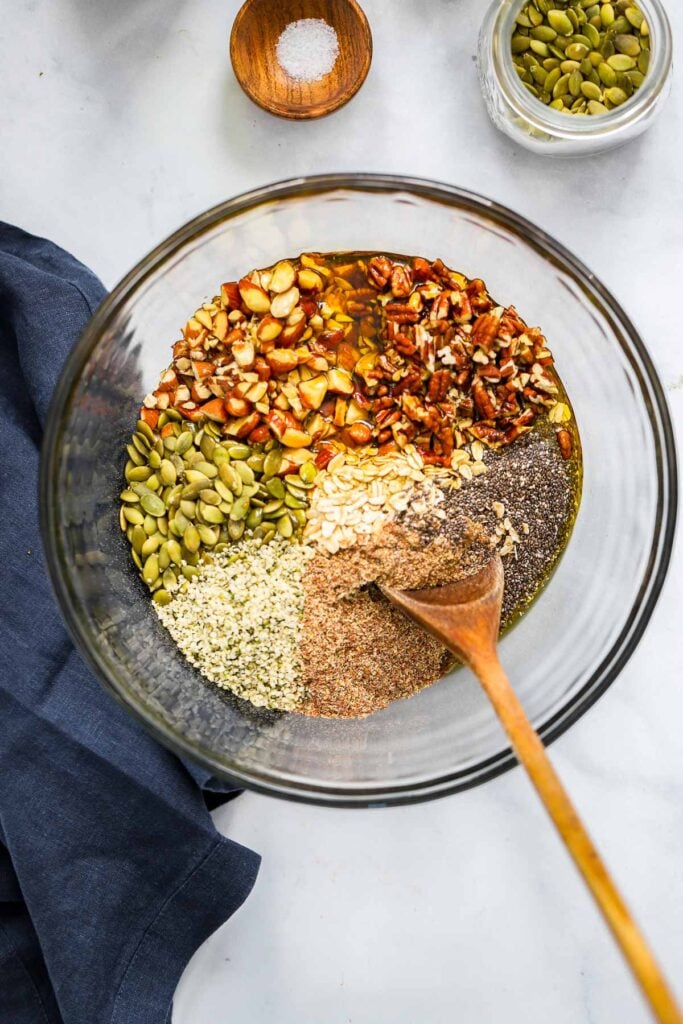 Step One: Add all of the granola ingredients (except the coconut) to a large bowl and stir well. Transfer the granola mixture to a parchment lined sheet pan and bake for 20-25 minutes at 350 degrees Fahrenheit.
Step Two: At about 18 minutes in the oven, you'll stir in the coconut to get nice and golden brown with the rest of the granola.
Step Three: Allow to cool completely to room temperature on baking sheet before breaking apart and storing in an airtight container.
Chunky Granola Tips:
Line your baking sheet with parchment paper so that the maple sticks to the granola and doesn't stick to the pan.
When spreading the granola onto the baking sheet, lightly press everything together onto the pan in one large mass. You want everything to be touching so that the individual oats/nuts/coconut stick together as they bake.
Make sure to let your granola cool completely before transferring it into a storage container. The cooling time allows the sugar in the maple syrup to harden again and allow the crunchy clusters to form for a chunky granola.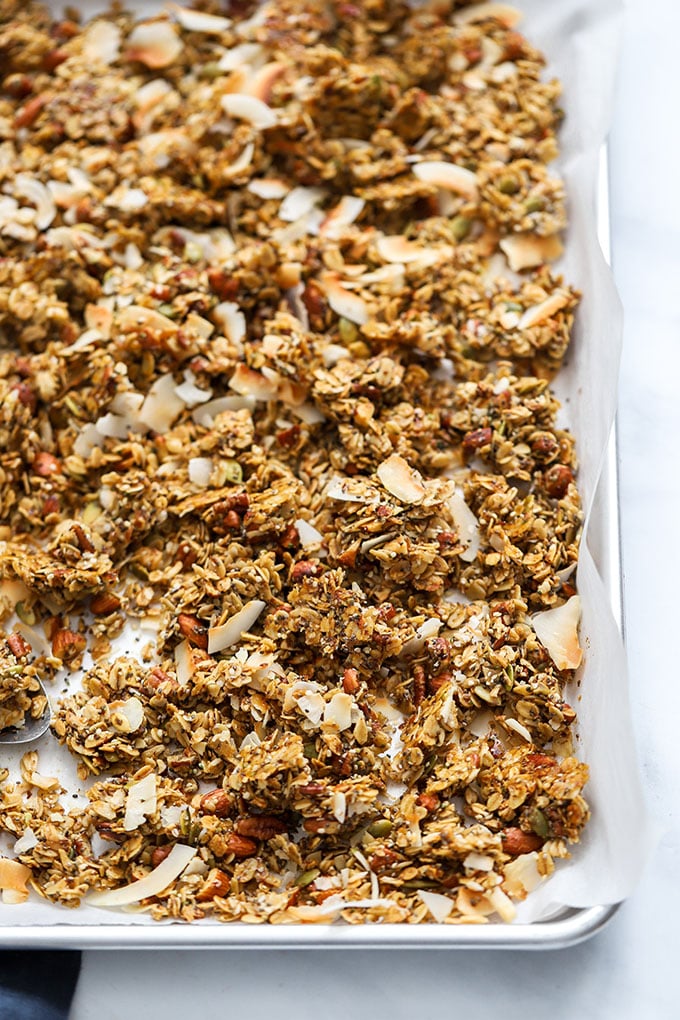 Frequently Asked Questions
Is granola healthy?
You bet! Some store-bought granolas can be loaded with sugar and often use sweeteners like corn syrup, evaporated cane juice, etc. However, making a healthy granola recipe like this one allows you to naturally sweeten it with maple syrup.
Plus, you can load it up with healthy stuff like nuts and seeds. See the ingredient notes above for more about the specific health benefits of this healthy vegan granola.
Worried about the higher calorie/higher fat content of nuts and seeds? Research shows that eating nuts regularly does not increase your risk of weight gain, in fact, consuming nuts in place of other unhealthy foods can likely help you regulate your weight.
Is granola vegan?
Not always – some granola is made with honey or has egg whites to help it form clumps. This recipe uses maple syrup as a sweetener so it is vegan.
How do I know when the granola is done?
The granola should look dry and the oats have turned a nice golden brown. Try not to overcook your granola or it could become bitter.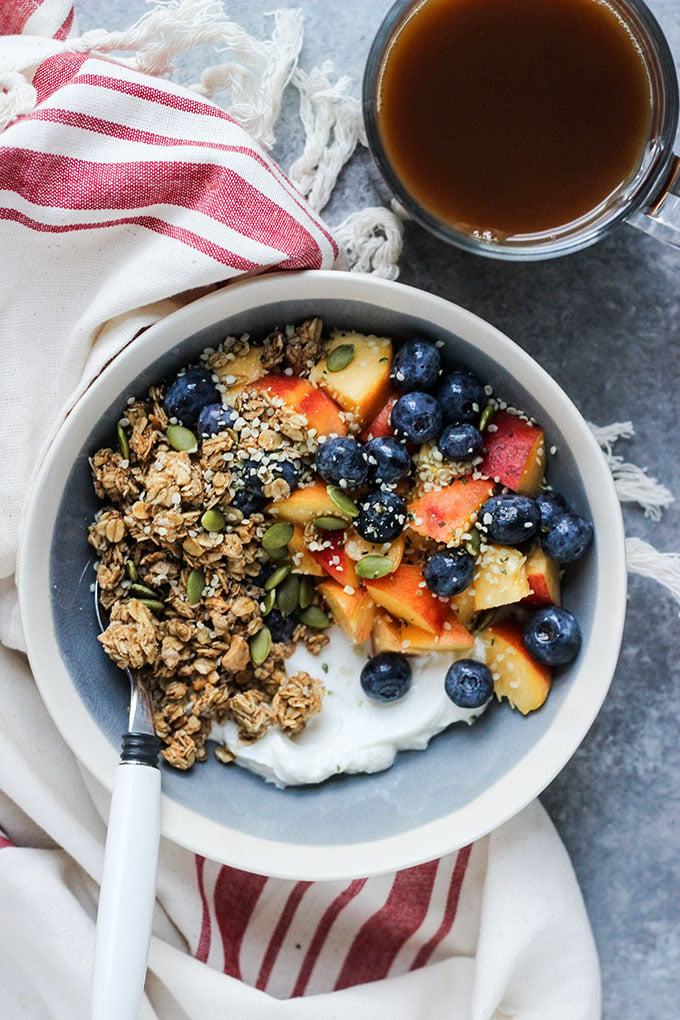 Serving Suggestions
There are so many great ways to enjoy this homemade granola recipe. (Check out my what to eat with granola post for a full list of 21 delicious ideas!) Here are a few of my favorites:
pour some in a bowl with some soy milk and fresh fruit.
serve over top of your favorite vegan yogurt with fruit.
use it on top of a simple chia pudding.
sprinkle on top of a smoothie or smoothie bowl.
eat it on its own as a tasty snack!
Storage
Pantry: This basic granola recipe will last 3-4 weeks in the pantry in an airtight container.
Freezer: To store longer, transfer to an airtight container or ziplock bag and store in the freezer for up to 6 months.
More Vegan Granola Recipes
Did you love this recipe? Make sure to leave a ⭐️ rating and tag #dietitiandebbie on instagram!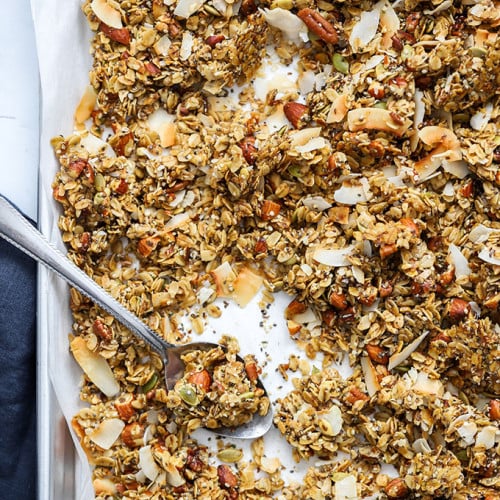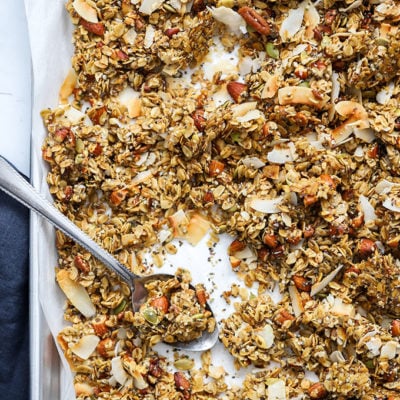 The BEST Homemade Vegan Granola
This is seriously the best homemade vegan granola recipe you will ever make! It is chock full of nutrient dense nuts and seeds for a healthier homemade breakfast or snack option. 
Ingredients
2 1/2 cup certified gluten-free old fashioned oats
3/4 cup unsalted almonds, chopped
1/2 cup pecans, chopped
1/4 cup pepitas (pumpkin seeds)
1/4 cup hemp hearts
3 tablespoons ground flax seed
3 tablespoons chia seeds
1/2 cup maple syrup
1/2 cup olive oil or your preferred oil – coconut, canola, etc.
1 teaspoon vanilla extract
1/2 teaspoon sea salt less if using regular table salt
Instructions
Preheat the oven to 350 degrees Fahrenheit. Line a rimmed baking sheet with parchment paper. 

Mix all ingredients except the coconut flakes in a large mixing bowl with a wooden spoon. 

Transfer to parchment lined baking sheet and spread out evenly. Bake for 20-25 minutes or until golden brown. Halfway through baking add the coconut chips and stir. (Don't add the coconut at the beginning of baking or it will burn.) If chunky granola desired, pat down with the wooden spoon or a spatula to create an even layer. 

Transfer to a cooling rack and allow to cool completely before breaking into chunks. 

Store in an airtight container at room temperature for 1-2 weeks or in the freezer for up to 3 months. 
Notes
Store in an airtight container in the pantry for up to 3 weeks. Store in a ziplock bag in the freezer for up to 3 months.
Nutrition
Serving: 1/2 cup | Calories: 355kcal | Carbohydrates: 42.5g | Protein: 24g | Fat: 19g | Saturated Fat: 2.5g | Polyunsaturated Fat: 16.5g | Sodium: 185mg | Fiber: 5.5g | Sugar: 7g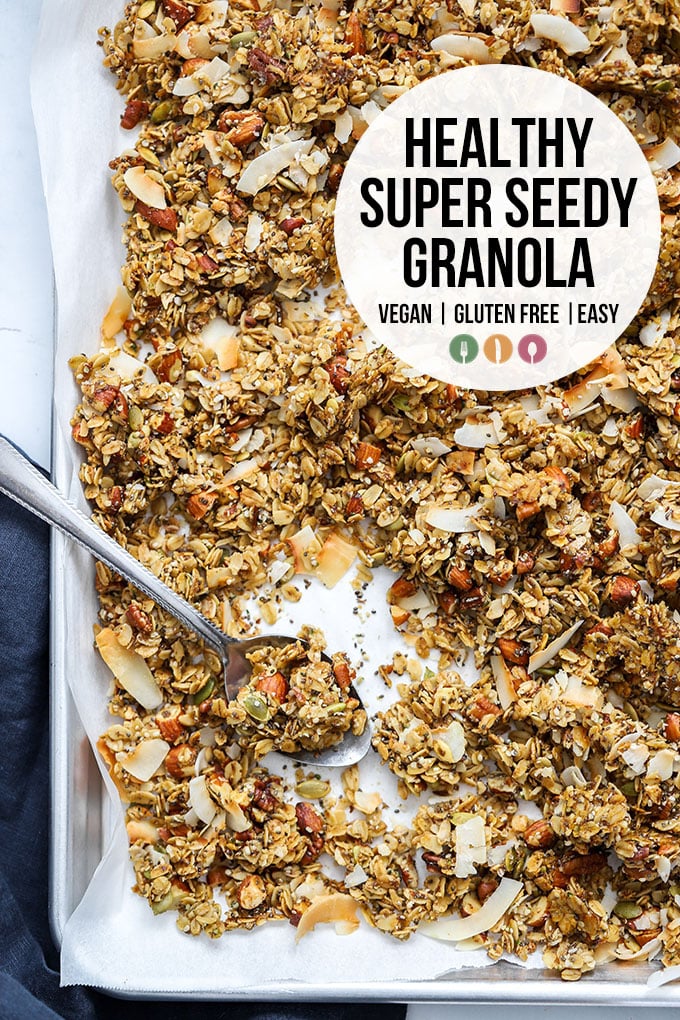 Reader Interactions