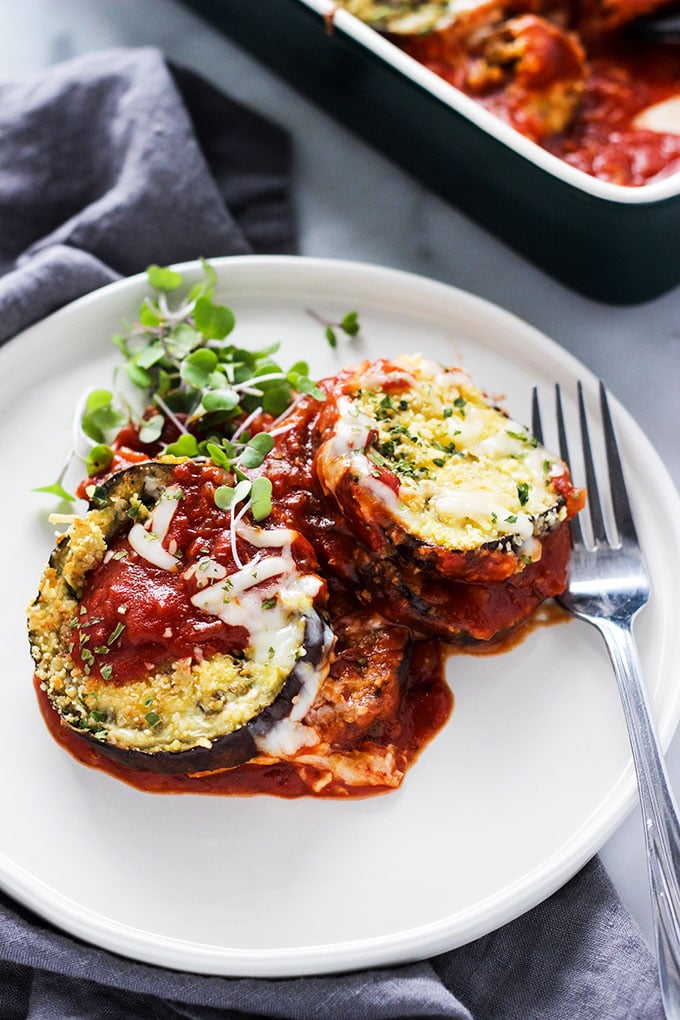 Mmm… I love a good eggplant parmesan! As a vegetarian, my dinner options at Italian restaurants can sometimes be limited. In those cases, eggplant parmesan is usually my go-to.
Making authentic eggplant parmesan can be a lot of work though. Breading each slice of eggplant and then frying it before layering it in a baking dish with marinara and cheese and baking it. Such a long process! I'm here to make it a bit easier with this simple gluten free eggplant parmesan.
Why gluten free? Well, so my friends who are allergic to gluten can also enjoy the deliciousness that is eggplant parmesan. But also, to lower the carb content in the dish for my low carb husband. (Plus, it gives me an excuse to experiment!) I found that the combination of parmesan and almond flour worked really well as an alternative "breading" for the eggplant.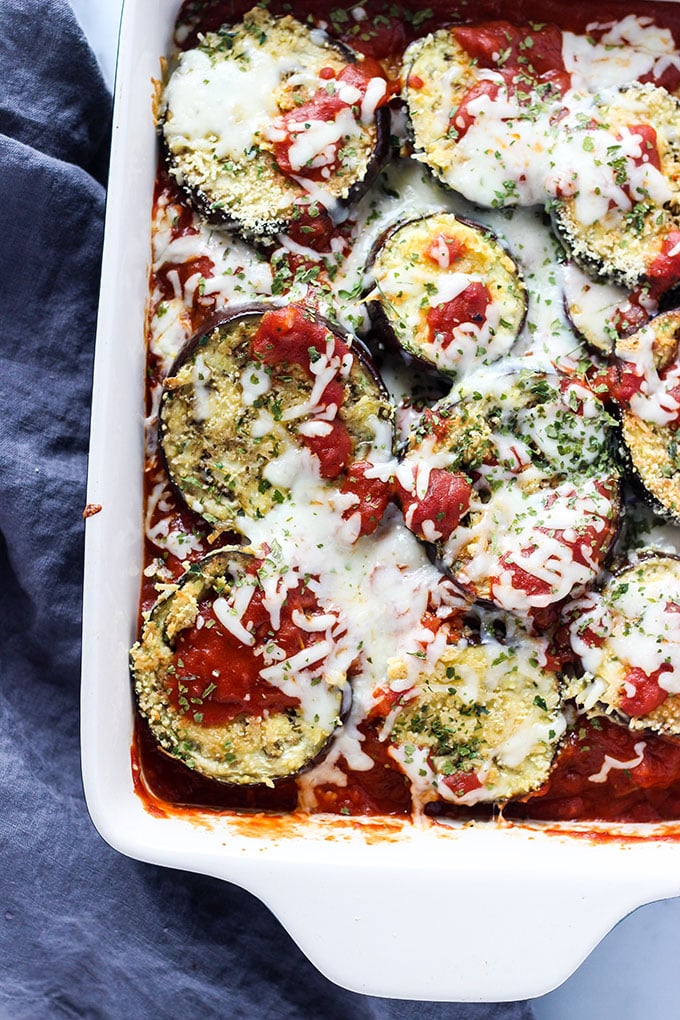 Usually I'll make some kind of semi-homemade marinara sauce for a dish like this, but I was feeling lazy. (We can't all be Martha Stewart!) Just use up that jar of your favorite marinara sauce you have in your pantry.
You would never guess this dish is less than 10 ingredients! Make it a meal by serving this with a side of your favorite easy protein. (I served mine with a vegetarian Italian sausage from Field Roast.)
Simple Gluten Free Eggplant Parmesan
This simple gluten free eggplant parmesan is a variation of the Italian classic that is simple to make and just as tasty as the real deal.
Ingredients
2 small eggplants or 1 large
2 eggs
3 ounces shredded parmesan
2/3 cup almond flour
3.5 ounces shredded mozzarella
1 28 oz. jar marinara sauce (choose your favorite brand)
Salt and ground black pepper to taste
Instructions
Heat your oven to 350 degrees Fahrenheit.

Slice the eggplant into 1/3" slices. Transfer to a colander and sprinkle with salt. Tossing and sprinkling with more salt to make sure all slices are salted. Set aside for 5-10 minutes.

Pat eggplant slices dry with a paper towel.

In a small bowl, break the 2 eggs and stir well with a fork. In a second small bowl, combine the parmesan cheese and almond flour.

Grease 2 baking sheets with cooking spray. Dip each eggplant slice in the eggs (coat well), then drop into the flour/parmesan mixture and coat. Transfer to baking sheet. Repeat with each slice.

Bake the eggplant slices for 15 minutes on one side and flip with a spatula. Bake another 15 minutes on the second side or until coating is lightly browned.

In an 9"x11" baking dish, spread ~1/3 cup marinara sauce on bottom of the pan to coat. Layer eggplant slices and top with 3/4 of the mozzarella cheese and 1/2 of the sauce. Add a second layer of eggplant slices and top with the rest of the sauce and the last of the mozzarella cheese. (I sprinkled mine with dried parsley flakes to add some color.)

Bake for 20-25 minutes or until sauce is bubbly and mozzarella cheese is melted.
Nutrition
Serving: 1/6th recipe | Calories: 248kcal | Carbohydrates: 30g | Protein: 19g | Fat: 8g | Saturated Fat: 1.4g | Polyunsaturated Fat: 6.6g | Cholesterol: 60mg | Sodium: 1376mg | Fiber: 10g | Sugar: 13g
Reader Interactions