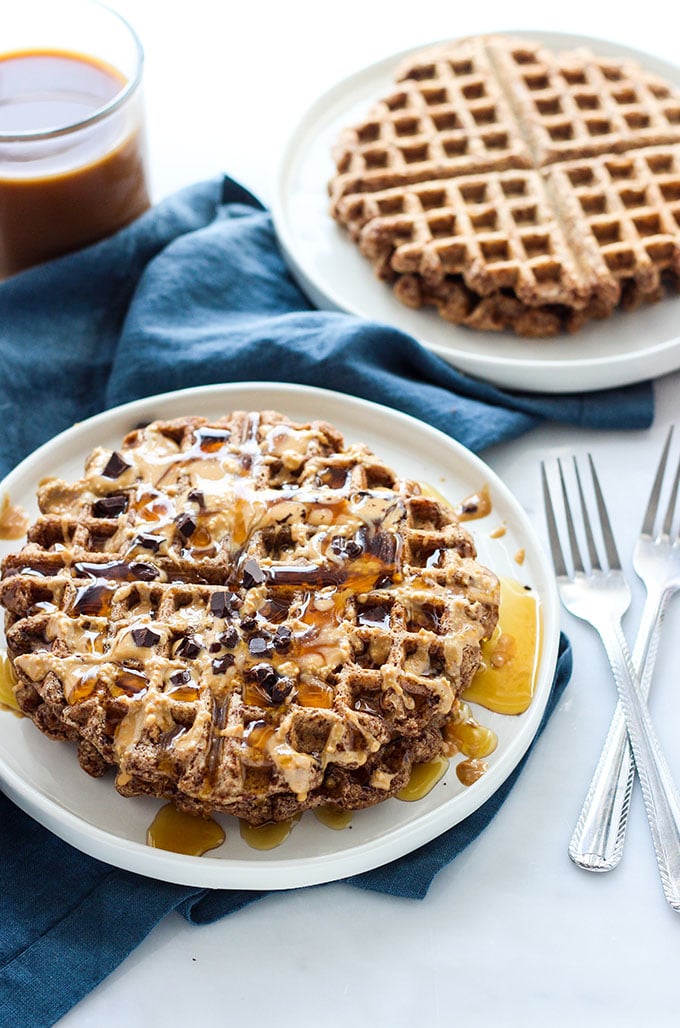 If I could eat just one thing for breakfast every day, it would be these vegan chocolate peanut butter waffles! (Except that would likely lead to significant weight gain…!) I got the idea for these waffles from one of our friends who is a waffle making pro. He was over at our house this weekend and told us about how he has been grating dark chocolate into his waffle batter. Brilliant! I made a batch of waffles the very next day with grated dark chocolate and I'm here to share the delicious idea with you!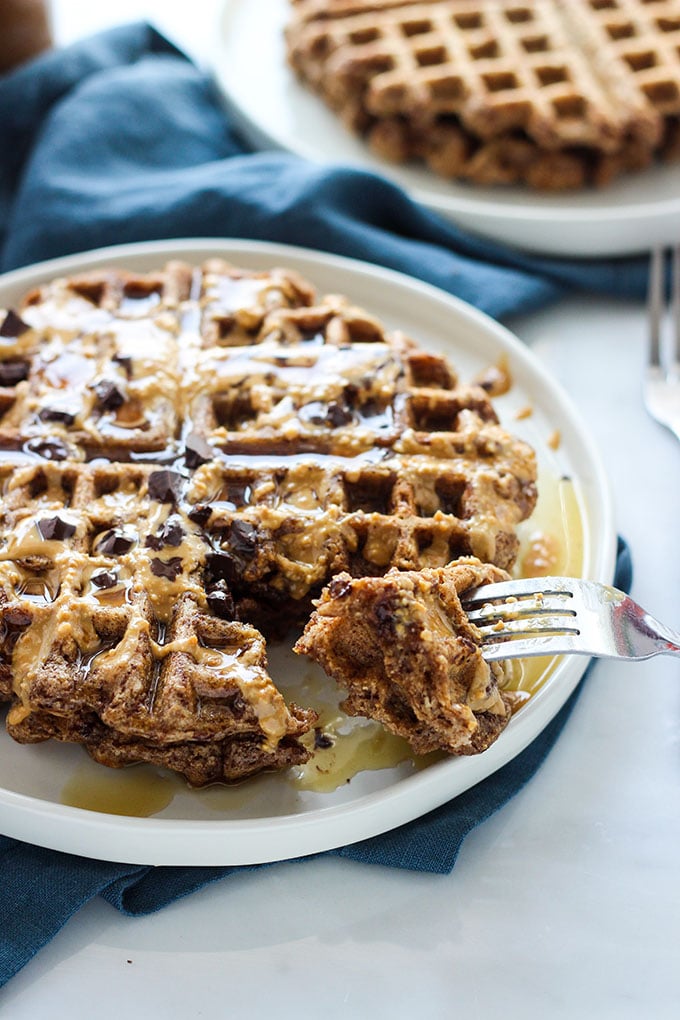 The waffles don't have an overwhelming chocolate flavor, more "like cocoa puffs" as Will described it. I really liked the subtle flavor, and was happy that it didn't immediately make them feel like dessert like milk chocolate chips. To make these waffles even more special, I heated up some peanut butter and coconut oil and drizzled it on top to serve along with some chopped dark chocolate pieces. That melty peanut butter and dark chocolate was a match made in heaven. Trust me, you'll want to make these this weekend!
More Breakfast Recipes You'll Love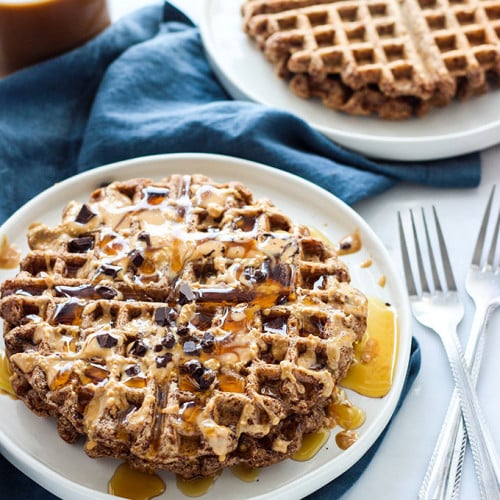 Vegan Chocolate Peanut Butter Waffles
Treat yourself this weekend to these vegan chocolate peanut butter waffles with an extra cup of coffee. It's the perfect way to spend a Saturday morning!
Ingredients
1 1/2 cups whole wheat flour
1/4 cup sugar
1 teaspoon baking powder
1 tablespoon cornstarch
1/8 teaspoon salt
1 1/2 cups non-dairy milk I used almond milk
1/2 cup neutral oil vegetable or coconut oil work well
1 teaspoon vanilla
1 teaspoon espresso powder optional
2 ounces vegan dark chocolate divided
To Serve:
1/3 cup natural peanut butter
1 tablespoon coconut oil
Maple syrup
Instructions
Add the flour, sugar, baking powder, cornstarch, and salt to a mixing bowl. Stir well.

Pour in the milk, oil, vanilla, and espresso powder. Stir just until mixed.

Grate 1 ounce of the dark chocolate into the mixing bowl and stir.

Heat your waffle iron and spray with cooking oil. Add waffle batter 1/2 cup at a time. Batter makes about 5 waffles.

To make the peanut butter topping, heat the peanut butter and coconut oil together in a small saucepan until peanut butter is pourable.

Chop the remaining 1 ounce of dark chocolate.

To serve, drizzle peanut butter onto waffles and top with chopped dark chocolate and maple syrup.
Notes
These waffles freeze well.
Nutrition
Serving: 1waffle | Calories: 584kcal | Carbohydrates: 51g | Protein: 11g | Fat: 40g | Saturated Fat: 8g | Polyunsaturated Fat: 10g | Monounsaturated Fat: 20g | Trans Fat: 1g | Sodium: 255mg | Potassium: 369mg | Fiber: 6g | Sugar: 20g | Vitamin A: 281IU | Vitamin C: 5mg | Calcium: 170mg | Iron: 2mg
Reader Interactions