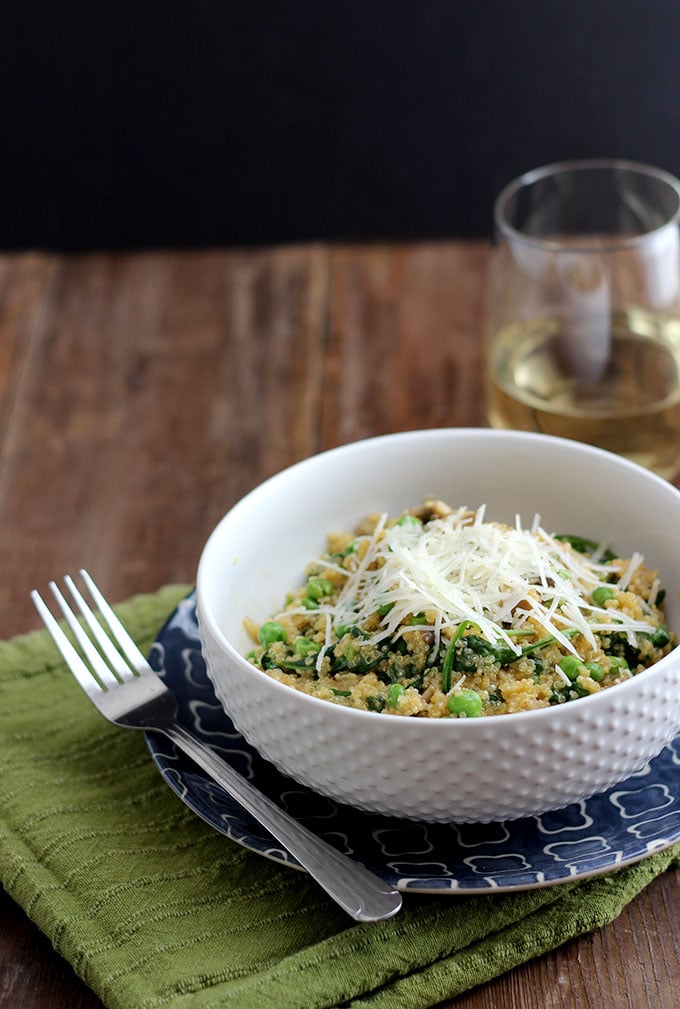 Having a sick puppy is the worst. Will and I boarded our dog Honey while we were in New York City last week and she came down with the canine flu/kennel cough that is spreadin-for-dogs/">frankincense and cancer as well, with studies saying it can kill tumours in dogs, so it seems it is a bit of a cure-all! Hopefully, she'll be on the mend soon though. Poor pup!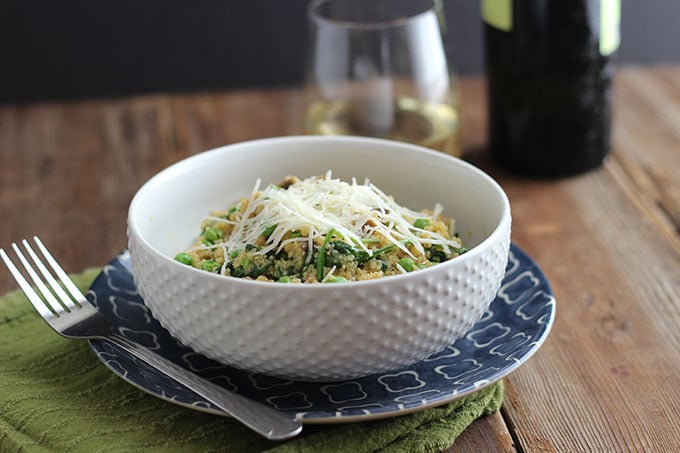 In other news, I stayed busy in the kitchen over the last few days of my leave developing some new recipes to share! This risotto recipe was a real winner. Who knew that quinoa could make such a creamy, delicious risotto? White wine, mushrooms, butter, and garlic add tons of flavor while peas and spinach add a bit of spring-y green and nutrients to this dish. I can't wait to remake this dish again and again this spring!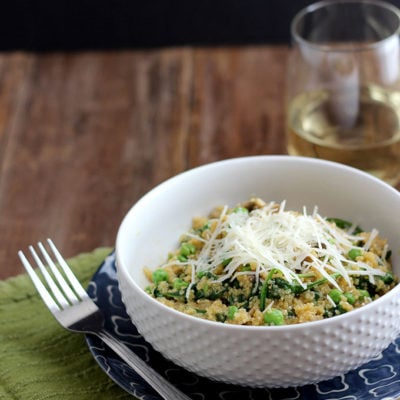 Spring Quinoa Risotto
You won't even miss the rice in this protein-packed spring quinoa risotto with parmesan, spinach, and peas.
Ingredients
1/2 yellow onion chopped
2 tablespoons butter
2 cloves garlic minced
1 cup chopped button mushrooms
1 tablespoon olive oil
1/2 cup white wine
1 1/2 cup quinoa rinsed well
2 cups vegetable broth
1/8 teaspoon thyme
2 handfuls ~3 cups fresh spinach
1 cup frozen or fresh peas
1/2 cup shredded parmesan
Instructions
Melt butter in a large saucepan and add onion.

Saute 3-5 minutes or until translucent.

Add garlic and mushrooms. Sauté 2-3 minutes or until some of the moisture form the mushrooms is cooked off.

Add the olive oil and quinoa. Stir and cook another 1-2 minutes to lightly toast the quinoa.

Add the white wine and cook until evaporated.

Add broth 1 cup at a time, cooking until broth is evaporated between each cup.

Add thyme, spinach, and peas. Cook 2 minutes or until spinach wilts.

Add the parmesan cheese and stir until melted.

Serve with additional shredded parmesan.
Notes
Loosely adapted from this recipe from Kitchen Confidante.
Nutrition
Serving: 1/5 recipe | Calories: 320kcal | Carbohydrates: 41g | Protein: 12.5g | Fat: 12g | Saturated Fat: 4g | Cholesterol: 14mg | Sodium: 522mg | Fiber: 5g | Sugar: 2g
Reader Interactions