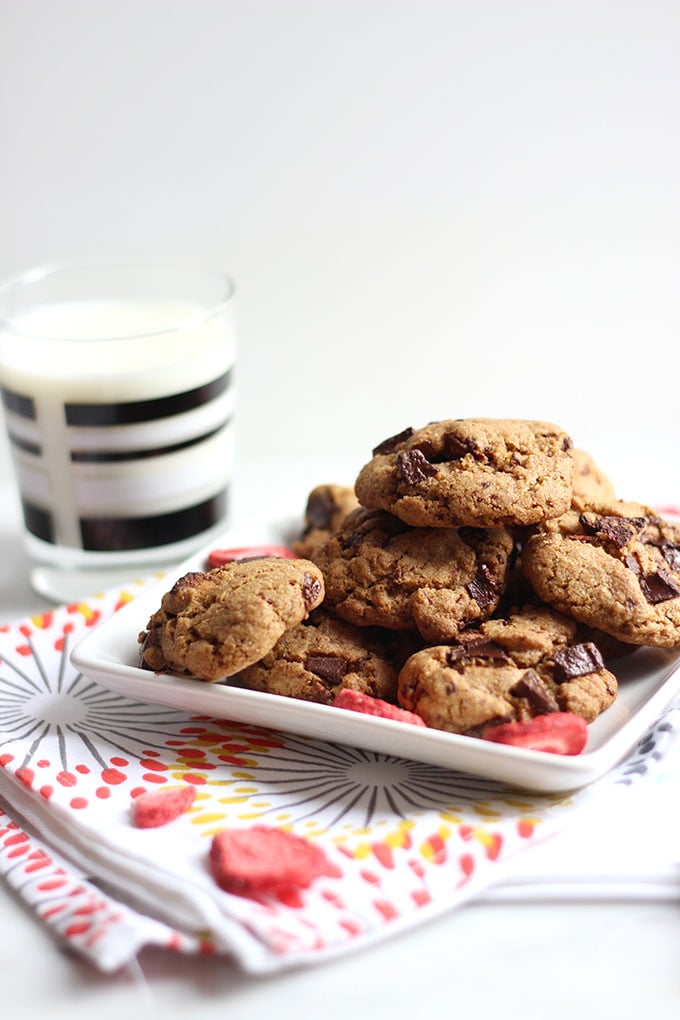 Will and I are gearing up to travel to NYC this weekend for a few days. I can't wait! It's the first time for both of us, so if you all have any suggestions for things to see and/or do, let me know! I know the Museum of Modern Art is at the top of our list and there are a few restaurants I've heard are a must. Other than that, we don't have a lot planned. It will also be our first experience using Airbnb – it should be fun. 🙂
This week has been a bit crazy/hectic and I was totally craving one thing – cookies. Last weekend, I picked up a bag of freeze dried strawberries from Trader Joe's. Have you had those before? The texture is so strange, but they are kind of addicting! Anyways, I had the crazy idea to add them to chocolate chip cookies. I mean, I have tried blueberries in cookies before, strawberries should be tasty too, right?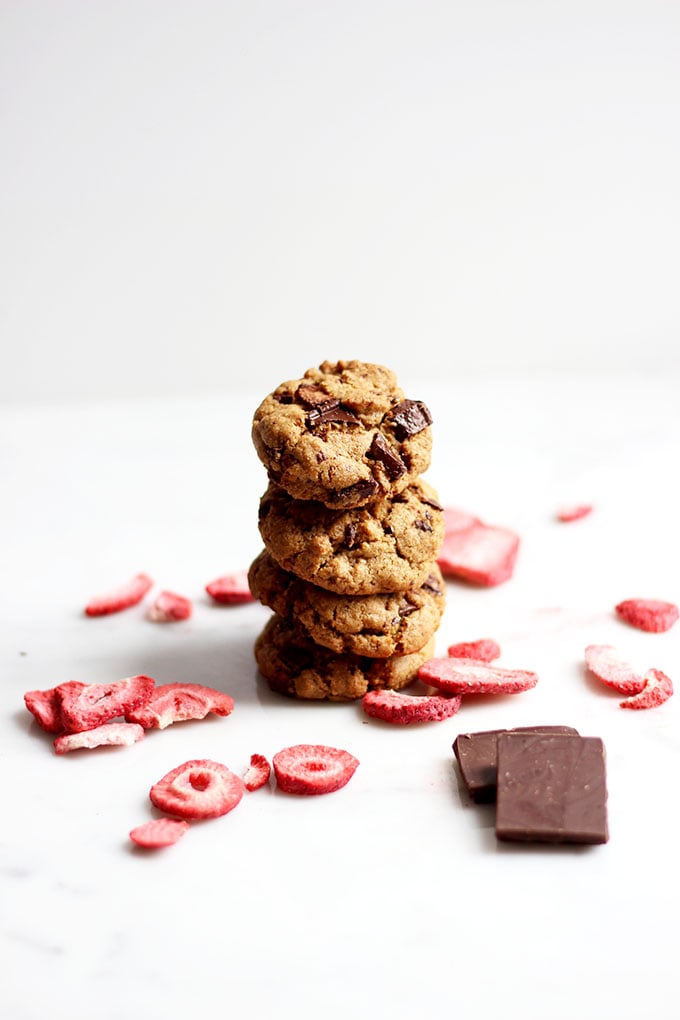 Of course! They were soooo good! I used this whole wheat chocolate chip cookie recipe from Food52 and slightly adapted it. The strawberry taste is kind of subtle in the finished cookie, but so delicious when paired with the dark chocolate.
More Cookie Recipes You'll Love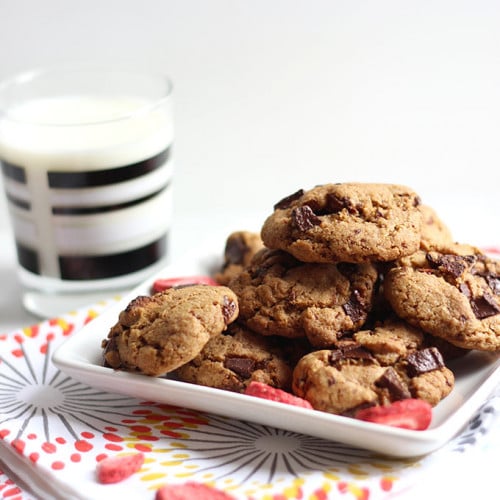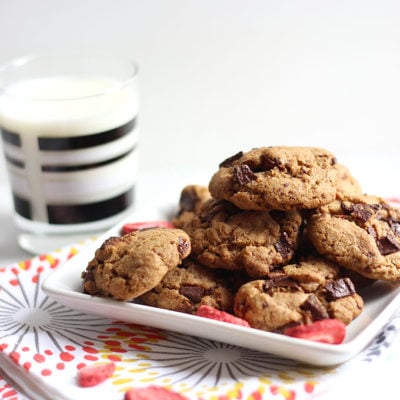 Whole Wheat Strawberry Dark Chocolate Cookies
Freeze dried berries are the perfect addition to classic chocolate chips cookies – you'll be sure to fall in love with these whole wheat strawberry dark chocolate cookies!
Ingredients
1 1/2 cups whole-wheat flour
3/4 teaspoon baking powder
1/2 teaspoon baking soda
1/2 teaspoons sea salt
1 stick salted butter
1/2 cup dark brown sugar
1/2 cup granulated white sugar
1 egg
1 teaspoon vanilla extract
4 ounces dark chocolate chopped in 1/4 inch pieces
1/2 cup chopped freeze dried strawberries
Instructions
Preheat the oven to 350 degrees Fahrenheit.

In a large mixing bowl, mix the butter and sugars together until smooth. Add the egg and vanilla and mix well.

In a small bowl, combine the flour, baking powder and soda, and salt.

Gradually add the flour mixture to the butter mixture and mix until smooth.

Stir in the chocolate and strawberries.

Scoop dough on to a cookie sheet by the tablespoon-full.

Bake for 12-14 minutes or until lightly browned.
Nutrition
Serving: 1cookie | Calories: 143kcal | Carbohydrates: 21g | Protein: 2g | Fat: 6g | Saturated Fat: 4g | Polyunsaturated Fat: 1g | Monounsaturated Fat: 2g | Trans Fat: 1g | Cholesterol: 17mg | Sodium: 120mg | Potassium: 137mg | Fiber: 2g | Sugar: 13g | Vitamin A: 130IU | Vitamin C: 60mg | Calcium: 20mg | Iron: 2mg
Reader Interactions