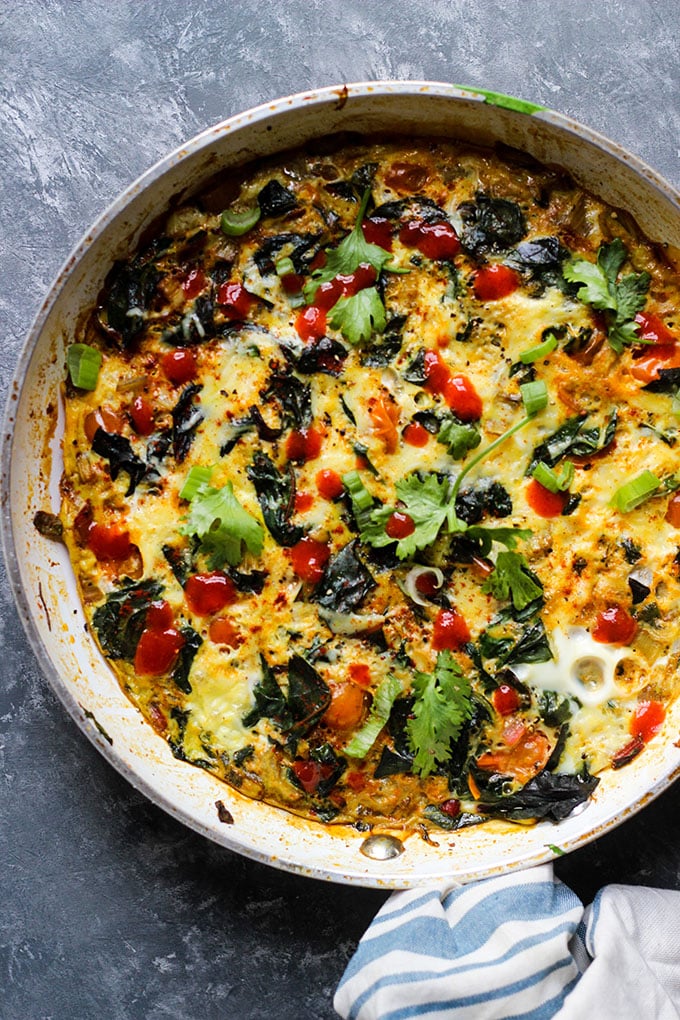 Eggs are such a versatile ingredient, we always try to keep them on hand for whipping up easy dinners like this frittata. I am also a big fan of the "put an egg on it" theory for a quick and easy way to add some protein to almost any dish. Eggs are actually a good source of several nutrients like choline, selenium, phosphorus, and vitamin B12 in addition to 6 grams of protein per egg. Even more reason to keep a dozen in the fridge!
This swiss chard frittata is a simple meal that has already made it into our weeknight dinner rotation. Part of the reason it has become a weekly addition is that I can't help but buy a bunch of swiss chard at the market each week. It is just so pretty!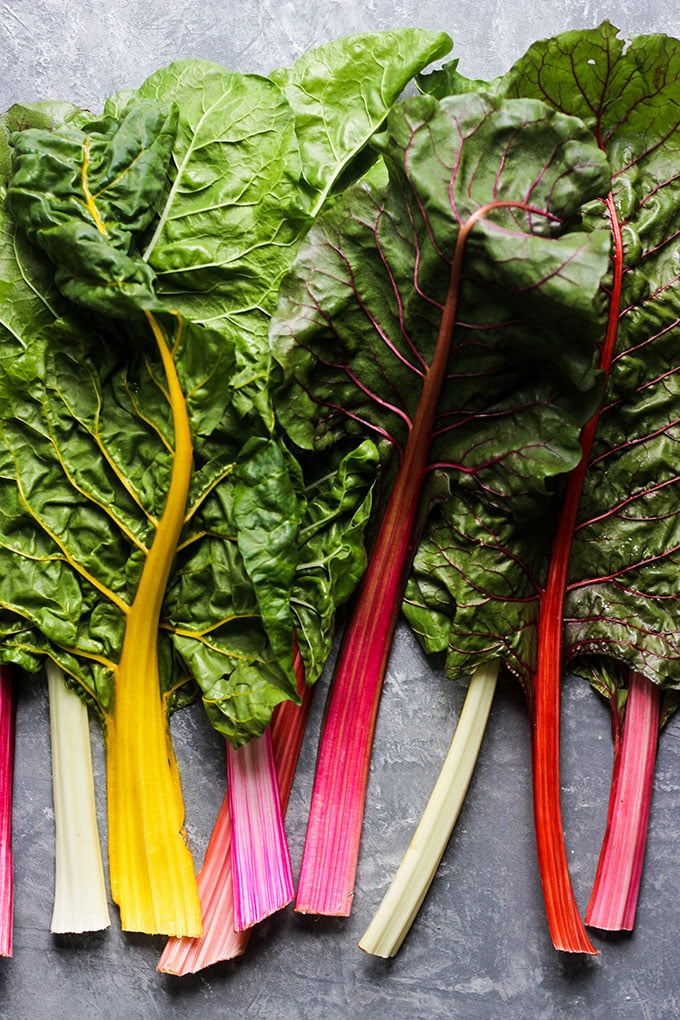 If you have an oven-safe skillet, you can make this meal all in one dish! (I'm all about fewer dishes.) To make the most of the chard, I usually cut the stems from the leaves, chop them up, and then cook them for a few minutes first before I add the leaves to the skillet. That way you don't end up with undercooked stems or mushy leaves.
To season it all up, I love the combination of chard and curry powder. Serve this frittata with a simple side salad for a wholesome meal you can easily whip up on a weeknight.
More Delicious Recipes You'll Love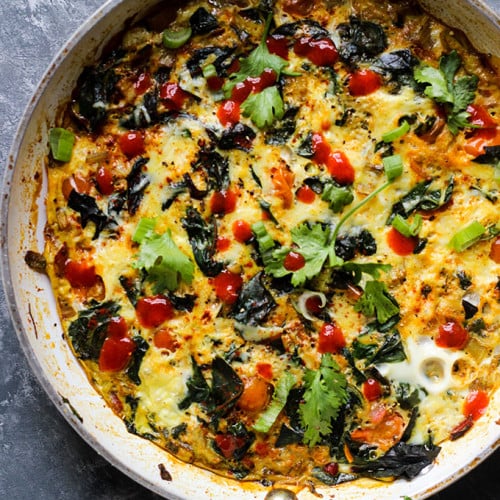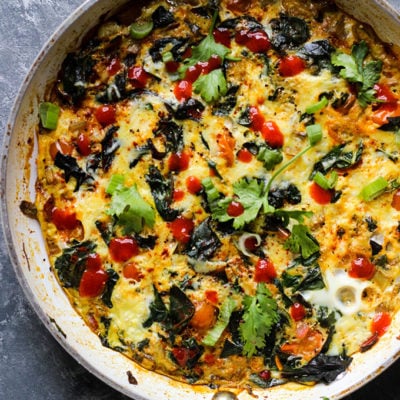 Swiss Chard Frittata
Keep this quick and easy swiss chard frittata recipe in your back pocket for weeknight meals when you only have a few ingredients on hand.
Ingredients
1 tablespoon olive oil
1 bunch swiss chard leaves
1 1/2 cups cherry tomatoes 1 large handful
1/4 cup sliced green onion
1 teaspoon curry powder
1/2 teaspoons smoked paprika
1/4 teaspoon ground black pepper
1/4 teaspoon sea salt
5 eggs
1/3 cup crumbled goat cheese
To serve: sriracha chopped fresh cilantro, sliced green onion
Instructions
Preheat the oven to 350 degrees Fahrenheit.

Rinse the swiss chard well under cold running water. Cut the stems from the leaves and chop into small pieces and set aside. Chop leaves into large, bite sized pieces.

In a 10 inch nonstick oven-safe skillet, heat the olive oil for 1 minute over medium-high heat.

Add the swiss chard stems. Cook for 2-3 minutes or until they start to get tender.

Add the swiss chard leaves, tomatoes, and green onion. Cover with lid and cook for 3-5 minutes until the chard is wilted and tomatoes are softening, stirring occasionally to coat in olive oil.

Stir in the curry powder, paprika, pepper, and salt. Spread chard evenly onto the bottom of the pan with a wooden spoon.

In a small bowl, whip the eggs with a fork. Pour evenly over the swiss chard in the skillet. Sprinkle with the goat cheese. Cook for 3-5 minutes on the stove or until the eggs start to set on the edges.

Transfer to the oven and bake another 20-25 minutes or until middle of the frittata is firm.

To serve, top with cilantro and sriracha, if desired.
Nutrition
Serving: 1/3 recipe | Calories: 230kcal | Carbohydrates: 5g | Protein: 15g | Fat: 17g | Saturated Fat: 6g | Polyunsaturated Fat: 11g | Cholesterol: 315mg | Sodium: 430mg | Fiber: 2g | Sugar: 2.5g
Reader Interactions