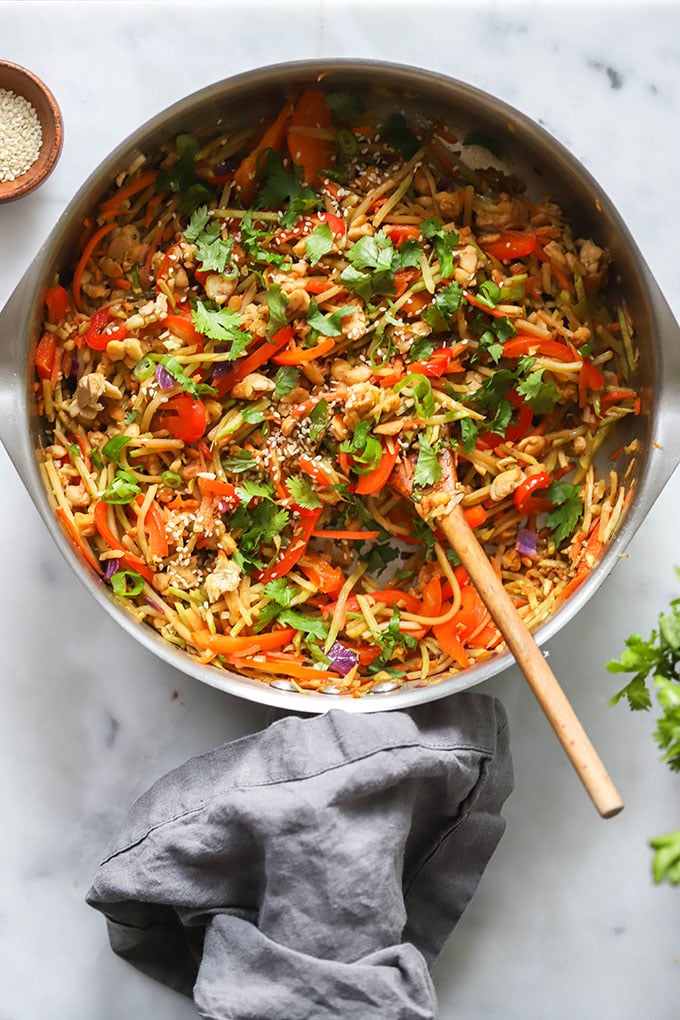 I've been loving this super simple vegan egg roll in a bowl! Seriously, when I need a dinner option when I am short on time, this is the recipe that I find myself making again and again. You don't even have to spend much time chopping as the bulk of the veggies in this dish come from a packaged coleslaw mix. (Win, win!)
Tips for this Vegan Egg Roll in a Bowl
Slaw Mix: I've made this with both a broccoli slaw and a cabbage based slaw and I love them both! Cabbage slaw is probably a bit easier to find at most stores.
Tempeh: Tempeh is one of our favorite plant-based protein options because it cooks up so quickly and the mild flavor means it adapts well to all kinds of dishes. If you don't like tempeh or can't find it, you could use a plant-based ground beef product instead.
Seasonings: I like using fresh ginger for recipes like this because the flavor is so much stronger than in a dried form. To make your fresh ginger longer, try keeping it in the freezer. When you are ready to use it, just grate what you need with a microplane – so easy! The rest of the rich flavor in these bowls come from the garlic, soy sauce, broth, and sesame oil.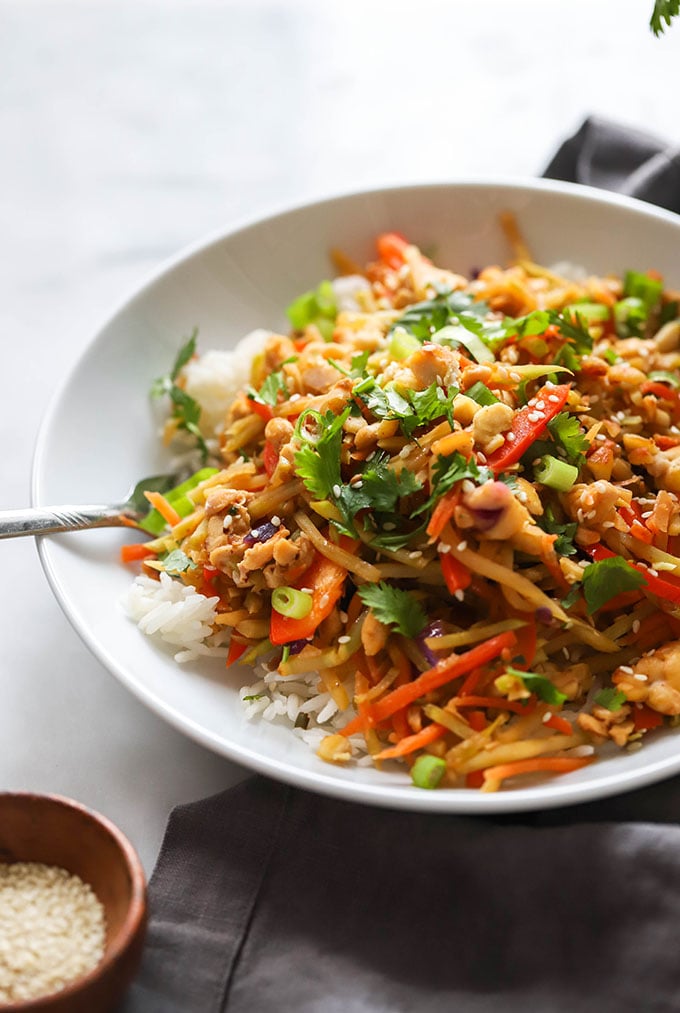 How to Serve Vegan Egg Roll in a Bowl
I love serving up this vegan egg roll in a bowl with quick batch of rice and then sprinkling some chopped fresh cilantro and sesame seeds. I hate mayonnaise, but I've seen other versions of egg roll bowls with a sriracha mayo drizzled over the top. We've also added chopped peanuts for a bit of crunch if you are looking for something else to add.
You can also divvy it up into containers to pack for your lunch during the week like I did in the image below. The leftovers heat up well the next day.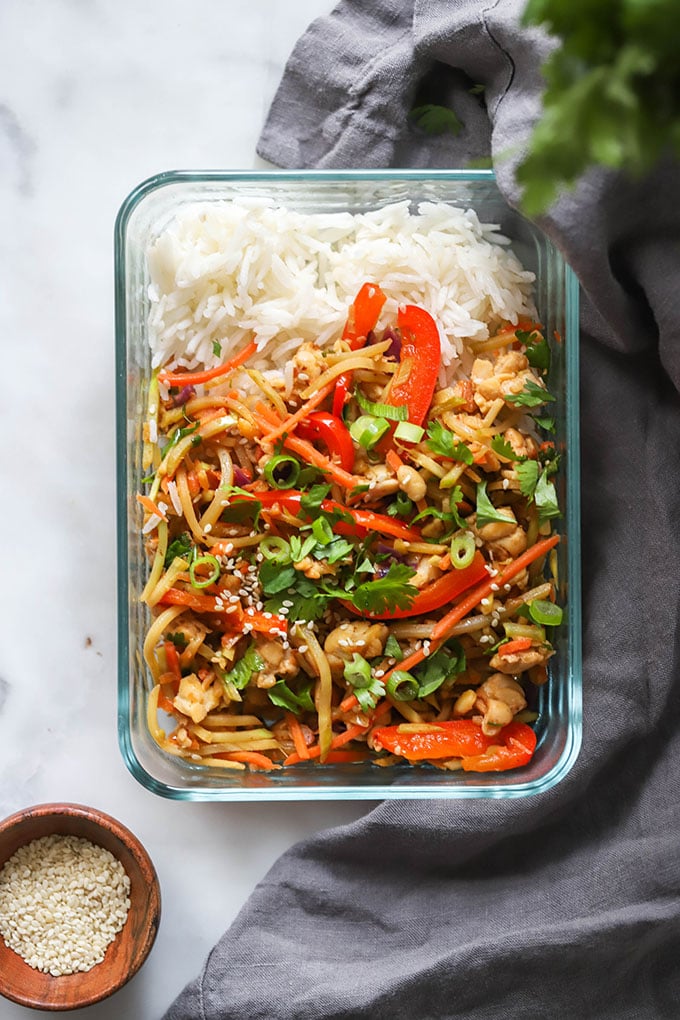 More Easy Vegan Dinner Recipes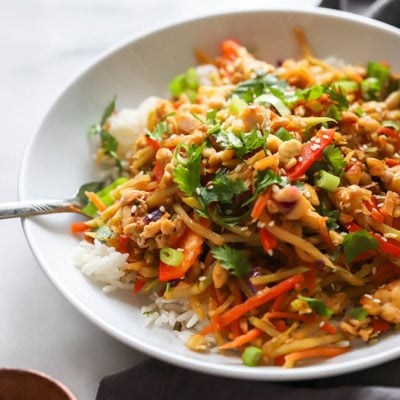 Vegan Egg Roll in a Bowl
There's nothing better than a simple one skillet meal for busy weeknights like this vegan egg roll in a bowl with cabbage, ginger, garlic, and tempeh. Serve over rice. 
Ingredients
8 oz tempeh crumbled
2 tablespoons oil divided
1 red bell pepper thinly sliced
12 oz. package broccoli or cabbage slaw
2 green onions thinly sliced
2 cloves garlic minced
1/2 inch ginger root peeled and chopped (OR 1 teaspoon ground ginger)
1/4 cup vegetable broth
3 tablespoons soy sauce
1/2 tablespoon brown sugar
1 tablespoon rice vinegar
1 tablespoon sriracha
1 tablespoon sesame oil
Instructions
Add tempeh and 2 tablespoons oil to a large, deep skillet. Cook over medium-high heat until tempeh is golden brown. Remove from pan and set aside.

Add the other 1 tablespoon of oil to the pan and add the bell pepper and green onion. Sauté for 2-3 minutes. Add slaw and sauté for 5 minutes.

Meanwhile, add garlic, ginger, broth, soy sauce, brown sugar, rice vinegar, and sriracha to a small bowl and whisk to combine. Add to pan with the slaw and sauté 3-5 minutes or until liquid has mostly evaporated. 

Stir in sesame oil and tempeh. Cook another minute and then turn off heat. 

Serve over rice and garnish with fresh cilantro, green onion, and sesame seeds if desired. 
Nutrition
Serving: 1/3 recipe | Calories: 378kcal | Carbohydrates: 20g | Protein: 19g | Fat: 27g | Saturated Fat: 4.5g | Polyunsaturated Fat: 22.5g | Sodium: 700mg | Fiber: 3g | Sugar: 4g
Reader Interactions