Make this blueberry acai chia pudding on Sunday night for a delicious and healthy breakfast for the week ahead.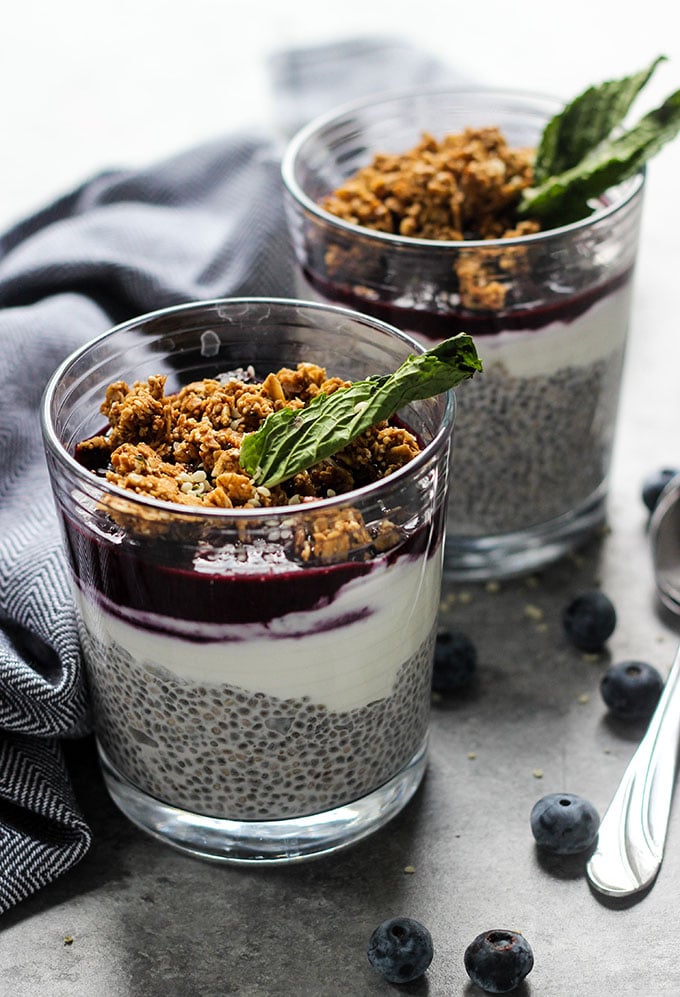 In an effort to add some more variety to my usual vanilla chia breakfast pudding, I whipped these blueberry acai berry pudding parfaits. They are super simple to create and the perfect grab-and-go breakfast for busy mornings. Plus, these parfaits are packed with good for you nutrients!
What Makes This Recipe Good for You
Chia seeds are a great source of plant-based omega 3 fatty acid (alpha-linolenic acid). Although current research notes that the long-chain forms of omega-3 fatty acid (EPA and DHA) have a positive effect on heart disease, the ALA form may also have some benefits. The body is able to convert ALA to the other forms, but more research is needed to know if the amount converted from one from to another is sufficient to provide positive benefits for heart disease. Chia seeds are also a good source of protein (2 tablespoons has 4 grams) and fiber, mainly soluble fiber. Soluble fiber is really good at absorbing water so that it forms a thick gel in the intestines to help soften stool, but also bind up cholesterol so that less is absorbed.
The purple hue of the blueberries and acai in this chia parfait means that they are high in the phytonutrient, anthocyanin. Some potential benefits of anthocyanins include: healthy brain function, urinary tract health, and reduced cancer risk. Since blueberries are available at the farmers market now I have been incorporating them into more recipes since they are just so delicious!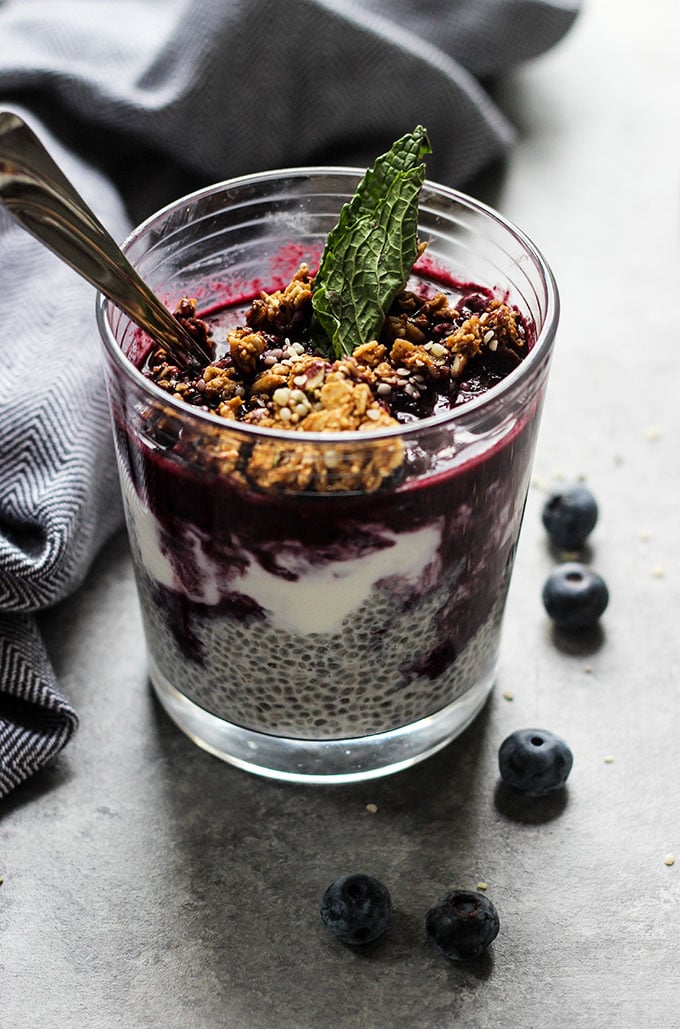 All you need is about 15 minutes on a Sunday night to make the blueberry compote and stir together the chia pudding. Store everything in the fridge and then assemble your parfait in the morning. If you don't have time to eat at home before work, spoon your parfait into a mason jar so you can just screw the lid on and slip it in your bag to enjoy when you get to work. (At least, that's what I do!)
More Delicious Breakfast Recipes
Did you love this recipe? Make sure to leave a ⭐️ rating and tag #dietitiandebbie on instagram!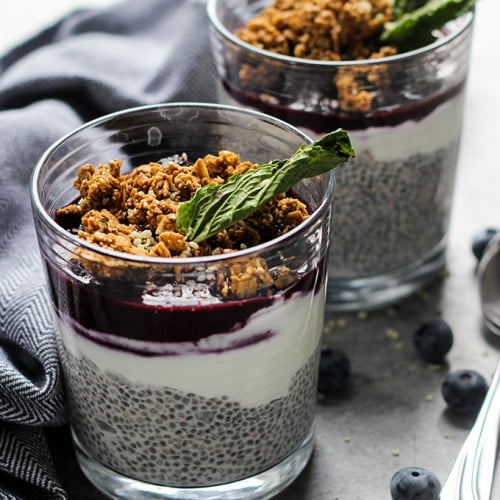 Blueberry Acai Chia Pudding
Make this blueberry acai chia pudding on Sunday night for a delicious and healthy breakfast for the week ahead.
Ingredients
For the Blueberry Acai Compote:
2 cups fresh or frozen blueberries
1 3.5 oz packed frozen unsweetened acai
2 tablespoons maple syrup
To Serve:
Greek yogurt
Granola
Hemp hearts
Chopped nuts
Almond butter
Instructions
In a small saucepan, add the blueberries, acai, and maple. Cook over medium heat, stirring occasionally as the blueberries start to soften and break apart. Use the back of a wooden spoon to break them up as well.

Bring to a simmer and allow to simmer for 10 minutes. Turn off the heat and transfer to a bowl or jar to cool. Store in the refrigerator for future use.

To make the chia pudding, combine all the pudding ingredients into a small bowl and stir well. Store in the refrigerator overnight to allow pudding to set.

To serve, layer chia pudding, greek yogurt, beery compote, and other desired toppings.
Nutrition
Serving: 1/4 recipe | Calories: 230kcal | Carbohydrates: 31g | Protein: 6g | Fat: 10g | Saturated Fat: 1g | Polyunsaturated Fat: 9g | Sodium: 145mg | Fiber: 10.5g | Sugar: 14.5g
Reader Interactions