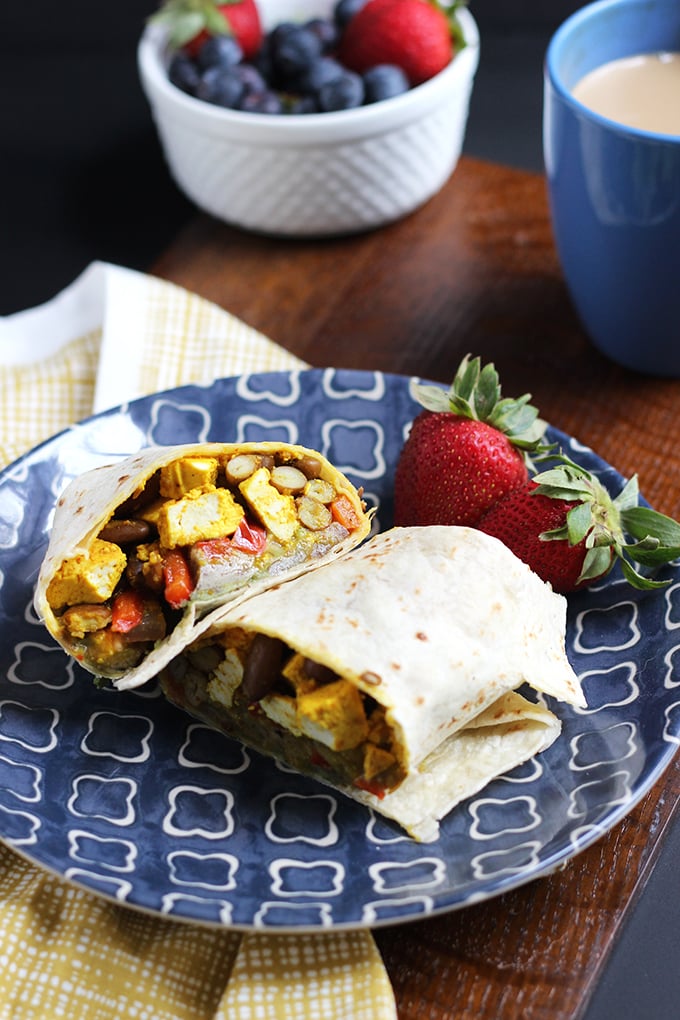 They are adding small porches to the back of our apartment building and I couldn't be more excited! I just imagine myself enjoying a cup of coffee out there on lazy weekend mornings, possibly with one of these vegan breakfast burritos in the other hand. After listening to this podcast about urban gardening, I hope to grow a few herbs and tomatoes out there this summer. Maybe we could even get a small grill. (I've been wanting one for years.) I can't wait!
Since I don't want to wait too long to enjoy the summer weather, these vegan burritos are as simple as possible. They only require one pan and are easily customized to your preferences or what you have on hand in the fridge. I like to think of these as the simple base recipe that you adapt to your heart's content. The main ingredient in these is a scrambled tofu. Have you made that yet? Since I developed an intolerance to eggs a couple of years ago, I was so happy to hear there was a way to turn a block of tofu into an acceptable alternative. After pressing it, you just chop into small pieces and stir fry with a bit of oil, turmeric, and spices. So easy! Stir in a few beans, scoop onto a tortilla and top with some stir fried veggies, avocado, salsa. –> Breakfast is served. (With a cup of coffee, of course!)
Vegan Breakfast Burrito
This hand-held vegan breakfast burrito will fill you up with sustaining protein and fiber. Dress it up with lots of salsa, avocado, and/or hot sauce.
Ingredients
2 red bell pepper sliced
1 onion sliced
1 tablespoon oil
1 8 ounce block extra firm tofu
1 teaspoon turmeric
1/2 teaspoon cumin
1/4 cup vegetable broth
1/2 cup kidney beans
Salt and ground black pepper
5 to rtillas
1 avocado sliced
1/4 cup salsa
Instructions
Press the tofu wrapped in paper towels underneath a heavy object for about 5-10 min. Roughly chop into ~1/3 inch pieces and set aside.

Add the pepper, onion, and oil to a large skillet. Toss to coat vegetables in oil and cook over medium-high heat until softened and the edges of the peppers blacken, ~15 min.

Remove from the skillet and set aside.

Add the tofu to the same skillet along with the turmeric, cumin, and broth. Cook, stirring occasionally, until all the broth is absorbed, ~7 min. Add the beans and cook another 2-4 minutes.

To assemble the burritos, add 1/5 of the tofu mixture to a tortilla shell and top with pepper/onion mixture, avocado, and salsa.
Nutrition
Serving: 1Burrito | Calories: 345kcal | Carbohydrates: 34g | Protein: 14.5g | Fat: 17.5g | Saturated Fat: 2.5g | Sodium: 485mg | Fiber: 5.5g | Sugar: 5g
Reader Interactions