Hit the reset button and nourish your gut with this miso soba noodle soup flavored with ginger and filled with bok choy, carrots, and mushrooms.
Happy New Year! I hope you were able to take some time off over the holidays to spend time with friends and family. Did you make any resolutions for the new year? If eating healthier is on your mind, you've come to the right place. 😉 This miso soba noodle soup is a great way to ease back into a healthy routine after the holidays or if you wanted to experiment with a new cuisine.
What is Miso?
You may be wondering, what is miso? It's a flavorful paste made from fermented soybeans which is commonly used in Japanese cuisine. I only recently tried it out. You can find it refrigerated in a plastic tub at the store. Miso has a salty and savory flavor which works well in soups like this one. It is especially great for vegetarian/vegan cooking since you can get a richer almost meat-like flavor in dishes, without the meat!
The other great benefit of miso is that it is a good source of beneficial bacteria to promote gut health. Recent nutrition research has become more centered on the interaction between the types of bacteria in the gut and chronic disease. Adding fermented foods (like miso!) and fiber-rich foods into your diet more often is a great way to start cultivating healthy gut bacteria.
This soup comes together quickly in just one pot so it can easily become a weeknight staple. I added carrots, bok choy, and enoki mushrooms (aren't they cute!) to mine. However, you can easily substitute other vegetables you have on hand instead like spinach, kale, peppers, and shiitake or button mushrooms.
More Delicious Soup Recipes You'll Love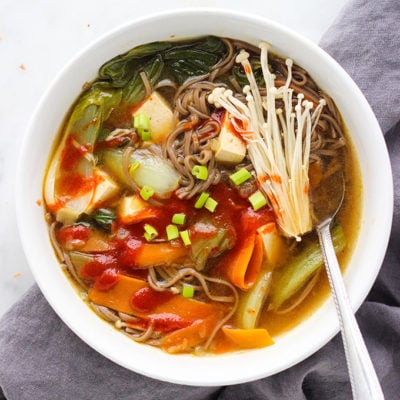 Miso Soba Noodle Soup
Hit the reset button and nourish your gut with this miso soba noodle soup flavored with ginger and filled with bok choy, carrots, and mushrooms.
Ingredients
1 tablespoon canola oil
1 teaspoon sesame oil
1/2 onion chopped
3 cloves garlic minced
4 cups low sodium vegetable broth
4 cups water
1 tablespoon white miso paste
2 carrots sliced into ribbons
2 heads of baby bok choy leaves separated, rinsed, and halved longways
3.5 ounces enoki mushrooms separated
1 inch ginger root peeled and grated
3 tablespoons reduced sodium soy sauce
1 tablespoon sriracha
1/2 teaspoon rice wine vinegar
3 ounces dried soba noodles
14 oz. package firm tofu drained and chopped into 1/2" cubes
To Serve: sriracha sauce, chopped scallions
Instructions
In a large stock pot, add the olive and sesame oils and turn on the heat to medium-high. Add the onion and saute until translucent, about 3-5 minutes. Stir in the garlic and cook another 30 seconds.

Pour in the water, broth, and miso. Stir until miso has dissolved into broth mixture.

Stir in the carrot, bok choy, and mushrooms. Bring to a simmer for 2-3 minutes.

Add the ginger, soy sauce, sriracha, rice wine vinegar, soba noodles, and tofu. Bring back to a simmer and cook for up to 5-7 minutes or until the soba noodles are softened.

To serve, divide into bowls and top with additional sriracha and/or scallions.
Nutrition
Serving: 1/5 recipe | Calories: 230kcal | Carbohydrates: 28g | Protein: 13g | Fat: 8g | Saturated Fat: 1g | Polyunsaturated Fat: 7g | Sodium: 800mg | Fiber: 3.5g | Sugar: 6.4g
Reader Interactions