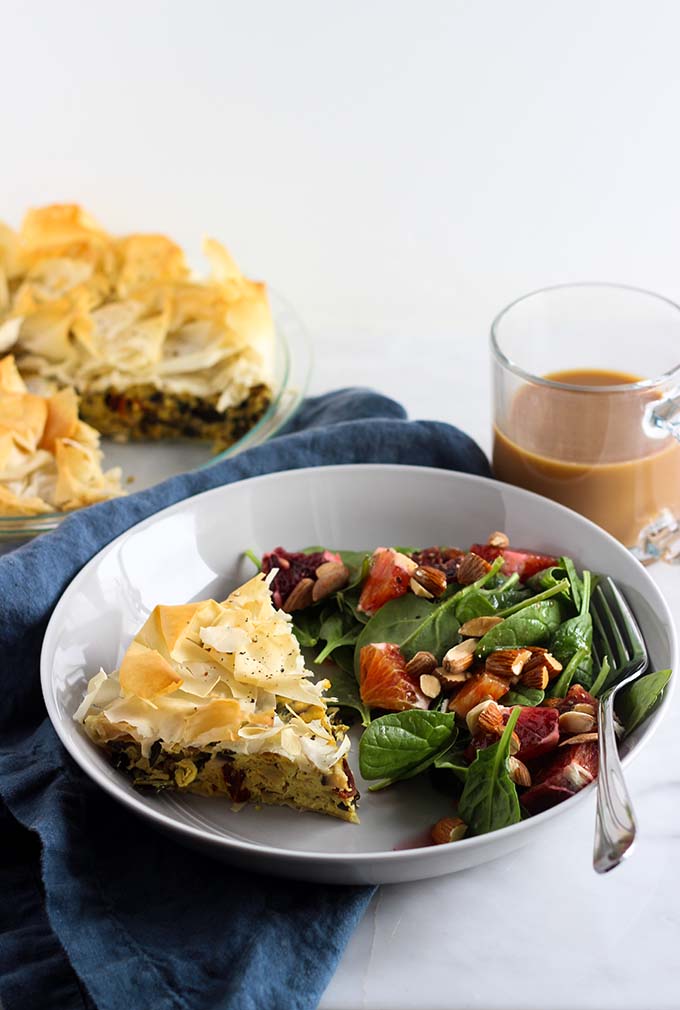 Happy Pi Day! I'm just popping in to share this yummy vegan quiche with kale, tomato, and artichoke. Although not exactly a pie, it is baked in a pie pan so I figured it could be a healthier stand in for real pie. 😉 Plus, it is perfect for the spring season when gathering together with friends or family for brunch. The extra firm tofu used in the filling for this quiche gets pureed in a food processor until smooth. When baked, it is surprisingly similar to the texture of an egg based quiche but vegan friendly!
Although it may look fancy, I promise this quiche is actually simple to make! If you buy frozen phyllo dough like I did, you'll want to let it thaw in the fridge for a day before you make this recipe. Otherwise, the filing and veggies can be whipped up in about 15 minutes. Serve this with a side salad or fresh fruit for a healthy and filling breakfast.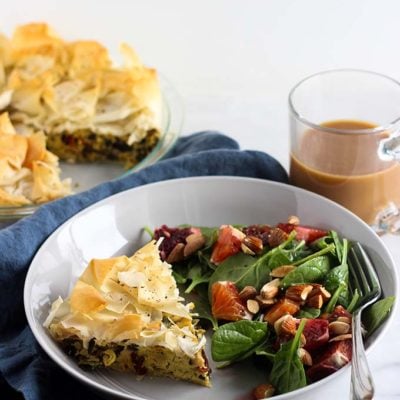 Vegan Quiche with Kale, Tomato, and Artichoke
Impress your friends by bringing this vegan quiche with kale, tomato, and artichoke to your next brunch. It not only looks pretty, but tastes delicious too!
Ingredients
14 oz. package extra firm tofu drained
1/4 cup nutritional yeast
1 teaspoon soy sauce
1/4 teaspoon turmeric
1 1/2 tablespoon olive oil
1/2 cup chopped onion
1 1/2 cup chopped cremini mushrooms
1 cup chopped quartered canned or jarred artichokes drained
1/3 cup sun dried tomatoes packed in oil drained
4-5 lacinato kale leaves stem removed, chopped
2 cloves garlic minced
1/2 lemon juiced
1/8 teaspoon sea salt
1/4 teaspoon ground black pepper
5-6 sheets phyllo dough
Additional olive oil for brushing on phyllo dough
Instructions
Preheat the oven to 350 degrees Fahrenheit.

Add chopped sun dried tomatoes to a bowl with hot water. Let soak for ~10 minutes while prepping the other ingredients.

In a food processor, add the tofu, nutritional yeast, soy sauce, and turmeric. Puree until smooth. (It should be the consistency of hummus.)

In a skillet, add the olive oil, onion, and mushrooms. Saute for 3-4 minutes or until onion is tender and translucent. Add the artichokes, soaked tomatoes, kale, garlic, and lemon juice. Saute for another 2-3 minutes.

In a large mixing bowl, stir together the pureed tofu mixture and sauteed vegetables. Stir in the sea salt and ground black pepper.

Spray a 9" pie pan with cooking spray. Layer phyllo sheets into pan one at a time, brushing each sheet with olive oil. Transfer filling to pan and fold extra phyllo over the top; the messier it looks, the better! Sprinkle with black pepper if desired. Bake for 40-45 minutes or until filling is firm and phyllo dough is golden brown. Allow to cool 10-15 minutes before serving.
Notes
If using frozen phyllo dough, make sure to allow the phyllo dough to thaw at least overnight in the refrigerator.
Nutrition
Serving: 1/6 recipe | Calories: 190kcal | Carbohydrates: 21g | Protein: 11g | Fat: 8g | Saturated Fat: 1.5g | Polyunsaturated Fat: 6.5g | Sodium: 167mg | Fiber: 4g | Sugar: 4.5g
Reader Interactions