This post is brought to you by Driscoll's who provided me with fresh berries for this vegan mini blueberry cheesecake recipe! The recipe and opinions shared in the post are all my own. May 26th is National Blueberry Cheesecake Day – let's celebrate!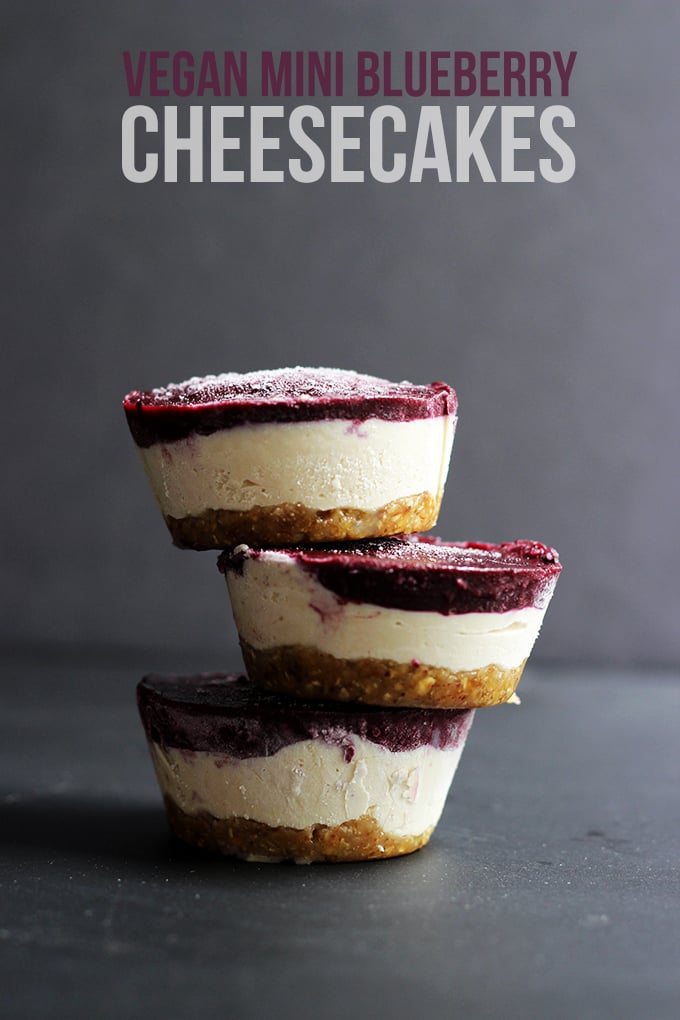 Heading back to work the day after a long weekend is always tough. Luckily, these vegan mini blueberry cheesecakes are the perfect thing to put a little sunshine back into your day! It has taken me entirely too long to get on the cashew cream train. The real reason is that I had one bad experience trying to make mini cashew cream based cheesecakes with tequila and lime in the past that failed miserably. Since then I hadn't worked up the courage to try another cashew cream recipe. Then I read about these strawberry kiwi cashew cream parfaits on Dianna's blog and knew it was time to try again! Fingers crossed it worked out deliciously this time. Cue the National Blueberry Cheesecake Day celebration! Thanks to Driscoll's, I had plenty of fresh blueberries on hand.
Cashews are high in heart healthy monounsaturated fat as well as a good source of copper and magnesium. Copper enzymes play a role in many crucial pathways in the body including: energy production, iron metabolism, neurotransmission, and the maturation of connective tissue. Meanwhile, magnesium plays a role in bone health as well as muscle contraction. Even when you are indulging in dessert, you may as well make it from ingredients with healthy benefits, right?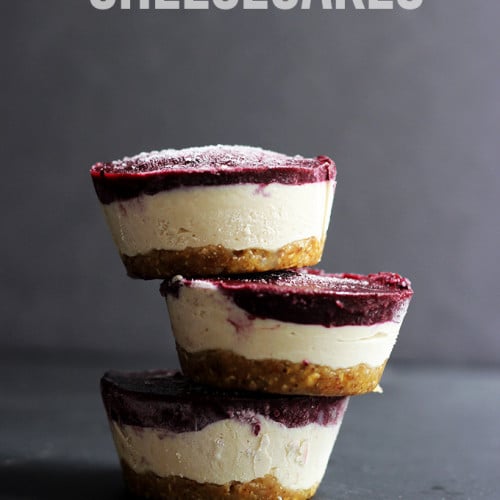 Vegan Mini Blueberry Cheesecakes
Celebrate National Blueberry Cheesecake Day with these adorable vegan mini blueberry cheesecakes made with natural ingredients.
Ingredients
For the Filling:
1 cup cashews soaked ~3-5 hours
1/4 cup + 2 tablespoons unsweetened non-dairy milk
2 tablespoons coconut oil
1 teaspoon vanilla
1 tablespoon maple syrup
~1/2 teaspoon lemon zest
For the Crust:
1/4 cup oats
1/2 cup walnuts
1/2 cup dates ~4-5 dates, soaked ~10 min in warm water
2 tablespoons coconut oil
Dash of salt
For the Blueberry Topping:
2 cups fresh Driscoll's blueberries
2 tablespoons maple syrup
Juice from 1/2 lemon ~1 1/2 tablespoons
Instructions
Place cashews in a bowl and cover with warm water. Set aside to soak for ~3-5 hours. Drain and rinse when ready to use.

To make the filling, puree all the ingredients listed in a blender or food processor until smooth. You may need to add a few more tablespoons of milk depending on your blender. The finished filling should be similar to the consistency of hummus. Transfer to a bowl and set in the fridge until finished with the crust.

To make the crust, puree the oats in a food processor to make a course flour. Add the walnuts, dates, and coconut oil. Pulse until it forms a stiff dough. Set aside.

Spray each cup of a muffin tin with oil. Use your fingers to rub oil up onto the sides of each muffin cup to make sure they are well greased.

Press ~1 tablespoon of the crust mixture into the bottom of 6 of the muffin cups.

Spoon in the cashew mixture on top of the crusts, filling each cup about 3/4 of the way full.

Cover the muffin tin with plastic wrap and transfer to the freezer.

To make the blueberry topping, add the blueberries, syrup, and lemon juice to a small saucepan and begin to heat. Stir occasionally until blueberries start to swell and break apart. Continue stirring, breaking apart the berries by pressing them against the sides of the pan with the back of a woolen spoon. Continue to cook until mixture starts to simmer and thicken.

Remove from heat and transfer to blender to puree until smooth. Allow to cool completely.

Pour cooled blueberry topping onto each cheesecake and place back in the freezer. Chill about 4 hours until firm.

To serve, allow to thaw about 5-7 minutes on the counter. Top with whipped coconut cream if desired.

Keep cheesecakes stored in an airtight container in the freezer for up to 1-2 weeks.
Notes
You may have some extra crust dough leftover. Simply wrap in plastic and place in the freezer for future use. You'll likely be making these cheesecakes again soon! I made 6 cheesecakes, however you can definitely stretch the filling to make at least 10 by filling the muffin cups only about 1/2 full. Recipe adapted/inspired by Minimalist Baker --> http://minimalistbaker.com/7-ingredient-vegan-cheesecakes/
Nutrition
Serving: 1Cheesecake | Calories: 460kcal | Carbohydrates: 39g | Protein: 10g | Fat: 31.5g | Saturated Fat: 11g | Sodium: 46mg | Fiber: 4g | Sugar: 20.5g
Reader Interactions