Make your non-veg friends at the BBQ jealous when you bring out this vegan BBQ veggie burger! A sweet potato and quinoa veggie burger is topped with homemade BBQ sauce and caramelized onions for a drool-worthy vegan burger.
I've got this vegan BBQ veggie burger recipe for you just in time for Memorial Day weekend! Although we aren't heading to any barbecues, I am hoping the weather is nice enough for a long bike ride along the lakeshore trail. Memorial Day weekend feels like the official start of summer and summers here in Chicago are so great. I can't wait for all of the street festivals and patio/rooftop dining! 
Let's talk a bit more about this burger, tho. Until recently, I didn't realize how simple it is to make your own at home. The one I used for these burgers is a slight adaptation of this one from Gimme Some Oven. BBQ sauce is a recipe that I am excited to keep experimenting with and tweaking based on my mood.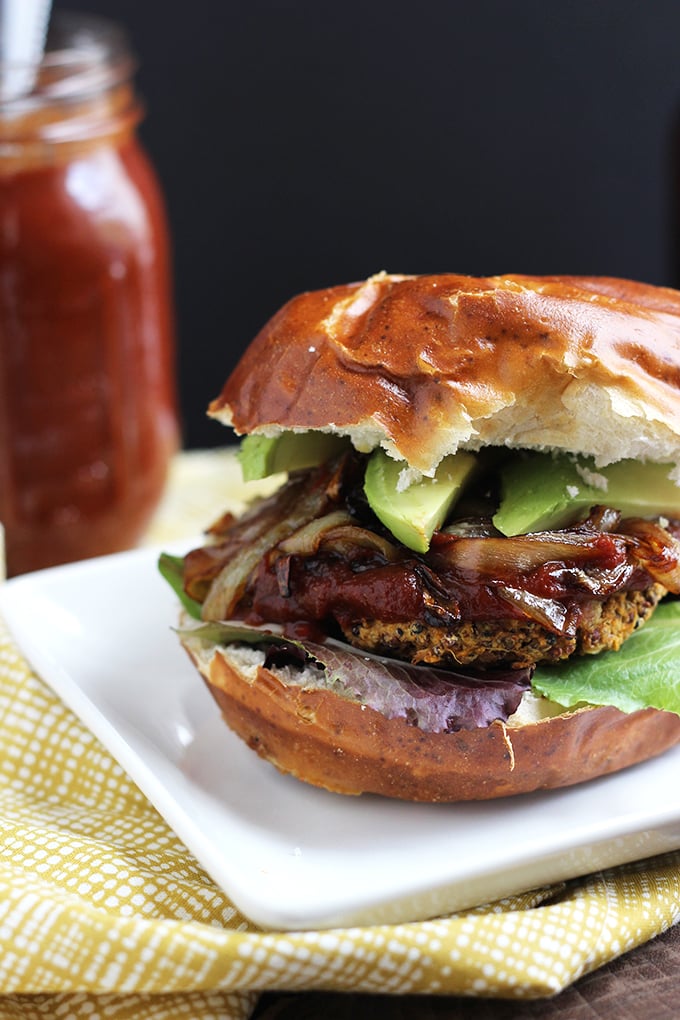 The second recipe is that for the veggie burger. I am picky about my veggie burgers and have never really been impressed with any of the frozen varieties that you can buy in the store. I've experimented with a homemade veggie burger a couple times in the past, but have been discouraged by too many recipes that just fall apart in the pan when you try to cook them.
This recipe finally held up to my standards! I experimented with cooking the patties on the stove top or the oven. I found that I preferred the oven method as the burgers were able to cook through better. However, the pan method is faster and provides a crispier outside to the burger patties. Just make sure to chill the burger patties in the fridge first for 30-60 minutes and grease your pan well.
You may notice that in addition to a big spoonful of BBQ sauce slathered on the veggie burger, I also topped it with a bit of caramelized onions. Definitely an extra step, but if you are already waiting for your burgers to bake, you may as well brown some onion on the stove top! I highly recommend it. 🙂
More Summer Recipes You'll Love
Did you love this recipe? Make sure to leave a ⭐️ rating and tag #dietitiandebbie on instagram!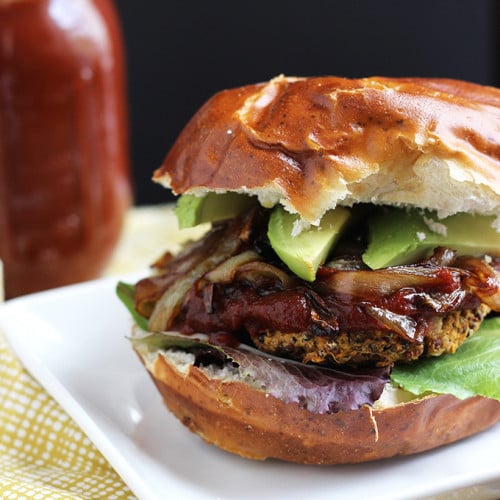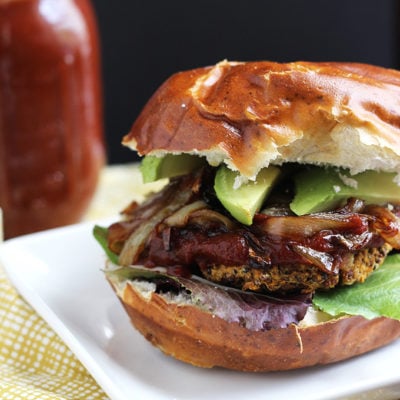 Vegan BBQ Veggie Burger
Make your non-veg friends at the BBQ jealous when you bring out this vegan BBQ veggie burger! A sweet potato and quinoa veggie burger is topped with homemade BBQ sauce and caramelized onions for a drool-worthy vegan burger.
Ingredients
For the Veggie Burgers:
1/2 cup quinoa rinsed well
1 cup vegetable broth
1 large sweet potato ~ 1 lb.
1/3 cup oats
2 tablespoons ground flax seed
5 tablespoons warm water
1/2 teaspoon oregano
1 teaspoon garlic powder
1/4 cup minced yellow onion
2 cups cooked kidney beans
1 tablespoon vegan worcestershire sauce
For the Caramelized Onion:
2 yellow onions sliced
1 teaspoon sugar
2 tablespoon olive oil
For the Assembled Burgers:
Burger buns lettuce, avocado, cheese, etc.
Instructions
For the Veggie Burgers:
Preheat the oven to 350 degrees Fahrenheit.

In a small saucepan, combine the rinsed quinoa and vegetable broth. Bring to a simmer and cover. Continue to simmer until broth is absorbed and quinoa is tender, about 15 min.

Poke the sweet potato with a fork on all sides. Place in the microwave and cook until fork tender. Set aside to cool and then remove the skin.

Place oats in a food processor or the single serving blender cup and puree until flour consistency.

Combine the flax seeds and water in a small bowl and stir. Set aside.

Add the beans to the food processor and pulse 6-8 times to break apart most of the beans. (Aim for the consistency of refried beans.)

In a large mixing bowl, combine the quinoa, peeled sweet potato, 1/4 cup + 1 tablespoon of the ground oats, soaked flax, beans, and seasonings. Stir to combine well. Wet your hands with water and form dough into 3-4″ patties. Place patties on a greased baking sheet.

Bake burgers for ~25-35 minutes or until lightly browned and crisp on the outside. Flip burgers halfway through cooking.
For the BBQ Sauce:
Combine all of the ingredients in a small saucepan and just bring to a simmer. Turn off the heat and set aside to cool.
For the Caramelized Onion:
In a skillet, add the oil, sugar, and onion. Stir well to coat onion evenly. Cook, stirring occasionally until onion slices are soft and a caramel color, about 30-40 min.
To assemble the burgers:
Slice buns in half and layer lettuce, veggie patty, BBQ sauce, onions, avocado onto each. Top with the other half of the bun. Serve!
Notes
BBQ Sauce Adapted from Gimme Some Oven –> http://www.gimmesomeoven.com/homemade-bbq-sauce-recipe/ Note: Nutrition information for burger only as the bun and toppings will vary so much.
Nutrition
Serving: 1Burger | Calories: 121kcal | Carbohydrates: 18.5g | Protein: 4g | Fat: 3.3g | Saturated Fat: 1g | Sodium: 149mg | Fiber: 2.3g | Sugar: 2g
Reader Interactions