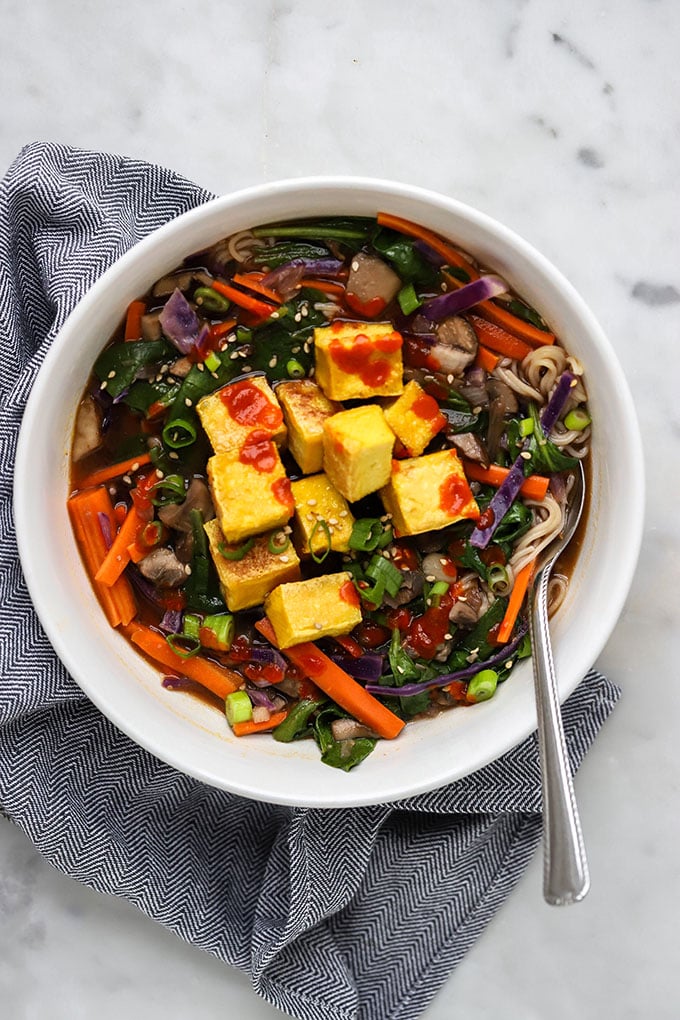 When it is cold out, I find myself almost unconsciously pulling out our enamel stock pot to make yet another batch of soup. Healthy, comforting, and easy to make – what's not to love? Since most soup recipes make several servings, I always have leftovers which I typically end up packing for lunch for work. I'll just divvy the soup up into glass containers and I am set for lunch for most of the week. Which is great since I always feel like I am scrambling in the morning to pack a lunch most days! It's true. As much as I'd like to have my act together, I just can't seem to make myself pack my lunch at night to avoid the AM scramble. (Anyone else?) Batch packing lunches for the week is definitely something I'd like to work on this year! Luckily, soups like this easy vegan ramen with crispy tofu make sorting out lunches for the week a little easier.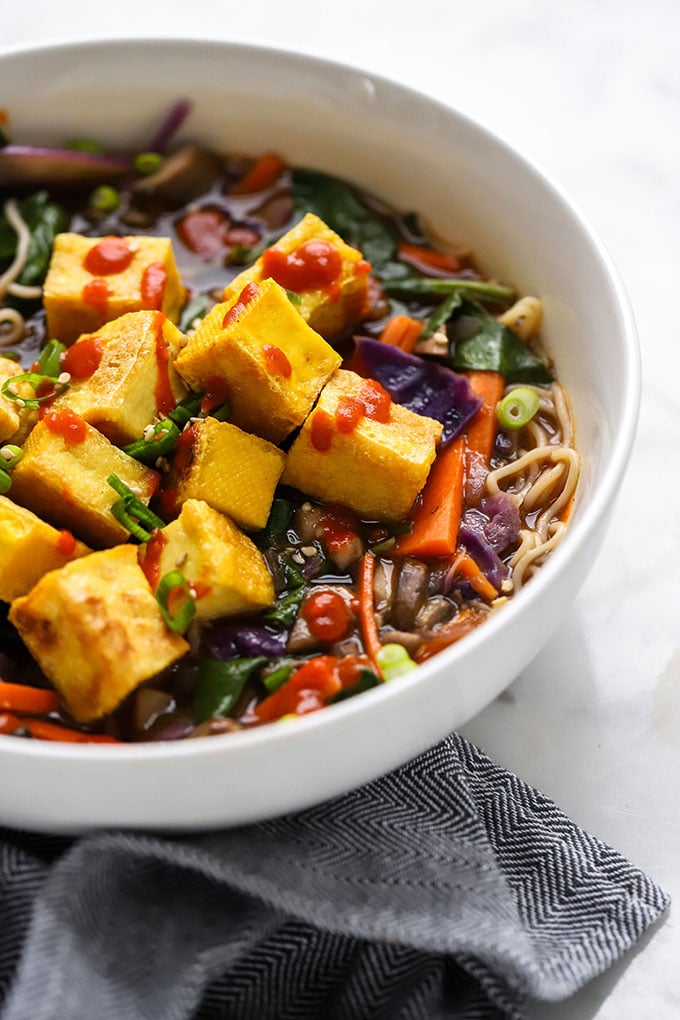 To save yourself a step, you can toss your tofu directly into the soup. However, I like to serve my soup with crispy tofu so I dirty the extra pan to stir fry it separately. It works out well since you can stir fry the tofu while you are waiting for the soup to simmer. One of the ramen places in town serves their veggie ramen with crispy tofu on top rather than stirred into the soup and I loved it! So I started doing it with my homemade ramen as well. I used a turmeric tofu that a local Chicago company makes for my ramen above. It not only tastes delicious but it has such a vibrant yellow color too that makes it so much prettier to serve atop a bowl of ramen. Feel free to mix up the vegetables a bit in this if you'd like. I prefer carrots, cabbage, and spinach but I've also made it with sliced peppers and bok choy too. I've also tried making this soup by cooking the ramen noodles directly in the broth. This does work, however the noodles fall apart quickly in the soup. Cooking the ramen noodles in a separate pot helped prevent that. If you are planning to have leftovers store the noodles and the rest of the soup in separate containers unless you don't mind soggy noodles in your leftover ramen. (I didn't!)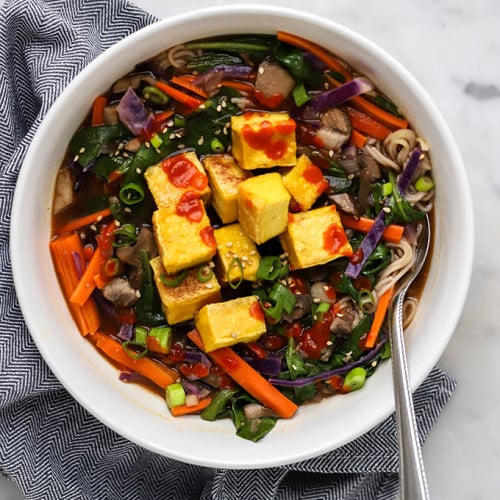 Vegan Ramen Soup with Crispy Tofu
No need to order takeout again, make this simple vegan ramen soup with crispy tofu at home! It is loaded with colorful vegetables and a flavorful broth you won't be able to get enough of.
Ingredients
2 tablespoons canola oil divided
16 oz. package extra firm tofu chopped into 1" cubes
2 teaspoons sesame oil
1/2 cup chopped yellow onion
8 ounce package baby portobello mushrooms chopped
1 tablespoon ginger paste OR 1 teaspoon grated ginger root
2 cloves garlic
1 1/2 heaping cups thinly sliced purple cabbage
4 carrots peeled, cut into matchsticks
2 cup water
1 quart vegetable broth
3 tablespoons reduced sodium soy sauce
2 tablespoons sriracha
2 teaspoons rice wine vinegar
5 oz package baby spinach leaves
2 2.8 oz packets ramen noodles (flavor packet discarded)
Instructions
Fill a medium saucepan with water and place over medium-high heat. Bring to a boil. Once boiling, add the ramen noodles and cook according to package directions. Drain and rinse with cold water. Set aside.

In a large stock pot, add 1 tablespoon of the canola oil, sesame oil, mushrooms, and onion. Saute for 5 minutes or until onion is starting to soften and turn translucent.

Stir in the ginger, garlic, cabbage, carrots. Cook another 2-3 minutes until cabbage starts to wilt.

Stir in the water, broth, and soy sauce. Bring to a simmer.

Stir in the sriracha, vinegar, and spinach. Cook for 2 minutes or until spinach is wilted.

While soup is simmering, add the other 1 tablespoon of canola oil to a nonstick skillet. Arrange tofu in a single layer in pan and cook for 5 minutes on one side. Turn each piece once bottom is browned and allow to cook on the second side another 4-5 minutes or until lightly browned. Repeat until all sides of tofu are lightly browned. Set aside.

To serve, divide noodles into 4 bowls and ladle soup over the noodles. Top with tofu and drizzle with sriracha and chopped green onion to serve.
Nutrition
Serving: 1/5 recipe | Calories: 434kcal | Carbohydrates: 42.5g | Protein: 18g | Fat: 23g | Saturated Fat: 5.5g | Polyunsaturated Fat: 17.5g | Sodium: 1809mg | Fiber: 6.5g | Sugar: 8g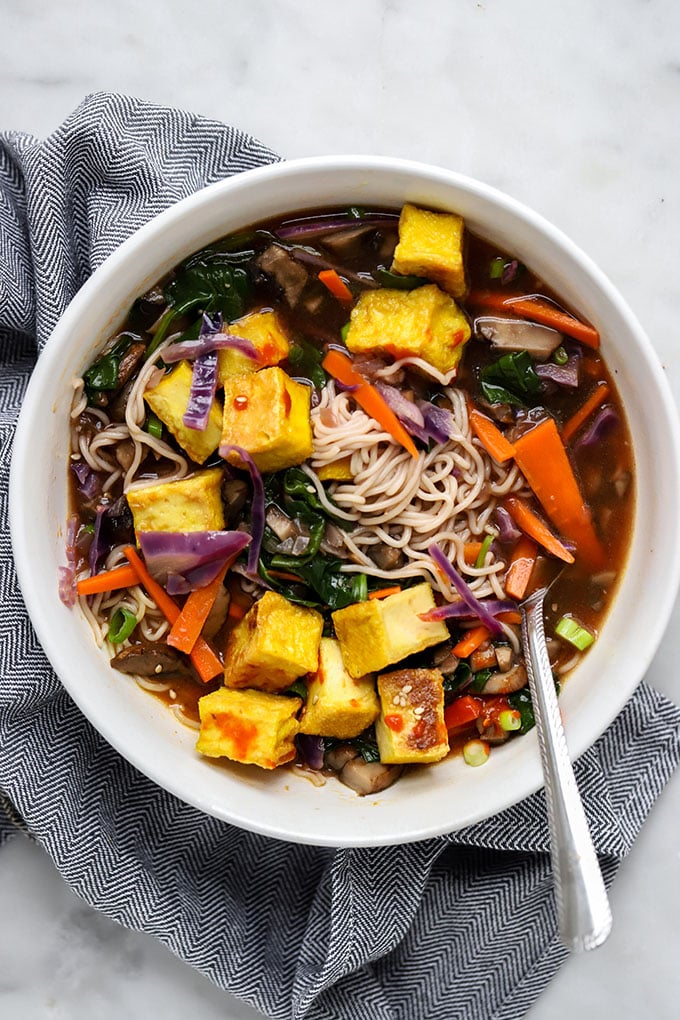 SaveSaveSaveSave
SaveSaveSaveSave
Reader Interactions