Say sayonara to sad desk lunches with this colorful soba noodle bowls with peanut sauce recipe! This healthy dish is perfect for meal prep on the weekend.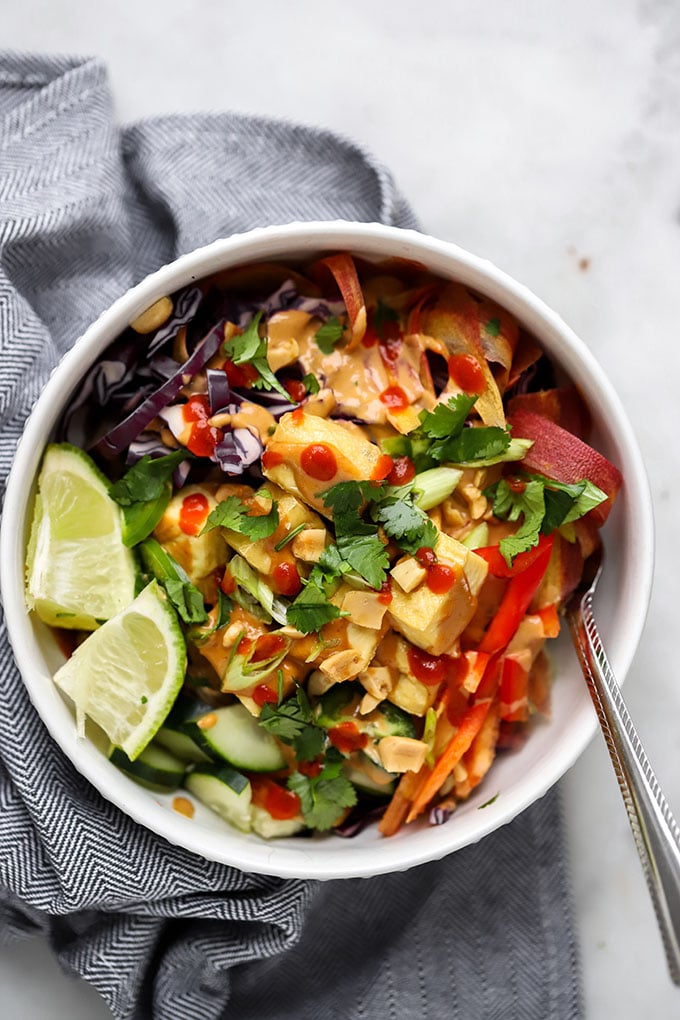 One of my goals for 2018 is to figure out a routine for meal prep on the weekends. Anyone else?? As a busy person just like all of you, I am often scrambling in the morning to figure out what the heck to pack for lunch! (While also trying to inhale a healthy breakfast before I have to sprint out the door.) That's where meal prep becomes the biggest time saver during the week.
In an effort to make myself better at meal prep, I thought I would also share the journey with you too. I've been trying to come up with recipes lately that work well for the meal prep model where you make a big batch of something on the weekend and then divvy it up into smaller servings that you can use throughout the week. These soba noodles with peanut sauce are a great example of something simple you can cook up on Sunday and then pack for lunch all week long.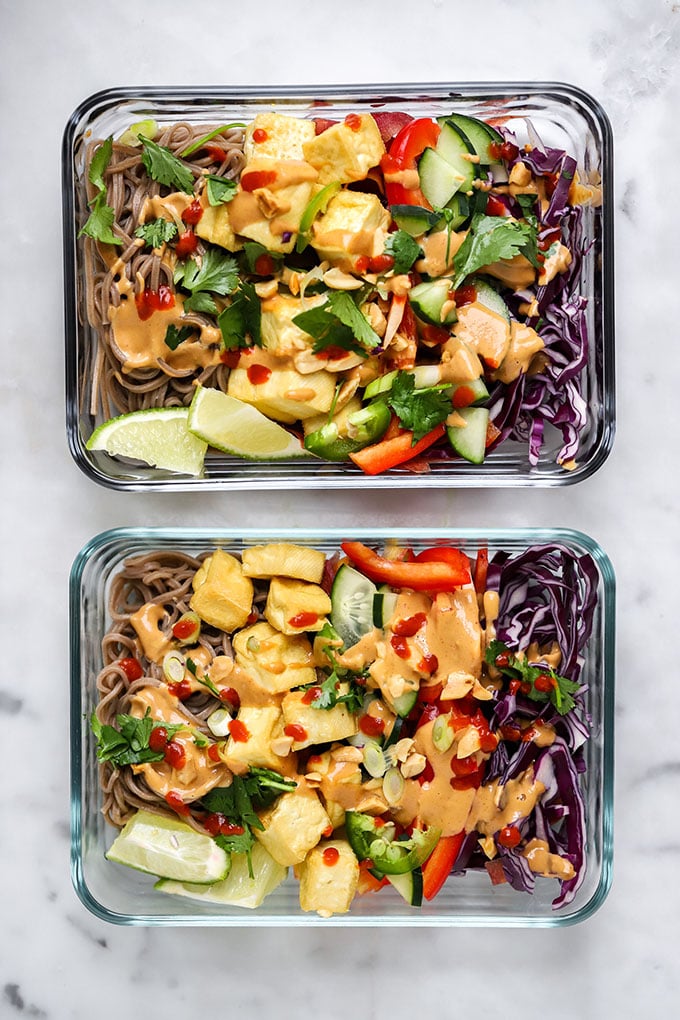 How to Make these Soba Noodle Bowls
By incorporating colorful veggies, you can say sayonara to sad desk lunches for the week. To make these, you'll cook up some rice or soba noodles. While the noodles are cooking, bake a block of firm tofu until golden brown. The tofu brand (Phoenix Bean for any Chicago locals!) I buy is vacuum sealed so I find that I don't even need to press the extra firm one and it gets nice and crispy when baked. If you buy a water packed tofu like they have at most stores, you may want to press it first before baking.
As you wait for your tofu to bake, chop up your veggies. In this case, I wanted to pack as much color into these bowls as I could so I added purple cabbage, red bell pepper, carrot, cucumber, cilantro, and jalapeño. You can copy me or you can toss in other veggies you may have on hand like broccoli or spinach.
The spicy peanut sauce is super simple to whisk up and so tasty you'll want to drizzle it on everything. (We use it all the time on stir fry too!) For crunch, I added some chopped peanuts. Sriracha is also a must if you too are obsessed with it like I am. Chopped cilantro and sliced green onion round it all out. 
More Delicious Recipes You'll Love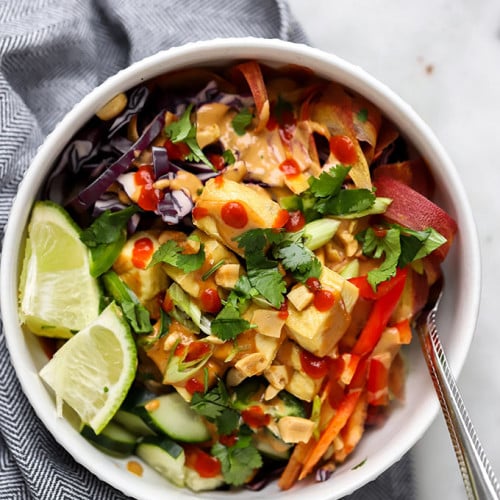 Soba Noodles with Peanut Sauce
Say sayonara to sad desk lunches with this colorful soba noodles with peanut sauce recipe! This healthy dish is perfect for meal prep on the weekend. 
Ingredients
14 oz. package extra firm tofu chopped into 1″ pieces
6 ounces soba or rice noodles
Peanut Sauce: 
6 tablespoons water
1/2 cup creamy peanut butter
2 tablespoons reduced sodium soy sauce
1 tablespoon rice wine vinegar
1 tablespoon ginger paste I buy it at Trader Joe's; can also use 1/2 tablespoon grated fresh ginger root
1 tablespoon sriracha sauce
For the Bowls:
Thinly sliced assorted veggies I used purple cabbage, carrots, red bell pepper, cucumber, cilantro
Sriracha sauce to taste
Lime wedges
Chopped peanuts
Sliced green onion
Instructions
Preheat the oven to 375 degrees Fahrenheit. Line a baking sheet with parchment paper and arrange tofu pieces in single layer.

Spray with cooking oil. Bake for 35-40 minutes until golden brown. Set aside.

Cook soba or rice noodles according to package directions. Rinse under cold water to cool. Set aside.

In a small mixing bowl, mix together all the peanut sauce ingredients with a whisk until sauce forms. (Or puree together in a food processor to mix into a sauce.)

Chop your desired veggies.  To assemble, divide the noodles between 4 dishes and top with 1/4 tofu, 1/4 peanut sauce, and 1/4 vegetables.
Nutrition
Serving: 1/4 recipe | Calories: 479kcal | Carbohydrates: 52g | Protein: 26.5g | Fat: 23g | Saturated Fat: 4g | Polyunsaturated Fat: 19g | Sodium: 690mg | Fiber: 6g | Sugar: 8g

Reader Interactions