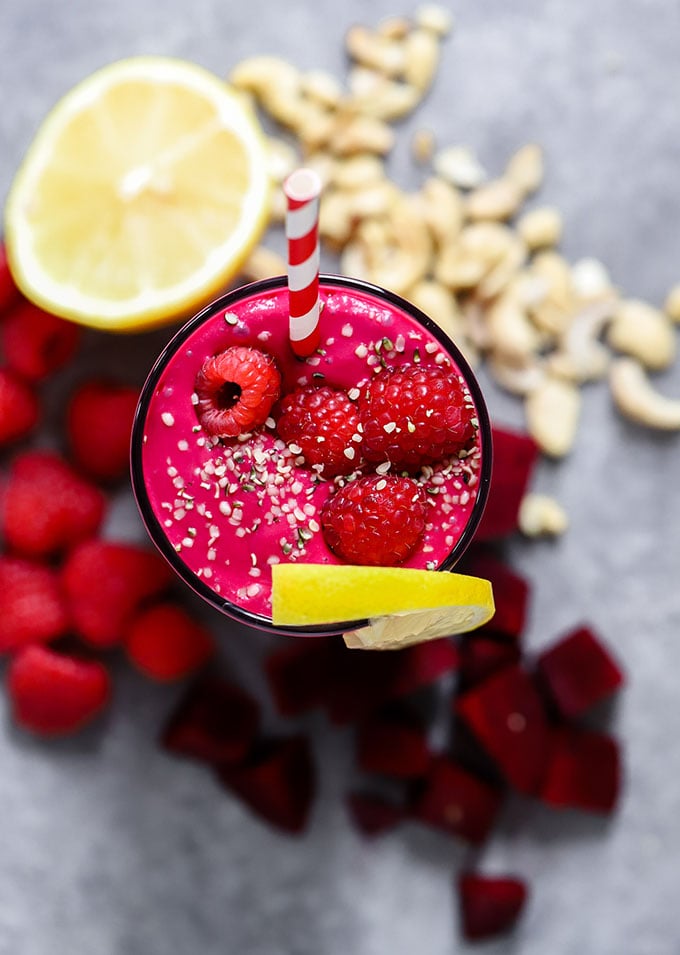 Disclosure: This post is sponsored by Dole® as part of their #SharetheSunshine campaign.
Open up just about any social media app on your phone these days and there will be lots of talk about New Years resolutions. Do you make them? Have you ever made one last the whole year? (I haven't! However, I did share some of my intentions/goals for the new year below!)
As a dietitian, I get pretty excited to see everyone so motivated to change the way they eat! However, going on a diet that you can't keep up with long-term isn't the best way to go. This new year, think about setting smaller health goals rather than overhauling your whole diet or committing to an hour at the gym every day.
Lofty new years resolutions are the hardest ones to keep, so try to come up with a new healthy habit that you can successfully maintain over the whole year. It should be something that can manageably fit into your current routine like: switching from refined grains to whole grains (ie. whole grain pasta vs. white pasta), drinking 6-8 glasses of water a day, eating at least 3 servings of vegetables a day, doing your favorite workout 3x/week, etc.
Eating more vegetables is definitely a new years resolution that just about everyone could use. That's why I love coming up with creative ways to incorporate them into my diet like in this raspberry, beet, and lemon smoothie!
Looking for more ways to add veggies to your morning smoothie? Check out my 12 best vegetables for smoothies post for tons of tips on how to add vegetables to your smoothies and 30+ recipes.
Add this pretty pink smoothie made with Dole frozen raspberries to your weekly breakfast routine and get in a couple of servings of fruits and vegetables first thing in the morning.
I know beet sounds like a really odd vegetable to add to a smoothie, but I think you'll be surprised by how well the flavor of the beet blends in with the raspberry, banana, and lemon. Trust me!
I usually pair my smoothie with a slice of toast with almond butter to round out my breakfast. It keeps me energized and feeling full all morning long. You could also pour this in a lidded jar or cup and store it in the refrigerator at work so you can sip on it as a pre or post workout snack.
More Smoothie Recipes You'll Love
Did you love this recipe? Make sure to leave a ⭐️ rating and tag #dietitiandebbie on instagram!
Raspberry Beet and Lemon Smoothie
Start your morning off right with this pretty pink raspberry, beet, and lemon smoothie packed with fiber, protein, and antioxidants.
Ingredients
1 cup frozen raspberries
1 banana, fresh or frozen
1/2 cup chopped, cooked beet
1/2 cup non-dairy vanilla yogurt
1/2 cup plain, unsweetened soy milk
1/4 cup raw cashews**
1/2 lemon, juiced
Instructions
Add all of your ingredients to a blender and puree until smooth. Makes 1 large meal-size serving or 2 small snack-size servings.
Notes
Buy pre-cooked beets like the ones from Love Beets to make the prep for this smoothie faster. 
To cook beets, peel and chop and add to a steamer basket on the stovetop. Steam until fork tender. Allow to cool completely before adding to smoothie. 
Cashews: If you don't have a higher powered blender, you can omit the cashews or replace with hemp hearts or ground flaxseed. 
Use both frozen raspberries and frozen banana for a thick, frosty smoothie.
Nutrition
Serving: 1recipe | Calories: 247kcal | Carbohydrates: 36g | Protein: 8g | Fat: 10g | Saturated Fat: 2g | Polyunsaturated Fat: 2g | Monounsaturated Fat: 4g | Sodium: 60mg | Potassium: 599mg | Fiber: 7g | Sugar: 17g | Vitamin A: 195IU | Vitamin C: 33mg | Calcium: 180mg | Iron: 2mg
Psst! Here area a few of my goals/resolutions for the year.
Blog Growth: Continue to grow this space and my social channels. I hope to make the content even more useful for you! I'll be working on more videos and (fingers crossed) continue to improve my technique since it feels like video is such a great way to show that creating healthy meals doesn't have to be complicated. I will also be focusing more on growing and developing content for my email list.
Be Vulnerable: Speaking of video, I am planning on trying to get over my shyness and get on instagram stories! I love watching everyone's stories so I want to jump in and start sharing more of my own.
Creating a Home: Will and I are in the process of looking for our first home. (Well, condo because you know, city living!) I'm so excited to finally settle into a place after moving every 1-2 years since I left for college at 18. It will be so fun to be able to make a place my own and finally upgrade our furniture which has gotten a little beat up with so many moves over the years!
Natural Skincare Routine: As I continue into my 30s, I am hoping to figure out a good skincare routine that works for me. (I welcome any suggestions!) I have also been switching over my skincare and haircare products to more natural, vegan based ones.
SaveSaveSaveSave
SaveSave
SaveSave
SaveSave
SaveSaveSaveSave
SaveSave
SaveSave
Reader Interactions